Explora LA, Fiji, New Zealand, Tasmania and Australia
March 2016
Duration: 18 nights, 19 days
Locations: Los Angeles, Nadi-Fiji, Viti Levu, Auckland, Waitomo Caves, Otorohanga, Hawkes Bay, Napier, Wellington, Owhiro Bay, Akaroa, Dunedin, Milford Sound, Tasmania, Melbourne, Sydney
"I love LA!". Isn't that what Randy Newman sang? On Saturday, March 5th, we embarked on our first 3 week trip in ten years. We flew from Miami to LA midafternoon amidst a full flight with no hiccups. We took the shuttle to our cheesy Travelodge, Mario picked up Carl's Jr and we all fell asleep pretty quickly  by 10pm LA time. We awoke to a bright sunny, Sunday, brrrr morning. Our "A Day in LA" rasta bus tour picked us up right on time at 8:30am and we began our full day tour of the City of Angels. Our first stop was Santa Monica. We pulled alongside the road and had fresh fruit and water set up by the tour company. Yum. BIG strawberries! We walked down the steps to the overpass and beach amongst Sunday morning joggers going up and down, up and down the steps. Our guide Brett, met us a short while later and we had about 15 of us packed on the bus. Brett gave us a brief Santa Monica history and passed the pier and headed toward Venice Beach. The black and white movie screen size "Touch of Venice" mural looked like Lilly and I stepped into film noir as we took a photo in front of it. Brett directed us that we could either go to the right, towards the coolest skateboard park in the country, with a half pipe built right into the sand, or the very famous muscle beach, a la Ah-nold. We chose the skate park first. There were kids ranging from 5-17 ish looping up and down into twists and turns. It was fun to watch. We stayed a minute and then U-turned back towards muscle beach. There was no one there as Brett told us it was too early and all the pumping iron guys liked to come later in the day, when they had more of an audience. But we took some fun photos.
Brett piled us back on the bus and we headed toward Beverly Hills (90210) It was such a crisp, cool day. SO perfect for what we were doing. He stopped the bus adjacent to Rodeo Drive and we window shopped for an hour. We took some fun pics there as well. I told Lilly to pronounce all the names of the shops we passed: "Ferragamo", "Louie Vuitton" and "Valentino". Brett told us if the doors of the shop were closed it meant you needed an appointment just to even go into the store. Wowsa.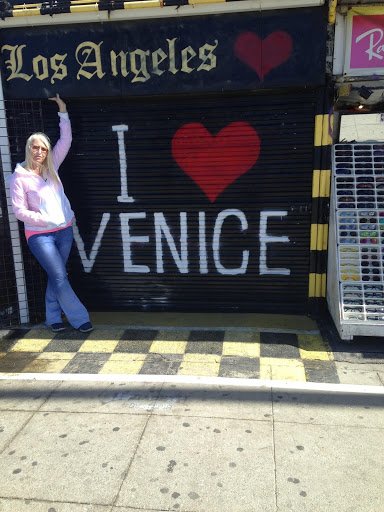 uLunch was next at The Grove. A half indoor-half outdoor food and shopping mecca was The Grove. I loved it. So kitschy and so many options of yumminess! Brett told us this was our best chance of a celeb sighting. Especially since it was a Sunday. Hell-oo George Clooney! I chose to eat at Moishe's. Fresh falafel and hummus were calling me. Lilly chose meatball pizza and Mario and Ruth had pastrami on rye. My falafel was insanely delish, the best one I had since Old Jerusalem a few summers back.  After lunch, we headed toward Griffith Observatory and Park. I had been to LA before but never here. What a beautiful place. Brett said we could get a good glimpse of the Hollywood Sign up there. The traffic was at a snarl (Hey, it was LA, right?) but we finally parked and took some shots of the infamous billboard LA is known for. The observatory was lovely. Kinda like a planetarium and museum and park and make out spot all in one. Brett told us to go to the lower floor of the building to see what we'd weigh on every planet. I sure loved Pluto. I would only weigh 3 pounds there. The walkway up back was decorated with hundreds of pieces of costume jewelry; all of suns, moons and stars. It was stunning and sparkly and so creative. Brett then picked us back up and drove down to Hollywood Boulevard. He explained to us the process of who gets stars on it and how it works. He told us Muhammed Ali was the only star NOT lying down on the sidewalk but on a wall, for Ali himself said he didn't want people walking across the holy name of "Muhammed" each day. Little did we know that his star would fade only 90 days after we touched it. We saw the Dolby Theater that held the Oscars just weeks before our arrival and where they film Jimmy Kimmel Live and Grauman's Chinese Theater and of course, I had to have Lilly put her hands into the cement Marilyn Monroe's. We then went further onto the Sunset Strip and Brett showed us famed comedy clubs and the Viper Room. We then started dropping off the other members of the group and we asked Brett to kindly drop us off at Truxton's to meet with Mario's LA cousin Michelle and her son Jacob. We had a nice dinner and they dropped us back at our hotel for us to head to LAX for our night flight to Fiji.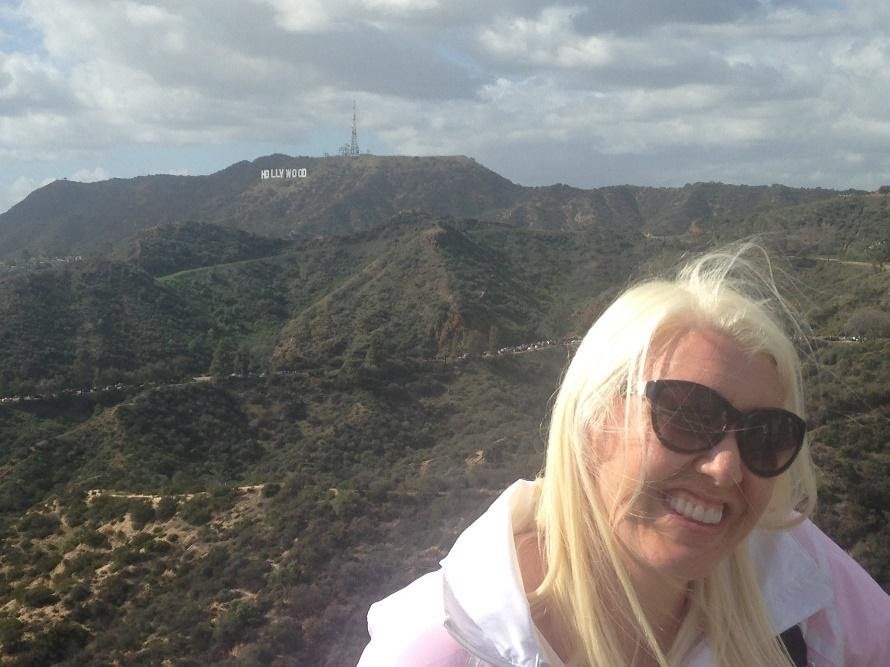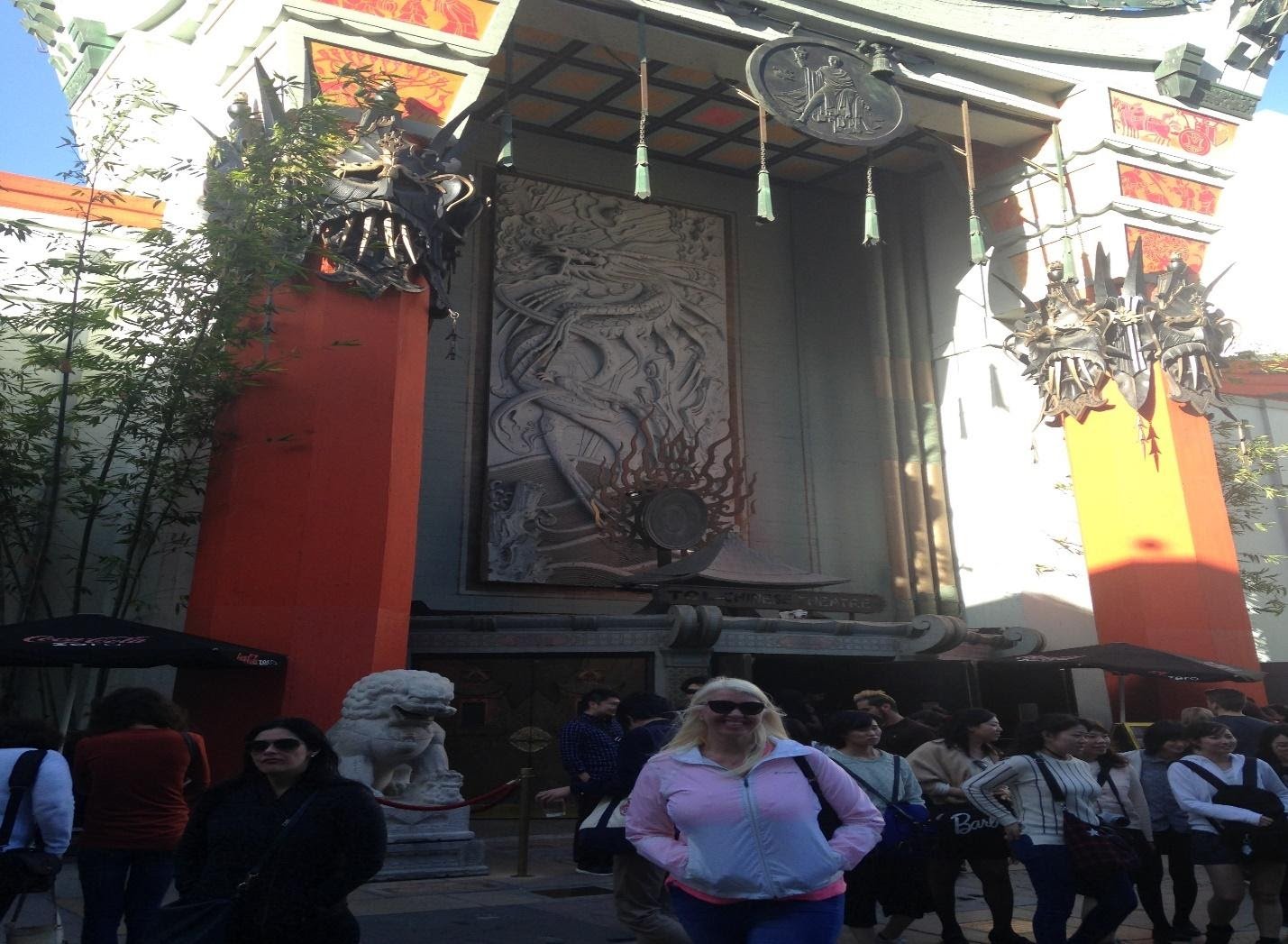 Score. As soon as that airplane door closed, Lilly and I spread out across 4 seats each to fall asleep within 5 minutes.
We missed dinner, we missed the movies, we missed the duty free cart. But wow, we woke up 6 hours later psyched that we had snoozed away 2/3rds of the 10 and a half hour flight. Guilt got the best of me and I went to get Ruth to switch seats with me and she cat napped in my old spot as I took her crampy two seater in the back. We arrived in Nadi at sunrise. Super steamy and reminding me of Tahiti, we went through customs quickly and grabbed a cab to the Hilton Denarau. Our room they checked us into was dirty with old pizza boxes and a baby crib so we mini complained and wow, they moved us to a two bedroom, two bathroom condo, complete with washer and dryer. This was SWEET. Mario's and my master bathroom alone was the size of a Manhattan studio. Honest. But it was low season in Fiji. They also gave us free breakfast, pizza and drinks all week so I felt like they were losing money with us by the second. We had a scrumptious buffet breakfast and decided to chill out in the morning and take the yellow west bus for a dollar per ride into town in the afternoon. But holy hot, it was easily above 90 degrees and scorching and humid. The bus dropped us off at the start of town and we walked 6 blocks through a mix of Fijian and Indian culture. Indentured servants from India were brought years before and the culture clash is there. We walked to the Sri Siva Subramaniya temple at the end of the main street in Nadi. We were not allowed to wear shoes in. The floors were white marble but still, incredibly hot. Lilly and I fire walked into the temple. But the swami there would not allow us into the holiest part since he could see we were not Hindi. But, he did let us pet two white kittens sitting with him on a squishy chair. Man, they were supercute. We then walked to an open air market selling all fruits and vegetables and mussels in piles. There were tables filled with ginger, pineapples cut up into tropical lollipops, tomatoes, taro and tons of more produce. We caught the bus back and it was a total highlight to see uniformed Fijian kids get onto our bus, being dismissed from school, going back to their villages. They were just as curious about us as we were them.
We got back to the hotel in time for Mario and Lilly to take a sunset swim in the hotel pool, facing the blue ocean. We slept wonderfully in the huge beds with fluffy white linens.
I woke up at 2:30 in the morning. I still had not acclimated to the time change and everyone else was not far behind me. We were the first at breakfast at 6:30am and sat along the beach with big yellow and black birds begging for anything we'd throw them. Lilly swore shed try Vegemite and found it just as awful as I had told her it was. I appreciated her guts. One of the hotel employees hooked us up with a local who would tour us around later that morning.
We went to a Fijian village first. Encompassed of about 150 small houses that reminded me of a Catskills bungalow colony, our guide was kind and so soft spoken. Sadly, much of the island had been hit, for 3 weeks before our arrival Fiji experienced the worst cyclone they had ever experienced, Winston. Where we were, it was only landscaping damage but we had heard about the devastation on more remote parts of the islands, where the infrastructure was poor. I was hoping that our travels helped these people in some way. I swear, I'd never met a more friendly people. Genuinely friendly. Not just wanting something from white tourists. Every local said "Bula" to us and "Vinaka" every time we encountered them. We went to the main church in the center of the village. Our guide told us that before Christian missionaries had come, Fijian tribe's believed firmly in cannibalism. They felt that when one would conquer and eat the organs of the warring ruler or leader of the tribe, they would take on their strength. He showed us tools they used for these practices. Crazy. But in church, his demeanor was so spiritual, as he sang us a verse of "Amazing Grace". He sounded like an angel. We gave the village a donation as we left and our guide then took us to the Garden of the Sleeping Giant, a lush oasis of vegetation that the old actor, Raymond Burr created. Every shade of green imaginable was there. We were greeted by three Fijian lady hosts, two lazy cats and 4 icy cold tropical fruit punches. We sat in the wooden rockers in the greeting area and gulped the yummy stuff down. It tasted like old school Hi-C but was delicious. We walked along a gravelly path to a bunch of lily ponds filled with frogs and little tadpoles. We then continued down orchid lined paths buzzing with butterflies, bees and birds. Trickling water was heard all around us since there were ponds and little streams surrounding the gardens. We walked up to a hibiscus strewn pergola that had a swing in the middle. We all took turns on it. It was so hot the hostesses gave us sun umbrellas. But even further along our walk were hammocks, which Mario, Lilly and Ruth took turns in, also. We walked back to the starting point for more tropical juice.
Our next stop was in Viti Levu, the Sabeto mud pools. Yep, Lilly and I actually decided we were going to pay a local to smear volcanic black gooey mud all over us to bake in the sun and then, rinse off as smooth as a baby's bottom when done.
Mario and Ruth decided to stick around under a shady porch and talk to the locals for a while instead, while Lilly and I got into bathing suits to get slathered with a coating of what looked like hot chocolate pudding. A huge Fijian man smeared my back with the stuff. It was warm and goopy. Lilly and I laughed and got muddy. The lady helping us took our photos. I knew this would be a pic I would treasure forever. We were then instructed to dry in the sun, baking like a pie, arms and legs spread. The mud got crusty and we got itchy. The next part of our recipe was our first pool. It was actually a muddy little lake that I no way would have stepped into if I were anywhere else but sigh, when in Rome… I went in first and holy muck. The bottom of the "pool" was sticky and squishy and mud creeped up to my knees. It was shallow but you could not move much for all the bottom layer mush. Lilly could not be convinced to come further than her knees for she had seen my facial reaction. I had to splash her down with the muddy water and get as much of the mud off as I could from us both. Adding to the yuck factor was the fact that I saw tons of little frogs on the sides of the pond, not 4 feet from me, on the embankment just chilling out and probably laughing at us. We got out, about 85% "clean" to head to the next pool, which was scorching hot. So much so that Lilly could not even get in and I could only go in up to my knees before I felt too much like a lobster on Martha's Vineyard going into a pot. I grabbed a garden hose trickling out cool, clear water and used that to get remaining bits and pieces of muck off of us. The next body of water was clear and like a swimming pool. We stayed in there the longest for the temps were perfect and the water, sparkling. That was our last pool. We went back to the changing rooms and laughed as we stripped off our bathing suits, only to find they had mud in the nooks and crannies and we were not totally clean at all. Oh well, showers waited for us back at the Hilton.
Ironically, our friends, the Davey's back in Florida had an uncle who lived walking distance from the hotel. We had connected with them days before we arrived and they invited us for drinks and cheese and crackers that evening. Many Kiwis and Ozzies ("Oy, oy, oy!") had holiday homes on Denarau and Warren and Kathryn were no different. Warren picked us up and we drove no more than five minutes to his home on the island. We laughed and joked about Tim, his nephew and our friend and U.S. politics and all other topics while Lilly swam in their lovely pool facing the bay. Warren dropped us off at the port so we could enjoy dinner there an hour later. But first, we signed up for a half day tour of South Sea Island the next day, yay! We could not come to Fiji without the beach experience and snorkeling, right? We'd kind of fail Fiji 101 if we did that. Lilly took part in a show with locals in the center marketplace of the port and we filmed her doing a dance to music that sounded like Fijian hip hop. I was proud of her just jumping in and doing her thing. (Thank you, summer theater camp!) We wound up grabbing a cab back to the Hilton and ordering room service. But a short while later, Mario realized his cell phone was missing. ☹
After playing Scooby Doo and retracing steps, we concluded it must have been in the taxi we took home from the port. But no one knew the cab name or drivers' name. Mario resolved to buying a new iPhone upon return home and we went on. I mean, what else could we do? The next day, we again woke up early (but later than 230 am) to head to breakfast and then, took the bus picking us up to go to the port to get on our boat tour.
We signed up for the "Finding Nemo" tour so there were plenty of families and kids on this trip. The boat ride was about 30 minutes and we tendered in to a little island no bigger than Gilligan's. But wow, it was set up nicely.
They had a snack stand, a salt water pool and tables and lounges and bean bag chairs everywhere. The first activity was to take a little boat out to a glass bottom sub. That was cool. We got onto an old iron mini sub that was anchored out a couple hundred yards away from the shore. We stepped down some metal steps to sit down on a bench that folded down and held about 24 people, 12 rows of 2. The sub filled up and we moved slowly around the ocean, looking out the glass windows at lots of soft coral and colorful fish and tons of deep purple starfish. The next activity was snorkeling. We got our gear while Ruth plopped into a chair on the sand and chilled out and then, Lilly, Mario and I dove into the water at the direction of our young Fijian guide. Lilly and I followed him closely and he picked up a starfish the size of a child's head and let she and I touch it. It was harder than I expected. The water was about 40 feet deep. Lilly swam it like a champ. (Thanks, Aqua Champs swim school.) We got back to shore and sadly, it was time to go. Grr, I wish we had more time. But the only other option was to stay all day. We got back on the tender to the port and enjoyed the free WiFi on the boat. But as we got off the boat, Mario saw a bunch of local cab drivers from the night before. Would it sound too strange if Mario actually asked about his phone, met the driver from the night before who gave it back to him, there on the spot? Told you, Fijian people were awesome. Mario threw a paper green thank you his way and I actually stayed at the port to blow out my hair and get my nails done, taking a gamble on the services so far away from home, but wow, I was satisfied! They did a great job. I cabbed it to the Hilton and we had pizza for dinner before packing up to head to Auckland the next morning.  Vinaka, Fiji!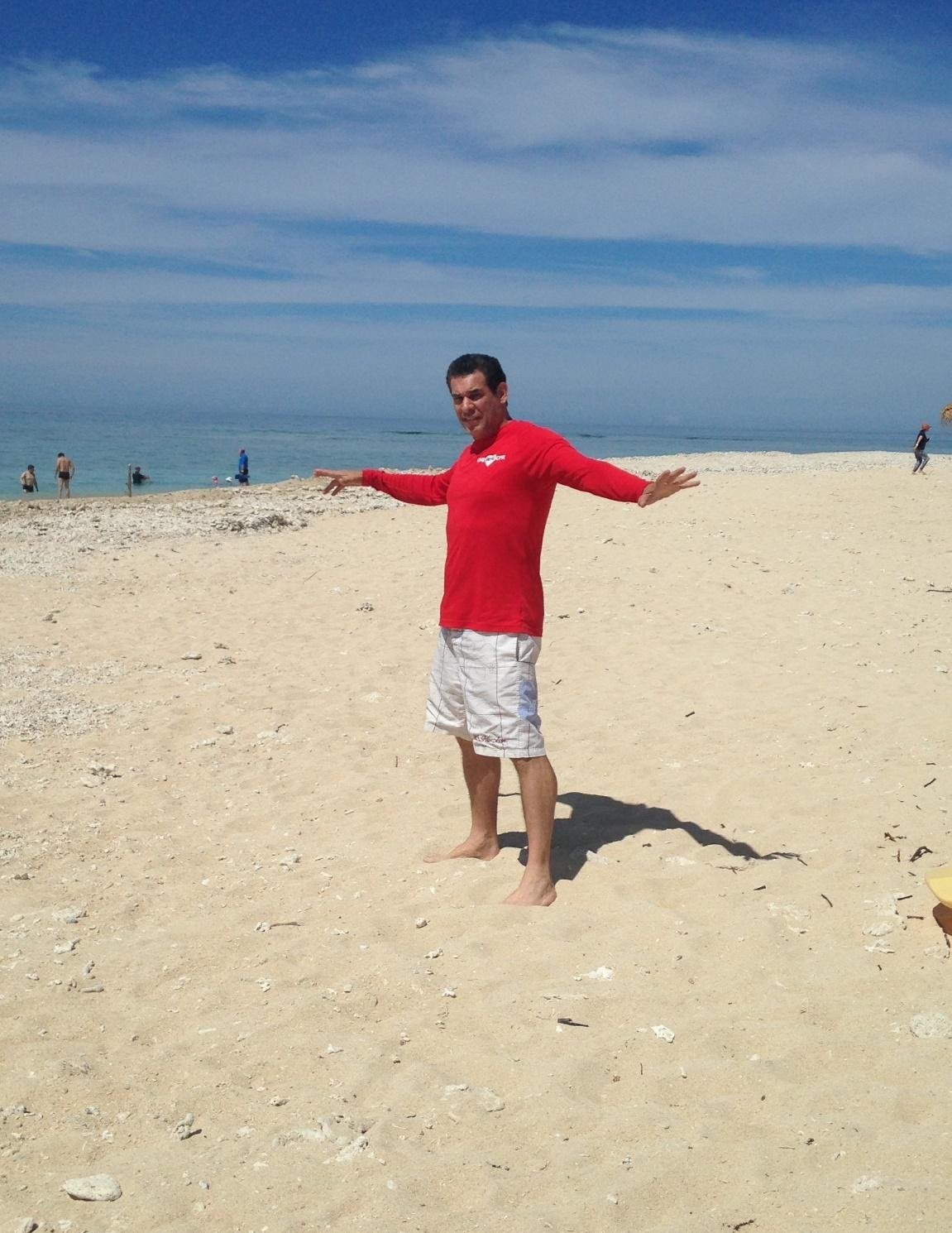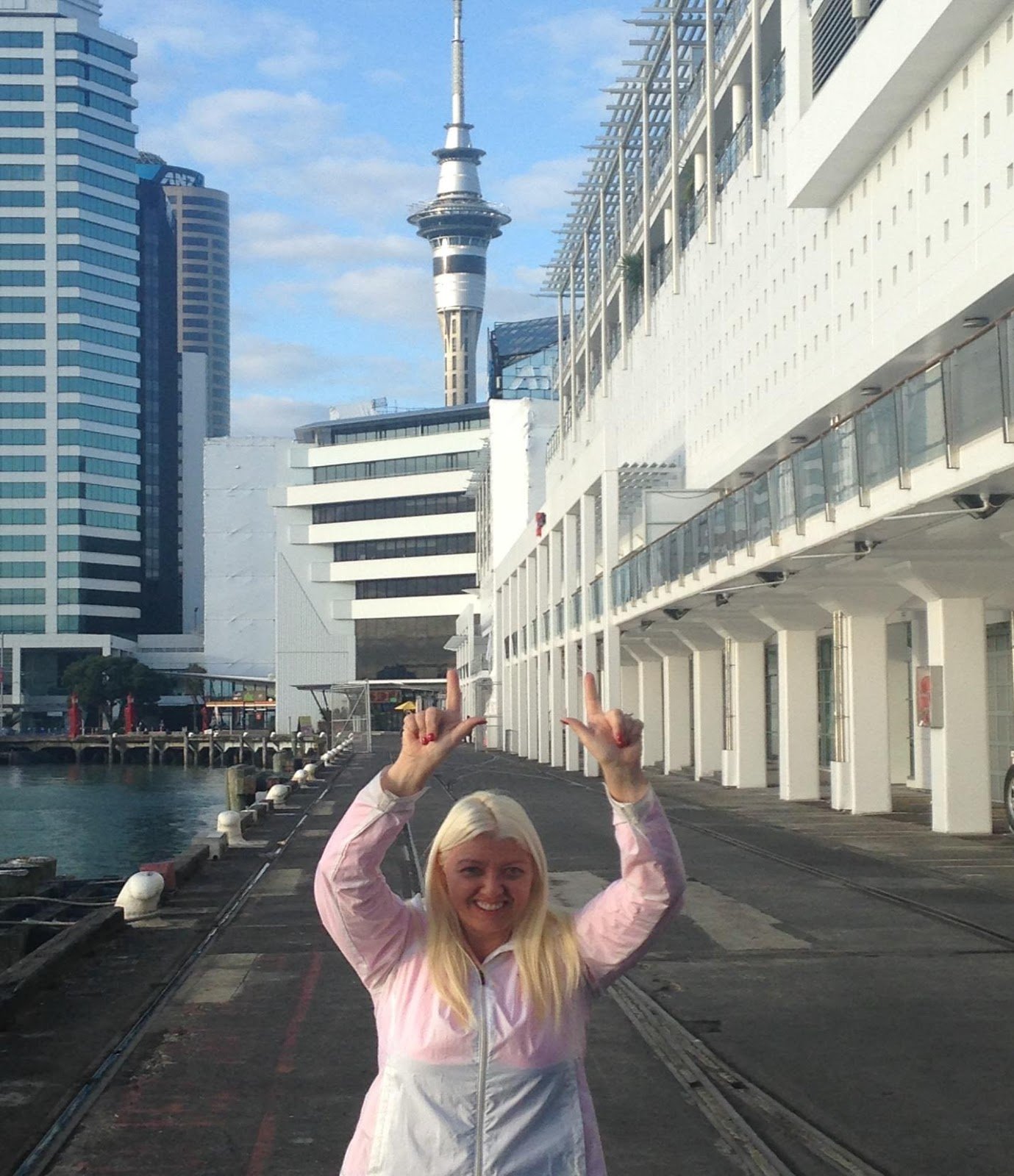 Our flight to Auckland was 2.5 hours and full. I also found something I picked up in Fiji all over my forearms. Sea lice.
Yup. I was the only one afflicted but damn, they were itchy. Harmless, thankfully and took 2 weeks to fade, but big time itchy.
The Hilton Auckland was so unique. Built directly onto a jetty, it went all the way out onto the water and our cruise dock was only a ten minute walk from the hotel.
I don't think we have ever walked to a ship from our hotel before. We checked into our room facing the water and decided to get out for a bit to go to Kelly Tarlton's Underwater World. It was a cross between an aquarium and museum of Antarctic sea life as Kelly Tarlton was an explorer of 100 years before and well respected in New Zealand. It was late Friday afternoon and the place was closing in only 90 minutes so we had it almost all to ourselves. We saw giant empire penguins and walked under a glass enclosure of fish, turtles, sharks and rays. We head back to the hotel a short while later and ordered room service for an early dinner. We slept wonderfully and awoke to a beautiful, sunny Saturday. Breakfast was on the water and we debated on taking a ferry to Waiheke Island or walking around downtown to the Sky Tower. We chose the latter and head out early. Everything was still closed. It was easy to find the Tower. It was enormous and the tallest structure in the city. We took some fun pics of us "holding up the Tower" and went into the lobby when we were directly outside. Again, being it was so early, we had the place to ourselves which was supercool. We shot straight up in the elevators to walk onto glass floors and looked directly below to the teeny streets of the city. Mario actually lay down on the glass. I was not a fan of heights so I stayed back from the glass, although there were signs everywhere telling guests how thick they were. Yeah, whatever. I watch "Tru TV" so I was happy to stay 6 feet back. We then went higher into another elevator to see the city even higher. The elevator operator told us they have folks who jump off the ridge or walk around the circumference of it. Pass, thanks. I wound up buying the cheesy CGI photo we took before going up, as a souvenir.
We were on the search for Hokey Pokey ice cream. Told we could only get it in New Zealand, we wanted to sample it. But none was to be found on this Saturday morning. Everything was still closed. We head back to the Hilton for our last pack up and walked to our ship around 12 noon. We checked in super quick and liked that we had windows in our cabins (we usually get inside cabins) and that they connected. I unpacked in under an hour.
(Travelers tip: never let them take your luggage when embarking on a cruise. You won't get it back until dinner time) Then, we head up to our first lunch buffet. Grazing time.
It was true, the demographic of the Holland America guests was well, old. Everyone was 78 and up. Lilly got a bit worried when she did not see any other kids on board but being that there were 2000 passengers, I knew she'd eventually find one small person her age. We did our usual floor by floor tour of the ship. Again, it was not that family orientated so there wasn't a rock climbing wall or arcade but there was a kids club and pools and a super awesome Barnes and Noble-like library and coffee shop that I loved going to every day. (Guess where I wrote much of this very blog?) After registering Lilly for the kids club she was happy to see other kids her age. A good solid 8 of them. Hey, that's all she needed. The demographic, besides age, were a mix of folks from Oz, Kiwi town, the UK and the USA. A few sprinklings of Asia thrown in, too. A cruise ship really is a mini UN. We had our first dinner in the formal dining room and it was lovely, as we had a window seat at the back of the ship and the view was stunning. The sun went down on the water and it looked like a scene out of the Travel Channel.
The beds were great in the cabins. No laughing, but I had heard that about HAL. We woke up to hit the Lido deck and gorged for breakfast as one can only do a cruise. Nutella crepes, waffles, eggs benedict, bacon, fruit and yogurt parfaits and that darned Vegemite again. (Marmite, too).
We had sailed down to Tauranga. On the northeast coast of the North Island. Our excursion was to Waitomo Caves. About 100 years previous, three explorers had discovered the caves. But blech, they were a 2 hour bus ride away. At least the day was lovely. Sunny and just warm enough. It was the end of New Zealand summer. We passed green hills and trees and so many sheep, I am surprised I did not fall asleep as I counted. I found out New Zealand has over 30 million sheep- but it actually used to have 60 million. We also passed horses and goats and many cows. Agricultural central. We passed where the film director, Peter Jackson had filmed parts of The Hobbit. Some did a cruise excursion there.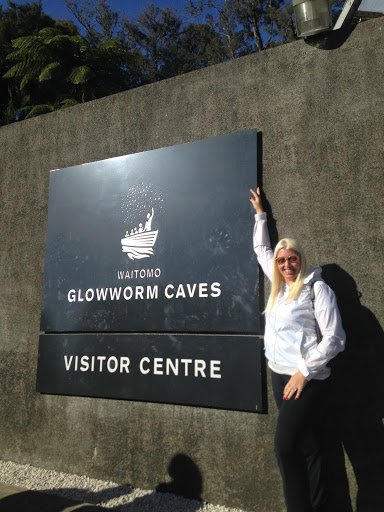 We finally reached the caves. A guide came for us quickly and we followed him down the woodsy path into the rocky, wet caverns. It became darker and wetter as we went further. It looked like we were going onto a ride at Disneyworld but I knew this was real. There were stalagmites and stalactites on both sides of the cave as we descended deeper and deeper. The guide told us how the caves were formed. You could see water dripping slowly, slowly, slowly off of icicle rocks hanging from the ceiling of the caves onto skinny stone columns rising from the floor of the cavern. That was where the water just continually dripped, complete with calcium deposits in it and over hundreds of years of dripping in the same spot, the formations are made. Our guide asked who in the group had a birthday coming up and we volunteered Lilly, whose special day was only a week or so away. We were instructed to sing "Happy Birthday" to her for the acoustics in the cave were supposed to be cool. Our guide told us they had Christmas concerts in there during the holidays. But after our song he had us come lower into the cave to show us the glowing worms. The worms are actually little caterpillars that spin a glowing-like thread, that catches the attention of other flying insects and the special liquid entraps the insects and the worms eat their catch. Their glow is a faint blue light but when it is pitch dark, the glowing is great and so cool. We got into boats in the dark and guides used ropes tied to the tops of the caves to guide them around the inky vastness of the caves. Getting lost here would be ridiculously easy. As we floated along, I looked up and the blue glow was beautiful and so unique. I knew this was the only part of the world I would ever see this. The ride on the boat was only a few minutes. I could see the opening of the cave getting bigger as our guide moved us toward the mouth. The spot we got off the boat was mossy, green and cool and looked like a postcard. I took some great pics. We had some free Wi-Fi minutes to gather the rest of the group and we moved onto our next stop, a working farm.
A private farm only a 20 minute drive from the caves in Otorohanga, we were stopping for lunch. The bus driver warned us about "Charlie".
That he lived at the farm and could come on the bus and be quite cranky. But I realized as we pulled into the gravel area of the farm house that when the driver opened the door of the bus, a Jack Russell terrier jumped on and ran up and down the aisles looking for a pet. Lilly and I called him to the back of the bus and he rolled onto his tummy, looking for love. I was gonna love it here, heh heh. We were led out to a large back porch covered in growing flowers. The day was spectacular. Ice cold drinks awaited us and big family style platters were brought out of fresh tomatoes drizzled with oil and salt, tangy meatloaf, homemade potato salad, and Mario's fave, leg of lamb. We ate well and Lilly and I gave into Charlie's incessant begging and gave him the bits of fat of the meat we had left on our plates. He loved us even more, now. Everyone went off to take photos of the bees and butterflies jumping to all of the rainbow colored flowers in the garden. I thought what a great place for a wedding or for kids to play hide and seek. As I walked back toward the porch at the house, the hostesses brought out homemade bowls made of ice with big cubes of fresh vanilla ice cream in them. Then, they brought out silver bowls filled with warm plum sauce. I just about died and went to heaven. The dessert was so simple and delicious. Lilly and I loved it so much. They even had great coffee.. Ahh, all we needed now was a nap.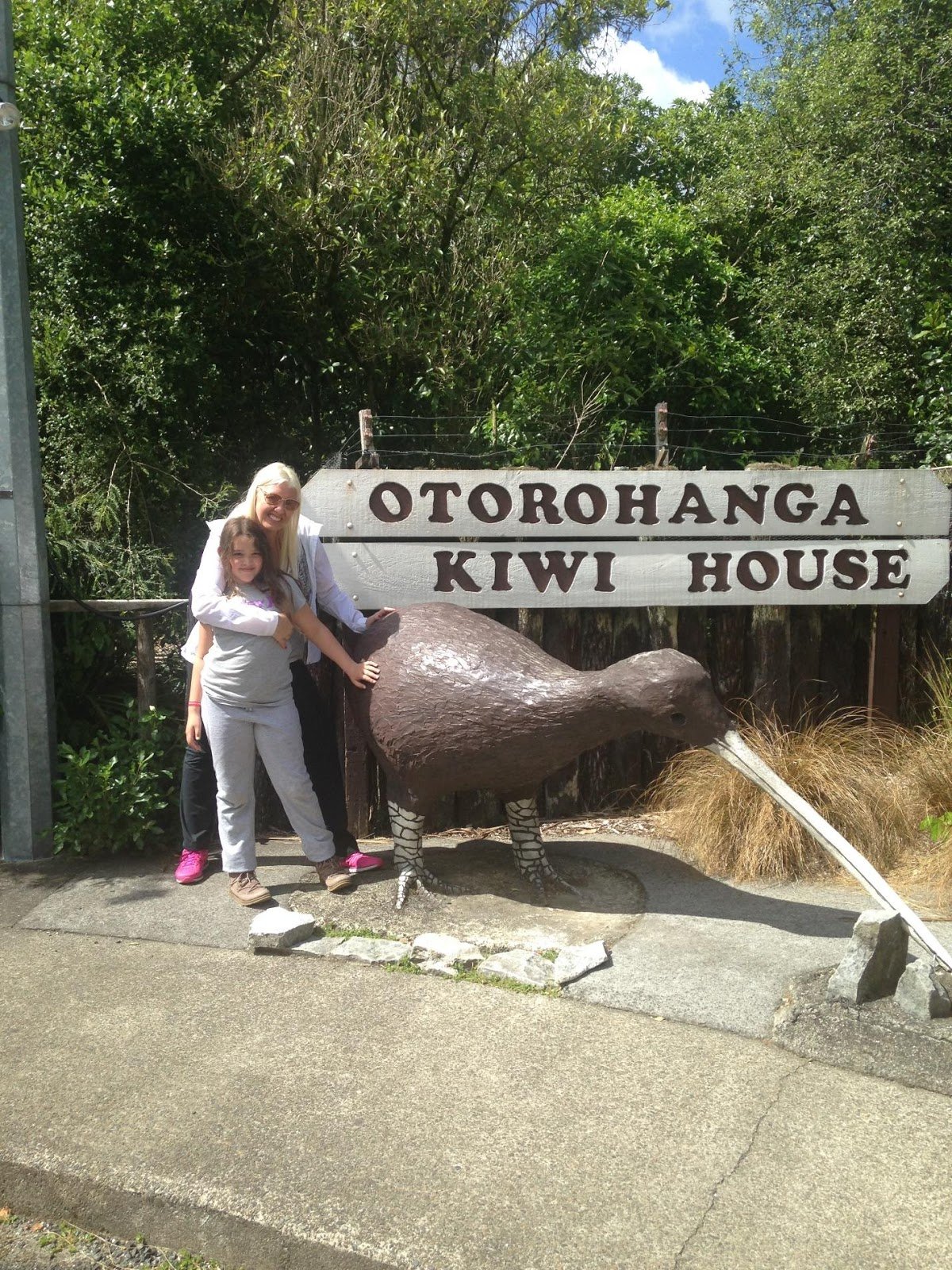 The last stop was the Otorohanga Kiwi House, a short drive away from the farm. The entire reason New Zealand is named after the famed bird is because it is only found in that part of the world.
I had seen photos of them (remember the shoe polish tin?) but I don't think any of us had actually ever seen a live kiwi. Highly endangered and treasured, the Kiwi House breeds the bird for longevity. They "fool" the kiwis. The enclosure is set up to look like nighttime during the day when tourists come visit them. And then, when it is truly night, they make it bright in their dwellings so they can sleep, as they are nocturnal animals. I spotted the kiwi in the enclosure. She kind of looked like a chicken without wings and was brown and yellowish striped. She was pecking around the dark looking for snacks. The zookeeper told us she was going to in and feed her. But she said the kiwi had a very nasty temperament towards her. She went into the enclosure and wow, the kiwi went koo-koo. She pecked and snapped at the girls legs but did not refuse the food she gave her, which looked like some mushed up yuck. She said the kiwi is highly preyed upon for it does not have many defense mechanisms and does not fly well. We walked around the bird park for a while and went in and out of giant bird cages. We then went back onto the bus for the 90 minute drive back. Lilly slept. Mario, Ruth and I dozed on and off while the driver played country music. I was not sure if he truly liked it or thought that was what westerners liked. He gave us a 30 minute lecture on kiwi's, the fruit. He then stopped by a kiwi orchard. I got out and took a kiwi selfie directly next to a green fuzzy one, as I don't think I'd ever seen the fruits growing in the wild.
Nights on the boat were a surprise. The entertainment was actually entertaining. The entourage on the boat used lots of hip technology to take the shows they created from the usual cheesy to fun and current. They also had a comedian, an impersonator, a mind reader and ventriloquist. I got called up almost each night to participate, as I sat in the front row every night, heh heh. So humble, am I.
The next morning we arrived in Hawke's Bay, Napier.
The boat docked next to piles and piles of tree trunks, as we learned that the port was a major exporter of wood to Asia. The day was cloudy and chilly but nice enough for a tour. The day ahead was going to a chocolate shop, a fruit orchard and Te Papa, a huge mountain in Napier. The bus ride to the chocolate shop was more of what we had seen before, lush green agricultural land and the usual animals that go with that. The chocolate shop greeted us with free samples, which were totally yummy. But Mario and I were put off when the owner of the place would not tell us the Wi-Fi password. Hmm.. I suppose she did not understand what a "Facebook check in" was, and that if she did let us log on, I would have checked in at her shop for millions to see. She was kickin' it ole school and it was not helping her biz, any. So after I got over the crankiness, we arrived at the next stop, at a family owned fruit orchard in Tomoana. (Almost all names of places in New Zealand are of Maori origin) A light drizzle had begun but we hopped onto a big wagon being pulled by a tractor and listened to the lady of the place tell us about fruit growing. It was super cool. She showed us aisles and aisles of apples, pears, kiwis, peaches, plums, grapes and apricots. It was being in a live, organic produce aisle. Fruit growing seems so simple but not when it is your business. She pulled up along an open pasture. A whole bunch of goats, sheep and chickens ran up to the tractor. Weird, usually they run away. But our guide pulled out a basket full of fruit. Ah-ha, feeding time. She okayed for Lilly (the only kid on the trip) to come down in the drizzle and feed the animals. It was awesome. Goats nibbled apple slices from her hand. A huge sheep took a whole, mushy apple from her hand in one bite. We got pulled back to the farmhouse/store and were able to sample all we had just seen, growing out in nature. I am not an "apple person" but wow, these were so delicious. So sweet and juicy. We had fruit salad for lunch, literally. But we were disappointed to learn that our tour to Te Papa was cancelled for the rain and visibility made it hard for us to ascend. Boo. ☹ We went to a honey farm instead. It was not a bad consolation prize. We saw a live hive in motion. Although the hive was in the store, it had huge sheets of Plexiglas covering it so all could catch the action. The store employee showed us the queen, who had a white dot on her back, put there by the beekeepers for easy spotting. Remind me in my next life to become a queen bee. Holy attention. She was being groomed and loved and fed royal jelly by the workers. Not a bad life until she gets old and the rest of the hive figures out she is getting weaker and then, um, devours her. Ouch. (I wonder if she knows that going in to the job?) We sampled honey from 10 different flowers. I truly did not know honey could be so similar and so different all at the same time.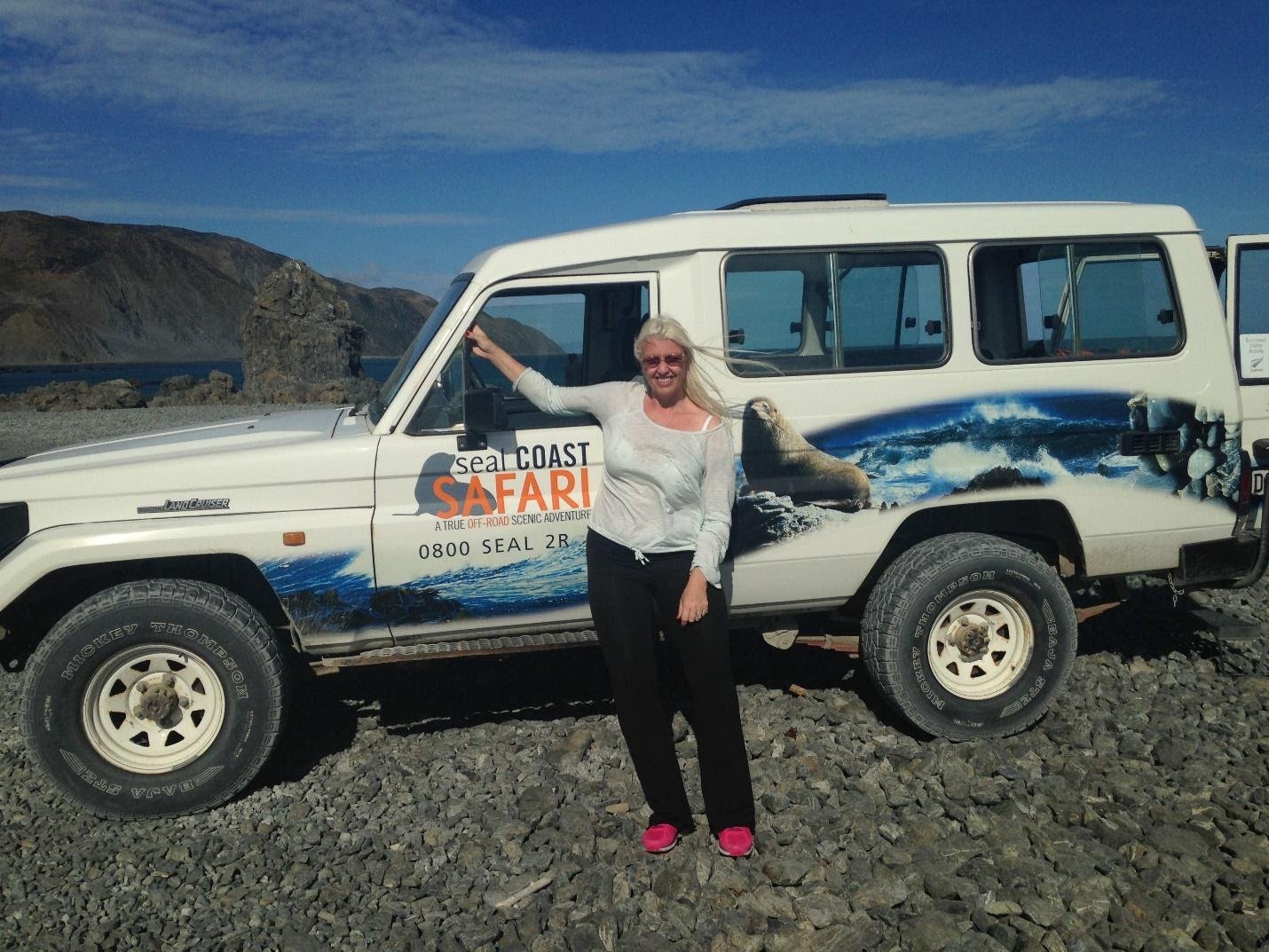 The next day we woke up in the capital of NZ, Wellington. The biggest city we'd been in since Auckland, Mario and I took advantage and went for a long walk into the city to hit the Wi-Fi.
We tried in McDonald's , a few hotels but settled on a Subway sandwich shop for an hour. It was a perfect, sunny warm day. We had a late excursion, not until 2:30.
We had a huge lunch back on the ship and gathered up in midafternoon for our tour. It was a seal coast safari. It was the four of us, two military guys and one of the young dancers who worked on the ship, in a big 4 by 4, not unlike our vehicles in Africa. Our guide was a super cool, older Kiwi with the heaviest accent we'd heard thus far but he spoke so slowly it was easy to understand him. He picked us up at the dock and drive through the city to get to the tippy top of Wellington, an area called ironically, "Brooklyn". We had some great panoramic views of the city and Owhiro Bay below. The terrain changed from lush and hilly to brown and dusty. There were yellow flowers everywhere. Our guide told us that they pop up at the start of summer and again, at the end, which it almost was. Behind some metal fence were a bunch of deer and one buck hanging out in the late summer sun. Our driver then started to descend and the drop views below were pretty scary. Ruth was nervous I could tell. But this was the adrenaline rush Mario needed after being with bunches of seniors on buses the last few days. The bottom of the mountain opened up to black sandy rocks, Makara beach. We drove alongside the ocean. It was so amazing; we had never done that before. The ocean was not far from our tires as we fishtailed on the sand. What a rush. Mario was smiling and laughing and I knew this was the shot in the arm excursion he enjoyed. The smooth sand led to bigger rocks that I thought for sure, we'd pop a Firestone over. But we climbed up and onto big grey rocks and the shocks of the Jeep were working hard.
We finally came to a stop on a grayish beach. The rocks cragged up out of the ocean, forming towers. There was dark green seaweed everywhere. But our guide had us hop out of the truck to show us lazy seals sleeping on the edges of the rocks by the water. There were tons of them. Seal city. But we were warned not to get too close. Not out of fear they'd do something but they'd just move off and swim away and we would not get a good opportunity to be so close to wild seals. Behind us were giant wind farms. It was a truly unique place. The water was almost navy blue. We had a snack of fresh blueberry filled muffins. YUM. The ride back was calm and chill. We drove along the coast til it opened up to a regular road back into the city to our ship in the early evening light rush hour traffic Definitely a great day. Wellington was a hit.
We sailed to the South Island the next day. Akaroa is a small town on Banks Peninsula on the South Island of New Zealand. It was a cold and chilly day and did not feel like the end of summer. We had to tender it to the shore. Once we got there we walked two blocks to the town library and WiFi'ed til our driver was to pick us up. We were doing the "Akaroa Farm Tour."
Our driver took us up and up into the green and grey mountains. We stopped at a farm 30 minutes after driving. The host was Murray, a sheep farmer in his late sixties. He led us to a barn which smelled strongly of sheep urine, but hey, this was the real deal. He told us the story of his his family began the business and that sheep farming was a dying trade in New Zealand; although that sounded hard to believe with 30 million fluffies still roaming the country. He brought out a sheep (way bigger than I expected) and he turned on a mechanical cutter/vacuum looking tool hanging from wires from the ceiling and began shearing the sheep. He was not hurting the guy, but still, it looked kinda uncomfy for the sheep. I did see some nicks and little streaks of blood on the sheep from the shearing. ☹ Murray then asked Lilly and I to come up and take a picture of the animal with him. It was fun. The wool was spongy and coarse. Murray explained the process of how the wool gets cleaned, too. Many of the lambs also go to slaughter for meat. It sounded sad but this was this man's family business and animal cruelty did not even seem to be anywhere in his heart. The absolute coolest part though was Murray introducing us to his sheepdogs. All mutts and shepherd looking and stinky but wow, so friendly. They were dying to be pet and well, let off their leashes to work. Some dogs were chasing dogs, which made no sounds at all and were just used to move sheep from Point A to Point B. But, some dogs were barkers. They were used to make sheep REALLY jump and move like over rocks or through streams. It was so incredible to see their handler, a stocky woman who had an infant strapped to her chest, doing the work with these dogs.
We then were "herded" to the toasty house. On the porch were live grapes growing down which framed the home. They had rocking chairs and cats all around. It looked like a postcard, even in the grey afternoon. In the kitchen were warm scones with red jelly and clotted cream. There was also tea in big steaming pots. I snuck back to the kitchen a few times to get scone after scone. Sigh, you can't find those around Fort Lauderdale too often.
Murray's family was so sweet. He answered question after question and said Americans were absolutely the most talkative (in a good way) tourists he got.
Our ride picked us up and brought us back to the pier. But we stopped a mile away from it to finally try the Hokey Pokey ice cream as we heard about an ice cream shop on our tour (they call it a "dairy") As we got out of the van I realized I left my bag in the van with Lilly's iPad in it. I guess it was my turn to lose an electronic.
Thankfully, the cruise director back at the pier contacted our driver in the van and he swung back with the iPad. Right in time for me to take the same tender back with the rest of the group. Phew. But darn it, I never got to try the Hokey Pokey.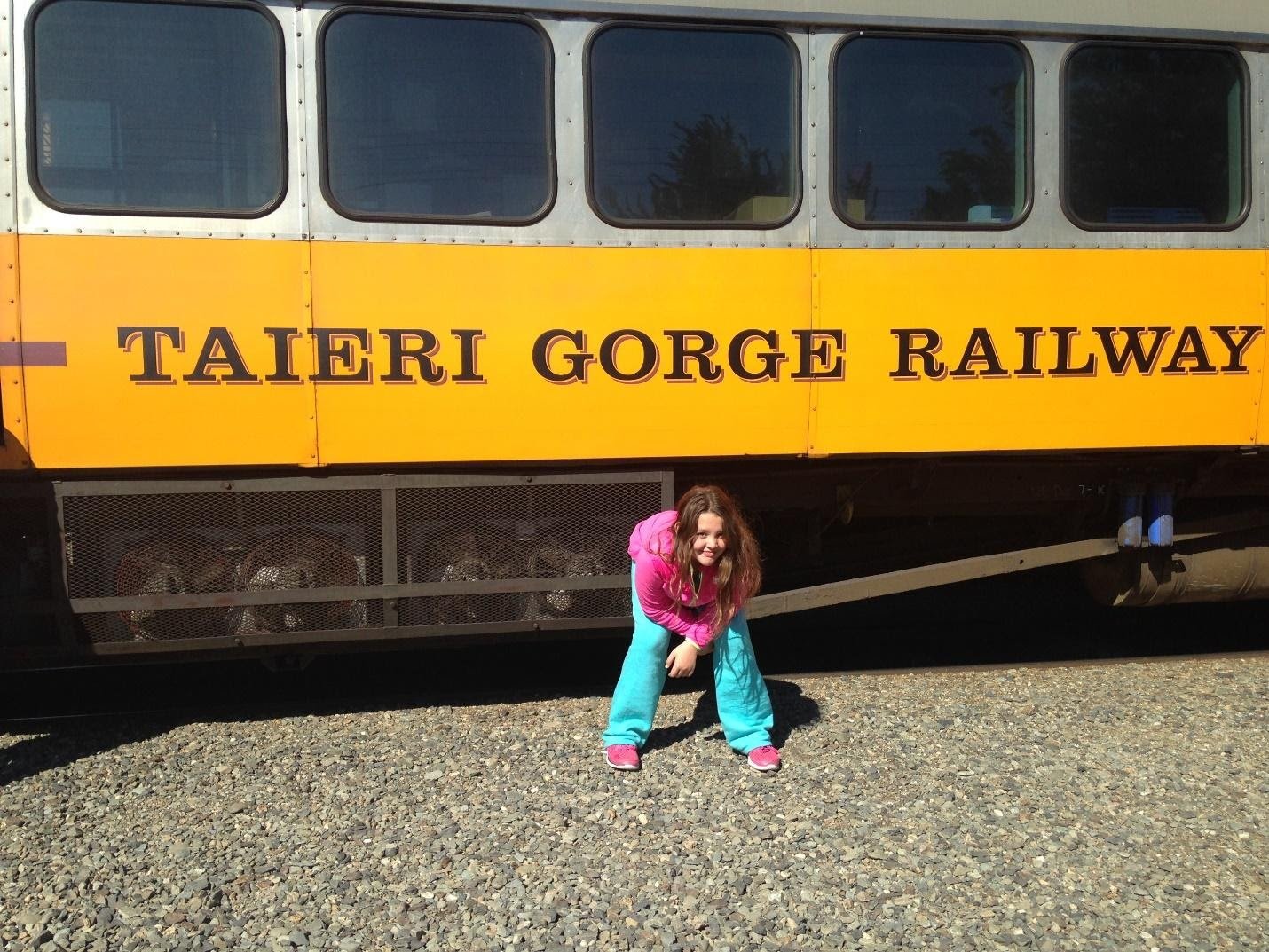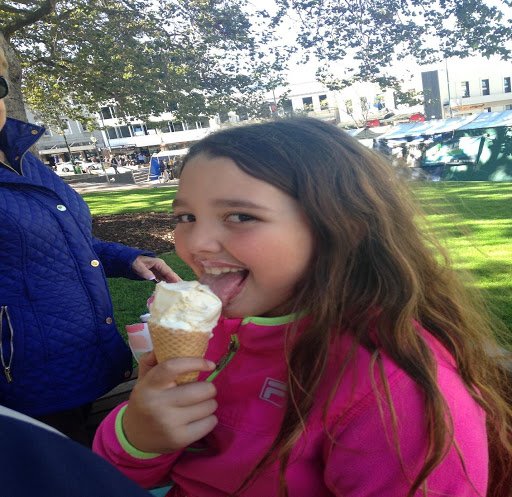 Dunedin NZ was next on our itinerary.
Not a Maori capital name, but Scottish. Lots of European settlers came to it hundreds of years before and made a living from sealing. Our excursion on this day was taking a train ride on the Dunedin Railway or Taieri Gorge Railway. It was kind of cool just stepping off of our ship directly onto the train. I don't think we had ever done that before. The line travels through some beautiful scenery along the banks of the Taieri River, through numerous tunnels and climbing along the Taieri Gorge. It crosses a dozen viaducts, including the southern hemisphere's largest wrought iron structure, and passes through ten tunnels. But wow, we were bored. I mean, they fed us for 3 hours straight but all there was to do was look out the window. I realized that we are not a "just look, don't touch" kind of family. We needed to be in it and do it. Ruth napped and Lilly and Mario played games with a paper and pen and I sadly resorted to Candy Crush.
But the silver lining- It was St. Patty's Day and on the return, the train allowed us time to get off at Port Chalmers town to see the "octagon"; a hubbub of activity with stores and restaurants. We decided to walk to the octagon and then, opt to take the bus back to the ship later. It was funny to see everyone wearing silly hats of green and starting their beers at 3pm. But guess what we finally found? Hokey Pokey ice cream!  A cross between butter pecan and vanilla toffee, it was delicious. 
The next day was a day at sea. But not just any day at sea. It was the Milford Sound. This was one of the reasons I had chosen this itinerary. Many New Zealand cruises skip this part of the country as you can't "get off the ship" and can just see it from your boat. Once listed as the world's top travel destination in an international survey (the 2008 Travelers' Choice Destinations Awards by TripAdvisor) it is acclaimed as New Zealand's most famous tourist destination. Rudyard Kipling had even called it the "eighth Wonder of the World". Milford Sound is known as the wettest inhabited place in New Zealand and one of the wettest in the world. The day we sailed through it was no different. Wet, lush and misty, it was an absolute mystical place. Lilly and I went out to the decks of the ship to be enveloped by the cool wetness and grey glory. Waterfall after waterfall rushed behind us, in front of us. I was jealous of a smaller boat that was going close to the fjords and rocks, right up to one of the waterfalls. Landscapes and remote and rugged beauty, it is actually a fjord, rather than a sound. A river formed valley subsequently flooded by the sea is called a sound; however, Milford Sound was formed by the erosive effect of a glacier.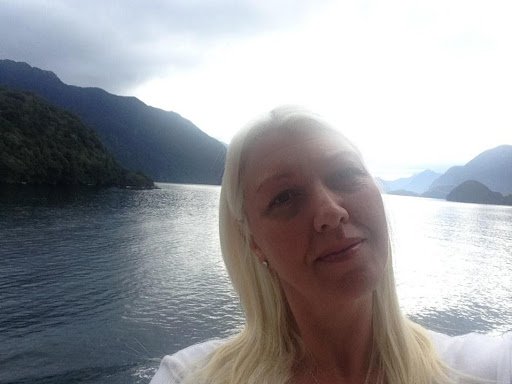 This was essentially the end of the road for us in New Zealand. We now had to double back the South Island to cross the Tasman Sea. And oh boy, we were not prepared. Usually, when I prep for a cruise months before embarkation, I think about what clothes to wear, what toiletries to bring and what guide books to refer to. I don't usually look up "Roughest passages of water in the world". I sure will do that from this point on though, sheesh. Little did we know that the Tasman Sea, or body of water connecting New Zealand to Tasmania, was notorious for being one of the roughest bodies of water on earth. Sup-er! Having been on at least fifteen cruises previous to this one and never having encountered more than bathtub-like water conditions, this was a big time shock to us all. It started at our sit down dinner the night we left Milford Sound. By the end of our ordering our meal, no one was much in the mood for it. We all retired early and went back to our cabins to sleep it off. But yikes, the back and forth motion did not lull me to sleep. It did everything but. I had visions of The Titanic, The Perfect Storm and The Poseidon Adventure swirling through my head. I mean, cabinets opened and doors and walls creaked. Our porthole got slammed with ocean to the point of where we almost looked submerged and we were 3 flights up from the belly of the ship. I tried to look confident to Lilly but could not wait for 48 hours to pass. Days were better as I could see out and not just imagine what would happen in the inky blackness of night. But even during the day, the sky was grey and angry and the waves looked so damned scary and foamy and high and I honestly was afraid. Staff on the boat calmed my nerves and said it was truly "no big deal" so their bravery made me feel more settled. In those two days, we watched movies, we ate (not sure how) put puzzles together and I think I literally won about 7 onboard trivia contests. I have to say how proud I was of myself that on a boat of 2,000 senior citizens I kicked Jeopardy butt- heh heh. I met some cool folks from Australia and the UK and the US and we all hung out on the boat the last days. Good times.
We finally arrived into Tasmania in the wee hours of a Monday morning.
But it was not just any Monday morning- it was also Lilly's 8th birthday. Docking in Hobart, we ate breakfast and since our tour was not til the early afternoon, we had exploring time around the docks. Again, the weather was so perfect. An end of summer morning where a slight chill was asking for a sweater but by afternoon, you could throw it in the back seat of the car. The dock area was lovely. Horses and carriages went by. Men were working on boats and there were brick lined shops and museums and restaurants ready to open for the day. We fell into the tech trap of not having any connectivity in 3 days so we used the Wi-Fi of a coffee shop for 2 hours and "caught up".
I was so excited for the afternoon excursion. We were headed to Bonorong Wildlife Sanctuary. Wow, I read about this place and had planned a super special encounter for us, but mostly, for Lilly, since it was her actual birthday. Bonorong is a wildlife park that actively saves and rescues and rehabilitates animals only found in Tasmania and Australia. This place was no "zoo". We got picked up from an employee of the place right at our ship and she drove us about 30 minutes outside the dock in Hobart. Along the way, she showed us bodies of water and homes and gave us history that Tasmania was once a penal colony, similar to Australia. It was so green and lush and lovely. The afternoon sun was warm and bright. We pulled up to Bonorong and met the owners' dad, named Bob. He was our very own version of Steve Irwin and Jack Hanna, rolled into one. He introduced himself to us and said he'd be ours for the next 2 and a half hours. Going into the enclosures of quolls, lorikeets, echidnas, skinks, wombats and koalas was ridiculously awesome. The only thing we could not do was go into the tiger snake pit and the Tasmanian Devil enclosure. To start, Bob took us to the kangaroo fields, which had at least 20-30 kangaroos and wallabies hopping loose all over the sanctuary. Oh my goodness. There were small, medium and large ones and Bob gave us bags of snacks for these guys and girls. He explained the physical differences between males and females and he actually had me run my hands down the chest plates of both sexes, to feel the differences. The males were much more "beefy"..lol But I could not help but fall in love with the joeys peeking their noses out of the Mama kangaroo pouches. They looked like Chihuahuas in there! We spent a half an hour in there easily; petting, feeding and taking selfies with every size marsupial in the place. It was totally fun and a special treat.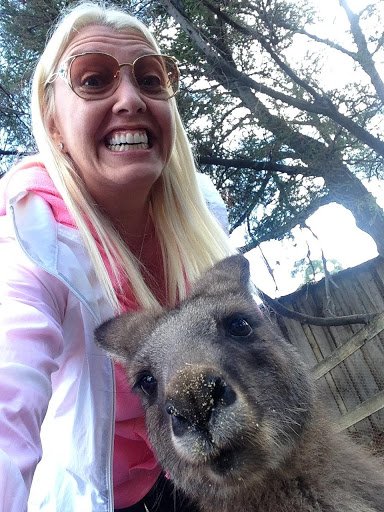 Bob then took us to enclosures that we went inside of, whereas the rest of the guests were watching us from the outside. It sure made us feel special! Lilly hand fed sugar gliders and touched skinks and nuzzled baby wombats. Bob showed us the famed Tasmanian Devils. Once seen as a scourge but now, highly protected, they unfortunately, have decreased in population due to being hit by cars and mostly, a contagious cancer that causes tumors striking their faces and causing them to starve to death. The Devils were eating pieces of raw chicken out of a big, white, cardboard box. They looked comical, moving the box this way and that and all that was showing out of the box were stubby little legs and a tail. They made these growling and snarling noises and one would think for a little creature, only a foot and half long, they would not be so fearsome. But they are known as the carrion eaters of Down Under and eat the dead and dying and are essentially, the garbage men of the wild, so they play an important role in nature. They have the strongest bite of any living mammal in the world, including the pit bull!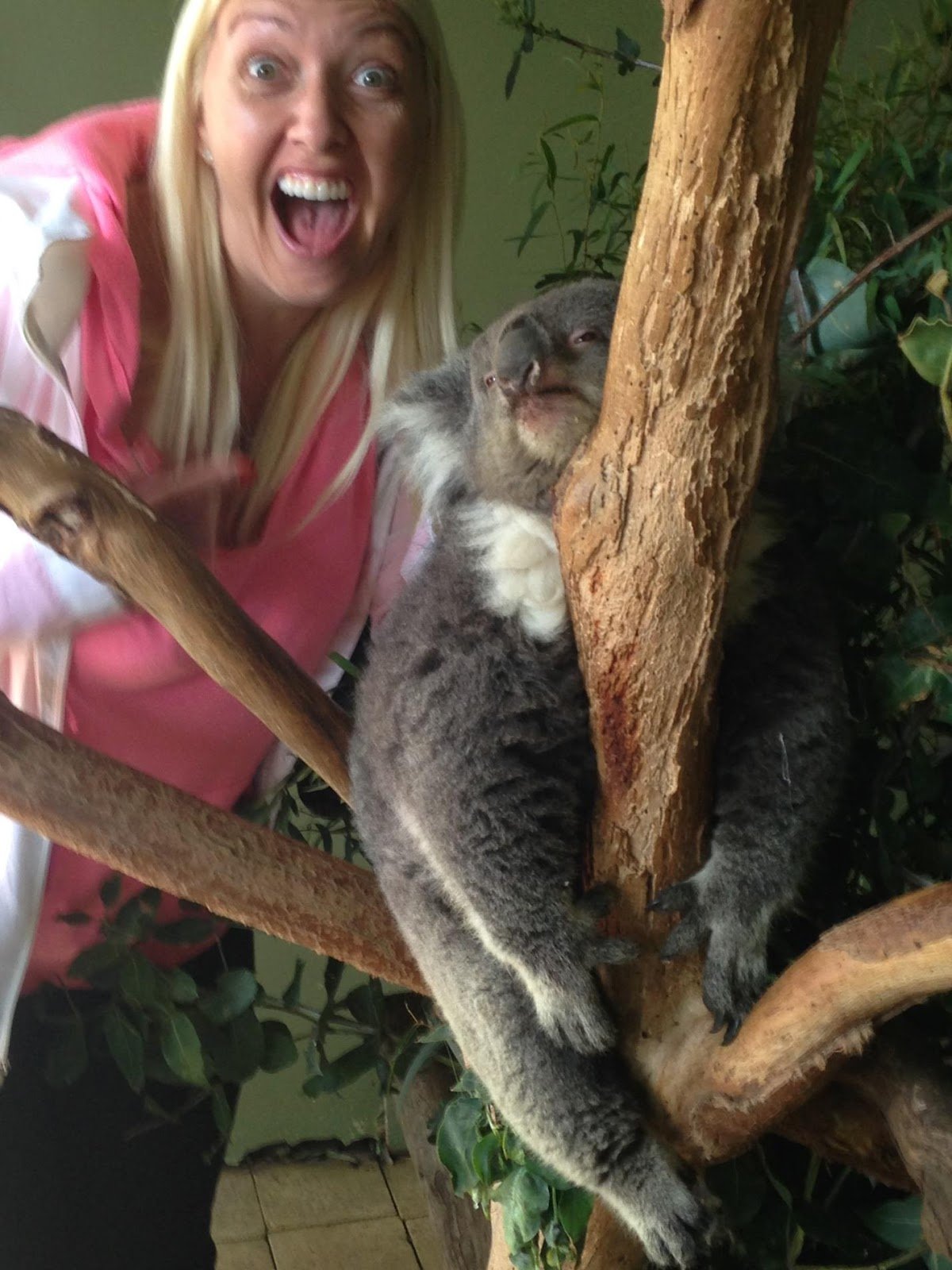 But the cherry on top was visiting the koalas.
There were about 4 sleeping in a bare tree branch, about 5 feet from the ground. We were allowed to go near them and touch their backs. They felt springy and spongy; not like soft rabbit fur as one would expect. The females, while smaller, smelled like eucalyptus leaves, which was no surprise, seeing that is their main staple in their diet. But whoa, the males- Yikes! They smelled like, well, what's the nice way to put this, stinky heinies. Bob explained that this was due to a gland at the base of their throats to rub on trees for territory and mating. We all loved being so close to such a special animal, even though they seemed less than thrilled and kinda snoozy. It was such an awesome day and Lilly said it "was her best birthday present, ever!"
We had another day at sea and this time, the ride was more smooth. We headed toward Melbourne. Excited because I had been to Australia before but never the second biggest city Down Under, I had arranged a free walking tour at 10am and told a few others on the ship about it. We cabbed it out of the port area to the entrance to the State library, where we were to meet our tour guide. Over 50 people gathered and the two guides split into two groups. We had a cool college aged dude who was very well versed in the city. And again, the weather was picture perfect. Sunny and warm and not a wind blowing. He took us by the Parliament, Chinatown and the Princess Theater.
He explained Melbourne was once the capital of Australia- it was not always Sydney.
The coolest part I loved were the laneways. Once reserved for horse and buggy's, they now are home to boutiques and coffee shops and bars and were so quaint and hip at the same time. We were there during a weekday lunch, so it was hopping. But my favorite thing about Melbourne was the street art. Every wall was covered with colorful graphics or designs. It was beautiful. It was like the whole city had a giant tattoo. Stencil art was prevalent too, even Banksy had a piece up. Our guide explained this mural and that. This was definitely a city for the young and hip. I don't think anyone there was over 40, except Mario and I..ha! We ended the at Arts center on the Yarra River. If I were 25 and single, this would be one city I'd possibly consider living.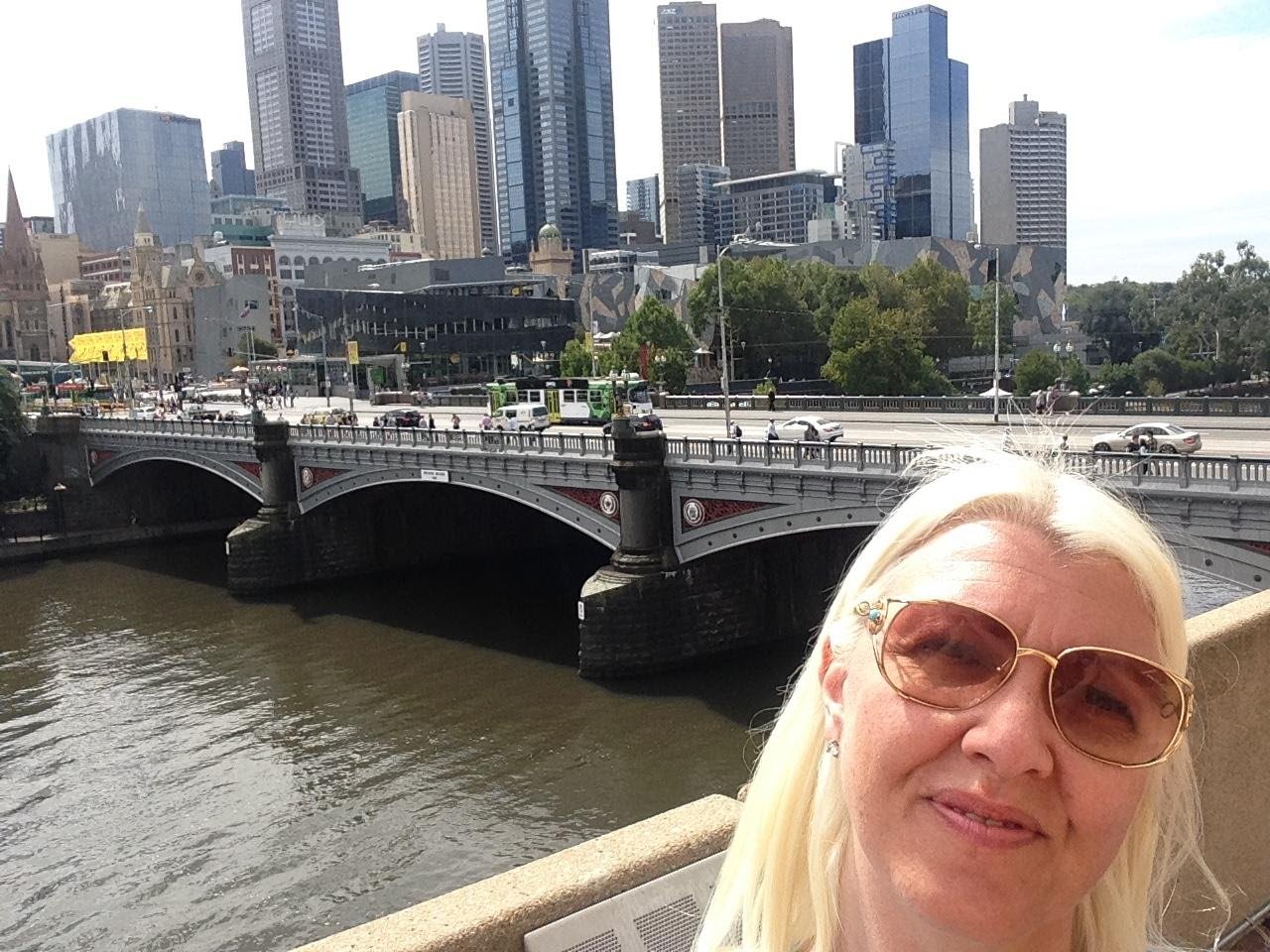 Our last day of our trip was Sydney. We docked and disembarked by 730am. We had a 2pm flight home so we had a few hours til we took a cab to the airport to make the long trek home. We took a taxi to the Sydney Hilton and as a courtesy; they allowed us to store our luggage while we walked around. It was still early morning and everything still closed. But as we walked, there were some great photo opps by the Harbor so we walked in the greyish morning towards the water and took our shots in front of the Opera House and Sydney Harbor Bridge. I could not go to this magnificent city with Lilly and not have shots of that iconic place. There is a good chance you'll see that shot as our Christmas card this year! G'day, mates.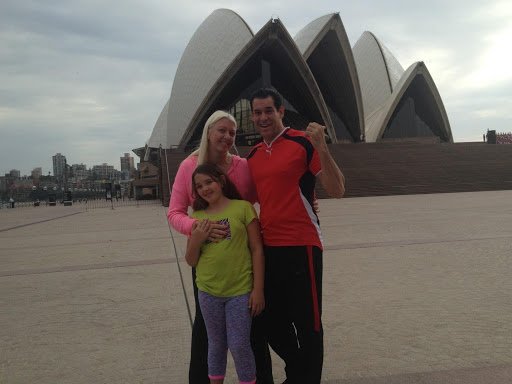 More Explora Blogs…
Read other explorations and adventures…
I never had seen anything like Meow Wolf. It's like walking into a surrealist dream. Bright colors, doors you can open leading to other worlds (literally), video games, VR headsets, blasting dance music. I never did any kid of hallucinogenic drugs but if Meow Wolf is what they were like, I wish I had!
The rewnowed Santa Fe hotel, La Fonda on the Plaza, the sounds were hauntingly beautiful. I was excited to spend a few days in a city that smells like sage and moves like molasses.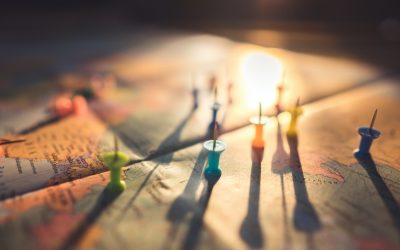 Attain dual citizenship. If one of your parents were born in a foreign country, you may have the right to become a citizen there…