Lisa Quinn - Amazon Princess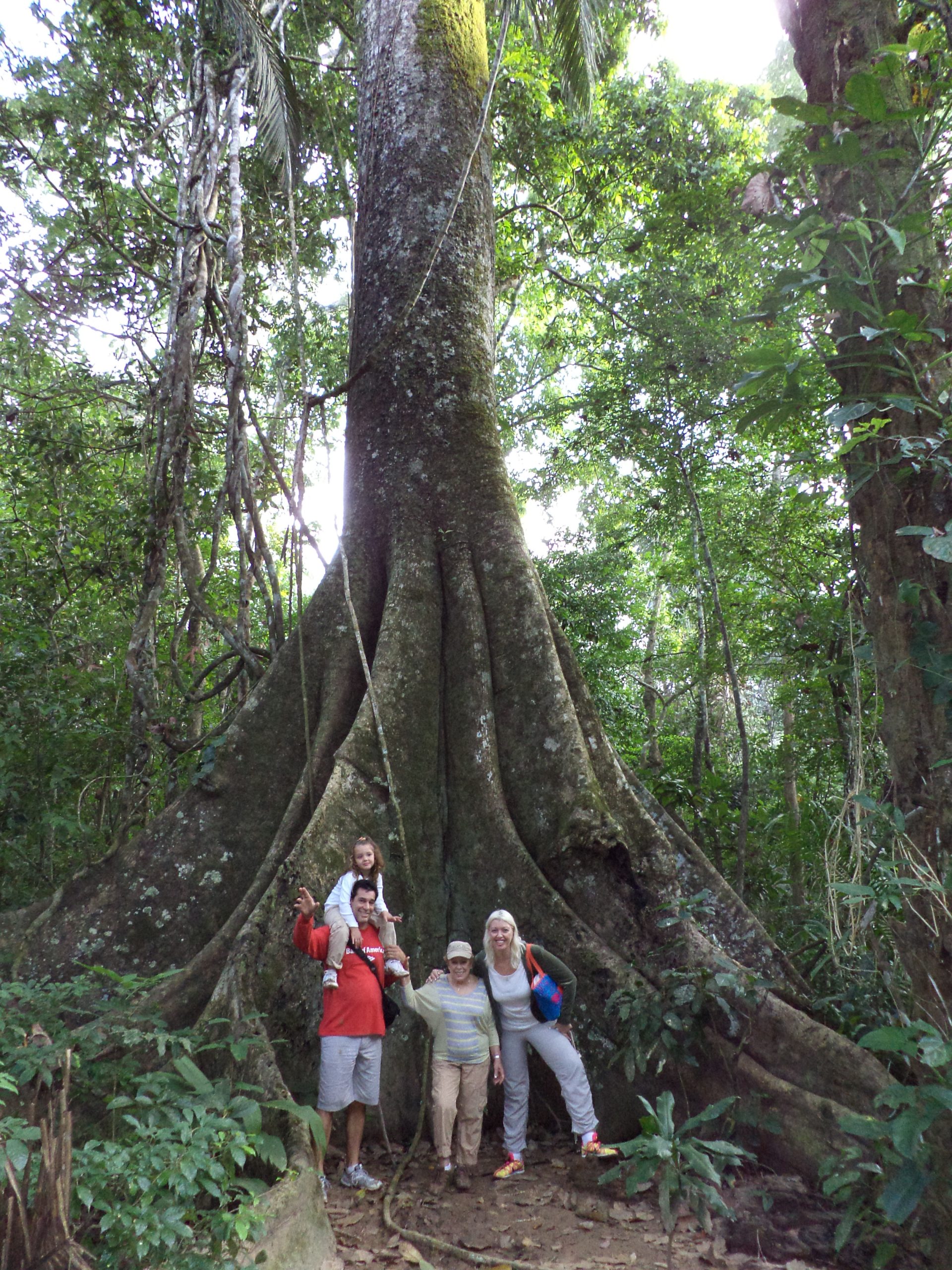 Duration:  9 days, 8 nights
Locations: The Amazon, Cusco, Machu Picchu and Lake Titicaca
Packing for 9 days for the jungle, city, mountains and a lake is not easy. Especially if you have a 4 year old. Our trip to Peru was so diverse. The Amazon Jungle first, then onto the Sacred Valley, up to Machu Picchu, Cusco and then, Lake Titicaca. The order was perfect since we needed to acclimate to the high altitude ending in Andean Peru; in Puno, one of the highest cities in South America and about the 40th highest city in the world at 12,500 feet above sea level
But back to the jungle. Our flight out of Miami to Lima was squishy and long. Totally full on a Wednesday night. Grr.. but Lilly sprawled out onto three seats while one of my bootie cheeks had half a seat and Mario sat on the floor. Really. What one does for their kids, I tell ya.. But we arrived on an earlier standby flight (a big perk) into Puerto Maldonado, a city in Southeastern Peru, in the Amazon rain forest 35 miles west of the Bolivian border on the Madre de Dios River, a tributary of the Amazon River.
We got off the plane, onto a bus and onto our boat. There was another family from Toronto, Canada there with three kids but other than that family, we seriously saw no children on the entire trip but for Peruvian ones. Hm, doesn't anyone know how cool the jungle can be for a four year old? Sooo, we took a 45 minute boat ride to our hotel, the Inkaterra Reserva Amazonica. Our rooms were these cabins on stilts with netting and "princess" beds that Lilly just loves. The entire grounds were a group of 35 cabins with hammocks, netting, ceiling fans and flashlights. It was primitive yet luxurious in its solitude. Lilly's fave part of the hotel were the agouti's; a group of beaver-rat-squirrely looking creatures that lived on the grounds. Right next to our cabin was a nut cracker, filled daily with Brazil nuts that guests would smash and throw to the agouti's. We named the three we saw every day, "Agouti","Dennis" and "Fuzzylips". I got pretty close but they were still skittish. I fed them everything not on the jungle menu; apples, crackers and if I had them, jelly doughnuts. That's why I got the closest; they loved me.. heh heh…
As a nation, Peru has the second largest number of species in the world and the seventh largest number of mammals; Peru also has a very high number of species of butterflies, orchids, and other organisms. It has the largest area of Amazon jungle after Brazil.
Our days were very full. We ate early pre-sunrise breakfasts and then, went on excursions. The first was to Lago Sandoval. Our boat sailed an hour downstream and dropped us off about a mile away on the shore from the Lake, which was hidden inside the jungle. We took a sloppy, muddy hike lasting an hour in over 90 degree heat and humidity. I actually felt like I was in my yard in Florida- it was not much different aside from the scenery. I had sprayed myself relentlessly with bug spray but still saw skeeters everywhere; even in the Amazon winter. The hike rocked though. I had it easy. But by ¼ mile in, Lilly had it. Too much mud and she was so small and could not keep up with our group of about 10. It was the four of us, our guide and another extended family from Vancouver. A Mom, her sister, a Dad, and their three older adult children. Mario plopped Lilly on his shoulders and hiked through a mile of gloppy mess. He even slipped one time with her and got filthy but Lilly only got a sprinkling of mud on her shoes. I was very impressed with his military-like actions. We finally got to a small canoe floating on a small stream and hopped in. The two Vancouver brothers rowed us to the middle of the Lago Sandoval. It was so serene. Bright blue skies, various shades of green foliage, intense heat and buzzing dragonflies everywhere were dipping at us. Birds surrounded us and we searched for monkeys and anything alive. We got super close to a black monkey who came down from his branches to inspect us. Our guide actually moved away from him for he got too close for comfort, either from curiosity or protecting his territory from us. We saw some turtles and birds but nothing really out of the ordinary. I will be honest; I was a bit disappointed as when in Africa, the areas we saw were just teeming with life. This was lovely but too quiet for our tastes. We rowed back and Lilly was none too happy to realize we had to hike back to where we started. I hung back with Ruth as it was not easy for her either but Mario had Lilly on top of his shoulders again. He was soaked in sweat when I saw him 45 minutes later. We went back to the lodge and ate lunch and napped. This was our daily routine. We did two evening excursions. One on a boat in which we saw a few caimans but again, nothing out of the ordinary.
The stars were pretty awesome though. Sparkly and splayed in the crisp black sky; it was awesome to inhale pure air that the modern world hadn't touched yet. The other night excursion was the coolest thing we did in the jungle. Mario, myself, our guide and Vancouver Mom and her two sons traipsed out into pure black foliage on a teeny dirt path armed with flashlights. Our guide showed us more spiders than I could see in a lifetime. Some atop webs, others coaxed out of holes. Some were the size of my hand- tarantulas fuzzy and black. A fruit bat whizzed past our heads when it heard us approach and on command, we turned off our only illumination and stood completely still in the Peruvian Amazon, not even able to see our hands in front of our faces. "If you feel any movement on your feet, don't move". Our guide was dead serious when stating this. They told us that snakes were everywhere. We were so hoping to see an anaconda- our guide told us they had seen one weeks before, but we only saw two colorful teeny snakes that looked much like rubber toys.
Our last excursion was walking the canopy bridges. You climbed about 6 stories worth of creaky wooden stairs in the jungle and then, walked slowly across wooden and chain bridges connecting two trees. Some bridges were short- 30 feet or so but the largest were a good basketball court length. Ruth did not want Lilly to do any but Mario walked with her every step. She was exhilarated by her efforts and it was awesome to see her with such confidence.
Later that morning, we went by boat again back to Puerto Maldonado, our jumping off point to fly into Cusco, an hour or so away from the jungle. Upon landing, we were met by our guide for the next week, Daniel and his 8 year old son, Mateo. We got acquainted as he gave us some yummy sandwiches and caramel cookies. It was crazy to be in scorching heat and humidity at lunch time and two hours later, need coats to adjust to the chilly mountain air. Our driver, Joel, drove us into the Sacred Valley. We drove an hour or so before stopping in Chinchero at a weaving place where women aged 7 to 85, wove various textiles of blankets, clothing and rugs. We walked through heavy doors into an open yard with women sitting on grass, weaving. They had these wooden bars around their backs and 5 foot lengths of yarn attached to another woman or a sedentary something for stability. We were told the women are trained as young girls and begin making small things like bracelets.
They "graduate" to bigger items as they get older and more skilled. Lilly insisted on learning how to weave so one of the lovely women there guiding us, helped her. I bought a cool woven brown hat which would be useful to me later as the temps dropped even lower in Puno than the 55 or so degrees it was in the Sacred Valley.
We got to our oasis; The San Augustin Urumbamba. It was an old monastery transformed into a hotel. The courtyard was lovely. It had an in ground swimming pool surrounded by colorful roses- even in winter. Peru is very much a place behind high walls. Every restaurant, home and store is behind a heavy wooden gate or door with surprises behind it. But this causes the streets and roads to not be aesthetically pleasing to the eye. I was happy to see an open computer with internet access- yippee! We checked into our rooms, which were clean but chilly. Space heaters were in all the rooms to spit off warm air. We settled in and took a taxi a short while later to a restaurant owned by one of Daniel's friends; "The Huacatuay". In the middle of a narrow cobblestone desolate street, we again, creeped behind a heavy 10 foot wooden door, and walked into a lovely candlelit courtyard filled with locals, eating, drinking and smoking. The food was really delicious. Olives and avocadoes were a real delicacy here- as they were bigger, fresher and riper than in the States. I enjoyed these two items almost daily on our trip. We all talked and got to know one another better. Daniel told us he was a man of the cloth and then, left to become a flight attendant with American Airlines and then, left that to become his own boss and lead groups around Peru and Argentina, as he now had a wife and two children. We headed back to our hotel for a much welcome night's sleep.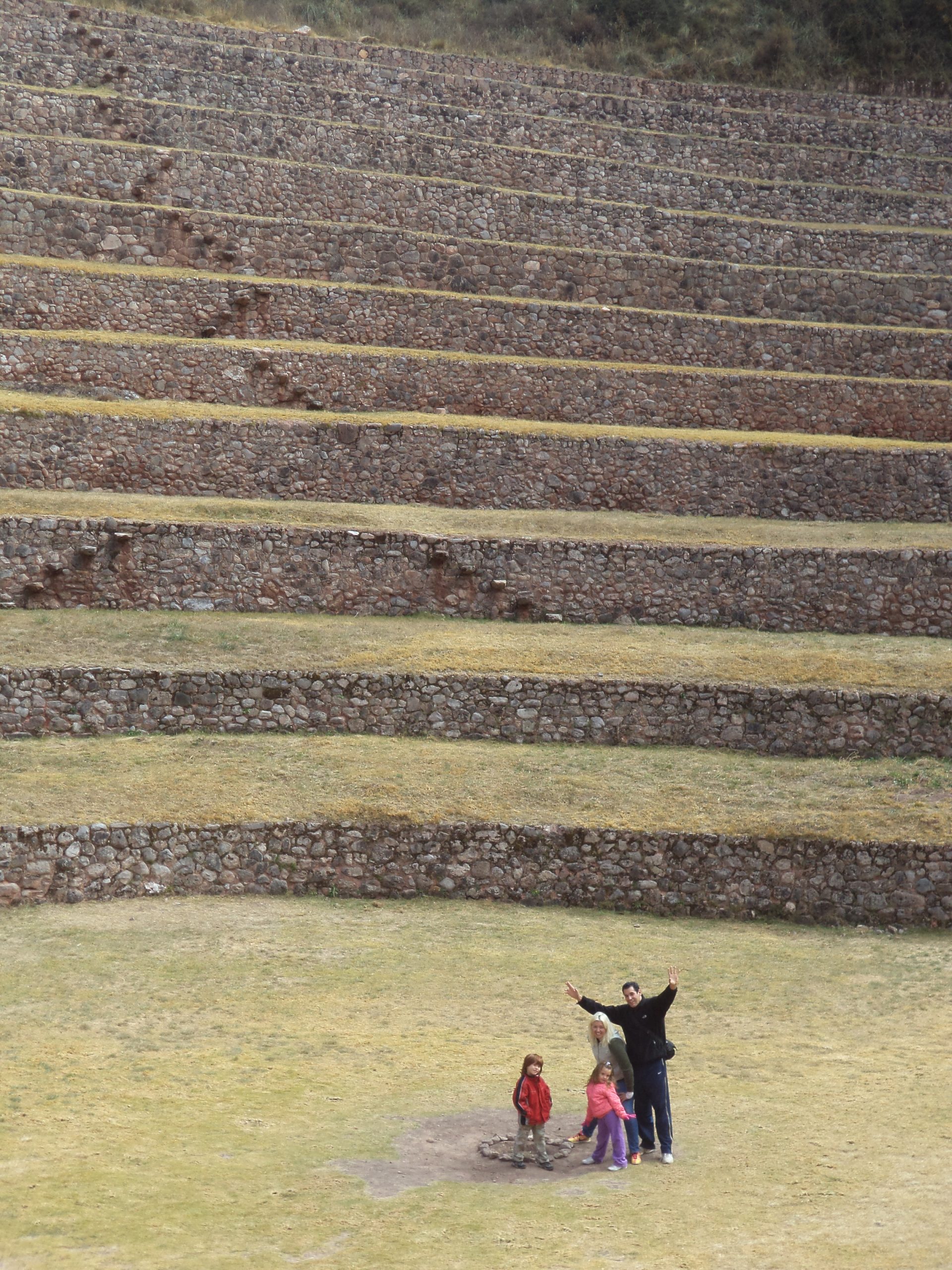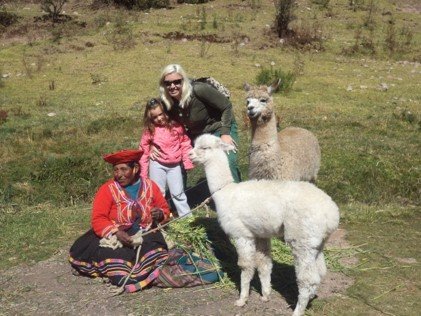 We awoke the next morning and ate breakfast under cloudy, chilly skies. Daniel told us this was common and that the sun would burst through later in the day. We were introduced to another guide who was with us much of the remaining of the trip, Justino. Joel, Daniel and Justino led us to Moray; an agricultural spot that the Inca's used as an experimental farming area. It actually looked like a giant outdoor theater, as there were various "shelves" of a large size leading down into a "pit" area. This spot was used for growing crops and the 3,000 varieties of potatoes that Peru has (Ha, Ireland!) Justino warned us about altitude and as the sun burst out of the sky, we began descending the levels of ground. Holy workout. Simple in appearance but we were huffing and puffing by the time we got to the bottom. We walked back up and realized this was only the beginning of a very active trip. The next stop was "Las Saltinas", levels of salt beds. As we drove, we saw exactly what you see in photographs of Peru- brown leathery skinned ladies with long black braids and bright colorful clothing, herding farming animals alongside roads. There were cows, sheep, donkeys and my favorite, llamas and alpacas.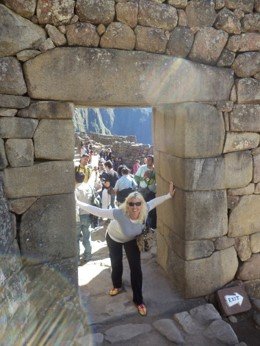 It was Father's Day. Lilly had made a picture frame wrapped in a construction paper envelope that she begged me to bring to Peru to actually give to Mario ON Father's Day. Since this was kind of a little holiday in Peru also, Daniel and Joel had arranged for us to go to Joel's family's house for a barbecue to see a genuine Peruvian clan. We stopped at a local bakery and got a gigantic cake and a bottle of wine to bring to Joel's house in Ollayantambo. When we arrived, we were met with Joel's wife (pregnant with Joel's second child) and extended family members. They were cooking potatoes in a dug hole in the ground and explained to us the process. A short while later they set a table outside for us and put out chicken, cuy (guinea pig) homemade queso blanco and Coca Cola, along with the dug up potatoes. As adventurous as I claim to be, I was hesitant about trying the cuy. I thought about my two guinea pig pets I had as a child and swallowed a teensy piece of pinkish brown meat that did NOT taste like chicken, but kind of like gamey, greasy pork. Ugh, gulp. I stuck to the chicken and potatoes. The highlight of the afternoon was showing Joel's family's children my iPod. They each grabbed an earpiece and listened as I changed songs from Rihanna to Bob Marley. I noticed a 12 year old boy there and asked who his parents were. Daniel told me he was 100% Inca as told by his two last names (Peruvians often go by very long double names) His name was Freddy. Daniel told me Freddy's parents live in the mountains and don't have very much so they let him live with Joel's family, in trade for Joel's family giving him an opportunity at a local school, in trade for Freddy working around the house. It was almost like indentured servitude and Daniel said it was common in Peru. Daniel told me he had mixed feelings about it and I could see why. I could see Freddy working hard around the house but coming near me when I was doing something "fun" as I know he wanted to see what I was doing. It hurt to see that this was his only ticket "out" but again, if he stayed with his own family, would he have the same opportunity? It angered me but I understood the logic also. Not everything is so black and white.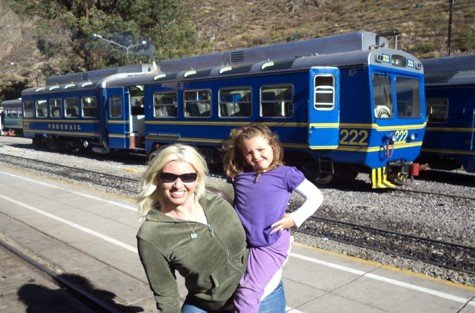 Joel dropped us off at the Ollayantambo train station. We climbed aboard our Vistadome afternoon train to Aguas Calientes, the pioneer-like town just below Machu Picchu. What an amazing ride. We sat in the first car and had an awesome view of the mountains, water and lands leading up to Peru's claim to fame since the ceiling of the train was windows so you could see everything panoramically. Music that sounded like Zamfir's pan flute was loud but not intrusive. It just got us all "in the mood". Geology changed from grassy rocky mountain yellows and greens to richer, orchid lined trees in deeper hues of verde. The train reached Aguas Calientes in 90 minutes and we looked around, taking in the pioneer like atmosphere. Stores and businesses alongside a rushing, gushing river and all structures made of logs. We walked uphill to our hotel. Daniel had upgraded us from El Mapi, a cute boutique style place to another Inkaterra property; the Inkaterra Machu Picchu. Wow, what a treat! Stone rooms surrounded by climbing vines of green plants, alongside the water's edge, we checked into our very cozy rooms. We had a very delicious dinner and went to sleep with the rhythmic sounds of the water aside us. I tried a traditional Pisco Sour but could not get past 5 sips, as it was too strong. I did try Mario's ceviche, made with some kind of super fresh white fish. Holy yum. But I awoke the next morning with an upset tummy. I was pretty sure it was the cuy and potatoes with bits of Peruvian dirt on them from the day before though; not dinner. I couldn't even enjoy the sumptuous hotel breakfast, grrr.. but at the meal we met a man-woman team from K2 Summit productions based out of Arizona who'd been featured on ESPN and CNN for leading handicapped soldiers and people to the summits of Kilimanjaro and Everest and was there to visit Machu Picchu, also. They connected with Daniel and networked a bit. Who says business cannot happen at 8,000 feet? The good news was I drank some local Alka Seltzer after we ate and felt better within the hour. This day was our Machu Picchu ascent. No time for getting sick now! We walked to the bus to take us to Machu Picchu. Every seat was packed. The day was a perfect sunny Monday morning. Thus far, I was surprised at the diverse groups of folks met on this trip. We usually see one group larger than another but this was the most varied I had ever seen. Folks from Canada, Japan, France, the US and even locals were evenly dispersed. The bus twisted and turned up a very high narrow road that really belonged in a James Bond movie. I tried not to look out the windows and paid attention to an excited Lilly who genuinely loves buses. We pulled in at the bottom of the archaeological site. We got our tickets and waited on a fairly short line. The attendant matched the names on our tickets to our passports and we walked in. Only 1,500 visitors are allowed daily, as a means of protection to the site. The climb began. Cobblestone lined paths, rocky walkways and dusty little roads were everywhere. As you got higher and higher, you realized how truly terrifying and amazing the site is. We were told 2-3 people "fall off" annually. I watched Lilly ridiculously close. Again, not many kids her age were present but for locals. She complained and whined some but did it. We stopped intermittently and took the photos you see only in National Geographic magazine. Justino told us the story of how Hiram Bingham, an American archaeologist "found" Machu Picchu in 1911. He essentially studied it for years and years explaining how truly important it was. The Inca's were so advanced- we have all heard this before, but until you are there and see and hear what they did hundreds of years ago, you realize their genius. They worshipped the elements, not unlike the Native Americans. They mastered farming and had running water and domesticated animals. (It's funny to see llamas all over Machu Picchu) They had a caste system and were fairly peaceful people (but for the animal and human sacrifices, gulp). Then, the Spanish came. The invaders were looking for riches and got as far as the surrounding areas of the site, but never supposedly never actually to it. The demise of the city is believed to have fallen due to a civil war between brothers, in which the Spanish took advantage of and played one brother against the other. The city was never actually completed.
We climbed down and got our Passports stamped with the date and "Machu Picchu". Loved that. We got into the mini bus and made it back to Aguas Calientes (named that for hot springs in the area, by the way) in time for lunch. "Indo Feliz" was a local hotspot owned by a couple- he French and she, Peruvian that combined the two fares into totally delicious food. I had chicken soup (my first bowl of many in the days I was in Peru) and ordered mango chicken. I was annoyed that my appetite was minimal since my stomach was not at its 100% best. Everything looked and smelled insanely tasty. Everyone really enjoyed everything from the homemade bread to the desserts.
We went back to Inkaterra to wait for our afternoon train to Cusco. We walked around the hotel grounds and spotted a bunch of wild hummingbirds and wasps at a feeder in the trees. We also managed to eat the many oranges offered at the hotel.
Our train ride back on the Vistadome was just as lovely, but three times as long. We were now going from Aguas Calientes to Cusco, about a 4 hour ride. Lilly napped while I chatted up a couple from Newfoundland.
The train had a totally cheesy but entertaining "show" to break up the monotony of the ride. I actually met a New Yorker on the line for the restroom who worked for Estee Lauder. Again, a very mixed bag of folks.
It was only 6pm ish as we pulled into Cusco, but since it was winter and cold, the sky was dark. Joel picked us up and dropped us at our hotel, the San Augustin Cusco. It was in the middle of the city, similar to hilly San Francisco, with narrow streets. This time, Lilly wasn't feeling too well with an upset tummy so we really wound up not having a big dinner. Mario ordered chicken soup for all of us but Lilly was asleep by the time it came to the room. I was surprised, Cusco was a lot more urban than I had expected. I did not realize it was the 3rd largest city in Peru. We arrived in the midst of preparations for "Inti Raymi", Quechua for "Sun Party". It's the largest festival in Cusco and people were abuzz with costumes, dances and music. Very cool but also, very crowded which made traffic awful. Lilly felt better the next morning and we ate an early hotel breakfast and were met with Joel, Daniel and Justino to show us around. (but not before dropping off our filthy Amazonian clothes at a local laundromat..lol) We drove to where I posed with local Peruvian women and a doll-like lamb in her arms which she let me touch. But when I went to pet her fuzzy white blue eyed baby alpaca and he tried to spit at me! (but nothing came out..lol)
We went on to some other archeological ruins, Sacsayhuamán a walled complex on the northern outskirts of the city of, Peru, the former capital of the Inca Empire. The architecture is pretty impressive, with each stone fitting perfectly into the other and you realize how ingenious the Incans were- like the Egyptians, using only their minds and bodies and no machines to construct these places. The site was added as part of the city of Cusco to the UNESCO World Heritage List in 1983.
The sites were complete with stories of tombs, mummies and even, walking through a pitch back cave with a flashlight in the middle of day. Then, we went to some "rock slides" that Mateo and Lilly slid down. We drove back into the city for lunch at a local organic restaurant that was just lovely and airy and light. We walked upstairs to a garden-like room with shiny wooden floors. We all had the lunch special; quinoa (a staple in Peru) lima beans, beef and salad. Then, we had a dessert of a cherimoya pudding.
Mario, Ruth and Lilly napped after lunch at the hotel, while I was a diva and walked to a local hair salon for a wash and style. Whew, that Amazon jungle did some number on my hair! But the no humidity in Cusco sure makes for a lasting blowout though, baby!
The next morning, we awoke early for a 6 hour drive to Puno, in southeastern Peru- the gateway to Lake Titicaca. We said goodbye to Joel, our driver for the last 4 days and met with Daniel, Justino and Jose Luis, our new driver from Puno. We took it easy. We stopped at some more archeological Inca sites (lots of praying and temple check points) and a Christian church resembling a mini Sistine Chapel, with some awesome frescos being restored. The gardens were gorgeous with fragrant roses everywhere. Daniel had packed us a picnic lunch so we stopped at the highest point (14,000 feet!) and lunched close by. This was the first I had felt any issues with altitude. I was a bit headachy but everyone else; especially Lilly, seemed fine. Lunch was yummy- tuna sandwiches on croissants, cold pizza and homemade banana bread. We didn't finish it all and Daniel told us to save the leftovers for later as he would show us something "cool" later that day. We all slept on and off along the way and Daniel stopped at a local store that sold "toritos"; little bulls that Peruvians place atop their houses as symbols of good luck and fertility. We bought some along with some local ice cream. As we drove further, Daniel told us that we would begin to see a lot of dogs alongside the roads. Dogs are NOT the welcome beloved pets in Peru that they are in the States. Most are filthy and flea ridden and live in the streets. It was kind of sad. I think I saw one dog on a leash the entire trip. Most roam freely eating garbage and mating repeatedly. I was unsure why they were sitting along the highways though. Chasing cars, I thought? Daniel showed me in the next minute. He opened our minivan window and threw our leftover lunch out the window. Two dogs came running and wolfed (pun intended) it down.
Our Peru trip was filled with this mysterious language. I thought Peruvians mainly spoke Spanish, but was surprised to hear this ancient vernacular widely in use. Hence "Lake Titicaca". No, it does mean.. well.. you know, but it actually means "Rock Puma" in Quechua and Aymara. We drove through Puno, a not especially beautiful place but when we got to our hotel on the backsteps of the Lake, it was lovely. The air was so crisp in the early evening. But our rooms were toasty. Unfortunately, I had a pounding headache and I knew the altitude had gotten a hold of my brain. We decided a dinner at the hotel was the best option and we ate chicken soup in front of the dining room fireplace. Lilly and I crashed into bed and I awoke refreshed for the day ahead.
The dining room by day had a panoramic view of the Lake. Birds were scurrying everywhere and the hotel had its own dock. It was awesome because we could just walk out the back door and walk onto the boat touring us. Dulio, Daniel's friend, had grown up on Uros, one of the many floating reed islands in Titicaca. He explained that although the Lake is almost split between two countries- Peru and Bolivia, Peru has the "better side". But Bolivians will say the opposite. Whatever the case, it is the largest lake in South America and arguably, the highest lake in the world. If you map it, we went in on the Western Coast. We took a short boat ride out to the islands of Uros and met Dulio's Mom and wife and son. The islands are so cool. Originally built by Peruvians to flee the conquering Spanish (for the Spanish often used Peruvians as slave's) the islands were kind of squishy and spongy to walk on but still, felt sturdy. The reeds have to constantly rebuilt on for water obviously wears them down and makes the islands weaker. The rainy season is when all the people are busy with the constant wet. We went into the homes of Dulio's family and saw little beds and even, TV sets that were powered by solar panels given to them during Fujimori's reign. Everyone was barefoot with a good inch of callous on the soles of their feet. The women were so brightly dressed and had wind chapped cheeks and faces. They offered to braid my hair and Lilly's. Lilly's hair ain't easy. Curls matted by winds and sleep from the last few days- the ladies (two of them simultaneously) braided her hair better than Vidal Sassoon and Lilly didn't even yelp once. These women had talent, wow. We purchased some cool handicrafts and went tonto a big gondolier made out of reeds and circumnavigated some of the little islands. The day was perfect- again, crisp and clear and cool. We stopped at a floating restaurant and ate fresh trout from the lake. The people catch the fish and make makeshift pens for the fish they catch and keep it alive until ready to cook, so it is super fresh. Dulio's wife had specially made lunch for us so we thanked her and left.
On the way back, we stopped at an English boat anchored close to our hotel called the SS Yavari. The ship was commissioned by the Peruvian government in 1861 for use on the Lake. It was brought there piece by piece and is now docked in Puno Bay.
We went back in to our rooms for a nap and woke up early evening to cab it into town. Daniel showed us around a bit and we walked into an old church before going to a place for dinner, where we had all things Peruvian- chicken soup and pizza.. ha…not….but it was delicious.
The next day would be our last. Daniels friend owned a farm on our way out of Puno so we stopped there and took tons of pictures with alpacas. The farm also had dogs, cats, non-stop cackling roosters and cows and horses. We kept saying it would be a cool place to renovate into a B and B.
We then went to Sillustani- a pre-burial ground on the shores of Lake Umayo. The tombs, which are built above ground in tower-like structures housed the remains of complete family groups. Lastly, on the way out of Sillustani, we stopped at a friend of Dulio's and she showed us her home, complete with guinea pig pen! They were so darned cute and she put out bunches of alfalfa so they'd come out and munch while we took photos of them. She also gave us a sample of homemade queso blanco and some charcoal syrup (which I did not try) that was supposed to be GOOD for your tummy; although it looked like mine would have protested greatly if I swallowed any of it.
We ate lunch at the airport (yep, chicken soup again) and headed home to Miami.
 More Explora Blogs…
Read other explorations and adventures…
I never had seen anything like Meow Wolf. It's like walking into a surrealist dream. Bright colors, doors you can open leading to other worlds (literally), video games, VR headsets, blasting dance music. I never did any kid of hallucinogenic drugs but if Meow Wolf is what they were like, I wish I had!
The rewnowed Santa Fe hotel, La Fonda on the Plaza, the sounds were hauntingly beautiful. I was excited to spend a few days in a city that smells like sage and moves like molasses.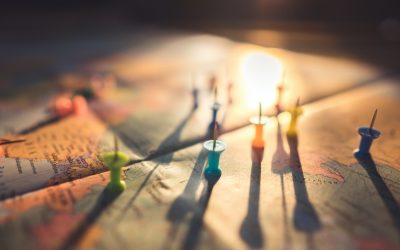 Attain dual citizenship. If one of your parents were born in a foreign country, you may have the right to become a citizen there…