Explora Madagascar
December 2019 - January 2020
Duration: 16 days, 15 nights
Locations: Port Louis, Mauritius
Mahe, Victoria, Seychelles
Praslin, La Digue, Seychelles
Nosy Be, Madagascar
Antsiranana, Diego Suarez, Madagascar
Toamasina, Tamatave, Madagascar
Saint-Denis, Reunion
Piton De La Fournaise, Reunion
All I wanted for Christmas was the Indian Ocean. Headed onto a cruise with an incredibly unique itinerary, we ventured out in mid-December 2019 on our first stop to Mauritius, a small island in the middle of the Indian Ocean on the eastern side of Africa. We left Miami on a Wednesday evening and flew into Milan, Italy early the next morning.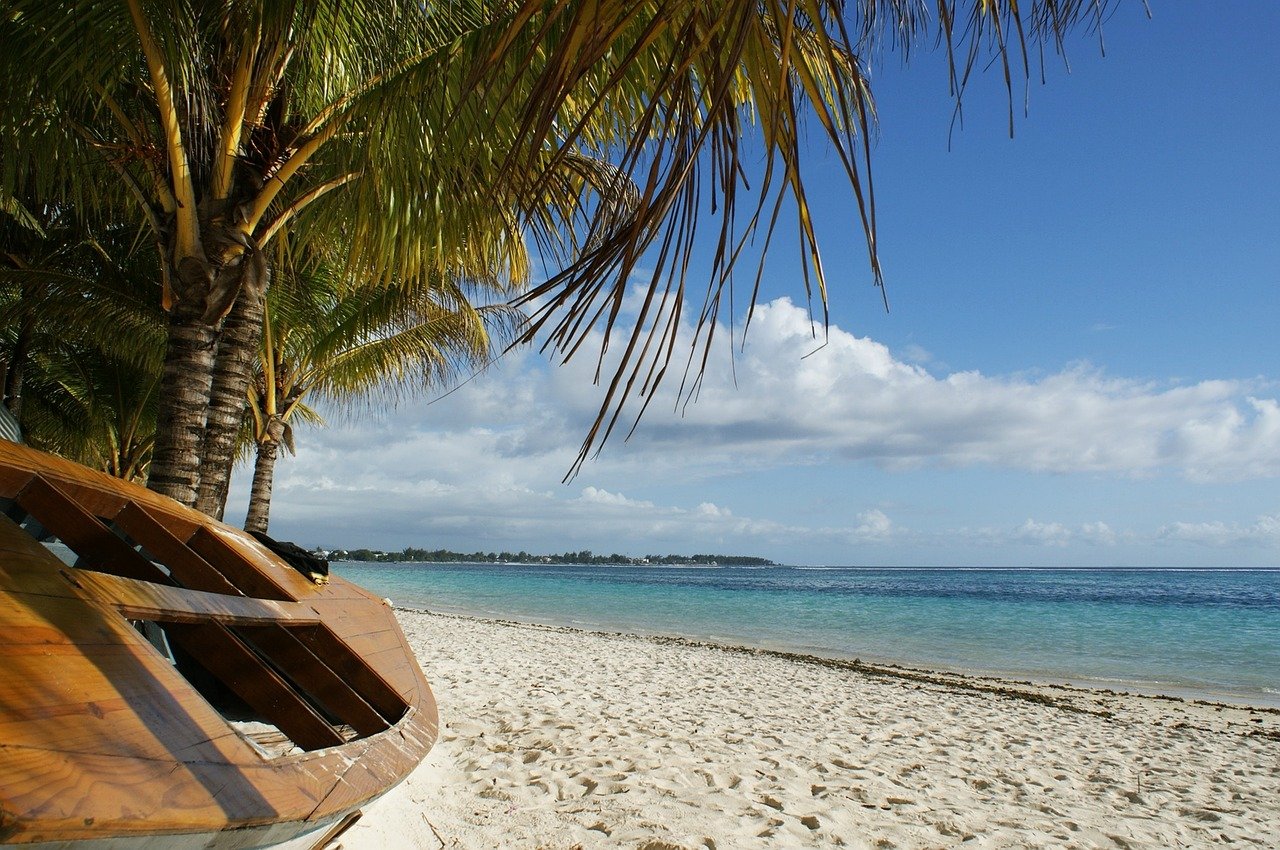 We arrived on a cold, drizzly morning in the fashion capital of the world. Our flight to Mauritius was not until later that evening and we had planned on spending a day in the city with a private driver and tour guide. We rented a day hotel to drop off all our baggage and unfortunately, when we arrived, they told us the room was not ready and only one of us could go up to the room and bring luggage up. Mi scusi? The hotel was being ridiculously strict and not accommodating at all. We made an onsite decision to skip the city tour and just wait at the airport hoping to get an earlier flight into Mauritius. Although the driver and the tour guides were not happy, we did what we could to appea$e them and went straight back to the Milan airport. Fortunately, we were able to get an earlier flight into Paris, which connected directly to Mauritius. But the flight from Paris did not leave till 11 PM and we did not arrive Mauritius till about 2 PM the next day. All the flights were fine and uneventful, but we were truly exhausted by the time Roshan, our guide-driver picked us up at the airport Friday afternoon.
I did not know what to expect looking around and seeing all the locals who looked like they were from India. Indo-Mauritians make up seventy percent of the population. They consist of Hindu and Muslim descendants of Indian laborers and Mauritian Creoles are descendants of Afro-Malagasy slaves and make up twenty five percent of the population. Roshan explained the drive from the airport to the hotel was about 45-minutes but what an oasis the hotel was. The Hilton Mauritius. We had two huge suites awaiting us- three bedrooms and three bathrooms for the four of us and
ahhhhh
… We went for dinner that evening to a seafood buffet and again, were surprised at the heavy Indian influence of food. But nonetheless, it was so delicious. I think the shower and bed afterwards was even more so. I think I literally crashed by 8 pm and Lilly followed soon after.
We had a morning tour of some sites before we were to board our cruise that afternoon. Breakfast was super sweet. We ate at the indoor/outdoor dining area lush with birds and greenery and pools, common in tropical hotels. I love seeing birds and bugs that I have never before and Mauritius had some unique specimen fliers all around.
Roshan picked us up early that morning after we ate. The first stop was to Chamarel waterfall. We were thrilled that the park was empty and we took some great photos in front of the falls. It was an awesome hike to and from the falls and the weather was absolutely stunning and lovely and gorgeous.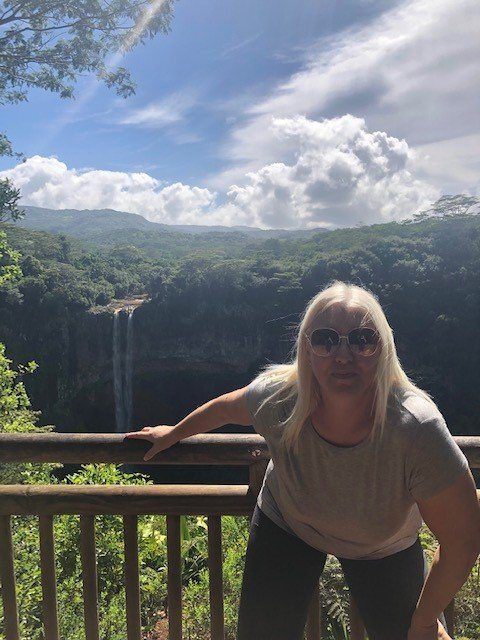 We then went to the Seven Colored Earth, which was an area of sand dunes of seven different colors- red, brown, violet, green, blue, purple and yellow. The different colored sands settle in different layers, so the little hills have a striped coloring.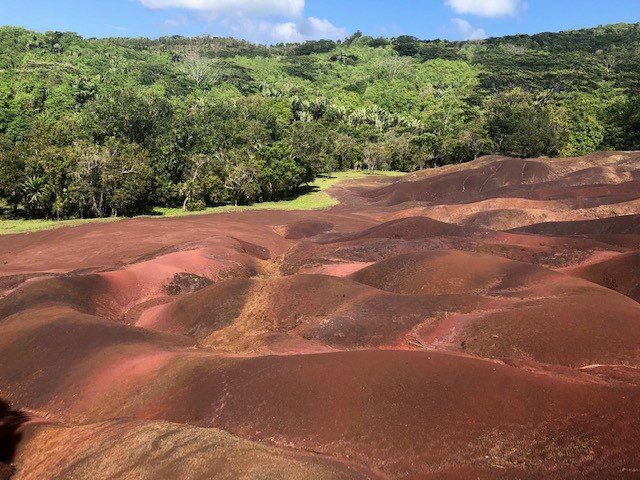 It was also empty of crowds. We then moved onto Black River Gorges National Park. The Park protects most of the island's remaining rainforest. I got a kick out of the big macaque monkeys everywhere. The Portuguese brought them 400 years before. But I think the highlight for us was going to the Botanical Gardens. You pay about $10 for a guide and ours was well-versed and so friendly and educated. He told us about every single plant and tree and flower and bush and it was so interesting to see the flora and fauna you don't usually see at home.
I think getting up close and personal to the flying foxes was the absolute joy of our day. Seeing giant black orbs as eyes and such a unique body, kind of a cross between a monkey and a fox and a bat all rolled into one. Our guide told us that many people see them as pests and they are shot out of the trees which absolutely infuriated me. How could anybody hurt such a magical creature?

We stopped at some light green lily pads, which were literally 2 to 3 feet in diameter with big, beautiful pink and white flowers growing out of the centers. We stopped to see some giant tortoises and began to melt with the heat. Although it was December, it had to be at least 90° and incredibly humid and muggy. We could not wait to get on the comfort of the cruise ship. Roshan picked us up at the gardens and brought us to the dock. Our cabins were awesome. We were upgraded to balcony cabins, which was the first balcony cabin I've ever had, even after almost 20 cruises.
We all got settled and had a buffet lunch.
We were thrilled that we had the next two days at sea to just kind of recoup from all the traveling that we had done over the last 48 hours. Unfortunately, Lilly got extremely sick and we attributed it to the food on the boat, which honestly was terrible. Our first stop was the Seychelle Islands in Victoria on Christmas Eve day.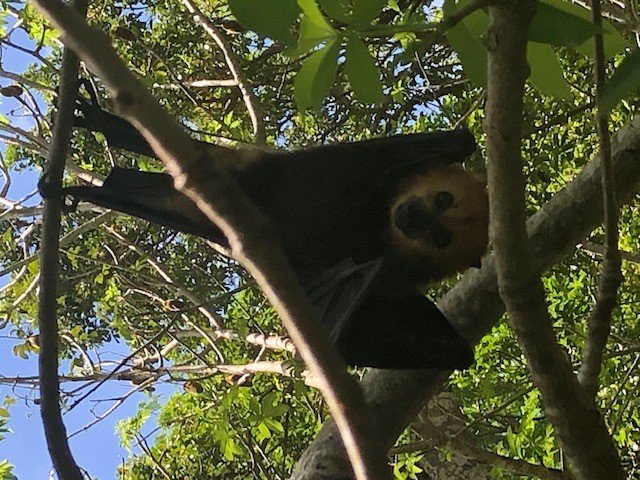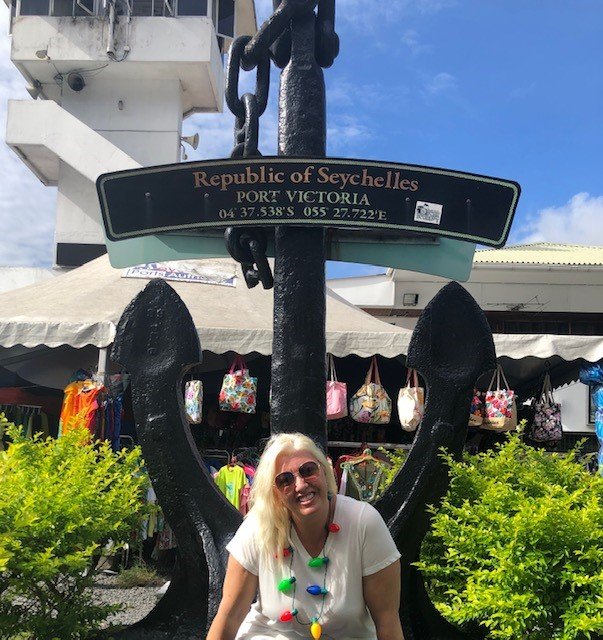 We arranged a private tour with Steve, and he was taking us to Praslin and La Digue, two additional islands in the Seychelles. The only way to access them was via ferry boat.
The Seychelles are an archipelago in the Indian ocean of over 100 islands.
The main island is Mahe and the capital city is Victoria.
Our guide Steve was a combination of African-American and Indian mixed together; whereas the folks on Mauritius or Mauritanians looked much more from India. Steve was so cool, one of the most chill tour guides I've ever had.
We didn't have a lot of time for introductions as we had to get on the ferry from Victoria headed toward La Digue. The ferry ride was about an hour and wow, it was not smooth. Thankfully, Lilly was just over being sick with some tummy woes and although it was a pretty bumpy ride, thankfully, the sun was shining and it wasn't raining so I didn't have a flashback to The Perfect Storm or anything. Steve seemed to know everybody he came across. (always comforting). We docked and everybody hopped off the ferry. At the harbor, Steve met up with a local who told us to get into his golf cart. It was beginning to look a little gray, but it didn't damper the excitement that I felt. I absolutely loved this place. It was so quaint with cottages and greenery and bicycles and oxen driven carts.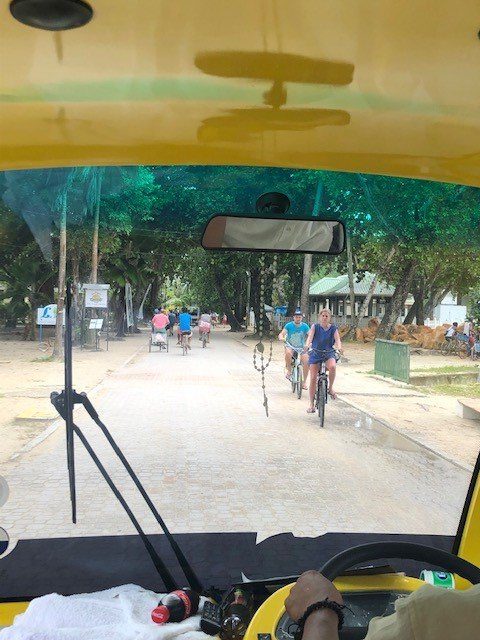 I seriously could consider this place a retirement option. Hmm… maybe a café with cats and Wi-Fi…. Okay, back to the golf cart…no roads were fully paved, and we headed toward
L' Union Estate
– kind of a plantation-public park situation. The golf cart driver paid a small fee and he toured us through an area where there was an abundance of vanilla beans planted everywhere.
Unfortunately, they didn't really have a smell but they kind of looked like giant green beans. We also passed another area of giant tortoises, but we were more in search of Anse Source d'Argent beach, supposedly, the most "beautiful beach in the world". Part of what makes it so lovely is that they have these giant pink granite smooth rocks. It gives it an air of being completely pristine.
Again, clouds were setting in, so it didn't look as tropical as I'd hoped but we still walked to the pathway down to the actual beach. We passed a couple of little tiki huts along the way and posed for some fun pictures with coconuts and machetes.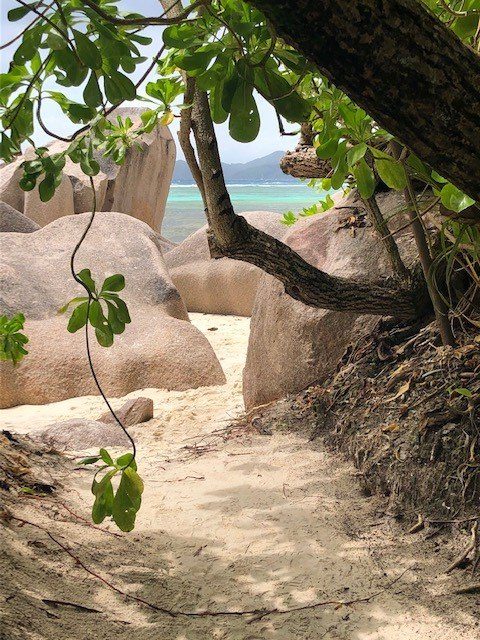 We got to the actual beach and there were no changing rooms, (duh), so I kind of went behind one of those ginormous granite rocks with Lilly and Ruth and we just threw on the bathing suits and walked ourselves right into the Indian Ocean. It wasn't that it was so clear or so blue, but the fact that I actually put my feet into my "third ocean", was a milestone for me.
We only stayed a little while because it looked like it was going to rain. We started to walk back and got fruit smoothies at one of the tiki stands. The young dude making our drinks smelled of tropical fruits and weed. Ha, just like home.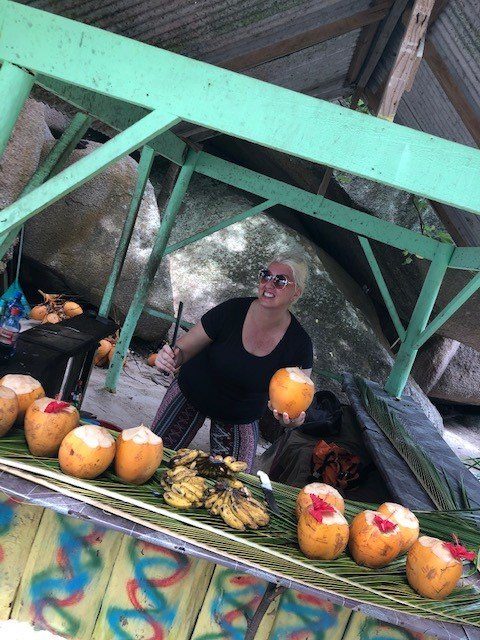 At this point, the rain started to come down hard, but we didn't really care. We were full of sand; I accidentally left a pair of flip-flops on the golf cart but we just kind of went with it. Unfortunately, coming and going onto La Digue isn't so simple. We were waiting for the ferry to take us to Praslin and then back to Mahe, to our ship. We went into a local bakery and had some yummy snacks. We all bought empanadas and popped them like Tic-tac's. In the downpour, our ferry was ready to take us back to Praslin. It was only a 15-minute journey, but unfortunately, we had quite a long wait on Praslin until the ferry was ready to take us to Mahe. We waited about two or three hours in the pouring rain in a flimsy shack but luckily, we found tables and chairs to sit and pass the time. The rain was kind of hypnotic on the tin roof. Steve told us to get into the line to get back on the ferry and wow, what an experience. We literally were one of the last people on and it sure did not help when it came to seating. It was packed. The only place we could go was up top and there was only one seat way in the back, which Mario sat in (more on that later). Ruth had a barstool up by the front and Lilly and I sat on the floor under the bar. It was a blessing, because as we took off, the ferry was even rockier than getting there that morning. Not only that, it began to get dark and so many people were vomiting on the ferry. They have teens with major sea legs who work on the boat and are paid to give barf bags to everyone. Mario's seat, seriously, was a soaker. He looked like the Gorton's fisherman getting drenched every few seconds. I sadly think this was the start of his acute bronchitis, which he literally, 8 months later, still has traces of. It was so nice to finally get back on our boat and take a warm shower.
Merry
Christmas
.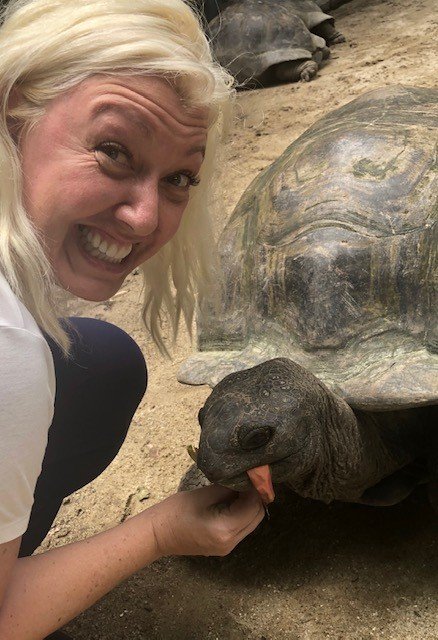 We woke up to a beautiful morning and as I went out on my balcony, there was a steel drum band playing Christmas carols. It was so strange and surreal. We disembarked and met Steve again and got into our minivan and he drove us some to some local places.
We stopped at Beau Vallon. A bay on the northwestern coast of Mahé, many say it is the most popular beach on the island. But not this morning. It was early and it was Christmas Day. Everyone was home with presents under the tree, not on the beach. It was deserted except for a couple of dog walkers. Steve brought his daughter today. She was about seven or eight and so cute. She did not speak a lot of English but some things, you can just say in gestures and smiles.
He then took us to a wharf and marina, and we had some delicious coffee and about one hour of free Wi-Fi which was so welcome. We took some photos and Steve pointed to his house up in the mountains from where we were standing on the docks. We then went to the botanical garden in Victoria. This was where we got to feed the giant Seychelle tortoises. Holy fun. Holy old. Some of these guys get to be 120! Where was Willard Scott when you needed him? They are also some of the largest tortoises in the world. We bought a whole bunch of giant green leaves from two ladies working the lettuce table and went in the pen with gentle giants. That thing about tortoises being slow? Hmm, not so much… I was ambushed by Captain Shells and his troop. I LOVED it. Their necks were so stretchy…lol Lilly, Ruth, Steve's daughter and I all fed them. Total blast.
Steve then showed us the famed "Coco De Mer"- one of the biggest seeds in the world and it's endemic only to the Seychelles. It is for a specific palm tree. But everybody kind of jokes about it because it looks like a lady's big butt. 
We said our final goodbyes and I gave Steve's daughter a necklace for Christmas with big lights on it. It was a joy to see her so happy.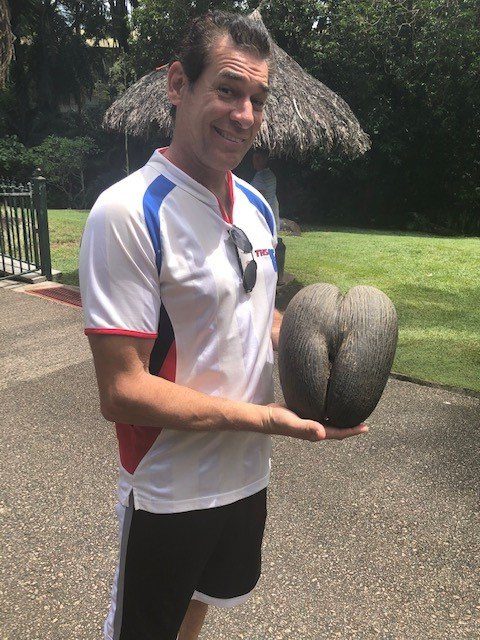 We had a welcome day at sea on the 26th and on the morning of December 27, we docked at Nosy Be-an island off the coast of Northwest Madagascar. It means "big island" in Malagasy. We anchored in the water and got off of our cruise ship tendered to the dock and met our guide for the next few days, Enock. It was such a pleasure to associate the face with the name as I'd been speaking to him for months and months before on What's App, setting everything up just for these few days.
We did not stay long on the dock, as we hopped into a little power boat that would take us to Nosy Tanikely. It's a marine park known for snorkeling, lemurs and a big lighthouse- the Tanikely lighthouse.
We docked our little boat, took off our shoes and waded in the water up to the beach. We took a good 30 minute hike up, up in to the jungle toward the top of the island where we saw some fun sites along the way: a wild lemur that we observed for a moment, giant bread fruits growing and the lighthouse at the top. There were some Malagasy folks making island specialties for people to try. We walked back down and Mario and Lilly had some snorkel time while Ruth and I chilled out in the sand. I talked to another beach goer and he was an Indian man from Australia. Once he found out I was from the US, he picked my brain about politics and Donald Trump. All foreigners do. (But don't get me started..lol)
We got back to our boat and we head off to Nosy Komba-another volcanic island off the northwest coast of Madagascar between Nosy Be and the main island.
Again, we walked about a quarter of a mile through sand. Enock took us to lunch at a restaurant called Gargotte La Terrasse. YUMmazing. The restaurant was kind of an indoor/outdoor spot on a giant wood terrace with big wooden tables and chairs. It had a thatched roof. In the distance there were kids on the beach fishing for what must have been the catches of the day. Our server brought us out one specialty after the next. The rice was so fluffy and tasted like coconut. There was fish I had never tasted before that tasted like it just jumped out of the sea that morning. There was also crab in an orange sauce, and shrimp, chicken and beef shish kabobs. There was the "usual dessert" of fresh fruit- papaya, mango, pineapple and mini bananas. Everything was better than the next. It was honestly the best we had thus far. Enock then took us to the "Lemur Park".
We walked through little villages going up many, dirt covered steps. There were dilapidated homes on either side of us with small children, women doing laundry in buckets, scrawny cats and people trying to sell us this or that as we walked. There was the intoxicating smell of vanilla and ylang ylang, which were both grown here. We walked through blankets and wooden crafts and Enock seemed to be pretty tight with a couple of young gentlemen who were eager to help us. The young man he connected us to gave me a couple of mushy bananas and started calling out, "Monkey monkey monkey" and literally, it was raining lemurs. Black ones and brown ones that were kind of jumping on me ready to eat the bananas. I wasn't really scared. I was just inundated with an overload of fuzzy cuteness. Same with Lilly and Mario. Ruth was hesitant to have them so close. They had no smell at all and I was amazed by their intense, huge eyes. They were just interested in the bananas and not me, but it was so insanely cool. We took 100's of pictures in tons of different positions. Other people were taking pictures of us because we were brave enough to have two and three lemurs on us at one time.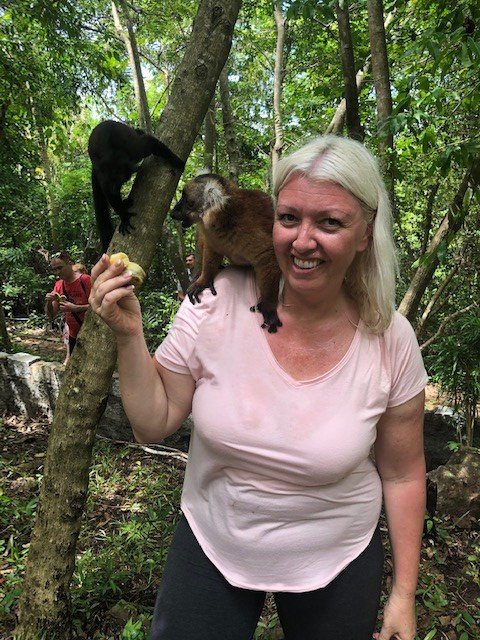 Our young guide then brought us over to some chameleons. I've never seen one so up close. They literally look like neon green toys. It's common for the men and young boys there to have one on a long stick and they'll bring it close to you to take photos for a certain amount of cash. They were like fluorescent rainbow lizards.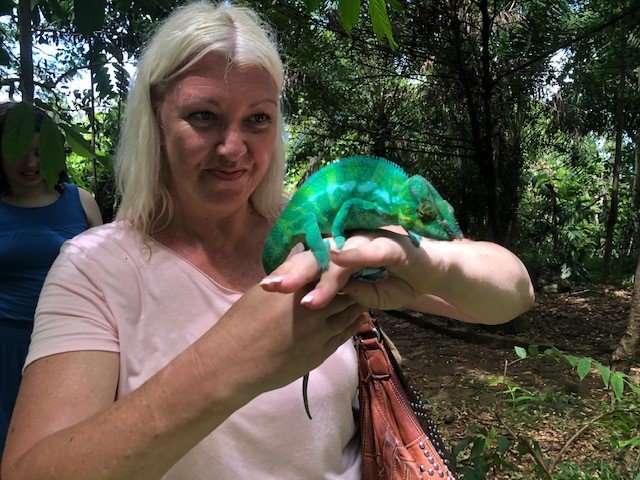 Our guide showed us more cool animals and Mario, Lilly and I each held a different size tortoise in our hands.
He showed us some snakes and then just more lemurs everywhere. This was our best day and I'd never forget it. I suppose anything with animals up close and personal just gets me so excited. We walked back the way we came and I gave our guide a really nice tip. I didn't mention it was insanely hot and wet and sticky and dirty. We were pretty gross. I kind of felt like I never left Florida.
We got back into our boat, went into town to sit down for icy cold Coke's at an open bar and capitalized on the WiFi and then hopped back on our cruise ship.
The next day was spent in Diego Suarez. I know, it doesn't really sound too "Madagascar-ish"-more like the Portuguese dude that the spot was named after hundreds of years before. It also goes by the name, "Antsiranana". We were finally on the mainland at the most northern tip of Madagascar. Diego Suarez was a navigator who visited the bay in the 1500's.
This time, we hopped into an SUV with Enock and a driver who didn't speak much English. We visited three bays: Sakalava Bay, Dune Bay and Pigeon Bay.
Although it was excruciatingly hot, the beaches were stunning to stroll on. The sand was beige and clean and smooth and the water was different shades of blue. Lots of people were on the beach sunning themselves. We saw a few baobab trees along the way. We asked Enock to stop a few times so we could take some photos with them.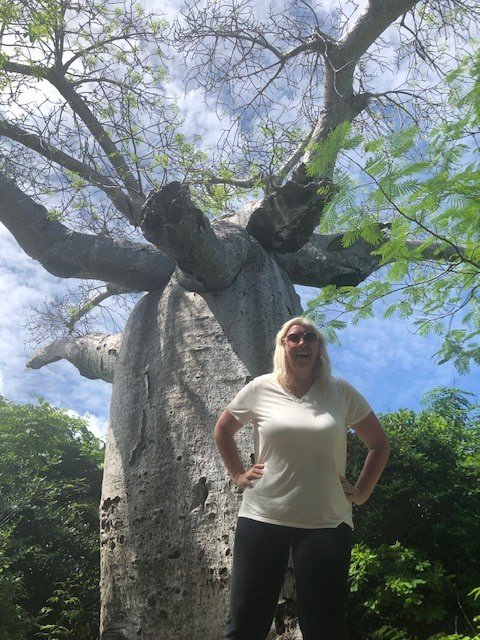 My biggest disappointment in going to Madagascar was us not being able to see the "Avenue of the baobob's". We were just too far away and couldn't do it with the time that we had. I felt the same with Tsingy National Park, which almost looks like skeletal bones are growing up from the ground. Darn it, gotta come back one day…(this is definitely the biggest downside of cruising- not enough time!)
Enock brought us to another indoor/outdoor restaurant in Ramena Beach. There were cats walking around and flies buzzing everywhere, and we sat down inside pretty much by ourselves and had more icy cold Coca-Cola and grilled lobster and rice. Oh my God, I could have eaten this all day. It was seriously delicious and they brought us seconds. We had fresh fruit for dessert; it was so refreshing and we were so full.
Back to the ship once more. The next day was a day at sea and Enock was flying to meet us in two days at Toamasina. Toamasina is on the eastern part of Madagascar. It's Toamasina in Malagasy but the French, who had control of the island during World War II call it "Tamatave".
It's the chief seaport of the country. Again, we got into an SUV and drove from the port to Ivoloina Zoological Park to see more lemurs, chameleons and snakes and plants, but we were disappointed as everything was behind cages. We were completely spoiled from the days before where we had seen everything free and wild. We did take a small hike around a beautiful lake and walked out into kind of a gazebo in the middle of the water.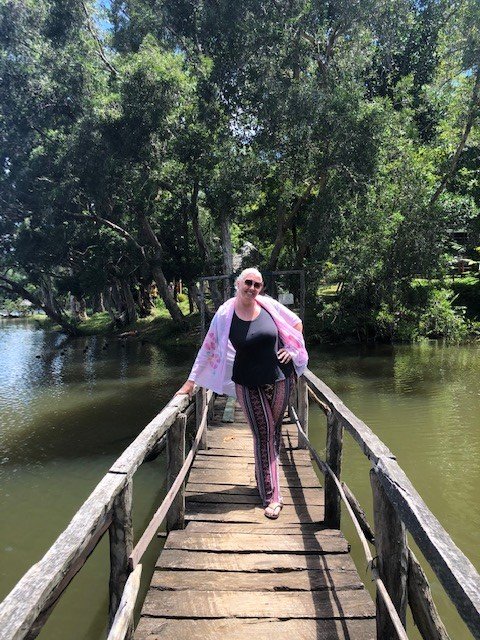 It was really lovely. We then went to the manmade channel of Pangalanes by boat.
It was kind of comical, because our entire boat was so long, at least 35 feet and we were the only ones in it but for Enock and two guys manning the boat; but it was so slow, the engine; there was something wrong. About halfway through the trip, we literally stopped in the middle of the canal to meet two other guys and pick up another engine. It was surreal.
The waterway runs down the East Coast of Madagascar and is used primarily for transportation and fishing. There are some natural beaches, but we were sad to say that a lot of it smelled like oil. We found out that there was an oil refinery south of the city and caused pollution in the area of the canal. We definitely saw locals using canoes for travel; going up and down, transporting items like wood and fish and produce. Many people rely on the canal as it's their only means of travel. There was lots of cassava growing along the bank as well as some coffee. There were bathers in the canal looking as curiously at us, as we looked at them.
We docked at the village of Ambodisaina. Enock asked if we wanted to see how the craftsmen make their wares but I've learned, in EVERY country I go to, that those "shows" turn into hour long sales pitches, so we politely refused and had to walk about a half a mile toward the ocean, to our lunch spot. Some kids followed us. By the time we hit the restaurant on the beach, we had about 15 young girls ready to give us a show.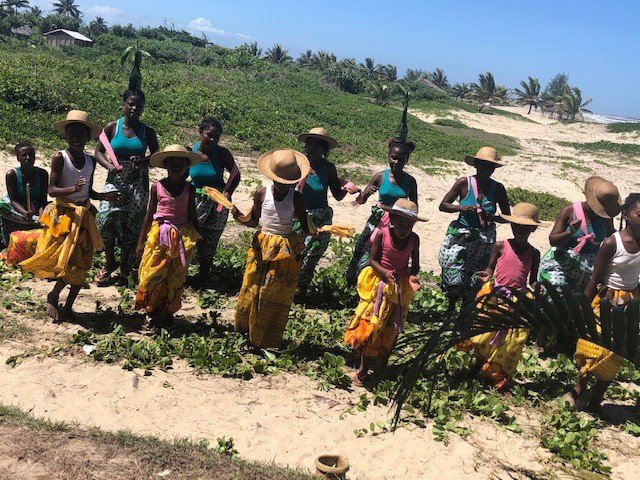 They did. You could not help but get swept up into their dancing and singing with their colorful clothes. Another Italian family from the boat were in the restaurant about to eat as well, so both of our families tipped the troupe and they moved on.  We sat on the patio of Ariane Village Restaurant. The Indian Ocean was bright blue and thrashing all over the beach. I loved being so close, hearing the waves crash and again, hitting this third body of water on my bucket list.  The lunch was some more rice, fish and beans, and dessert was watermelon.
After lunch we head back to the canal, into the city and stopped in the market, the "Bazar Be", where we bought some souvenirs that we could only find on the island. Driving there I won't forget the heady, sickeningly sweet smell of cloves. Madagascar is the second-largest producer and leading exporter of cloves in the world. We were smack in the middle of harvest season.
At the bazaar, it was somewhat suffocating as we walked down the aisles, where raw meat was being cut. Opposite to the sweet clove smell, the odor here was rancid with flies buzzing around everywhere.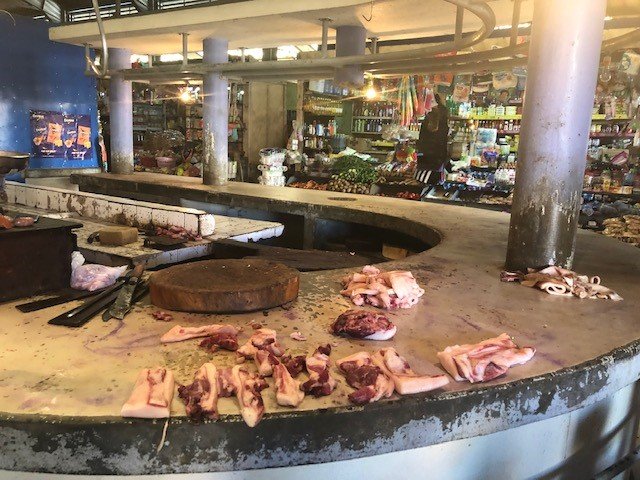 It was much better in the next aisle of spices and clothing and wood crafts. It's rare that I get intimidated when traveling but upon our return to our car, we literally were surrounded by people from the island begging us for money and the numbers were pretty huge. We got going and were dropped off at the boat and said goodbye to Enock, probably forever.  But darn it Madagascar, we never got to see your fossa's. ☹
The next day was at sea and it was so welcome as it was New Year's Eve Day. I made a couple of spa appointments for myself and we had a lovely lobster dinner with the couple that we had made friends with Ilse and Tom from Germany and Kuwait on the boat. Tom works for Shell Oil, hence them living in Kuwait much of the year. That evening after dinner we went to the upper deck and danced to a great band and sang songs in English and Spanish. There was a giant ice sculpture that said "2020" and a giant buffet spread out, but we had just eaten so we weren't hungry. We danced a little bit and listened to the music and counted down on the screen and went to bed.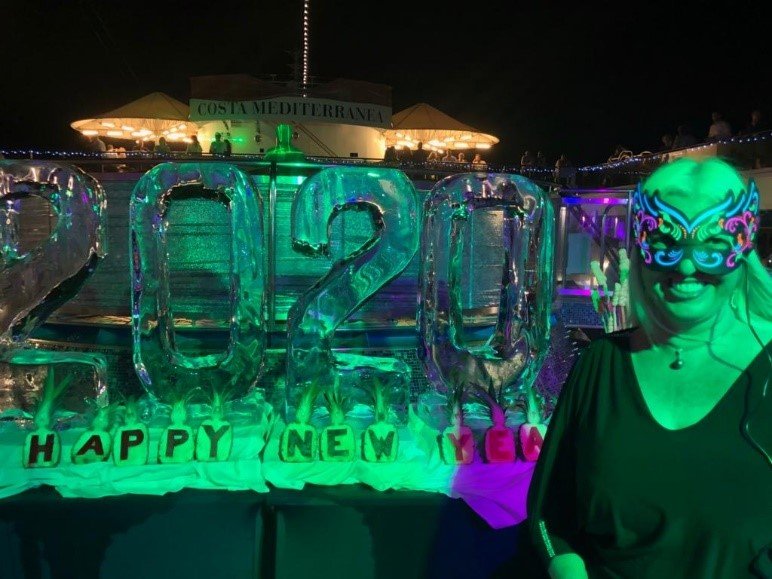 2020 started off with our embarkation in Saint Denis, Reunion Island.
You could definitely see Reunion was it in a category all of its own. In between Madagascar and Mauritius, the majority of the island is French and the official language of the island is French, although much of the island speaks Creole.  Strangely enough, it's still part of the European Union, although it's way down at the bottom of the Indian Ocean. The island is only about 39 miles long and 28 miles wide. But it's extremely volcanic. It's directly above a hotspot in the earth's crust. (More on that later.)
Our guide and driver was Neelam. He picked us up right as we got off the boat and we were to take a drive to a few different stops. I was shocked at how clean and mountainous and tropical Reunion was. It reminded me a lot of Hawaii. As we were driving, I would look up into the rocks, the green and the mountains, and I saw waterfalls everywhere. I also found out that Reunion holds the world record for the most rainfall in a one, three- and four-day period.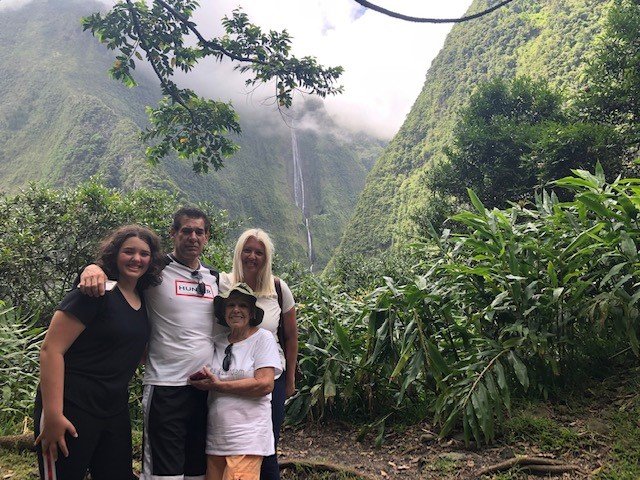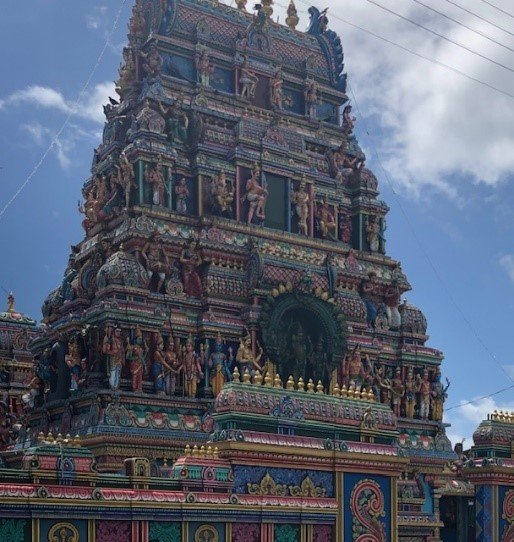 We stopped first at Plantation Vanilla Rouloff. This was the longest time we spent at a vanilla farm, as in the Seychelles, we just kind of did a drive-by and in Madagascar we actually just did a walk by. This was really getting into the plants and looking at them as they grew and seeing how they were cultivated and dried. Vanilla is so fickle and so labor-intensive. They don't even start blooming beans until after three years of planting and when they finally bloom, the flowers are only open for a day and they have to be carefully pollinated within 12 hours of the bloom! Makes you appreciate vanilla ice cream a lot more, huh?
After the farm tour we drove past an absolutely lovely colorful Hindu temple.
You can absolutely see that the people on Reunion, although speaking mostly French and Creole, definitely look like they are from India. But we found out that there were many indentured servants from India brought to the island years back. And not just from India, but from Africa and China as well. The population is extremely diverse in ethnicity.
Neelam kept us moving and we stopped at Mare a Poule d' Eau.
It essentially translates into the "pool of water head"; but it was gorgeous, we took a short hike and came up upon a pond, with tons of giant lily pads in it and a few fisherman trying to get their catch of the day. It was a cool oasis.
Neelam then drove us to Salazie-Hell-Bourg. It's a cute little town but really not much to look at. We stopped at a little café where we actually saw others from our cruise on an arranged excursion and we had some drinks and were back on our way.
But I think the highlight for us was on the drive back we stopped at "Niagara Fall"; of course, not the one that we know in Canada and New York but an absolutely gorgeous waterfall in the commune of Saint Suzanne. It's 82 feet high, but what was so great about it was there was actually a pool where all the water would fall and catch and you could walk in and swim around in it. It was getting scorchingly hot, so the water was so refreshing. It's in the northeast corner of the island and you can definitely see that it was a popular spot because we were not alone.
Mario and Lilly waded into the water and we took some great photos. In retrospect, I should've probably just swam around in the water and cooled off. Neelam brought us back to the port to get back on the ship. We were not leaving til late the following afternoon.
The plan for the next day was an active one- with hiking about in the heat so we thought that on this day, it was best to leave Ruth behind. We were going to "Piton de la Fournaise".  It means "peak of the furnace" and I could totally understand why. It's a volcano on the eastern side of the island and it literally is one of the most active volcanoes in the world. The last eruption was only in October, 2019. The volcano is located within Reunion National Park, a World Heritage Site. We drove about an hour with Neelam, up and further up and although it was sunny down below, as we got further up, the air got thicker, foggier and chillier. It was the first time I was ever cold on this trip. The eruptions, luckily, don't really cause a lot of devastation because the range of eruption is uninhabited and the lava flows into the ocean, but it does cross a highway. The highway has been destroyed more than one time because of lava flow.
Once we got close to the parking lot of the park, it was packed. Neelam said it was a vigorous hike. But we felt ready for the adventure.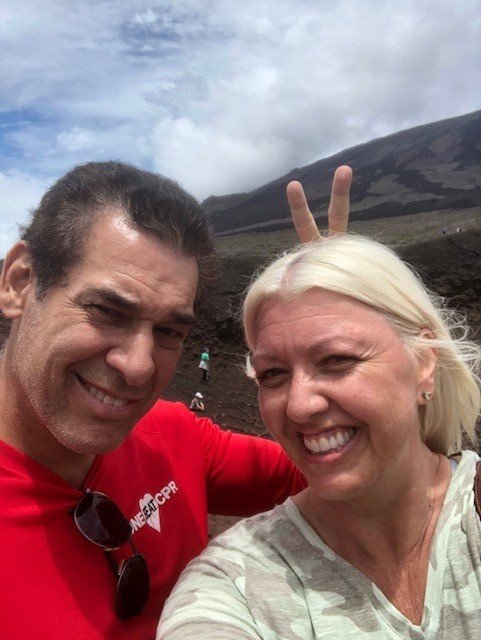 We heard that climbing to the top of it was like a geology book coming to life and that it took five hours. But Neelam told us we could walk down to the caldera and it would only take half of the time. Many get up before sunrise to hike to the peak. But it was about noon.
We started at the viewpoint on the edge of the caldera, high up. There's an orientation table there so you can kind of get your bearings.
We began the footpath but wow, we forgot to take into consideration the altitude and we were easily out of breath in minutes, well, at least Lilly and I. We were going up and down on rocks and wooden staircases and everybody near and around us was stopping to catch their breath as well. I had to give credit to the dads who were carrying their kids on their back. This was not a hike for little children. Lilly was even starting to get really winded. Someone could easily break their ankle on this hike-so many places were uneven and rocky.  Mario told me to go ahead while he stayed back with her and encouraged her to go on. Neelam looked like he'd done this 50 million times before and would pop up like a little elf here and there are along the way. We finally got to the bottom and very close to the caldera. Lilly honestly couldn't take anymore and her feet were really starting to hurt. We left her sitting in a busy area where many people were sitting on rocks and gave her a fresh orange to peel and eat while Mario and I walked a little further, literally out onto the caldera. It was insane. I felt like I was on Planet of the Apes, because this was terrain I'd never seen before and it looked so futuristic and prehistoric at the same time. The rocks underneath our feet were slate gray and black and ashy and shiny and every single shade of granite that you can imagine. Someone had written "2020" in shells and rocks to take photos, as it was literally, the second day of the new year.
We stayed about ten minutes and were not looking forward to the ascent back up. What we thought was difficult coming down, we now literally had to go back up. Lilly was almost in tears. It was so hard. I was sweating my butt off and couldn't wait to get back into the car to drink 14 bottles of water and get blown away by the AC.
It seriously was the hardest hike I think any of us had ever gone on. It took almost three hours, maybe four, start to finish. What really stunk though is that we were running out of time and couldn't really eat lunch or stop at Kelonia, which was a place where turtles were being rehabilitated.
Lilly and I were super bummed.  Grr, we wanted the turtles.
But our ship was leaving this night and we had no choice but to get back to it quickly.  We conked out super early because we were to go home the next morning.
 We pulled into Mauritius on a cloudy, gray day. None of us were looking forward to the longest journey ever, home. But yet we couldn't wait to get there, either. We disembarked with all our luggage and got to the airport in Mauritius with some bad news. Our flight to Johannesburg had been delayed. We did everything we could, tried to get an earlier flight, but to no avail. Missing this flight would cause us to miss our connecting flight in Johannesburg and we wouldn't make any of our flights home. But while we were waiting for the late flight to board I actually got a hold of an American Airlines employee on the phone-Janet. I asked if there was anything she could do to try to get us home. 45 minutes later, Janet came through. We would take the last flight out of Mauritius to Joburg, sleep over there and take a flight home the next morning from Johannesburg to São Paulo, Brazil, and then get into Miami at Sunday morning at 6 AM. Holy wow, could this be real? Not only would we get to sleep over, have breakfast, take a shower, but we'd be getting home 12 hours earlier than if we were on our original flight. Thanks Janet!
 More Explora Blogs…
Read other explorations and adventures…
I never had seen anything like Meow Wolf. It's like walking into a surrealist dream. Bright colors, doors you can open leading to other worlds (literally), video games, VR headsets, blasting dance music. I never did any kid of hallucinogenic drugs but if Meow Wolf is what they were like, I wish I had!
The rewnowed Santa Fe hotel, La Fonda on the Plaza, the sounds were hauntingly beautiful. I was excited to spend a few days in a city that smells like sage and moves like molasses.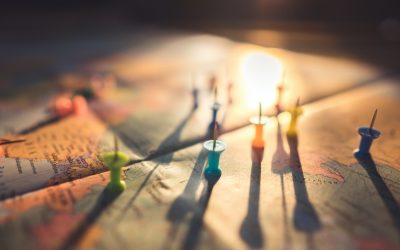 Attain dual citizenship. If one of your parents were born in a foreign country, you may have the right to become a citizen there…