Explora Israel and Paris
June, 2013
Duration:  12 days, 11 nights
Locations: Tel Aviv, Jaffa, Old Jerusalem, Ein Karem, West Bank, Bethlehem, Masada, Dead Sea, Jericho, Akka, Haifa, Galilee, Golan Heights, Nazareth, Paris

"Cheers!" Lilly exclaimed as she clinked my welcome drink with hers. Our night flight to London from Miami was smooth and quiet and we landed in Heathrow early morning, with plenty of time to catch our connecting flight to Tel Aviv. We relaxed and freshened up in the British Airways lounge only to find out our connecting flight would be delayed by almost two hours. Ouch. This was now a problem as we had another connecting flight to Eilat, Israel which we were already cutting close without a delay. We finally began boarding the flight and were then forced to check luggage that seemed to be the same size as everyone else's carry on. Murphy's Law. Grrr.. Well, needless to say, twenty hours later, we missed our connection and even missed the standby for the latest flight to Eilat and we did not see a lot of Eilat at all. We were stranded at terminal 3 of Ben Gurion airport at 11pm on a Wednesday night. The supervisor of El Al airlines took pity on us and allowed us to use her cell phone and computer to try to book a hotel room in Tel Aviv for the next two nights. You would think at such a weird day and time that would not be an issue, but it was "Gay Pride" week in Tel Aviv and we were being shut out by happy men and women. But there was some good news. A 2 room suite was open at the Crowne Plaza on the beach for an exorbitant rate. What choice did we have though? Twenty hours of travel, 2 senior citizens and a 5 year old later…we were done.
We plopped into the super squishy beds and awoke to a bright, hot sunny day on the shore of the Mediterranean Sea. Israeli breakfasts are notoriously huge and sumptuous. We enjoyed eggs, hummus, yogurts, and every kind of sweet and savory bread. We were super full after feasting so we decided to make the best of our extra day in the city and walk and explore it. We strolled along the beach. Picture azure waters dotted with red umbrellas in the sand and across from the water and beach, new Bauhaus-style condos adjacent to dilapidated, graffiti adorned old buildings. Tel Aviv was a mix of outdated beachfront property combined with heavy construction equipment, like cranes and bulldozers, crushing the old and up with the new.
We made our way to the Carmel Outdoor Market. Sellers barking in Hebrew and Arabic were selling fruit, spices, candy, household items, cheapo T-shirts and lot of Judaica. It was a great visual and auditory and olfactory experience! We bought ice cream and water for the mile walk back to our hotel in the 90 degree plus heat. We passed the US Embassy on the way back and saw a big line outside. We did see more police presence than other cities we have traveled to, but not as much as I had expected. It was strange to see rifles strapped to 18 year old torsos. I knew the Carmel Market was bombed by terrorists less than ten years ago.
We relaxed and slept the rest of the late morning and by late afternoon; we took a taxi to Jaffa. It is the southernmost point of Tel Aviv and an ancient port city. There is an outcrop of rocks near the harbor that is associated with the place of Greek mythology's Andromeda's chaining and rescue from the sea monster the Kraken, by the hero Perseus. This was just the first of the many pieces of legend we heard throughout this trip. Israel is a combination of history, religion and legend and it has a mystical quality to it like no other place I have been to. Like, it is as if something magical can happen if you turn your back. We took some panoramic photos of Jaffa and the sunset on the water.
We ate at a restaurant we had heard about "Dr. Shakshuka". Crazy, right? "Shakshuka" is a dish of eggs poached in a sauce of tomatoes, chili peppers and onions. We learned you are supposed to mop up the red sauce with bread. We sat down in an atmospheric courtyard that had kettles of every metal and size, hanging from the ceiling. It was busy for Thursday evenings are a popular night out since Friday begins Shabbat and much of Israel shuts down. Our waitress asked us in broken English if we wanted to "try everything" so Mario agreed. The Middle East is famed for "meze"; a selection of small dishes served in the Mediterranean. Kind of like tapas; little plates of everything came out for us to sample. I did not recognize much. Hummus, red cabbage, spicy tomatoes, salads of vegetables stewed in strange sauces. They also brought out kebabs of chicken and lamb. For dessert, we had honeydew, watermelon and a honey sesame sticky cake with very strong coffee.
I should also say that Jaffa is full of dumpster diving cats everywhere. We saw tons of them eating outside of cafes, on plates of leftover bones the owners gave them, keeping vermin away.
The next morning, our guide Sam Salem met us at our hotel. We packed our luggage into our minivan for the next week. Sam took us to the outskirts of Tel Aviv and our first stop was "Mini Israel"- kind of a morph between a Social Studies Project and a mini golf course. Mini Israel was exactly as it said; it had teeny versions of all sites of the country and its famed places of interest. Sam then took us to the highlight of our afternoon- "Sataf"- a goat and cheese farm run by one family. One of the sons explained to us the cheese making process and we sampled seriously, ten kinds of goat cheese from creamy soft to hard as Parmesan. We had purchased bread, fruit and drinks beforehand and were allowed to picnic in a shady area of the farm at a makeshift table and chairs. The lady goats were all out grazing but the bachelor males were hanging in their pens. Lilly and Mario took our leftovers and began feeding "the boys". Ha, as soon as one came over to us, the rest of the herd came stomping over to climb the flimsy fence to get closer to the mushy strawberries we had.
We then drove to Ein (meaning "spring" as in water) Kerem, the home of John the Baptist. We learned early that in Israel, any holy site at all- the site of a miracle, a house, a birthplace, whatever, soon gets a church built directly on top of the site. Everywhere, always, every time.
This site was a church but also a home of Monks, who shushed us as we walked around the empty church. It was just us and an older Polish couple. On that note, we really ran into every race and religion while in Israel. The diversity is insane. More so than I have ever seen anywhere else. In a matter of 3 days, we heard English, Arabic, Hebrew, Portuguese, Ethiopian, Russian, Greek, French, Italian and Spanish spoken. I am totally serious.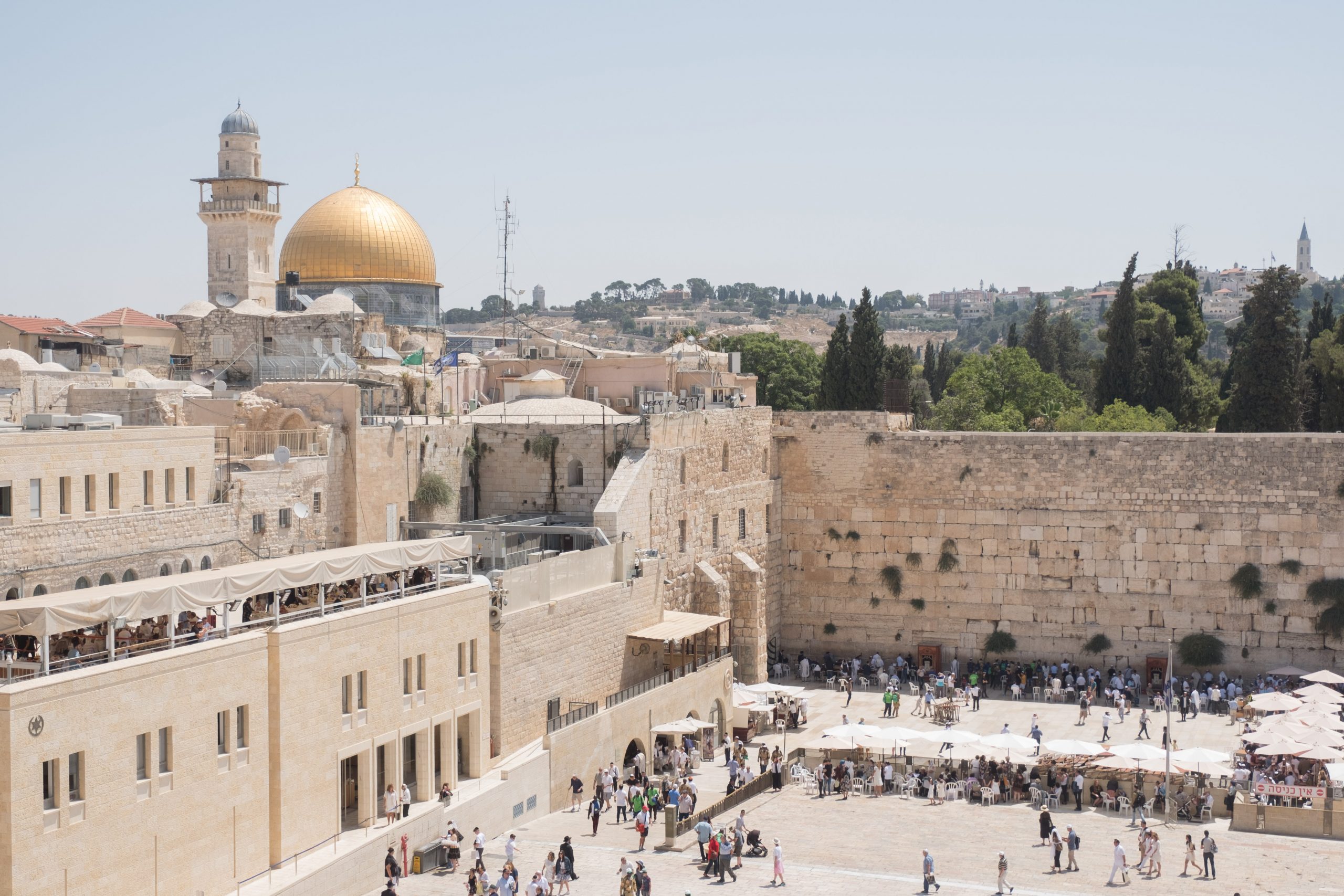 We got back to our hotel for the evening, the Ramada outside the Old City walls. Being that it was Friday night, it was Shabbat and our hotel was filled with Orthodox Jews and not one restaurant was open within a 5 mile radius. We were the only non-Orthodox guests, save from one tour group from Africa. We had an in room picnic from the hotel buffet downstairs.
The next morning, Sam's colleague, Zafer picked us up to begin our journey into Bethlehem; then, the Old City of Jerusalem. Zafer was Palestinian (as was Sam, by the way, but Sam was Christian). He explained that we'd be crossing into the West Bank. I was scared and excited all at once. I could tell we all were, except Mario, who never seems concerned and Lilly, who had no idea where we were, but for "Israel". Ruth, Priscilla and I hushed as we went into a pretty volatile place. Getting into Palestinian territory was easy- it's when Palestinians need to get out that is becomes a problem. (more on that later) Zafer tested the waters. He knew we were American and were unsure of how "American" we were. It sickened me to see giant 10 foot ugly concrete walls trampling through people's backyards and gardens. It angered me to see "checkpoints" of metal cage-like cells people had to cross through. Once we told Zafer that we honestly wished everyone would be happy, that Palestine could be free and just have their own plots of land and that we wished Israel could keep what they "owned' with no worry of any attacks, he saw us as fair game. Zafer tried to explain the Palestinian side. I never ever advocate violence but to look at buildings and houses with bullet holes everywhere and see Israeli condos being pushed further and further onto Palestinian territory, it seemed so unfair.
We stopped first at the Church of the Milk Grotto, where Mary supposedly stopped to feed the baby Jesus after his birth. The rocks of the Church were dusty and white, mimicking the "feel" of powdered milk. There were many religious paintings of Mary breastfeeding- many would see that as a "no-no" but it was fascinating to see that in a place I thought was so prudish; as I had never seen that depiction anywhere in the US! We then headed to Bethlehem's "Church of the Nativity", the exact spot where Jesus was born. Inside the Church were separations of the Christian faiths- the Roman Catholics had one piece; the Greek Orthodox Church had another piece and Armenians had another. We saw this all over Israel. It was so ironic- a faith that is supposed to bring man together was splitting up pieces of a building stating, "Now this is your side and this is our side", like kids fighting over blocks in preschool. Talk about contradictory. We did get to actually sit and feel the very spot where Jesus was born and where the manger and barn were. Again, a Church was built on top of the location once history uncovered the exact spot where Joseph and Mary came for the birth of God's son. There was a Mass going on. The mass was taking place inside of this cave, inside the Church. It was surreal and adding to the experience- everyone was singling "O Come All Ye Faithful", a Christmas Carol in June. The group was singing in their native language, Italian. But Ruth, Mario and Priscilla were singing it in Spanish, while I was singing it in English. Lilly was dumbfounded.
We then walked over to a famed local restaurant teeming with lunchgoers. Outside the restaurant, we watched an old, unshaven man frying balls of falafel in hot grease, while his apprentice, a teen boy of about 15 or so, helped. Sam spoke to the owners in Arabic and we were seated immediately. This was hummus Heaven, wow. Fresh, creamy, lemony with a garlicky oil top, this was seriously the best hummus I had ever had. .The waiter brought out warm pita bread but even better, icy cold lemonades with fresh ground mint inside. Once we got our falafel balls and hummus, we were then brought tomatoes, cucumbers, pickles and sliced red onions. I put all of the above inside the warm pita bread and oh my goodness, it was a feast I will never forget.. sigh… I loved, loved, loved "Afteem". When I returned home, out of curiosity, I looked the hole in the wall up on Trip Advisor and saw I am not their only fan.
After lunch we began our trip to the Old City of Jerusalem.
We parked the minivan outside the now sealed "Golden Gate", which was where Jesus supposedly entered the Old City on Palm Sunday, although it is also sacred in the Jewish and Islamic faiths. Then, we went atop Mount Olives to see "The Church of All Nations". It is also known as the Church or Basilica of the Agony; next to the Garden of Gethsemane; holding a section of bedrock where Jesus and his disciples are said to have prayed before his arrest. There were multi-national donations, which give the church its present title.
Then, we walked a bit towards the Greek Orthodox Church of Jerusalem, which is in possession of the shrine, sharing it with the Church of the Sepulchre of Saint Mary and Tomb of the Virgin Mary, believed by Christians to be the burial place of Mary, the mother of Jesus. As I mentioned earlier, all Holy Land churches seems to be split up by various groups and faiths and this one was no different as the Armenian Apostolic Church. The Syrians, the Coptics, and the Abyssinians have minor rights in the holy place and Muslims also have a special place for prayer. Each place we went, it was commonplace to see some sort of modern wooden floor, with floorboards missing and then, a deep 8 to 10 foot "cave" beneath. I can see why this country was seriously, an archaeologist's dream.
Sam was able to enter his car into the Lion's Gate. Once you see the gates into the Old City, you will see why this was a big deal. Cars can barely get by since the entry ways are narrow and often crowded with pedestrians and every cart carrying this and that into and out of the gates. Plus, the streets are totally cobblestone and laden with stairways. He drove about a quarter mile up to Ecce Homo Christian Guest House- our home for the next 3 nights. There are really no "hotels" in the Old City- just ancient convents and churches converted into now "guesthouses". One stays in the Old City for the full experience of Old Israel. Our hotel was in the Muslim quarter. The Old City is divvied into four quarters- the Muslim, Christian, Jewish and Armenian quarters. But each quarter houses holy places for other religions. It really is eclectic. You truly feel as if you took a time machine back a couple thousand years. There were stone staircases leading up to higher points in the city, souvenir shops and food stalls and people of every denomination walking about. Being in the Muslim quarter, I was one of few women not traditionally covering my head and limbs.
The guest house was enormous. We were there 4 days and 3 nights and I still felt that there were doorways and staircases I missed. Our room was basic. Spotless, no frills. No TV. No air conditioning. I loved the giant window that faced an alley, giving me an earful of dogs barking, roosters cawing and loud Muslim prayers on the loudspeakers multiple times a day. (One at 4am!) I found the chanting of the muezzin over the loudspeaker melodic and soothing. We settled in and explored. We walked outside toward the Damascus Gate; another gate into and out of the Old City. We took Sam's advice and walked a few blocks to an Austrian Guest House; rumored to have yummy food. We rang a bell and entered a ginormous metal gate that led out to a café and outdoor garden. It was really lovely. There were others having dinner, too and the best sight was seeing a resident nun walking two of the guest house dogs. We ate schnitzel, pea soup, crisp salad and homemade apple strudel and were finishing dessert and were about to leave when we heard a commotion out on the street, beyond the walls of the guest house. It was a large group of men, being very loud and blowing whistles (or were those Israeli police?) and I asked a woman dining near us what they were saying as I could see she understood them. She said "It is political". It was the first time I'd ever been on "vacation" and was truly concerned some. I was more intimated in the Old City than in the West Bank. We had no choice but to walk outside the giant gates of the guesthouse to walk the ¼ mile back to our hotel. I wanted to wait it out since the melee was directly in front of where we were. The noise eventually did die down and we slipped through the massive wooden doors out onto the street and I was just anxious to get back to our guesthouse. We got to our hotel safely but as I lay down to sleep, with Mario and Lilly already "out", I was sure I heard 3 or 4 "pops". I don't know what they were but my imagination ran wild and it took me an hour to finally relax and fall asleep.
We awoke to bright sun. One great thing about Israel is that there is 0% chance of rain in summer.
Lilly and I climbed to the roof of the guesthouse. We looked into backyards filled with laundry on lines, cats lazing around, roses and oodles of grape vines and bougainvillea. It was awesome to see the Dome of the Rock so close. Lilly learned what it was on day one and used it as a point of reference all the time. The other guests were a mix of pilgrims from the UK and Australia and a young church group from California on a mission in the West Bank. Breakfast was disappointing- like nothing we had in Tel Aviv.
After breakfast, we met Sam only a few doors down from ours at the Church of St. Anne. The church is over the site of a grotto believed by the Crusaders to be the birthplace of Mary, mother of Jesus. It is also adjacent to the Pool of Bethesda, believed to be the site of where Jesus cured a paralytic. The church is said to possess amazing acoustics perfect for singing, which makes the church a pilgrimage site for soloists and choirs. We chatted with an old Irish priest for a few minutes before moving down the street to the house of Pontius Pilate. It was actually a piece of a palace of Herod. We actually saw floor carvings where soldiers of Pilate played a game. The carving was in almost perfect shape. The most famed part of our guesthouse was that it was along the "Via Dolorosa" or the "Way of Sorrows" in Latin. This was the pathway that Jesus followed until his final collapse- near the Church of the Holy Sepulcher. Each day, tour guides holding bright umbrellas for their group to follow would walk the exact path Christ took. Again, we encountered groups from all geographical places on earth. Each station of the cross is numerically marked and Sam explained each stop. The path led through darkened alleys and up stairways. We finally came upon the place where Jesus fell with the cross- the spot on which the Church of the Holy Sepulcher is built upon. Not beautiful in design or vibrant in color, it exudes holy. We walked into a mass as it was a Sunday morning. It was a Greek Orthodox mass. Again, each denomination had different schedules and times and parts of real estate that were "mine, mine, mine". Everyone wanted a piece of the Christian pie. The supposed spot where Jesus fell finally is covered in a massive 8 foot concrete slab as you enter the Church. People kneeled at it and kissed it. We even got to put our entire arm inside the hole where the cross was erected. That was pretty awesome and history really slapped me in the face when I did that. Even if one was not religious, the moment is pretty awesome. You feel history and spirituality and mysticism rush through you. We were surprised the lines were small. Ruth, Lilly Sam and Priscilla got to go into Christ's tomb immediately, as Sam "knew the guy at the door". (I am totally serious) Mario and I waited in line- but only for a few minutes. We walked into Christ's tomb- now a dark, tiny shrine. It was almost totally black but for the glow of candles. We sat for a moment, enamored by our location. We were hurried out by the priest and Sam showed us more old relics and artifacts all over the Church.
We saw walking around a few bearded men dressed as Jesus and walking around barefoot. Sam said these men are victims of "Jerusalem Syndrome". It was comical and pathetic simultaneously.
We walked down more alleys- the city was a total labyrinth and walked into the Jewish quarter. Sam stopped into a bakery for us to get coffee and a snack. YUMMY. Lilly pointed to a doughnut with chocolate frosting a ½ inch think that was seriously the size of 3 doughnuts here at home. Ruth and Priscilla finally got a great cup of Joe. As we walked out, Lilly stopped to look into a basement window of a woman working; cleaning cherry tomatoes. She looked at Lilly, stopped her work, washed a handful of the tomatoes and handed a bunch still on the vine and handed them to her through the window. They were as sweet as the doughnut.
We walked toward Kotel- the Western Wall. But not before a group of about 30 Israeli soldiers, all in uniform came walking down the street we were on. I kid you not, there was not one of them past the age of 21. They had machine guns strapped to their torsos and it was intimidating and soothing to see them. We asked them to take a photo with us and they were all smiles and obliged.
We snacked some more on huge dates and almonds and dried apricots. We walked into the house where Jesus and his disciples had their Last Supper. Just outside the Old City walls, on Mount Zion, it is traditionally known as The Upper Room, or the "Cenacle". Ironically, in the lower part of the house, King David's tomb lies. Again, Christian faith intermingles with Jewish faith and this was not the end of all the faith entwinements we saw.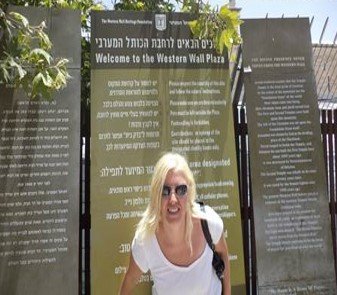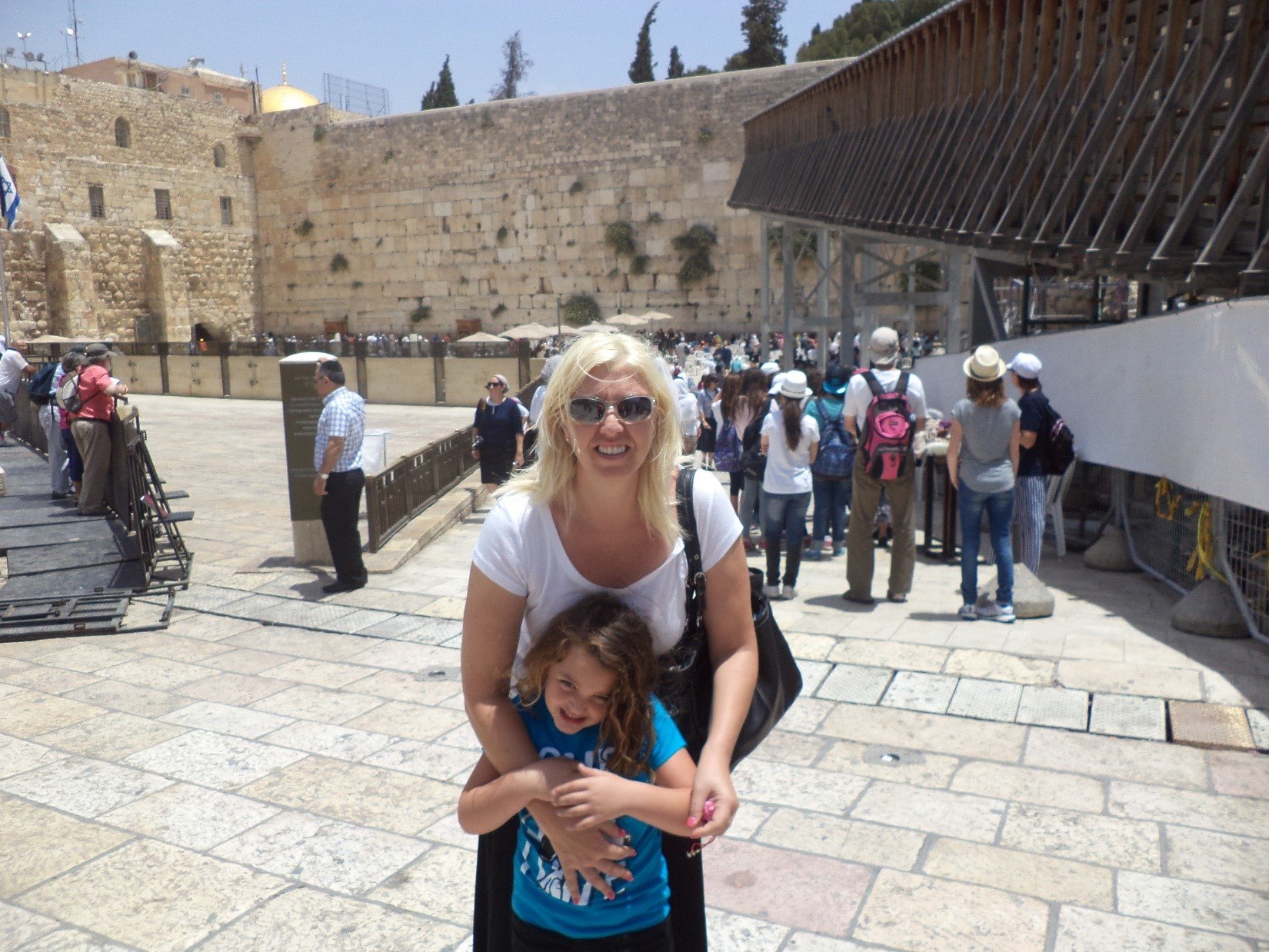 People bring Bibles to Jerusalem and Israel; not so much for holy purposes but to "put the pieces of the puzzle together".
I could see when one is in the Holy Land the Bible is a useful tool to follow geographics and chronology. As we walked more toward the Western Wall, we saw two families celebrating a bar-mitzvah as Sam said it was popular to do so on Sundays and Wednesdays and as it was Sunday, we saw the celebrations. The birthday boy was held high while his family and friends surrounded him singing happy songs. As we got close to the Kotel, our bags were searched and we needed to go through a metal detector. The men then had to separate from the women. I had two prayers given to me by family members to put in the Wall. As I approached, lines of women were 3 foot deep and it was difficult, especially with Lilly who was really, the only kid there at that time, to move. It was stifling. But we were patient and waited til women put their notes in and moved away. We then inched forward to take their spot until we were touching the Wall. Lilly, being so small and my being so tall totally worked to our advantage and she placed a note in low and I got one in high past the other women's reaches. Each nook was filled with paper. Other women were sitting down, deep in prayer. There was a wall down the middle of the Wall, to form a "T" shape. Chairs lined the women's side and we all climbed up to look at the men's side; which seemed much more spacious. Men were twirling around and dancing. I saw people moving away from the Wall, still facing it; never turning their back. I never knew the significance of the Wall exactly and Sam explained that the Wall is the most sacred site recognized by the Jewish faith. What is left is half the Wall, built by Herod the Great. The Wall is what is left of the Temple Mount, or what Jews know as the place where God produced the Talmud, so essentially, it is where time began for the Jews and also, where God gathered the dust used to create the first man, Adam. Lastly, it is also the site where Abraham almost sacrificed his son, Isaac.  BUT.. Muslims considered the Temple Mount one of the holiest sites in Islam. They claim it is the location of Muhammad's journey to Jerusalem and ascent to Heaven; hence the building of the Al-Aqsa Mosque and Dome of the Rock on the site. Again, faiths intermingling.. Sigh.. can't we all just get along?
We then went to Dormition Abbey, or the site of where Mary died. In religion, death is sometimes referred to as "sleeping" hence the name "Dormition". I found it unusual to see 12 signs of the zodiac all in mosaic on the Church floor as well as mosaics of all famed women from the Bible on the walls and ceiling.
It was lunchtime so Sam brought us into the Muslim quarter to a friends' place for more falafel and hummus which was groovy by me..I just never got sick of it.
After lunch, we walked to the other side of Temple Mount, (also known as the "Haram Esh Sharif" in Arabic)  to the Al Aqsa Mosque and Dome of the Rock. Again, this is a holy of holy site for Muslims so as we walked into the area, I was instructed by guards to cover my neck and chest. (not sure if I were really that inappropriate or they just wanted me to purchase a 5 dollar scarf from a vendor conveniently located a few steps away) but regardless, I purchased one and covered up some.
Inside the compound were many young men in some sort of outdoor "Koran class", which Sam told us they get paid to attend. We walked around and took many photos of the giant Cypress trees and lovely buildings. We saw bullet holes in the Mosque and Sam explained that they were from the "Al Aqsa Intifada" in 2000, in which then Prime Minister Ariel Sharon went up to the Temple Mount and it incited rioting and violence.
We ate dinner again at the Austrian guest house that evening with only slight opposition movements outside.
The next morning we awoke for our excursion to Masada, the Dead Sea and Jericho.
But first, we took a short drive up to Mount Olives and Sam knew the men at the top who provide camel and donkey rides ("Jesus' taxi" they called it..ha!)  to tourists. The camel was named "Kojak". He certainly wasn't bald and he was a lot cuter and cleaner than I expected and holy solid piece of animal!  He was like a piece of furniture, really! His trainer had him "kneel" down so Lilly and I could "climb up". As he rose up it was a little unshaky and seemed unbalanced but we held onto his saddle. His gait was totally different than that of a horse. Camels walk with their front and back legs going simultaneously and then, alternate sides so it is a very "lumpy ride". What an awesome photo opp, though. Lilly says that camel was her trip highlight from Israel.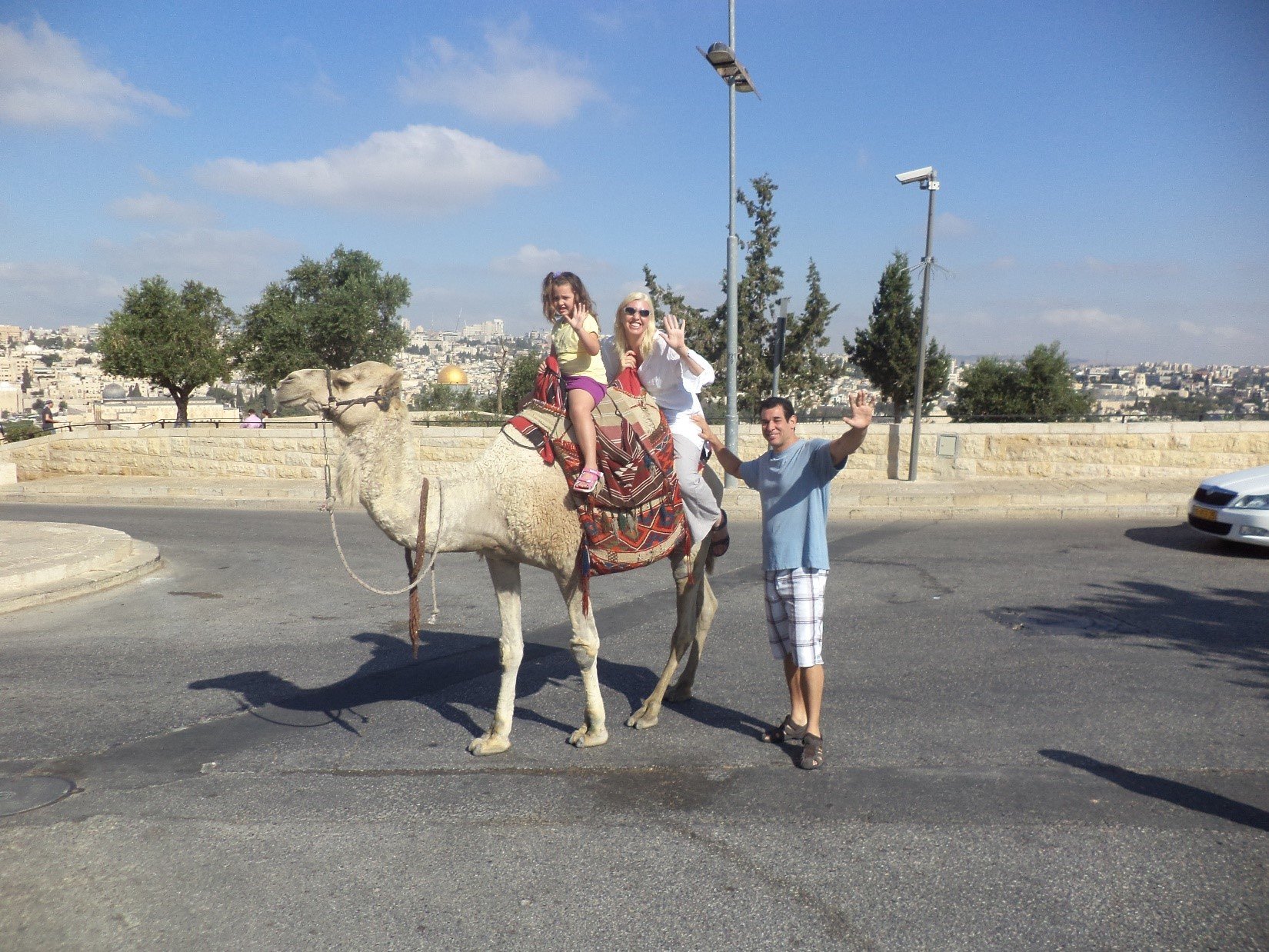 We drove out of the city traffic into the Judean desert. Our destination was Masada, 65 miles outside of Jerusalem. We passed arid hills and brown, tan, everywhere with some oases popping up now and again with date palms springing from the middle of the oases. The heat was crazy on this day. We parked at the foot of Masada to take the tram up. Herod the Great built palaces for himself on the mountain and fortified Masada between 37 and 31 BCE. It was cool to see bathhouses with mosaics still vibrant in color and each "compartment" had a purpose; whether it was a food storage room or a cistern to collect water. The Roman Empire wanted Masada and the walls of the fortress were breached in 73 CE. When Roman troops entered the fortress, they discovered that its 960 inhabitants had set everything ablaze and committed mass suicide/killed each other. Masada is a patriotic place for Jews.. it personifies the human struggle away from oppression and the desire for liberty at any cost.. as crazy as what the residents of Masada did, it was pretty incredible. Sam told us a 2,000-year-old seed discovered during archaeological excavations in the 1960s was successfully germinated into a date plant!  Talk about Miracle-Gro.  We ate lunch in the cafeteria amongst a huge amount of American teens; there with Birthright.
We then drove about a half hour to the shoreline of the Dead Sea. It was quiet as it was over 100 degrees and a Monday afternoon. There were only about 30 people with us by the shore. We parked the car and walked about a ¼ mile down to the shoreline. You start on a small hill dotted with pull showers. There was not much development and I swore, if I was an Israeli gajillionaire, I would invest here….it needed it. The walk down to the water was rocky and undeveloped and the railing helping you down, was slimy with paint and rust erosion from the salt. The Dead Sea is the lowest place on earth and the reason the body of water is "Dead" is that the salt of the water is almost 9 times saltier than the ocean. This salinity makes it such where animals or plants cannot survive. You can see Jordan on the other side of the Sea. All over Israel, products from the Dead Sea are sold;' especially salt and mud, which supposedly have healing properties. Sadly, Sam told us the Sea is shrinking 3 feet each year. I thought I dressed Lilly perfectly. Rash shirt and swim trunks and super tight goggles as I wanted no salt entering any orifice of her body. Splashes were of concern as she was shorter than us all and any of that salt in her eyes could ruin the rest of our day and make her miserable. She and I walked in together. 
The water was clear and you had to wear shoes, as there were rocks everywhere, although they were pretty smooth from being in water constantly.
But as the water inched up to her, she began screaming. I did not know why but soon realized the water/salt was hitting her "little girl parts". Mario rushed down to grab her and run her back up to the pull showers. I did not even realize that would be an issue and felt awful. But a few minutes later she was fine. She just did not want to go back in. But I floated in it for a few minutes while Mario took my picture from up the hill. It was super cool. The only thing, you need to truly rinse from head to toe for a good 10 minutes to get any residue off. The salt eats away anything it comes into contact with. I realized that day, my hair died in the Dead Sea, too. Yikes. It was a fluffy, Brillo-like frizzball by the end of the day.
We then began our drive to the West Bank again, into Jericho. But on the way, Sam pointed out we were close to the site where the Dead sea Scrolls were found, at Qumran.
Jericho has been held under Israeli occupation since 1967; but the Palestinian Authority obtained control in 1994.
It is believed to be one of the oldest inhabited cities in the world. It is sacred to Jews and Christians as the site where freed slaves from Egypt settled but also where the "Mount of Temptation" is said to be. This is the hill in the Judean Desert where Jesus was tempted by the devil. Now, the monastery is owned and managed by the Greek Orthodox Church of Jerusalem. We took a cable car from the ground up to the Mountain but then, had to walk up a spiral stone staircase up to the Monastery, which was super cool, as there were rooms and alters and caves and praying areas, all embedded into the rock on the side of this mountain. The monk at the top had a stern look on his face but soon warmed up as we spoke to him about our trip thus far and where we were from. He was actually from Toronto! But as I said earlier, Israel was a true menagerie of peoples and religions. In the caves at the top and at many caves we went to, people put money of all values into the caves, along with written prayers. Each cave we saw was "littered" like this.
We headed back down and to a local restaurant where Sam knew the owners. The outside had live peacocks walking about. This was where peacocks went to party, wow! Again, we ate meze and had yummy kebabs and some kanefah for dessert. Ruth and Priscilla loved the coffee, which was super strong and black and had cardamom in it. On our leaving of the city, we saw a group of camels being herded by a small family. The baby camel, still about my size, was about the cutest thing I saw all day.
We went back to our guest house in the Old City and awoke early again for our trip up North, to Haifa and Akko. We first stopped at the Les Soeurs de Notre-Dame de Sion in Ein Kerem, a pretty monastery.
Haifa was Northwest; about 90 minutes away. Sam told us, there is a famed saying:  "Haifa works, Jerusalem prays, and Tel Aviv plays" referring to Haifa's reputation as a city of workers. A cruise port and home to industry, it also has a world-class high-tech strip in its south which includes blue-chip tech firms such as Intel, Philips, Microsoft, and Google. The city reminded me a LOT of San Francisco. Very hilly and green and on the water.  But the beauty was still marred by buildings half gone with Sam telling us of attacks 7 years ago from Lebanon's Hezbollah. We drove up, up, up to reach the Baha'i Gardens.  The Baha'i faith is a monotheistic religion emphasizing the spiritual unity of all humankind. I liked that concept. The faith believes that Jesus and Mohammed were both prophets and that all religion is unified. The Baha'i Gardens it is a UNESCO World Heritage Site UNESCO World Heritage Site. The gardens were stunning and perfectly manicured. We saw many men working to keep the place looking postcard perfect.  We then took a short walk to The Cave of Elijah; a grotto in which the biblical prophet Elijah sought shelter on his journey in the wilderness.
After that, we drove to Akko; a city at the northern extremity of Haifa Bay. It is also one of the oldest inhabited cities in the world. Another port city, it held remnants of many eras of people over time. We saw remnants of the Crusades and tunnels and leftover pieces of castles now turned into backdrops for museums, restaurants and souvenir stands. The coolest part was eating lunch at an outdoor café and watching a bunch of teen boys jump off a 50 foot cliff into the azure waters of the Mediterranean. They got a kick out of convincing anyone not from Akko, to jump in with them. After a lunch of tuna salad, skewers of chicken and hummus and pita, we walked around the stalls and Sam directed us to this teeny synagogue carved into what seemed a cave or in stone. The Rabbi did not speak a lot of English but he told us some stories in broken English and he was very kind. A real character. After that visit, we were ready for the drive to Tiberius, up North. The Sea of Galilee is situated in northeast Israel, near the Golan Heights. We drove about 90 minutes. It was a hot day and late afternoon. Lilly snoozed in the car and we were all anxious to check into our new digs. The Oasis Emanuel was a guest house run by a German-French couple and was super quiet at the top of a little hill and overlooking the Sea. Our room faced East so sunrises were gorgeous. We checked in and settled down and Sam went to visit a close by friend, while we walked into "town"; a cheesy mix of neon food stalls and kiosks selling toys and mostly, junk. There were not many Americans here, but we noticed a lot of Israeli's on vacation as well as folks from the UK. We sat down at a Kosher pizza place and ordered a pie. It was so good we ordered another and had ice cream for dessert. Simple.
We awoke the next morning with Sam showing us the site where they were excavating a village that was once the hometown of Mary Magdalene. A mix of young and old come together at the site to dig and find treasures and uncover the ancient town of Magdala. We then drove to see the Sea of Galilee Boat; also known as the "Jesus Boat". It was an ancient fishing boat from the 1st century discovered in 1986 on the north-west shore of the Sea .We then drove to an edge of the Sea. On this edge was the Church of the Primacy of St. Peter, or the "Church of the loaves and the fishes" as this was said to be near the site were Jesus multiplied the fish and also, walked on water. We put our hands and feet in that cool edge of the Sea and wanted teensy fish swim around our limbs; amazed that this was the same body of water that Jesus created miracles in.
We drove further to Capernaum, which is said to be the home of Saint Peter as well as a place where Jesus lived and preached. We took some photos with the columns of the old synagogues in the background.
Midafternoon came and Sam began the ascent to Mt. Bental; Internationally recognized as Syrian territory, the Golan Heights has been occupied and administered by Israel since 1967. Its summit straddles the border between Syria and Lebanon and is the highest point in Syria. As you drive toward the top in the buffer zone between Syria and Israeli-occupied territory, you can see the highest permanent manned UN position in the world. As we ascended we saw less "regular vehicles" and saw more military vehicles. We saw the grassy borders of the road with warning signs of landmines. We saw army campsites. Lilly had fallen asleep and I felt the complete opposite of relaxed. I knew we were not that far from the Lebanon border as well as Syrian border. We drove higher and higher. We parked at the summit and I breathed a bit easier when I saw tour buses here and not just..us.. there was a cute café and these funky metal animals constructed out of old military vehicles that a Japanese artist made. I liked the sign that said how many kilometers it was between where I stood and Amman, Jordan, Damascus, Syria and Beirut, Lebanon. It was seriously like, 30 miles to Syria. I felt like Christiane Amanpour. Sam, Lilly and I toured underground abandoned Israeli bunkers. It was cool but very creepy as the further you went underground, the darker it became.
As we left and the mountain became smaller, I relaxed more. But it did not help to know that we had just heard that UN peacekeepers were pulling out of the Golan Heights since Syrian conflicts were escalating.
For lunch, Sam took us to a restaurant that was run by a Druze family. We had delicious falafel, hummus and sandwiches on toasted bread, very much like a Panini.
After lunch, Sam drove us to the Tel Dan nature reserve. The Dan River is one of the three water sources of the Jordan River that meet. It was scorching hot, so only Sam, Mario and I decided to walk the trail and see some flora and fauna of the area; a nice change from the holy sites. We walked a good 45 minutes and got a good workout in while the rest of the gang hung out in the gift shop. Lilly asked me for about 29 items she saw when we got back. Jeez.
We got back to the hotel for Lilly, Sam and Mario to walk a block to the Scots Hotel for a late afternoon swim. The hotel was lovely and we met a couple from Boston with 3 kids that Lilly played with. I snuck away for a cheapo wash and a blow dry to my hair, which was a mess from the heat and sweat. We ate at a local Middle Eastern place for our familiar meze that night for dinner.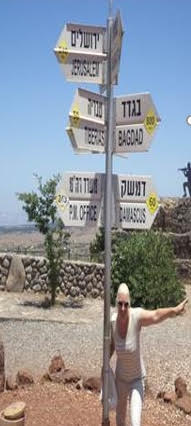 The next morning we woke up for the journey back to Tel Aviv.
We packed our things and said goodbye to the Oasis Emanuel and headed for Cana. This was the site of where Jesus and Mary were invited to a wedding, and when the wine ran out, Jesus performed a miracle by turning the water into wine; his first public miracle. Even when I was married, I had head of "Pre-Cana classes", which is what a couple completes before their marriage. The term is supposed evidence of Jesus' approval for marriage. We sat and watched a Brazilian couple renew their vows in a church and after, listened to a Greek Orthodox priest tell us the significance of some beliefs of his faith as opposed to straight Christianity. (Women are not allowed to go into the altar in Orthodox churches)
We then drove further to Nazareth. We parked and walked to the Basilica of the Annunciation-a church built over the grotto where the angel Gabriel is traditionally believed to have visited Mary to announce that she was carrying the Son of God. My favorite part though was the mosaics of the Virgin donated by communities from around the world decorating every wall of the church.
We then walked around Nazareth souvenir shopping and stopping at a local bakery for some yummy baklava and treats.
We headed back to Tel Aviv. It was still early afternoon. We arrived at the Hilton Tel Aviv and it was a gorgeous beach day. The Hotel was the best we had stayed at thus far and our rooms, huge with big, fluffy beds. Ah, back to civilization. Sam drove us back to the Carmel Market, where we had been a week earlier to shop some more as we realized this was where the best prices we found in the country. Sam then drove us to a restaurant I had read about on Trip Advisor, Barbunya. We said goodbye to our tour guide and friend we had made in Israel as it was time for Sam to finally go back to his family. We walked in late afternoon in between meals and had the place to ourselves. We had the usual meze and ordered fish all around. Wow, talk about fresh. It was seasoned so perfectly and was just what we needed. After dinner, we walked back to the hotel in the early evening sunset.
We slept well but got up super early to catch our 8am flight to London out of Tel Aviv.
Security was tighter here than at other airports I'd been to but jeez, the personnel literally took every liquid I had in every travel size container in my luggage. We finally boarded the flight and landed in London without delay. We needed to take the London tube into the city to connect to the Eurostar Rail train to Paris. We navigated through the airport and subway system pretty easily; even with the bogging down of all the luggage and tiredness. Lilly loved the planes, trains and automobiles zoom factor of it all. The connections were like clockwork and we hopped on our 2.5 hour train ride into Gare Du Nord station, in Paris. We arrived into the city late afternoon and took a cab with a truly French taxi driver to our hotel; thankfully, only a few minutes ride away from the train station. But wow, did he personify nasty and rude Frenchman. Ugh.
The Hotel Albion was in the 9th arrondisment directly between two Metro stations. Our rooms were on the 6th floor and a decent size for Europe. They had an attic feel; since the roof had a large slope. Our window faced the street but was still not noisy. We had heard about a typical French bistro that served inexpensive steak frites and found it a few blocks away from the Hotel. The good news was that it was cheap and the atmosphere couldn't have been more Parisian but the bad news; ugh, the steak was like eating my sneaker. We fell into bed and awoke to a delish breakfast in the hotel cellar. Lilly and I had 3 croissants each smeared with chocolate hazelnut spread.
We were on our own and I had planned an itinerary for a full 3 days. Today was the Eiffel Tower and a boat ride along the Seine and ending with a trip to the Arc Du Triomph. The morning was partly sunny but wow, after 105 degrees in Israel, 70 seemed downright freezing. I had to buy a sweater. We took the Metro to the Eiffel Tower and it was pretty awesome, seeing it get closer to us as we walked toward it. Men selling teeny metal Eiffel Tower key chains surrounded us everywhere. We walked to the foot of the Tower and the line to ascend was over 2 hours. I had tried purchasing tickets online weeks before but wow, that trip up there sells out fast! Even the line to walk up midway was over an hour wait! But we were fine with looking to the tippy top and taking pictures from every angle. The tower is the tallest structure in Paris and the most-visited paid monument in the world.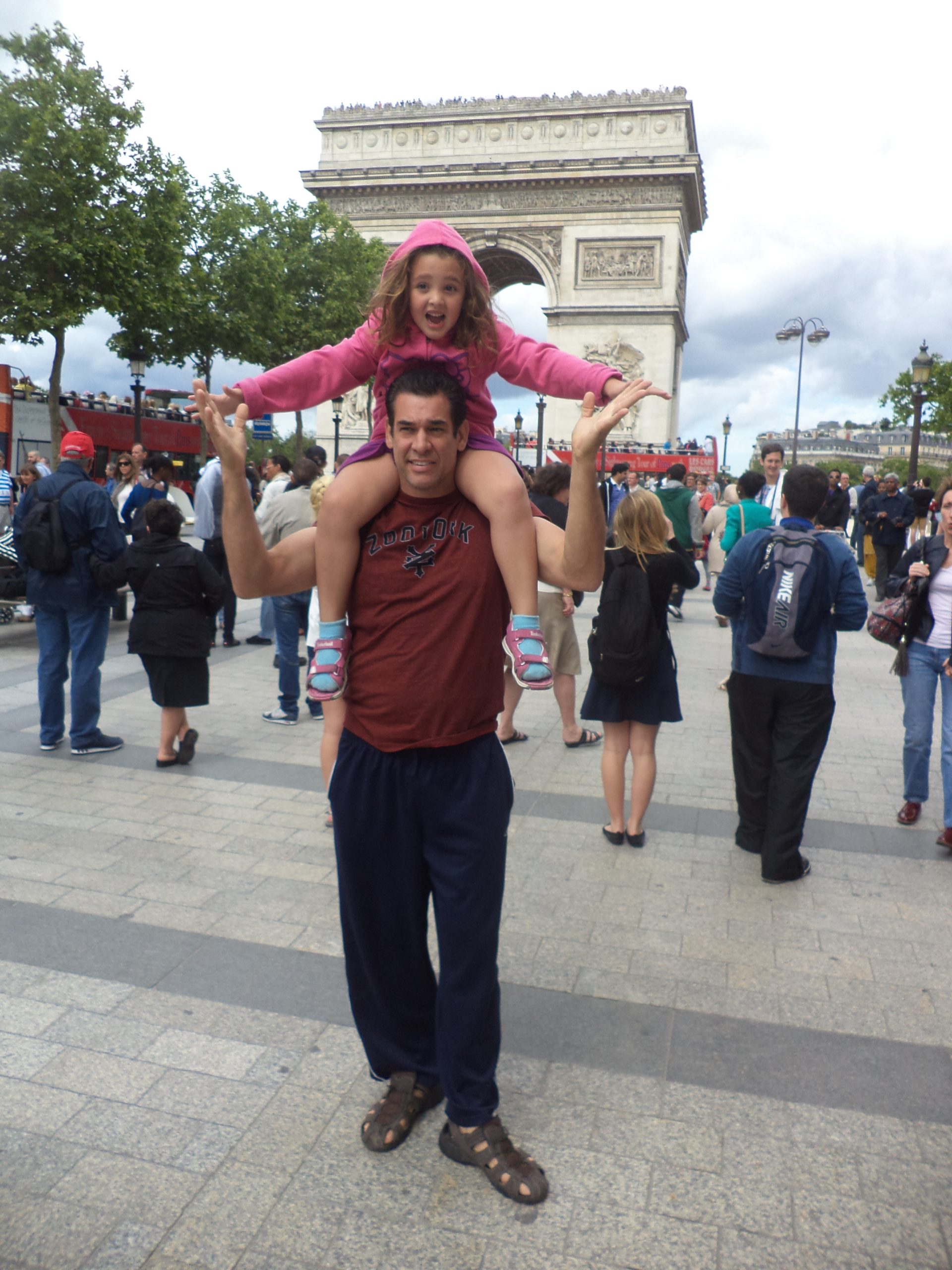 We began walking to get onboard the Bateaux Mouche. The boat was packed. Mostly with a huge group of tourists from China. The route was awesome; we passed the Louvre, Musee De Orsay, Ile de la Cite and Notre Dame. It was lovely to see it from the River's perspective. The audio would change every 30 seconds; from French to English to Spanish, to Chinese. The ride was a little over an hour. I'd walk from inside the boat to out and see the city from all angles.
After we disembarked, we walked to a Metro station to get to the Arc du Triomph. Located at the western end of the Champs Elysees, it honors those who fought and died at war for France. It is situated in the midst of a pretty dangerous roundabout.. (think Chevy Chase in European Vacation when he drove around in circles a zillion times..lol) So to access it, you walk underground through a tunnel. When we got directly underneath the monument, it was pretty cool to look east and up the entire Champs Elysees. It was super chilly so we didn't stay long but to take some photos. You can walk to the top, same as the Eiffel Tower.
After lunch we stopped in a typical Parisian café/boulangerie and bought sandwiches, quiche, coffee and pastry. But finding seating was tough so we took the goodies downstairs into a sidewalk mall and ate it all inside a McDonald's..lol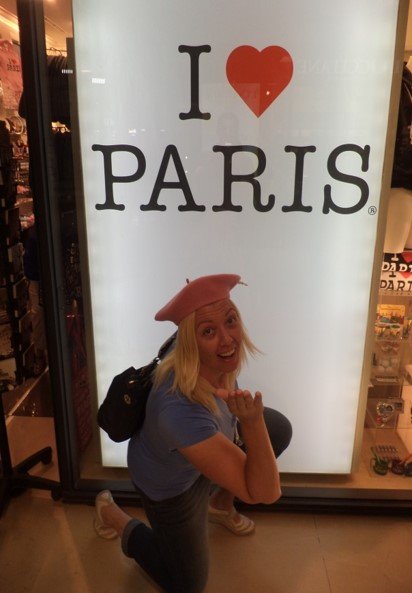 We then went back to the hotel for a siesta with plans on meeting my cousin Paul, his wife and son Aiden in the Montmartre area; they lived in Brussels and we had arranged us all to meet (thanks, Facebook!) this particular night, as they had taken the train in for the weekend. We took the metro to meet them and since we were a bit early; waited a few minutes right outside the Moulin Rouge, which was directly in front of the metro station we had just left. Ruth and I took some fun photos there while Lilly spun around and around an exhaust grate for the metro. A good 12 feet in diameter, a bunch of kids would stand on the top to get a huge rush of wind; a la Marilyn Monroe in the white dress, each time a train passed underneath.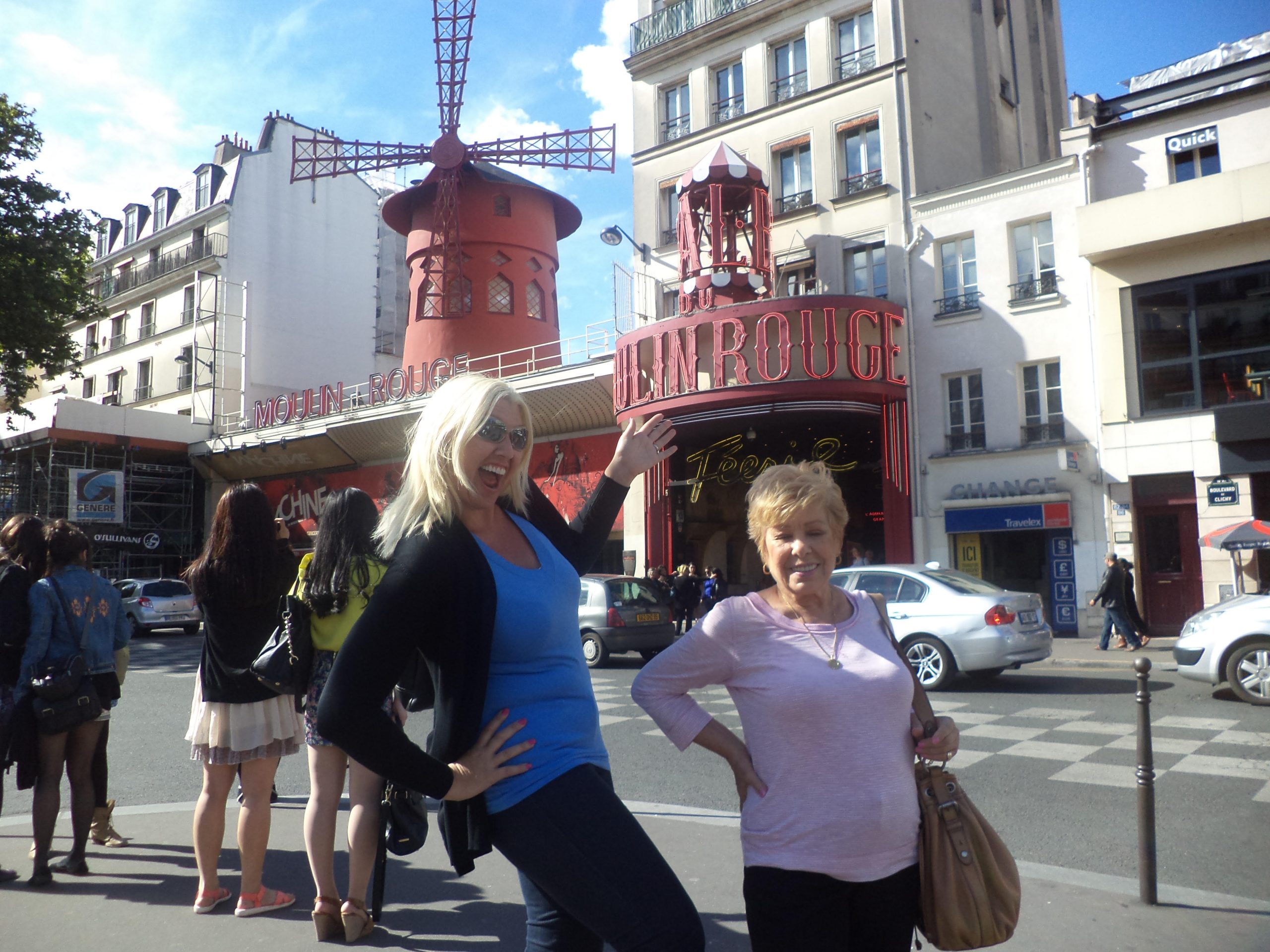 We all met and walked to an indoor-outdoor café and had a delicious dinner. There was some parade carnival going on after we ate so we walked over and saw people dressed in silly costumes and the kids played with globs of colorful paper confetti strewn on the streets.
We woke up to a bright sunny Sunday morning. After breakfast, we took the metro to Pere Lechaise cemetery. It is Paris' largest and many famed people call this their final resting place: Oscar Wilde, Isadora Duncan, Sandra Bernhardt, Edith Piaf and Jim Morrison.
Reputed to be the most visited cemetery in the world, it was hauntingly beautiful.
The summer sun slipped through greens and grey mossy covered mausoleums and split through crevices and spilled onto headstones. We used the free map to find Jim Morrison's grave. Now enclosed in an iron fence, in yesteryear Doors' lovers would sit there for days, smoking pot and paying homage to the Lizard King. We then found Edith Piaf's grave and I took some photos directly in front of it. Mario traipsed through the little stone lanes with Lilly on his shoulders. It was a really nice morning at the cemetery, as weird as that sounds.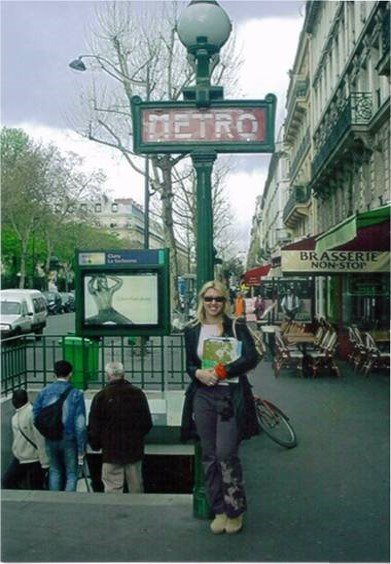 We then took the metro back to Montmartre up, up, up to Sacre Coeur. It was Father's Day and the best day of weather we had thus far in the city. Everyone was out with their families. We got to the base of the church and Lilly went on the colorful carousel and afterwards, watched a man feeding sparrows from his palm. We then took the funicular to the summit and walked inside the basilica. It was packed. Mass had just ended. We watched some street performers and a little train taking people all around the streets for a mini tour. We took the funicular down and had an amazing lunch of pizza and crepes for dessert.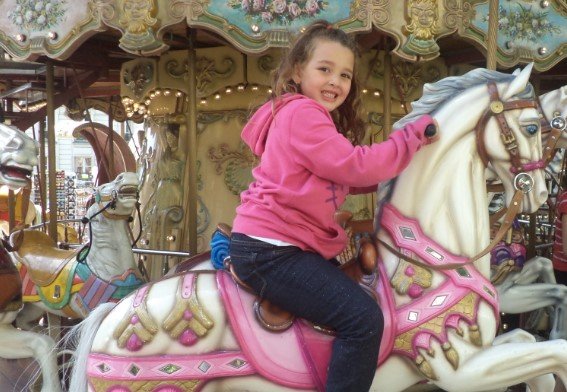 We again, went back to the hotel for a rest and decided to do an in room picnic for dinner that evening. Mario and I walked around the entire neighborhood picking up this and that. One restaurant even made us homemade chicken soup (which was so delicious) since Lilly was a bit under the weather. We ate it downstairs in the hotel cellar, quiet as mice and cleaned up before anyone noticed.
The next morning we woke up to the first drops of rain we had seen on the trip thus far. Well, it wasn't raining- it was pouring. The consolation was that we had planned on spending the morning in the Louvre anyway. But wow, getting from the hotel to the metro was a soaking experience. Luckily, the metro stops right inside the Museum so accessibility was a snap. But ouch, the line was nuts for security.
I told the security guard I had two seniors and a child with me and she let us skip the entire line! Ha, who says French people are all mean?
We went to the gift shop to pick up postcards of the most famed artwork in the world for Lilly to "find". She totally got into it. But man, this place is massive. You seriously need a week here to see everything. It is amazing, intimidating and breathtaking. It was super crowded, also. We found the Venus De Milo first. The Winged Victory second and of course, La Giaconda- Mona Lisa, third. Getting close to her was not easy as there was a velvet rope, guards and wall to wall people wanting to take a photo with the painting. But ha, we did it.
We did not stay much longer. The rain had cleared and Lilly was antsy. We went outside and fed some ducks inside the pond surrounding IM Pei's glass pyramid. We decided to walk a few blocks to the Ile de Cite and Notre Dame. The sun started to peek out of the sky and Paris looked lovely; with cool drippings of rain everywhere and puddles spread around. Kiosks and vendors opened and we happened upon the Pont des Arts. Couples or those that love one another by place a lock with their names written on it on one of the fences of the bridge and then throw the key into the river. The bridge was covered with shiny locks of every color of the rainbow. It was super cool. Lilly loved looking at the locks and finding unusual ones and pointing them out to all of us.
We then went to Ile De Cite and stood in front of Notre Dame.
The line to enter was very short and we walked in the cool darkness and walked the perimeter of the nave. I know we all felt "churched out" after Israel, but still, this was one of the most famed holy sites in the world and I got a kick out of telling Lilly the story of Quasimodo.
We again ate a great lunch at a cafe directly across from the cathedral and had French onion soup and sandwiches. For dinner, we again had an in room picnic. We slept our last night in Paris and woke up early, ready to come home. Au revoir!
 More Explora Blogs…
Read other explorations and adventures…
I never had seen anything like Meow Wolf. It's like walking into a surrealist dream. Bright colors, doors you can open leading to other worlds (literally), video games, VR headsets, blasting dance music. I never did any kid of hallucinogenic drugs but if Meow Wolf is what they were like, I wish I had!
The rewnowed Santa Fe hotel, La Fonda on the Plaza, the sounds were hauntingly beautiful. I was excited to spend a few days in a city that smells like sage and moves like molasses.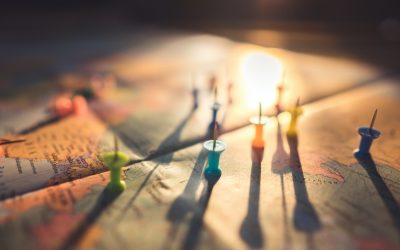 Attain dual citizenship. If one of your parents were born in a foreign country, you may have the right to become a citizen there…