Explora India
March, 2018
Cows, camels and chipmunks.
Duration: 10 days, 9 nights
Locations: New Delhi, Varanasi, Agra, Taj Mahal, Ranthambore, Jaipur, Udaipur
When I tell people that I chose to go to India on vacation, I always get unusual stares. More so than any other place that I've gone. But India to me, was unlike any place else in the world. You could stand on the corner in an intersection in San Francisco and look up being amongst the skyscrapers and kind of feel the same feeling that you would feel in Chicago or New York or any other big city.
European cities can get repetitive also-church, cobblestone street, café, rinse, repeat. But India really can't be compared to anything else. I was so curious about the mystery, the colors, the smells, and if it lived up to its unique reputation.
Flying on Lilly's exact birthday on March 21st, 2018 from Miami to New Delhi was long, long, long. We stopped in Doha, Qatar (coolest airport, ever!) and arrived in the capital of India at two in the morning but it could've easily been 2 in the afternoon with all the hustle and bustle. I suppose, being one of the most populated cities in the world, was I really expecting it to be quiet or asleep? No way.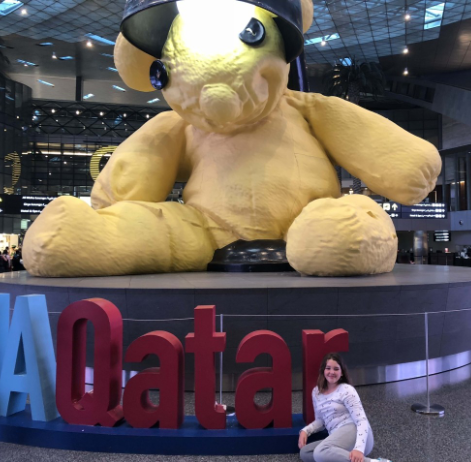 We went through customs pretty quickly and found our guide Shailendra, who we had been speaking with for months before. (Thanks, What's App.) He loaded us onto an immaculately clean minibus, adorned with tons of flowers of bright pink, yellow and orange.
It took about 30 minutes to get us to our hotel. It now must've been about three in the morning. I think we were all beyond exhausted. We checked into our room and all crashed. Mario met up with Marco briefly as Marco and Griselda had arrived a few days before to go on safari at Kaziranga National Park up in the north east corner of the India, not far from Bhutan. We were going to meet up with them in the next few days in Varanasi.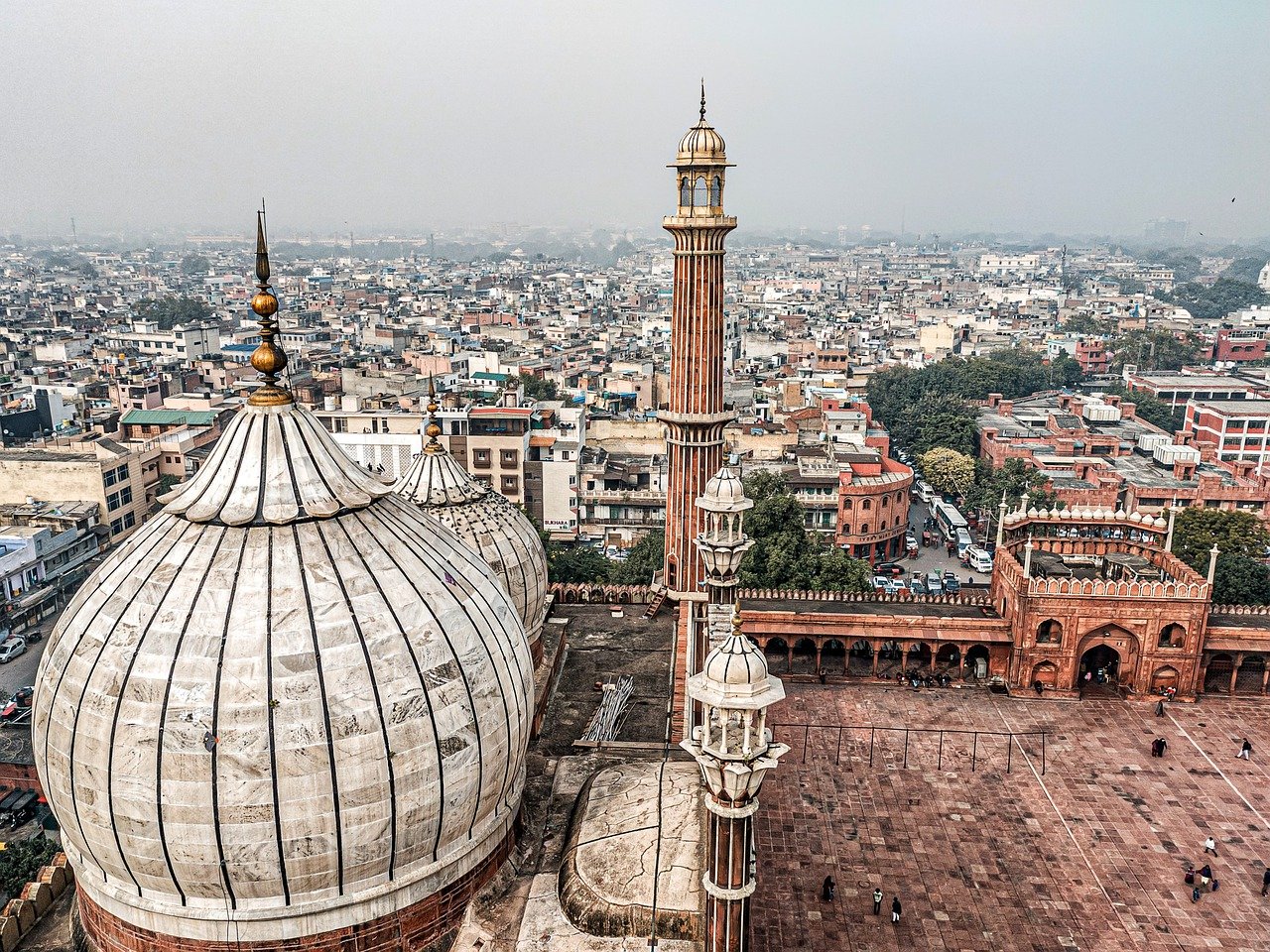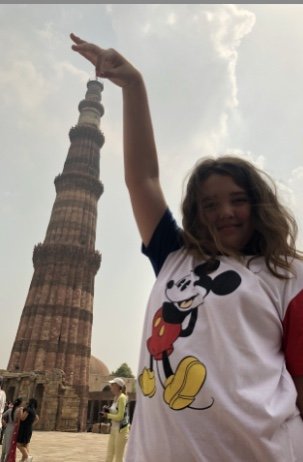 We woke up late the next morning and had a pretty nice breakfast. Our guide was picking us up around 11 AM. He was a Sikh. Our first stop was Qutub Minar, a World Heritage Site. It was constructed in 1192 and the conical tower is an example of Indo-Islamic Afghan architecture. We then drove to Humayun's Tomb. This mausoleum is the first example of Mughal architecture in India. After a century from its construction Humayun's tomb inspired the construction of the more famous Taj Mahal.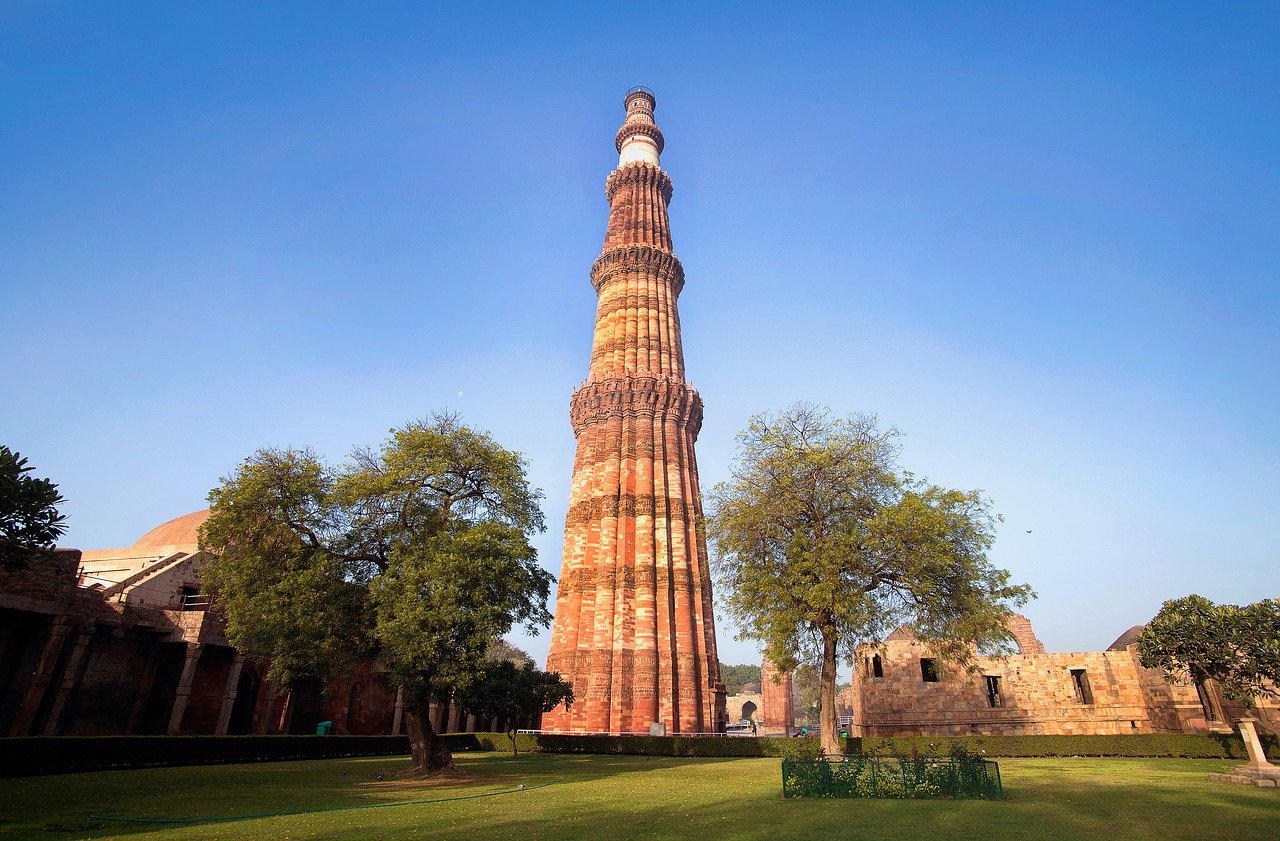 We trusted our guide to take us to a yummy lunch spot and we were very pleasantly surprised because the food was gooooooodd. Our guide then took us outside of the Bah'ai faith Lotus Temple. It is a house of worship, or mashriq al-adhkār; in Arabic; a place where the uttering of the name of God arises at dawn. We only chose to see it from afar.
I know the stereotype is everywhere but really, if you've ever been in traffic, there's nothing to compare it to regarding India traffic. People honk their horns just for the sake of… honking their horns. Just because they can. And yes, there are cows laying down all over the streets and standing up and walking and sitting and doing their business.

New Delhi looked much like many other cities but it was absolutely packed with cars and people but there were definitely avenues and streets that were absolutely lovely. I got a kick out of our guide showing me "squirrels". But they were what we would consider chipmunks. Small, grey with a black stripe down their backs. So cute.
We went back to our hotel that afternoon for some R and R, as we had an early flight in the morning to Varanasi.
Waking up in 100° hazy heat is what we encountered every day in New Delhi. We were off to the airport to go to our next stop where we would meet Marco and Griselda. We were happy to report that it wasn't as hazy and smoky in Varanasi. Maybe because we were on the edge of the Ganges.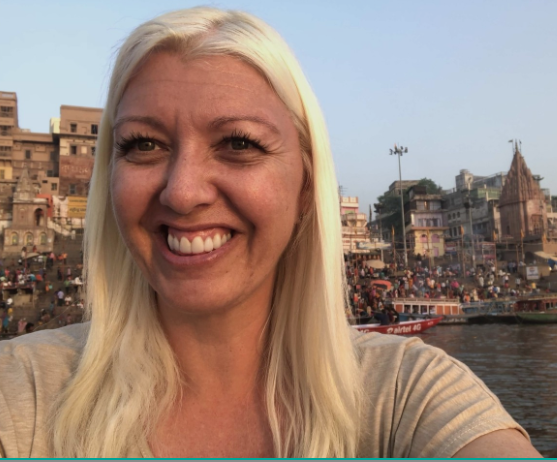 We met up with their guide, a young college aged man who brought us to our hotel, about 45 minutes outside of the airport and in the not necessarily what I would call "city", but in the heart of Varanasi. By the way, I think our hotel was next to the only McDonald's I actually saw in the entire country. Beef is a BIG no-no in India. We settled into our comfortable Ramada and went to Sarnath; a place located a bit outside of Varanasi near the confluence of the Ganges and the Varuna rivers. It is a famed religious Buddhist site where it is said Buddha once made a pilgrimage. We then went to another religious site and place of pilgrimage- the 65 foot Buddha statue. It is famous as it is the place where Buddha is said to have obtained Enlightenment under the Bodhi Tree, which is 2,500 years old and still stands. Although the gardens were super-hot, it was fun to play "I-Spy" as we saw lots of animals in the ponds and flowers all around. It was also my first experience with my "Indian celebrity status" as a lot of Indian folks came up to me and asked me to take a pic with them. Whoo-hoo, I felt like such a cutie! But alas, I was told it was mainly because white fair skinned, blonde foreigners are pretty rare for the folks in India to see, so it was more like I was a unique sighting than Kim Kardashian. But, I never got offended when asked. It was kind of flattering…lol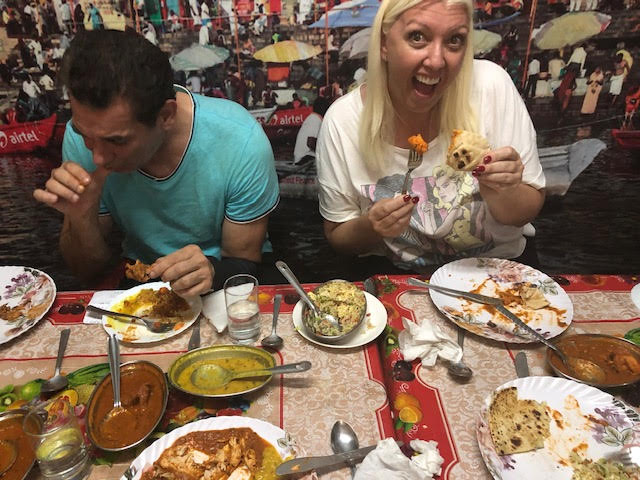 The highlight of Varanasi for us I think was after we got back to our hotel that afternoon to freshen up, we went back out on rickshaw bikes which our guide had arranged. You know, the things where you sit in this chariot-like bicycle and a young, 90-pound Indian guy with the power of a gladiator, pedals you around. It was seriously, super fun. It was late afternoon and it was literally, sensory overload. Everywhere were colors and spices and smells and sounds; it was amazing. We were on the bikes about 30 minutes after which we were instructed to come off and walk around the blocks in the city so we could go down to the ghats.
But uh oh, Lilly had a first time ever had a panic attack. She was literally overwhelmed by it all and we had to stop for a few minutes. We were drinking bottled water like crazy in India and I think Lilly guzzled another two bottles, but luckily, she got it together and really enjoyed the remainder of our walk down to the ghats. We were going to watch the sunset and some special kind of religious celebration.
Our guide got us some kick butt seats on the top of a roof and we literally had a birds eye view of everything going on. It was unexplainable. Looking out into the sunset, the Ganges was buzzing with activity. Cows were walking everywhere; the sun was red and gold and orange and yellow and the sounds of bells and chimes and chanting and singing were mixed with intoxicating smells of incense.
The ceremony began. We only stayed a short while till we got back on our bicycles and were taken back to our hotel in the dark. But again, there is never ever any stillness and quiet in India.
We got up before the sun so we could take a sunrise boat ride on the Ganges. It was so calming and insane all at the same time. Getting into the long rowboat we saw men and women and children bathing and swimming and playing in the Ganges. They were brushing their teeth in the water. I had heard about how dirty it was and dared not put any bodily digit nor orifice into the liquid. Even more surprising was when I saw the carcass of a dead dog as we were in the boat rowing in the water. But the boat ride was intense. We got to see Varanasi from the other side, looking at the ghats and they looked like a kaleidoscope.
Getting out of the boat we walked up to where they burned bodies to prepare them for death. We were literally walking into an area where there were open furnaces of them burning corpses. But there was no smell at all. The wood used somehow masks any odor and it was intriguing. We saw the remains of what was left of someone's torso completely charred over with black and ash. We were all fascinated. We walked along the ghats and went up to our vehicle which took us to Baranas Hindu University. It is the largest residential University in Asia and the campus was lovely; we walked along cool, white marble floors and saw floral mala and haar all around. If I had to pick my favorite place in India, Varanasi would be it. I'd never seen another place like it.
We were only here for a short while because we were off to our flight to Agra, the Jewel of India to see the Taj Mahal.
Heading to the airport again, we had a short flight to Agra and as soon as we got there, we dumped off our luggage in what I think was the nicest hotel we stayed at, the Hilton Doubletree in Agra- it looked like a giant palace inside with white marble everywhere. (but then again, almost every hotel in India looked like a palace!)
We head off to the Red Fort. Across from the Taj Mahal and not as majestic, it was pretty cool and my favorite part was seeing live monkeys laying everywhere and giant wasps' nests stuck to every corner of the structure. And remember about the squirrels I told you about from New Delhi? A man who had a business relationship with the little guys coaxed one to hop onto my hand, which was awesomely fun and then he jumped onto Lilly's hand, enchanting her.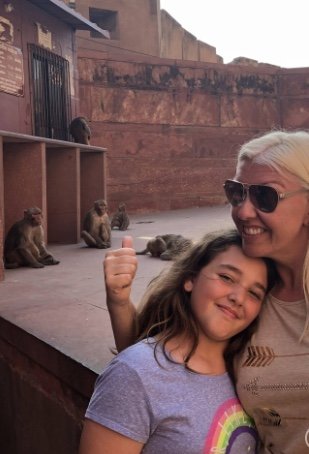 We ate at a vegetarian restaurant that night and I was extremely disappointed because the food was just so, blah. Thankfully, none of us ever got sick and I will say our favorite dish was garlic naan, which we had at every meal. But I tired of butter chicken and could only eat so much basmati rice. Breakfast was somewhat familiar to me each day so that is where I usually filled up.
The breakfast at the hotel was like a Kings spread the next morning. This was our special Taj Mahal day. Our hotel had a view of it and it wasn't very far away.
This was the only place that I had seen security and we walked through turnstiles and metal lines to get up to the most famed site in India. Again, monkeys were everywhere, and we were careful to keep our distance.
Weather wise-the morning was beautiful, it had not rained one drop since we stepped foot in India. We tried to do everything early mornings and late afternoons to avoid the heat. It easily got into the triple digits during the day. We went at the end of March, in which the heat kicks up again and most tourists avoid the country.
The Taj Mahal is stunning. It's kept so well, and I was literally walking barefoot on beautiful cool, smooth, white marble floors. I think most people know that it was built for Queen Mumtaz Mahal, the favorite wife of the Mughal emperor, Shan Jahan. It's an ivory-white marble mausoleum commissioned in 1632. However, the Queen is not alone, the builder is also housed in it.
We walked the entire circumference of it and inside it. Lilly got a huge kick out of one of the official signs that said "Please be quite". Ha. I guess she must be an English teacher 's kid.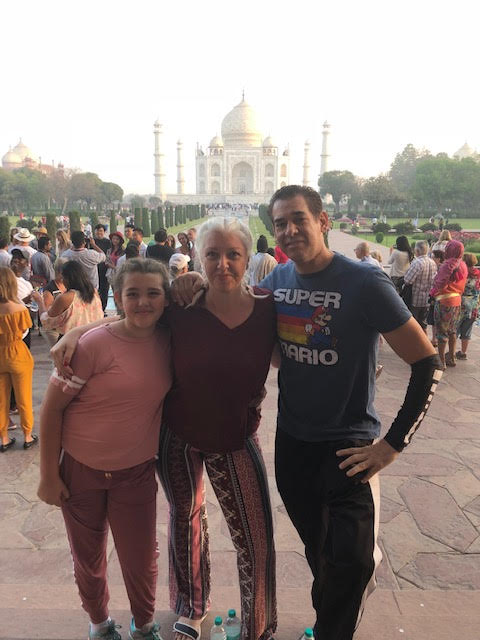 We took a years' worth of photos, posing this way and that and getting every perfect angle and light. My celeb status went up again as a lot of people asked to take photos with me. A Sikh family asked and at first it was just four people and then literally, twenty people were taking a picture with me, all from one family. I felt like a Bollywood star. The ladies were dressed so colorfully and I asked them about their sari's. That night, we saw the cutest puppet show at the hotel put on by a father and his son.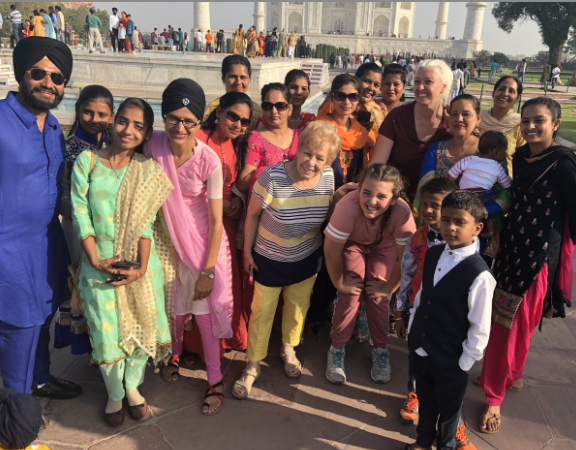 We left the next afternoon for a 6-hour drive to Ranthambore, for our tiger safari.
We mostly had taken planes thus far, so this was kind of welcome. The bus was welcoming and cool and our driver, Jitu was proactive and perfect.
We stopped at Fatehpur Sikri along the way. Originally the empire for the Mughals before Agra, it was once a bustling place. Made of red sandstone and built of miles long squares with gates opening in the walls, amid it was Jama Masjid, or "Friday mosque"; a mosque of strong Islamic influence. The inside of the buildings had stunning mosaics and mirrors and were a welcome treat in the hot sun. Vendors were selling everything from necklaces to giant baskets of cut open fresh fruit.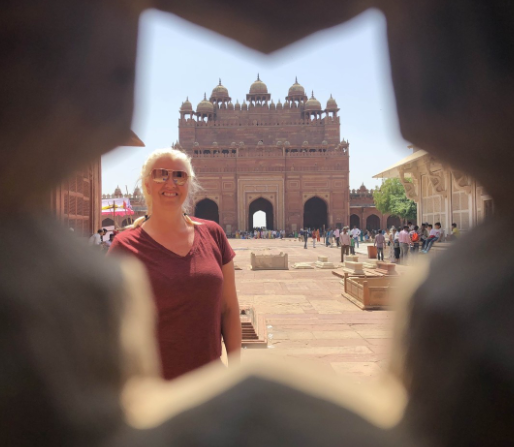 The drive to Ranthambore was fascinating. We stopped once for a bathroom break and were just admiring the countryside, the tons of cars and the non-stop beeping. As we got further and further away from Agra and deeper into countryside, we'd see pop-up villages and the roads got narrower. We saw animals everywhere; cows, camels, elephants, dogs, cats, goats, you name it..
We arrived at our Safari Lodge, Khem Villas, when it was just turning dark.
What an absolute oasis in the middle of nowhere. It reminded me much of Africa, the way everything was set up. But again, we were here on tiger safari. Lilly and I had a magical tent. She loved it and it was her favorite place that we stayed. The bed was so comfortable, and it was just pure luxury.
This hotel was completely vegetarian but honestly, I did miss meat at all. Breakfast was super yummy, and the hotel was just even more lovely in the daytime. It had a plunge pool and little tents and walkways and paths everywhere. Lilly's and my tent were in the middle of Mario's and Ruth's and Marco's and Griselda's on the left of us.
We were out early the next morning and had two separate Jeeps to see wildlife.
It was me, Mario and Lilly in one car and Ruth, Marco and Griselda in another.
I saw birds and lots of deer and tons of tiger tracks, but not really any tiger up close and personal. But when we saw Marco, Griselda and Ruth later for lunch, they showed us video of a tiger they had seen. OMG. I was supremely jealous; they had such a great video of a tiger walking on a wall directly in front of them. But we weren't too disappointed as we still had another day and a half to go out.
We went back to the hotel in the early afternoon for lunch and took a rest. There wasn't a lot to do at the lodge although it was pretty. They had an air-conditioned communal area where there were some books on display of the owners' father who was an ambassador for wildlife to the country. Dinners were again, lovely and although they had no meat, we didn't really miss it much.
Unlike Africa, in which we left our tents and were pretty much in the middle of everything, we had to drive every day to Ranthambore. It was about 20 to 30 minutes from our tent lodge to the actual park. The drives to and from were unforgettable. I don't think anyone of us on the trip will forget them. Just complete sensory overloads. You would see cars and animals; people taking baths outside their homes and just hear every single car horn octave that there was. Men would be riding camels and elephants in the street next to buses and bicycles and mopeds. It was just some kind of organized chaos that just worked.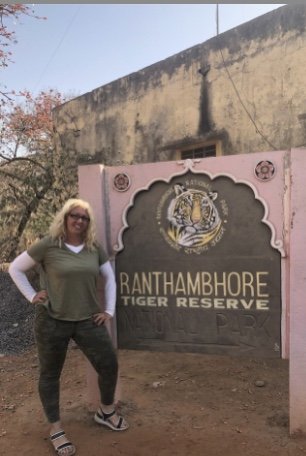 We had better luck the next day as our guide showed us two young male tigers walking in the brush, but they were still not as close as I had hoped they would be. But it did get some of the fixation that I had out, inside of me. I was thankful that we had our private car and were not in a giant bus as we saw a few rolling around inside the park. It was got hotter and hotter as the days went on and it must've reached almost 100 degrees each day.
We tried to sleep that evening but were kept awake for a few hours by a wedding taking place, on a Tuesday at 2 AM which was commonplace for India. I wasn't sure whether to scream in frustration or laugh hysterically.
We would be leaving the next morning for Jaipur. The drive was not too long, only three hours, in which most of us slept peacefully in the AC. Jaipur reminded me most of a big city, not as "old fashioned" as parts of New Delhi. I saw condos and men walking their dogs in parks.
We checked into our hotel- another Hilton in Jaipur on the executive floor and it was terrific.
We then had our first day trip in the midst of traffic at Hawa Mahal, or "The Palace of Winds". Made with the red and pink sandstone built in 1799. Its unique five floors and exterior look like the honeycomb of a beehive with its almost 1,000 small windows decorated with intricate latticework. The original intent of the windows was to allow royal ladies to observe everyday life and festivals celebrated in the street below without being seen, since they had to obey the strict rules which forbade them from appearing in public without face coverings. This architectural feature also allowed cool air to pass through, thus making the whole area more pleasant during the high temperatures in summer.
We moved onto the City Palace and Amer Fort, but the major highlight there was the elephant ride to the entrance at of the palace. We got sucked into buying brightly colored parasols which made for great sun protection and fun souvenirs. The elephants were all female, standing in line waiting for their handler and riders to bring them to the top of the Palace. Thank GOD Ruth saved breakfast leftovers. We were allowed to give these lovely ladies what we had, which were bananas, apples and bread. I seriously could have done that all day. I know Lilly would say the same.
We walked around the Palace, loaded with tourists, guides and beggars. The mosaics and designs were lovely, adorned with little mirrors catching the light.

We left and went to another part of the city to Jantar Mantar- a collection of nineteenth architectural astronomical instruments, built in 1734. It features the world's largest stone sundial, and is a UNESCO World Heritage site. It was like walking around a giant geometrical and astrological playground as the instruments were huge and there was info about each sign of the horoscope. But again, the heat was almost unbearable as the late morning wore on.
We drove about 45 minutes outside the city to Dera Amer Wilderness Camp. Some people do a safari here but we only had a few hours. We were the only ones there and wow, it was incredible. The elephant handlers showed us a few elephants, but my favorite was a 40-year-old female named "Lakshmi". They asked if we wanted to "paint their trunks". "Ugh, no", I thought to myself, but I answered a polite, "No thank you", and Lilly and I scratched Lakshmi's head and side of her face gently with our nails, which I think she really liked. There is nothing like touching an elephant. It is so rough and springy with little hairs and their trunk-mouths are a wonder to watch up close. I showed Lilly the ears on an Asian elephant, much smaller than those on an African one. But trust me, she was a big girl, dappled with pink and gray. The host invited us into an open café at the camp area where we all had cold water and chamomile tea. We got close to a camel, also a resident, but he was not nearly as accommodating as Lakshmi.
We went back to the hotel, as it was now late afternoon and we were freshening up to go to Vishal Sharma's home, the owner/operator of our tour company, Ecstatic India Tours/Heritage India Holidays. He and his family invited us for a cooking lesson! His home was only a few minutes ride away from our hotel. I was so curious to go as I had never really "seen" the inside of someone's home in India. It was the same inside really. But for it looking a bit outdated. But it was clean, and it smelled spicy as we walked in. We met Vishal's wife, his sister in law, his parents and his toddler son, who was a cutie. We also finally met Shailendra, my contact since day one. They brought us to the kitchen and showed us a palette of spices and they made homemade naan, which again, was a staple of every Indian home and delicious. I wish I could say the same for the rest of the meal. Not very filling and too spicy for me, I think I had one piece of okra, two bottled waters and a few pieces of naan for dinner. I think the rest of us all felt similar but were too polite to say anything. But they were so kind as to have a birthday cake when we were finished, for Lilly, as it was her birthday only days before.
The next morning we were supposed to have a hot air balloon ride but we were supremely disappointed when we could not go, as the weather did not allow for it. Bah humbug ☹ The mornings in India were extremely hazy and thick with smoke/smog at times, so I guess the weather just didn't cooperate. We left the Pink City for the airport to head to Udaipur, the city of lakes. Many people say it's one of the most romantic spots in India. It does have a Venice-like feel, because it's surrounded by so many lakes and water and canals. But of course, India would not be India without it having its share of palaces and Udaipur was no different.
We checked into our hotel, a Ramada embedded in the side of a stone hill. It was very unique and lovely and unlike any hotel we had stayed at thus far.
But it was nothing compared to some of the highest rated hotels in the world; we were surrounded by the Oberoi Udaivilas and the Leela Palace and the Taj Lake Palace, which are always rated in the top 10 hotels, worldwide. In retrospect, I realize we should've stayed at one of them.
Our first stop was the City Palace; a complex situated in the city of Udaipur, Rajasthan. It was built over a period of nearly 400 years, with contributions from several rulers of the Mewar dynasty. Its construction began almost 500 years ago.
We were told many celebrities and Bollywood stars had parties and weddings here. I think most people know it however, for it was a filming location for the James Bond movie 30 years ago, Octopussy. Our guide showed us where elephants walked and I had wished I could see the inside of the palace because I'd heard it was majestic. The nice thing about Udaipur is that it wasn't as hot since we were surrounded by lakes and breezes.
Our guide walked us around the city and it was really lovely. Not as dirty as what we had seen and absolutely bustling with colors and excitement as usual.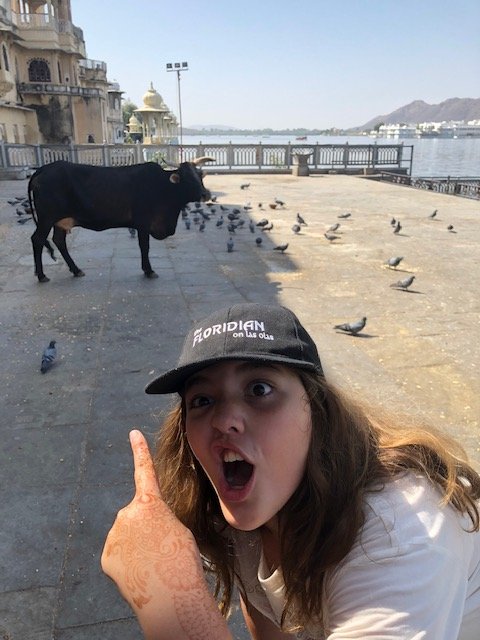 We went to Jagdish Temple-a large Hindu temple in the middle of Udaipur in Rajasthan, just outside the royal palace. It's been in continuous worship since 1651.
But I think my favorite part here was seeing Jag Mandir. Jag Mandir is a palace built on an island in the Lake Pichola. It is also called the "Lake Garden Palace". The construction of the palace was started in 1551. The royal family used the palace and as a summer resort and pleasure palace for holding parties.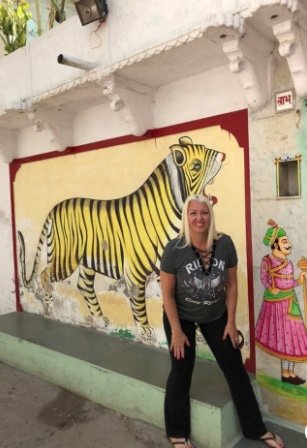 To get some relief from the heat we went inside of a small restaurant on the island. It was so cool, literally and figuratively. We ordered some sodas and enjoyed them as we watched the boats pass by out on the lake. I had a nice clear view of the Oberoi. I liked seeing this part of India, as it was different from all the other places we had seen before it. Actually, the country itself was so vibrant and unique that I could not wait to dispel all the myths that negatively went along with it.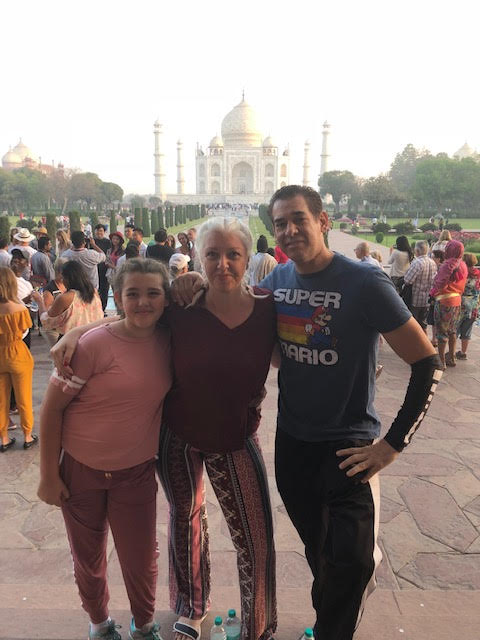 More Explora Blogs…
Read other explorations and adventures…
I never had seen anything like Meow Wolf. It's like walking into a surrealist dream. Bright colors, doors you can open leading to other worlds (literally), video games, VR headsets, blasting dance music. I never did any kid of hallucinogenic drugs but if Meow Wolf is what they were like, I wish I had!
The rewnowed Santa Fe hotel, La Fonda on the Plaza, the sounds were hauntingly beautiful. I was excited to spend a few days in a city that smells like sage and moves like molasses.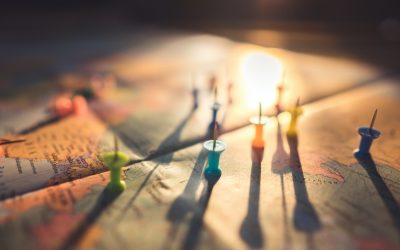 Attain dual citizenship. If one of your parents were born in a foreign country, you may have the right to become a citizen there…