Explora Iceland
December 2014 - January 2015
I was there before "Game of Thrones"!
Duration: 6 Days, 5 Nights
Locations: Reykjavik, Golden Circle, Gullfoss, Thingvellir, Blue Lagoon, Northern Lights
Soo, back in December/January, we got back from New York City and Iceland. We hit it perfectly, as NYC was a balmy 45 degrees every day with bright, blue skies. We seriously hit every tourist attraction in 3 days; more than a grade sees in an entire elementary schools 5 years' worth of class trips. Museum of Natural History, the subway, TriBeCa, Rockefeller Center, the Radio City Christmas Show, pretzels, skating at Bryant Park, Times Square, Battery Park (ya gotta love the ballsy NYC squirrels who stroll up to you and eat out of your hand whispering, "Whatcha got for me?") South Street Seaport, Wall Street, Federal Hall, Trinity Church and a hard one for Mario and I- the 9-11 Museum. It was like we went in a time a machine back to that day. I hated that day yet realize the value of the piece in history it has become. I was there, a part of it. I wanted Lilly to see some piece of it; even if she fully didn't understand the gravity. I still wish they'd just built those damned towers up the same as they were before, with better reinforcements. Sigh.
Then, JFK and off to Reykjavik. Easy direct 4 and a half hour night flight. Arrived exhausted. 6 hour ahead time difference so we got to Iceland on a slushy Monday at 5 o'clock in the morning in December, but our ride picked us up right on time and we all fell asleep in the cold, dark morning on the heated, velvet seated bus. We checked in at the Hilton Reykjavik and slept til 1pm, everything they tell you NOT to do when travelling. "Go with the jet lag, don't sleep". Whatever. Impossible with a 6 year old and 83 year old.
Our guide picked us up at 2pm. It was grey and windy and cold, all you'd expect in December in Iceland. He gave us a tour around the city, which was small and decorated for the holidays. He explained it was only light for 6 hours a day; from about 10am-4pm in winter. We drove through some bustling streets, and then, to the Perlan Building. Perlan sits atop some hot water tanks atop a hill and gives panoramic views of the city. They also have concerts and a restaurant there. We went to the top and had some warm soup and crusty bread for lunch. But seriously, going onto the deck was an experience. Ruth did not even dare it. It was so windy you were moved by the force and sleet was falling from the sky, pelting your face. We braved it for about one minute and went back into the toasty warmth of the building. We then went to the dock area of the city, where there were a lot of whaling boats.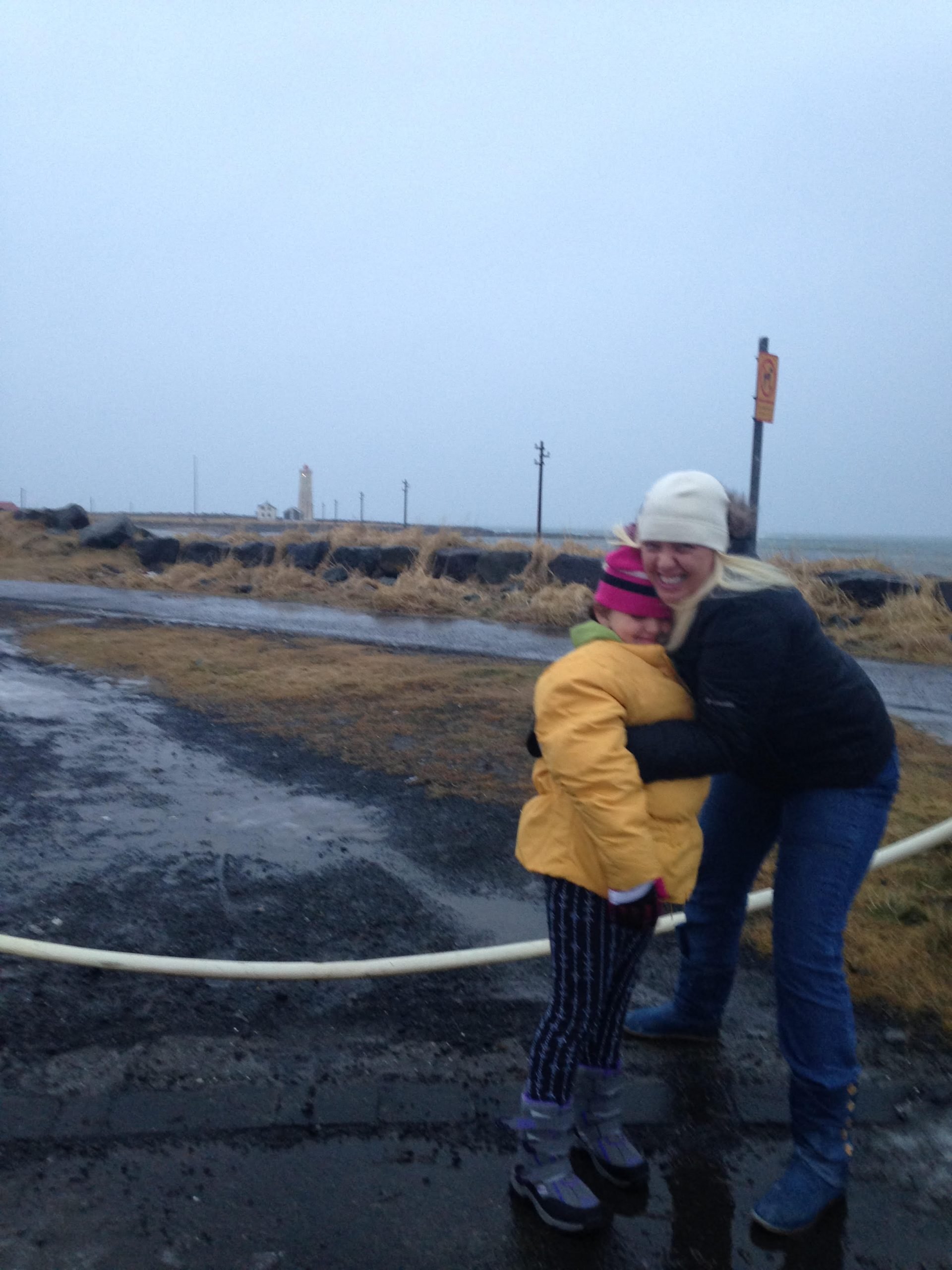 The world has a big beef with Iceland for its controversial decision to continue whaling, amidst big protests worldwide. But there were also boats there for tourists to go on whale watches, although it was the not the season and honestly, anyone going out on a boat in the middle of the Atlantic in December in Iceland had to be a true whale lover or a camera crew member on some Discovery Channel TV show.
Then, our guide took us to Harpa, the Icelandic Opera house, built only a few years before. It was stunning in the darkening sky with wet raindrops all over the entirely glass structure. The panes were different shapes and sizes and our guide told us it was intended to look like the landscape of the country. Lilly and I climbed the cool staircase up to the second floor bar for a look at the docks and shipyards below. I am no architect but this place was so funky in the way it was built and laid out. We heard a beautiful voice coming from below and assumed it was the gift shop playing a CD enticing tourists to buy, buy, buy but wow, it was an actual person! Her voice was like an angel, pitched high and singing in Icelandic. It was mesmerizing.
We left Harpa and head to our last stop, Hallgrimskirkja, (yea, I know..every name in Iceland is impossible to pronounce!!) the largest church on the island. It was designed to resemble the basalt lava flows of Iceland's landscape and the inside of the church was simple, with candles and some wreaths and poinsettias for Christmas. The church is also used as an observation tower. An observer can take a lift up to the viewing deck and view Reykjavík and the surrounding mountains. We went to the top and it was awesome. We were caged in but had metal bars to see panoramic views of the city and holy windy; it was brutal but enticingly refreshing and clean.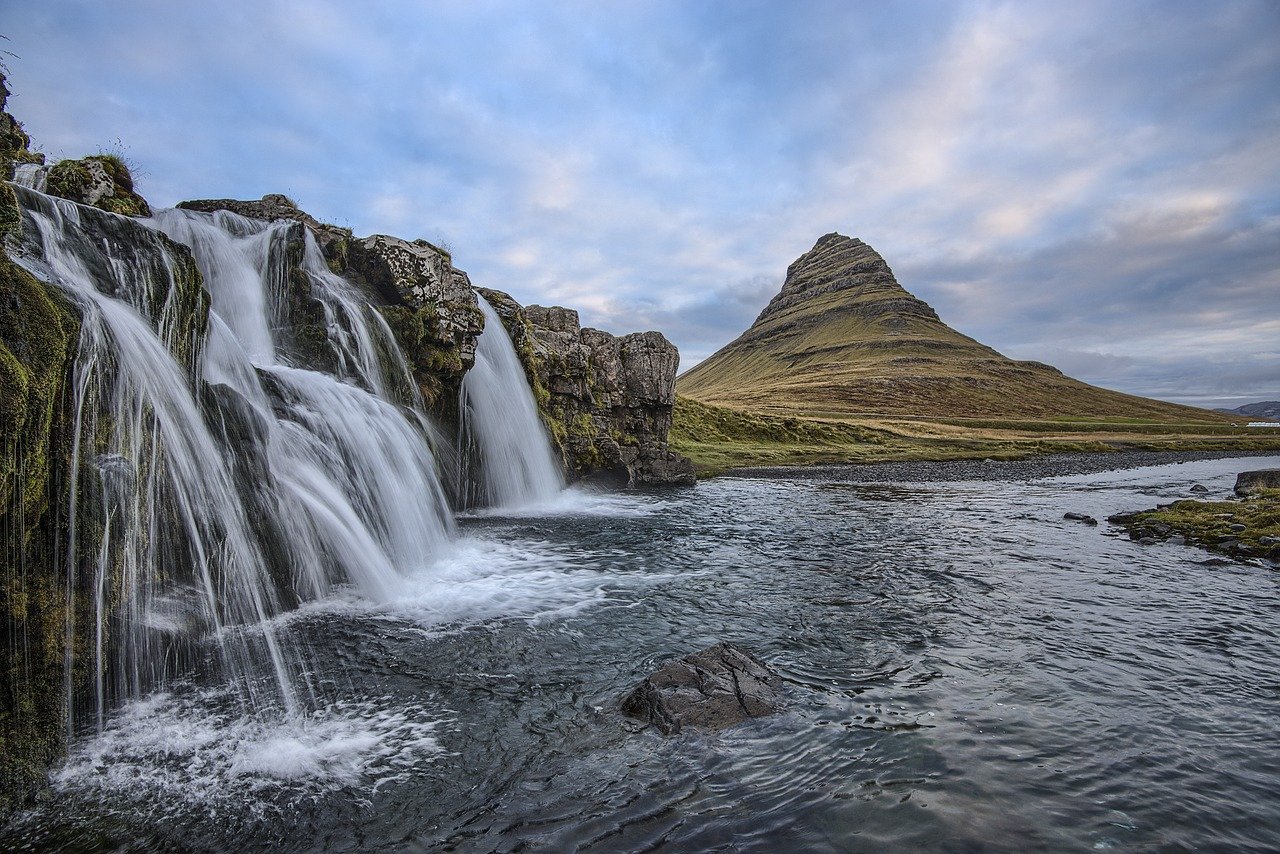 We took the short drive back to the hotel and slept toastily in our beds.
We awoke the next morning and had a yummy breakfast. Iceland sure loves cheese and cakes, yay! We were getting an early start to take the Golden Circle tour and although it was 8am, it was completely dark outside. The circle loops around some 3 tourist sites popular in the country and back to Reykjavik. The first stop was Geysir/Strokkur. It is one of Iceland's most famous geysers, erupting about every 4–8 minutes. We walked a quarter mile out on marshy, mushy, slushy grass to see the geyser erupt. Along the way were little steaming pools of hot water. Lilly picked up chunks of ice and threw them into the pool, watching them melt. You don't
have warning the geyser is coming, but when it does, it is a surprise as it shoots up a few stories into the sky.
We figured out the tourist demographic. About 50% Europeans on holidays, as the UK is only a two and a half hour flight to Iceland. 25% were Americans, like us and the other 25% were Japanese tourists.
We got back to the geyser lodge and Mario had lamb soup, while I stuck to minestrone. The best part of that lodge was the hot cocoa. YUM! Super chocolatey with oodles of whipped cream, Lilly and I had two cups.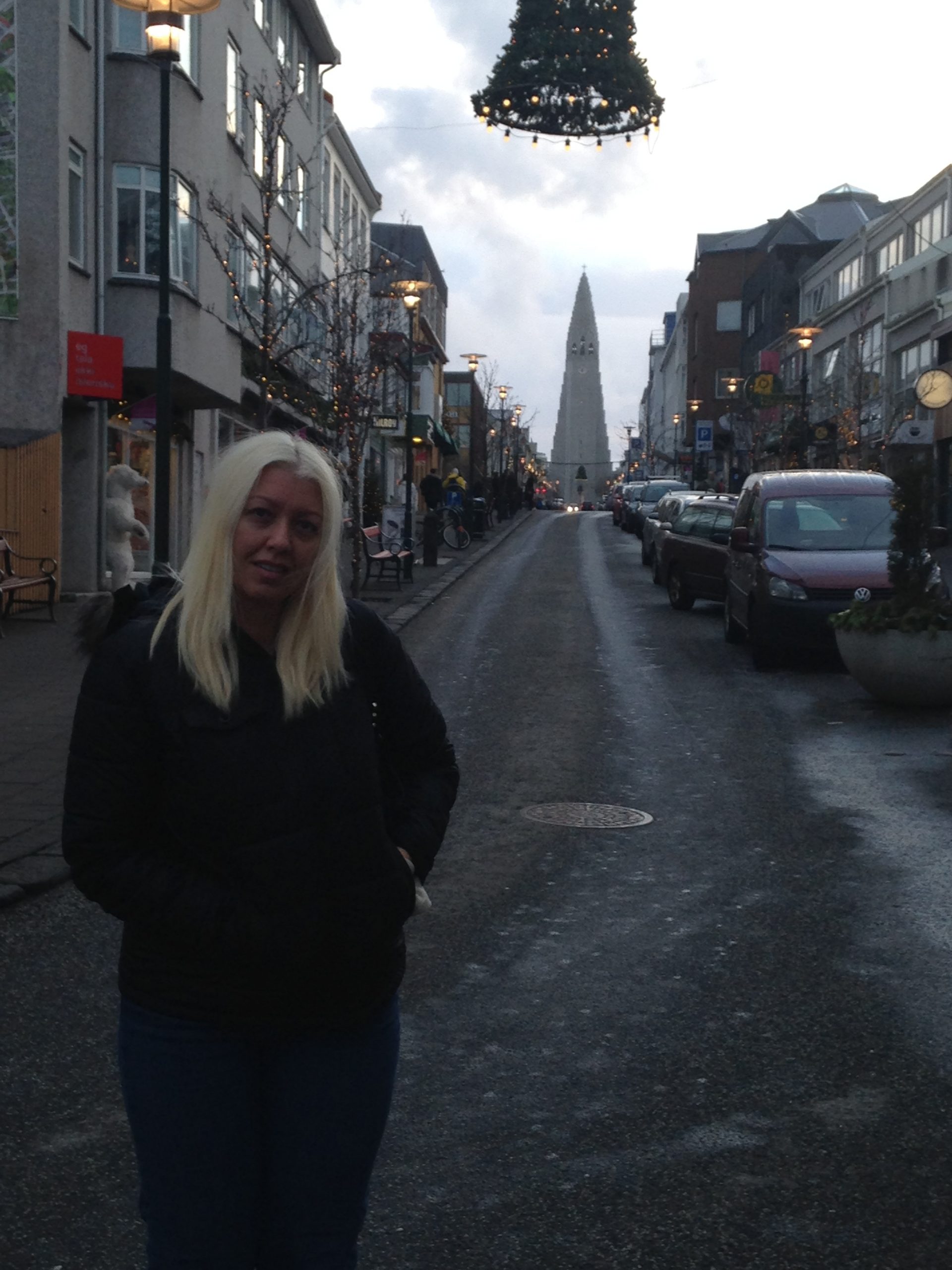 The next stop was Gullfoss; an iconic waterfall of Iceland on the Hvítá (White) river which is fed by Iceland´s second biggest glacier, the Langjökull. It was different shades of grays, blues, whites and even, clear with the freezing of some of the water. I'd never really seen a waterfall that large in winter so that was so cool for me. Many put it on their top ten list of waterfalls to be seen, worldwide.
We stopped at the lodge here too and ate I think the only citrus fruit I had in Iceland- an orange leftover from our breakfast buffet.
Last on the trip trio was Thingvellir National Park. It lies in a rift valley that marks the crest of the Mid-Atlantic Ridge. It is at the northern end of the largest natural lake in Iceland. I wish we had the time to scuba dive, as Silfra contains clear, ice cold water with extremely high visibility and geological importance. Divers can literally swim between continents. Iceland is the only place in the world where you can stand between two continental plates in such a clear manner and more specifically, Silfra is the only place where you can dive or snorkel between them.
Mario and I hiked through the park while Ruth stayed on the minivan with Lilly, who was snuggled in her warm winter clothes on the back seats of the bus, asleep. The landscape was lunar, with black crater formations and a greyish blue hue to everything. But the actual moon was dropping in the sky, a perfect crescent. It was surreal to walk at 3pm in the afternoon, with the sun going down and moon rising. The air was so crisp and clean. Mario and I took selfies as did many others along the hiking route. I thought they definitely needed to film some Dr. Who episodes here or the next sequel to the Star Wars films.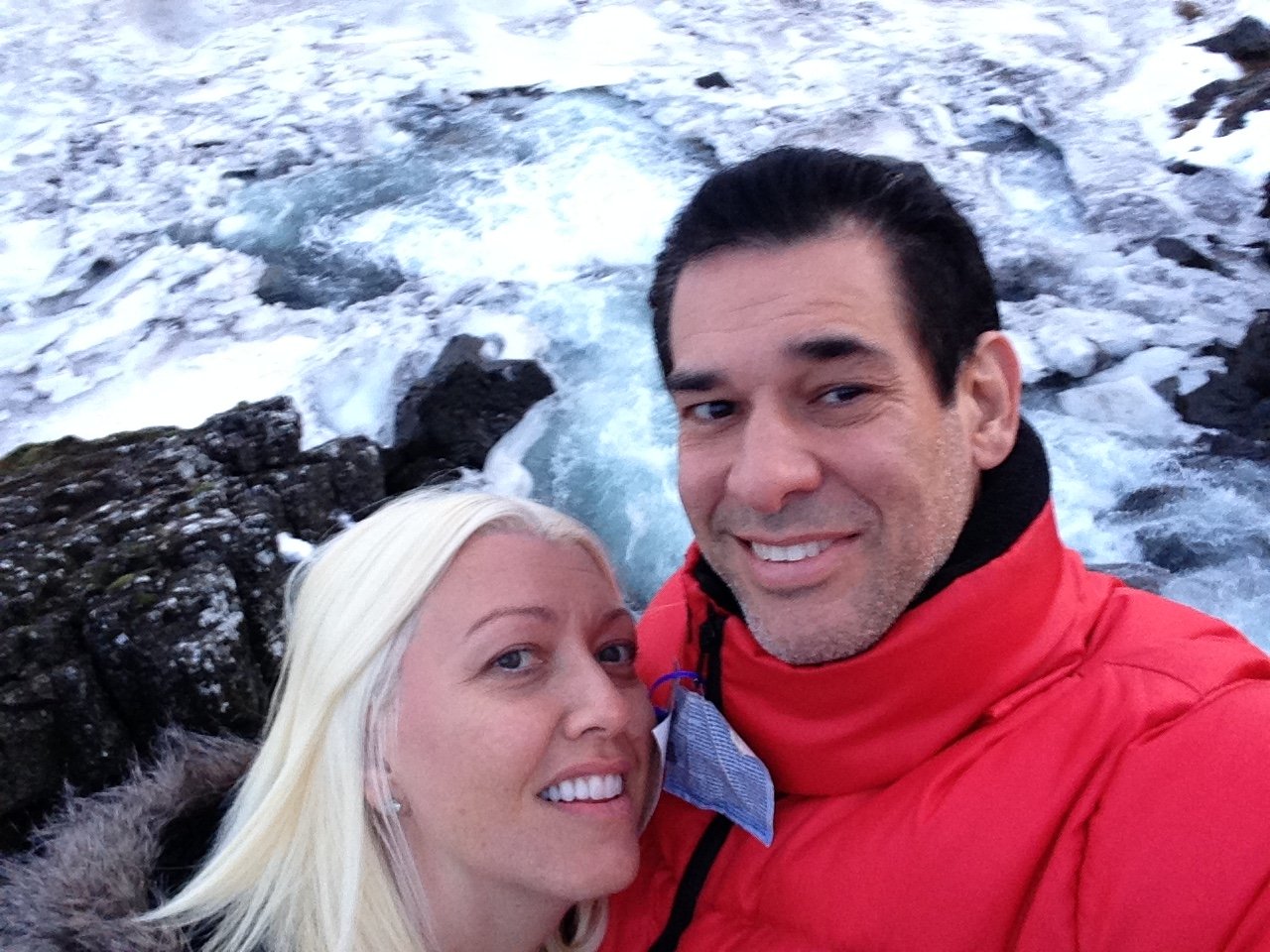 We got back to the bus and night had almost fallen. Everyone snoozed on the trip back to the city and we had a delicious dinner at the hotel and watched a biography of Elvis, until we finally all fell asleep at midnight.
We were supposed to head to Vik the next day. Its beach is listed as one of the ten most beautiful beaches on Earth. Its stretch of black basalt sand is one of the wettest places in Iceland. The cliffs west of the beach are home to many seabirds and offshore lie fingers of basalt rock battered by the sea, which look like men standing guard against the turbulent ocean. There is no landmass between here and Antarctica and the Atlantic rollers can attack with full force.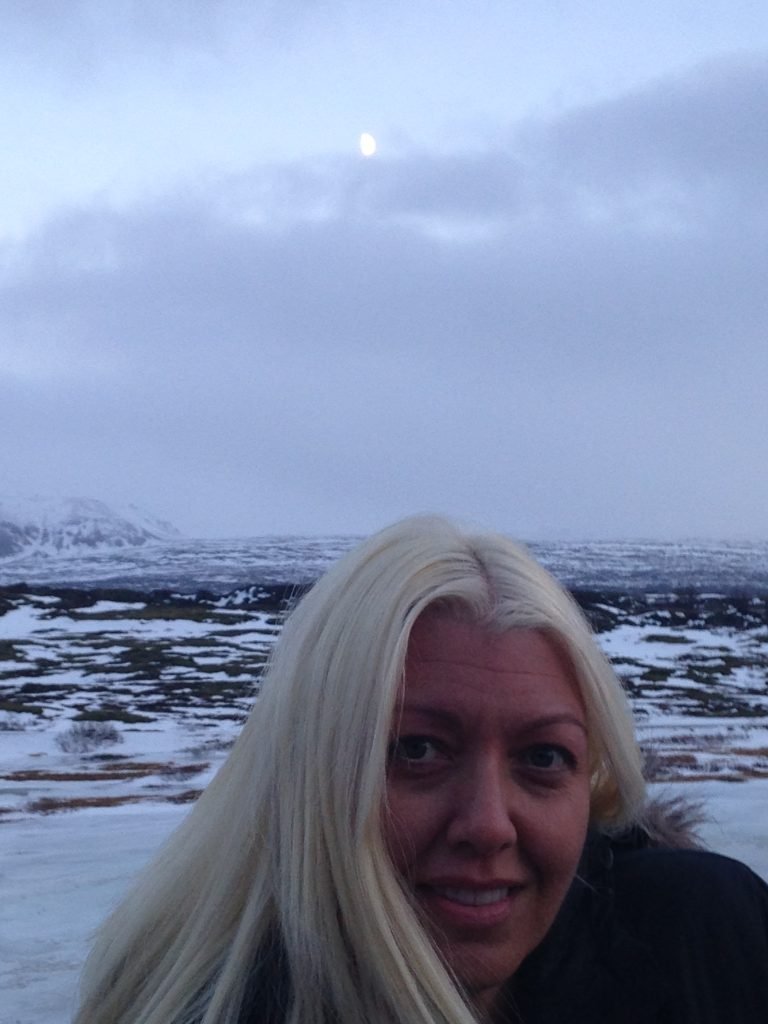 But we pooped out. We woke up late and decided to stay around the city and explore, which I now regret because who knows if I will ever return to Vik? On the upside, it was New Year's Eve day and the city was abuzz with excitement. We took the city bus into the city, which was only a ten minute ride to downtown.
The stores were open but all had signs of early closing since New Year's Eve is party time in Iceland. We did some souvenir shopping and took some pics. The sun was out but was getting lower as the afternoon went on. It was noon but felt like five pm. We had heard about a hot dog stand in the city that was "famous" for "Icelandic hot dogs". We asked around and saw the line from a block away. Wow, the hot dogs better be yummy, as the wait was a good 30 minutes long. Mario, Lilly and Ruth went across the street into a Radisson Hotel to warm up while I waited in line. As I got closer, I saw the menu and then, Mario came over at the perfect time to help me at the take out window. We ordered two dogs with everything; which was some kind of ketchup-honey mustard sauce with crunchy fried onions all slathered on top of the sauce. The bun was fresh and squishy. Holy yum. WHY did we only order 2? Mario was done with his in two bites and Ruth, Lilly and I shared the other one. We were tempted to wait back in line for more..lol
We took the bus back to the hotel to rest and then, freshen up for our big New Year's Eve ball at the hotel. We got gussied up in black tie evening clothes and head downstairs at 8pm. The ball room was done beautifully, wedding style, with big round tables. I heard someone speaking English at one table and asked if we could join them. It was a gay couple that worked for Disney cruise lines and two couple's from Toronto. We all talked and got to know each other. Dinner had begun and we gorged ourselves on a huge buffet. I stuck to what I knew, but Mario tried puffin and whale.
Eww, I wish they had hot dogs!
Mario said the whale was bloody and slimy. Pass, thanks. The buffet otherwise, was really nice and we all ate well. The hotel began a show with a German quartet singing and dancing and it was actually funny, in all its cheesiness. They sounded like a cross between ABBA and The Sound of Music. Around 10:30, the wait staff came out with giant tubes for the kids to shoot off; inside were "fireworks" of colored confetti and paper. It was fun and I was thinking how glad I was that I did not have to clean the ballroom after the party.
Then, we went up to our rooms to change into street clothes for our bus pick up at 11:30 pm. Originally, we were to head to the church, Hallgrimskirkja, but it was too crowded, so we wound up at Perlan, which is supposedly the best place to view New Year's Eve in Reykjavik, anyway, so we were happy. The bus pulled up the hill at 11:45 and there were tons of buses parked with tons of tourists dressed in parkas. It was COLD and it had started to snow! We also had gotten little bottles of bubbly at the party and were saving them for the firework display. At close to midnight, the countdown came over the crowd and at the strike of 12, the sky was ablaze with every color. It was amazing. It wasn't like the fourth of July since it was cold and wet and snowy and people were popping off fireworks everywhere while drinking champagne out of bottles. The city even gives kids protective eye wear out since everyone is just shooting off fireworks with no regulations, yikes!
We got back onto our bus and the tourists on it were laughing and drinking champagne. We had a bunch of fireworks shoot the side of our bus, as it was literally, a free for all. We ended the night on a festive note.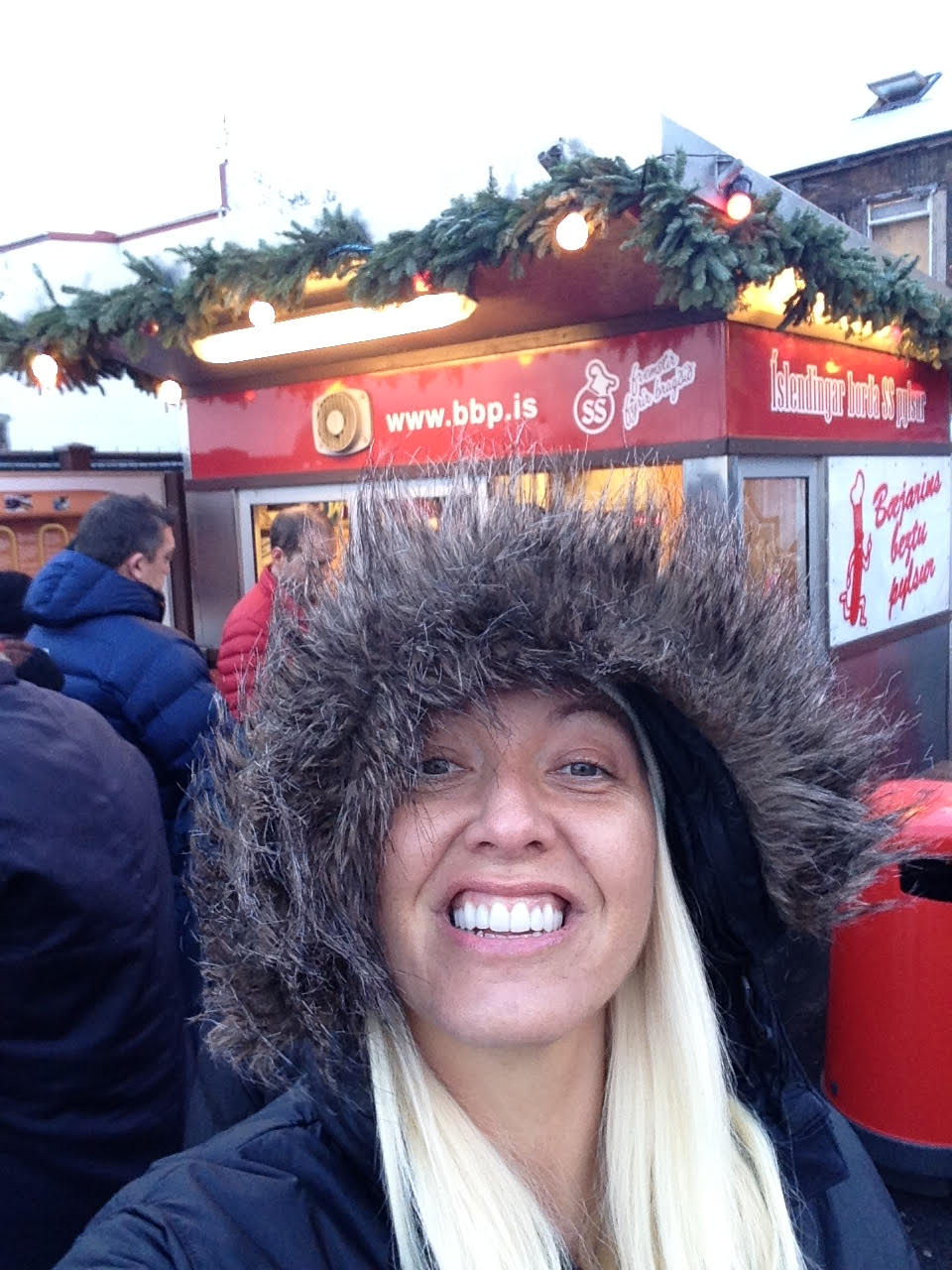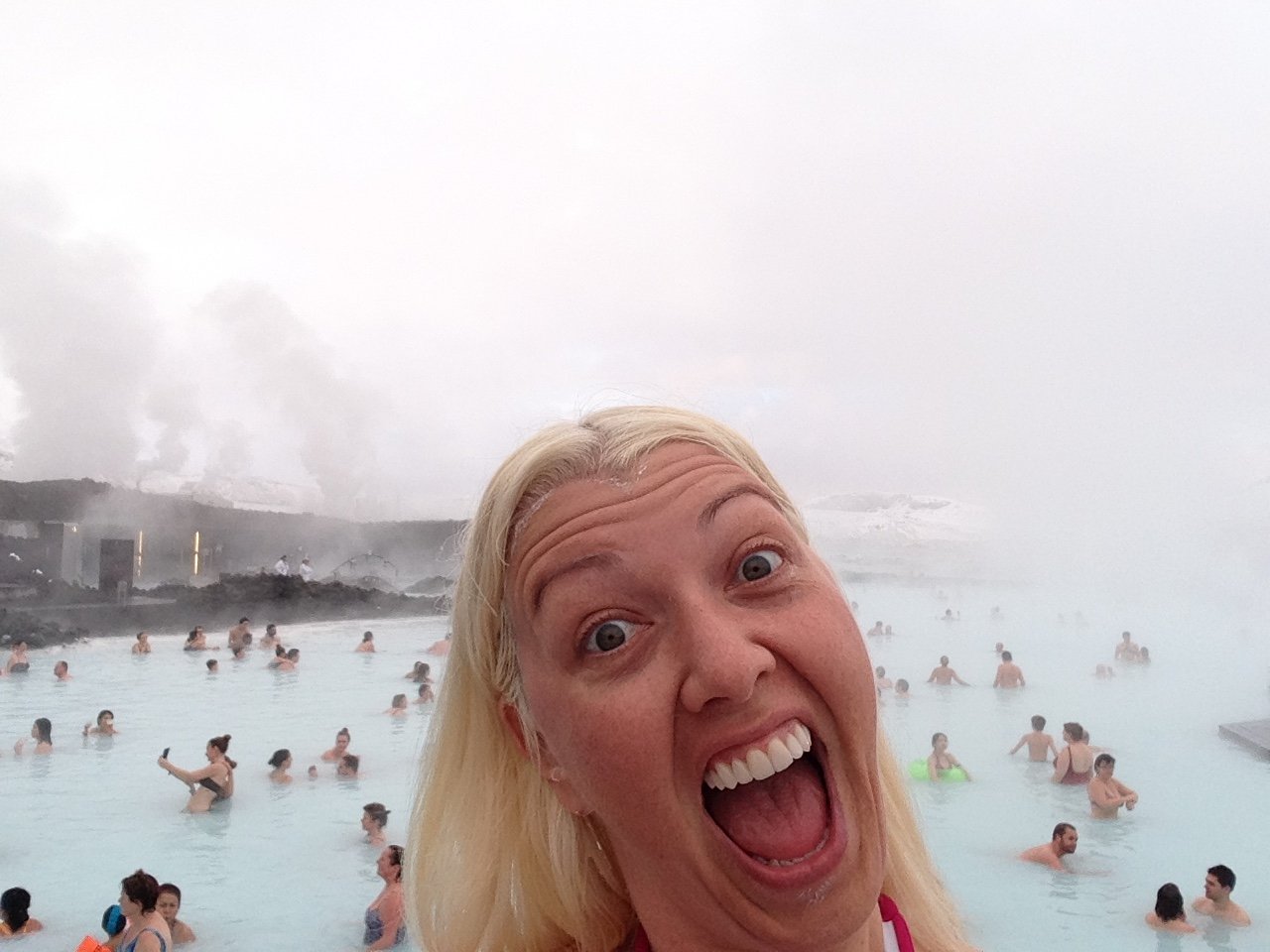 We woke up the next morning to an impending snowstorm. We had a private guide taking us to the Blue Lagoon; a 45 minute drive outside of Reykjavik. They gave out ice cream when you waited on the line to get in. The lagoon is a man-made lagoon which is fed by the water output of a nearby geothermal power plant and is renewed every two days. The warm waters are rich in minerals like silica and sulfur and bathing in the Blue Lagoon is reputed to help some people suffering from skin diseases. The water temperature in the bathing and swimming area of the lagoon averages 99–102 degrees! The Blue Lagoon also operates a research and development facility to help find cures for other skin ailments using the mineral-rich water. The silicate minerals is the primary cause of that water's milky blue shade.

The Blue Lagoon was just visited 3 weeks before we visited, by Beyonce and Jay-Z. Didn't they know we were coming and couldn't they have waited??
It was the perfect ending to our trip as it was like a giant relaxing Jacuzzi. The inside spa area was teeming with people. Couples, kids, everyone wanting to chill in the heat! The best part was a swim up smoothie bar and the funky mud on the bottom of the lagoon that you put anywhere on your body for an instant facial. The water got hotter as you got closer toward the center of the lagoon. The only bad part was the minerals in the water, as they really crunchified your hair.
We stayed a few hours and as we were driven back to our hotel, the snow fell in big fluffy flakes. Lilly never tired of watching it. Looking out the glass windows of the bus, all you saw was whitewashed landscapes, with the sun getting lower. It was so relaxing.
That night was our last night in Iceland and our last chance to see the Aurora Borealis, the Northern Lights. The last few days were met with disappointment as each hotel employee and tour guide told us the sky was too cloudy to spot the lights (hence all the snow) But that last night was our last chance and the best night of the 4 we were there. We had to try.
We arranged for a hummer to pick us up at 10pm from our hotel. It was awesome inside. Toasty with cool, club music playing the entire time. We were not alone. There were folks from all over- about 12 of us with the same goal on our mind. Our driver drove out of city and onto snow mountains, as the terrain could be tackled in the snow hummer. And although not in English, the voices on the walkie talkies, I could tell, were not sounding upbeat. The driver and our convoy did stop two times and we all got out to at least ten below zero temps, and the guides swore they saw lights but ugh, we were beyond disappointed to see maybe, maybe, a flash of milky green?
It was just not meant to be for us to see the lights this time. We drove back to the hotel by 130am, tired and downtrodden.
But all was not lost. Iceland was truly the most unique place I had ever gone and I suppose, meant for me to return to see what I missed the first time.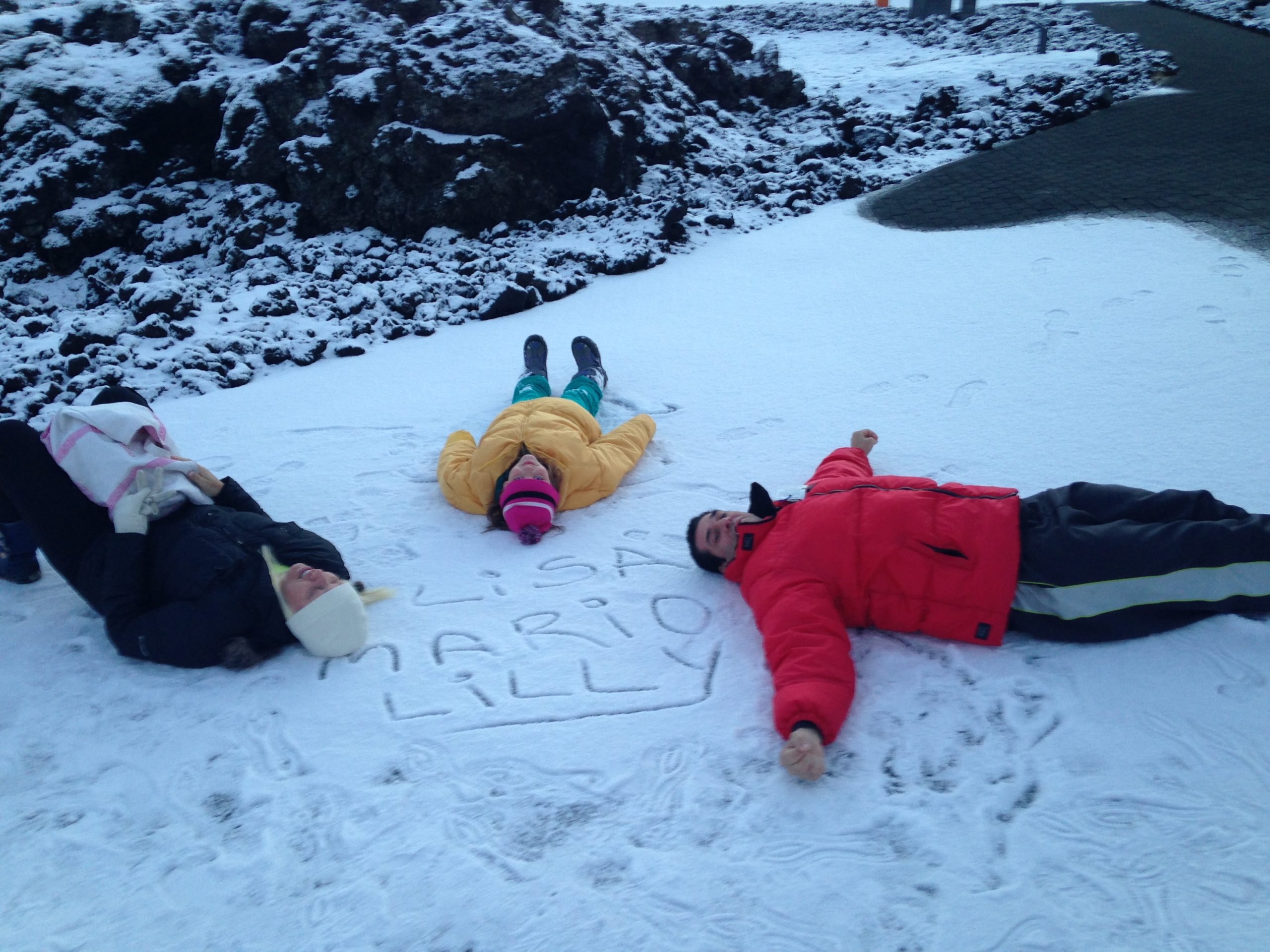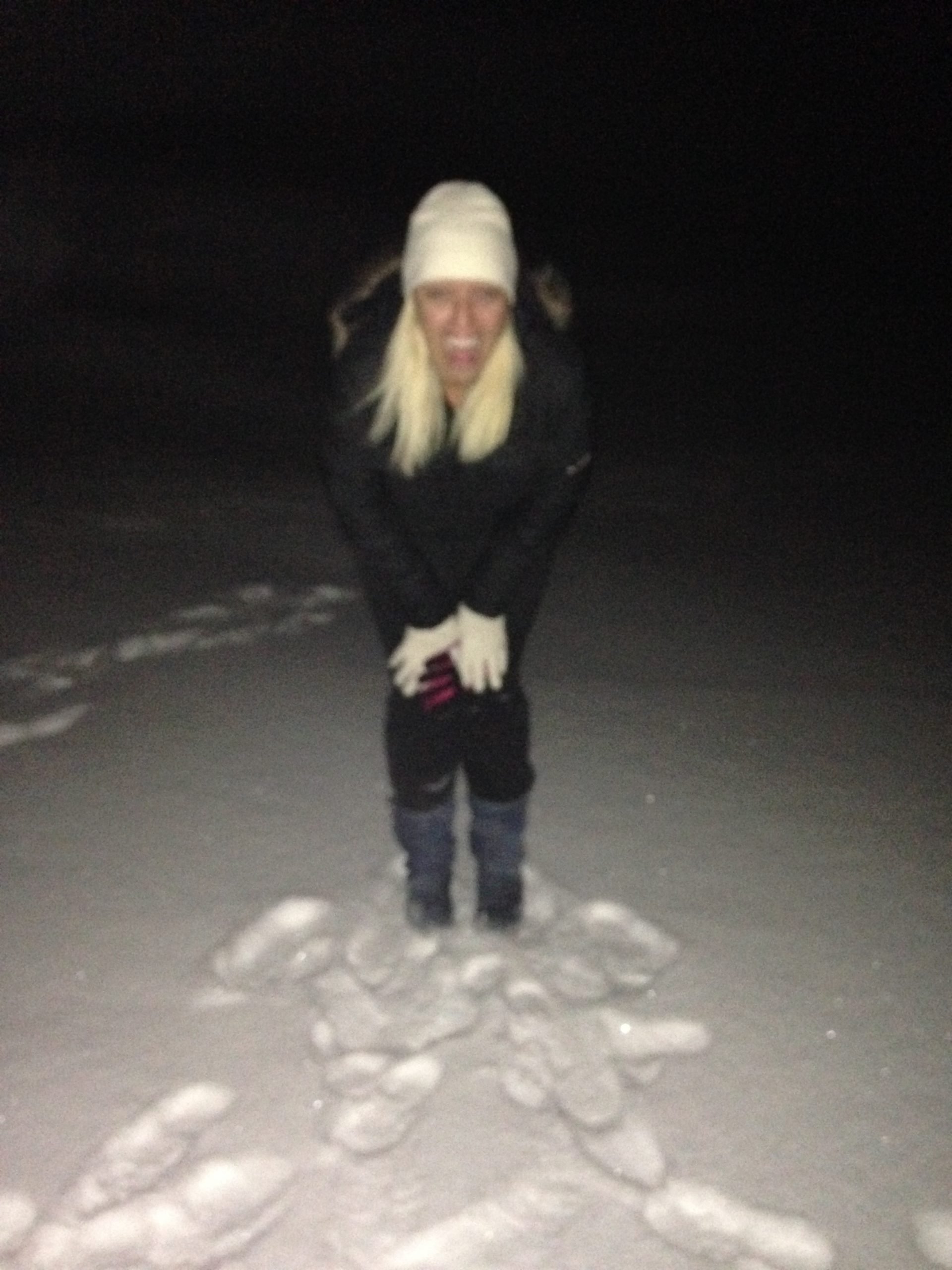 More Explora Blogs…
Read other explorations and adventures…
I never had seen anything like Meow Wolf. It's like walking into a surrealist dream. Bright colors, doors you can open leading to other worlds (literally), video games, VR headsets, blasting dance music. I never did any kid of hallucinogenic drugs but if Meow Wolf is what they were like, I wish I had!
The rewnowed Santa Fe hotel, La Fonda on the Plaza, the sounds were hauntingly beautiful. I was excited to spend a few days in a city that smells like sage and moves like molasses.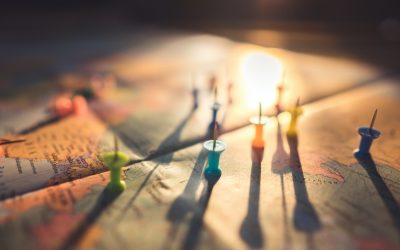 Attain dual citizenship. If one of your parents were born in a foreign country, you may have the right to become a citizen there…