Explora Baltics
June 2015
Duration: 13 nights, 14 days
Locations: Copenhagen-Denmark, Berlin-Germany, Klaipeda-Lithuania, Visby-Sweden, Helsinki-Finland, St.Petersburg-Russia, Talinn-Estonia, Stockholm-Sweden
There's always a first time. This was the first time, in well, ever, that Mario flew without us. Us, being Ruth, Lilly and I. He had a separate flight from a use it or lose it credit last year with British Airways so on Monday, June, 15th, 2015, we all left for MIA together but departed ways at security. Ruth, Lilly and I flew on Air Berlin. The last possible seats in the back. I was hoping that'd score us some more inches but no such luck.
I had never seen "The Wedding Singer" and since I cannot sleep on planes, I stayed up and watched while Lilly and Ruth tried to sleep in their pretzel positions. We landed in Dusseldorf at 7am. The plane blasted some 70's disco music again and again; I suppose as an alarm or a welcome, I don't know. Customs were a breeze and we all got stamped in Germany. But our flight to Copenhagen was only an hour off so we did a quickie bathroom stop to wash and brush and then, hopped on a zip flight to Denmark. We landed at around 9 am and because we had already been through immigration since we were in the "European Zone", we literally were out of the airport, with luggage and in the hotel lobby (since our Hilton was at the airport) in about 20 minutes. Sweet. We arrived before Mario and although we swore we would not slee..
zzzzzzzzzzzzzzzzzz
, you get the picture. The three of us crashed in a REAL bed and played vampire until Mario arrived a few hours later.
Our friends, Carolle, Ron and Rosie had arrived the previous day so they were fresh and ready to go.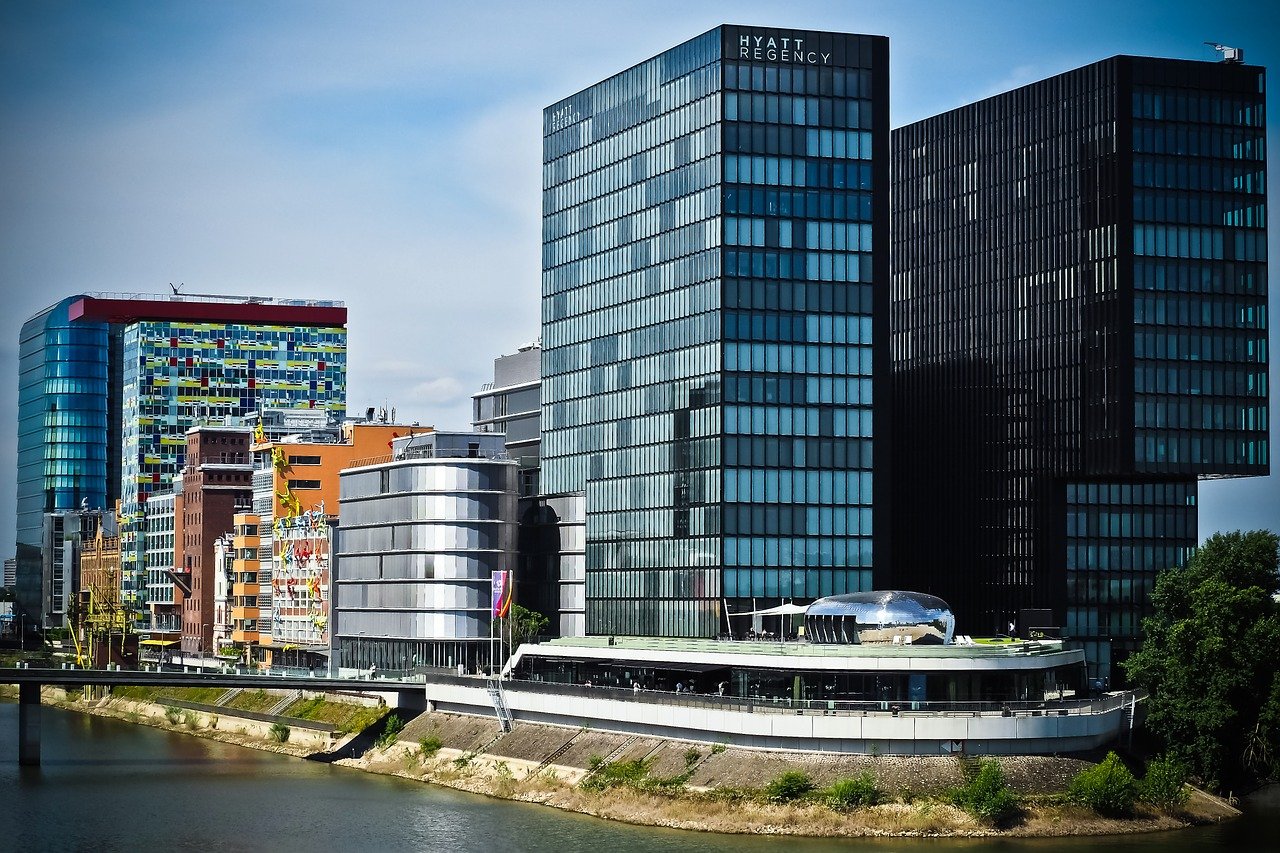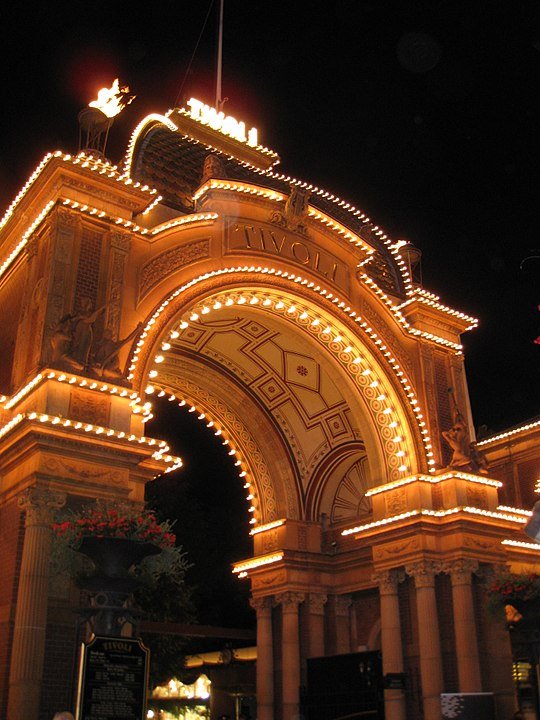 By David Jones from Isle of Wight, United Kingdom – Entrance to TivoliUploaded by DavidJones, CC BY 2.0 Wikimedia.org 
When Mario arrived, he too, washed and brushed but did not sleep. Instead, we all decided to take the train and meet our pals at Tivoli Gardens. Tivoli is one of the oldest amusement parks in the world. Constructed in 1843, and approved by the King Christian VIII, it was said, "….when the people are amusing themselves, they do not think about politics". The park is beautiful. It is a mix of gardens, a giant sound stage, concession stands and rides. The rose garden was on the brim of blooming, but a few flowers had opened to reveal huge blossoms that we all "stopped to smell". The stage had a performer and my favorite was seeing live chickens sunning themselves in the afternoon warmth, all around the fountains and gardens of the park. It was pretty strange to see them but wow, they let us get super close. Mario went to stroke the feathers of a grey one with long lashes but she gave him a "bok bok warning" under her breath. Mario and Lilly went on all the rides. The rest of us ate hot dogs and cotton candy and ice cream. It was not very crowded, as it was in the middle of a Tuesday afternoon. The weather was sunny and bright but too chilly for my now warm Florida blood, at about 60 degrees.
We were all pretty pooped on the train ride back to the hotel. The conductor either checks your admission ticket… or not… strange, I thought…But we freshened up and went to the hotel executive lounge for a light dinner of nuts, cheeses and fish. "Where's dessert?", I asked but was told that desserts were not the norm in Denmark. Grrrr..
We had a great night's sleep and woke up to bright sun. This was cruise day but we had some time in the morning to do something. We all ate a big breakfast and took the train to Nyhavn. Meaning "New Harbor", the waterfront canal area once was notorious for beer, sailors, and prostitution. Danish author Hans Christian Andersen lived here for almost 20 years. It is a big hub for canal tours. We hopped on a leaving-soon boat with many other tourists. The morning was beautiful. All around were brightly colored townhouses built with wood, bricks, and plaster. We saw Noma- named World's Best Restaurant 2014 and third best of 2015.. Sigh, if only we had another day in the city…..on the walk back to the train we passed by the Stroget, Copenhagen's shopping mecca but did not stop. We were ready to embark on the cruise.
Our little bus picked us all up as a light drizzle fell. I asked the driver to stop on the way at The Little Mermaid for a photo opp, for I had heard it was on the way to the pier. Traffic was awful. But we did finally pull up alongside a park at the famed statue. Made by a Danish sculptor in 1913, she gets more than 1 million visitors a year and is photographed more than 5 million times yearly. Luckily, because it was a bit grey and rainy, perhaps, there was only one person ahead of me to take photos. It took us less than ten minutes from start to finish getting prime pics, yay.
Our ship was close by. We took our own luggage on- otherwise, experience told us it could be hours before we got it. We checked in within an hour and the two of our cabins were adjacent and small. We had never been on a Royal Caribbean cruise before. We unpacked slightly and went up to the lunch buffet. Yum.
We relaxed on the ship that evening and the next day, as we had a day at sea on the way to Rostock, the port of Berlin. Lilly broke up with me on this trip as she discovered the kids club. She loved, loved, loved it.
We arrived in Brrrrrlin and boy, it was COLD! Sunny, thankfully, but easily, 45 degrees. I think I froze just on the short walk disembarking the ship to our little bus. Our drivers name was Reich. He was a double for Fred Armisen. We zipped into the city within 2 hours. Our city guide, Emily, was fresh out of college and a music student who spoke fluent German and English. Actually, all of our guides this trip seemed to fit the same description: mid-twenties, college educated, hip and fluent. Reich took us to first meet Emily at the entrance to Charlottenburg Palace; the largest palace in Berlin, and the only surviving royal residence in the city. During the Second World War, the palace was badly damaged but was being reconstructed as we were there. It reminded me of Germany's version of Versailles. I asked my usual "guide questions" (What one place in the US would you like to see?" and "What is the biggest problem plaguing your country?") Emily surprisingly did not give me the "usual" answer, which always seems to be the "Grand Canyon" but she mentioned some major US cities. But hey, she was a young, hip chick- I'd probably take L.A. over the Grand Canyon, too. We stopped near Tiergarten Park, by the Soviet War memorial. A controversial site, it is a monument to the Red Army that lost lives during WWII. The park was absolutely beautiful. Verdant and fresh, Mario and Lilly ran around while the rest of our crew took photos at the memorial. Then, we drove over to Reichstag. The building was once for the German Empire Imperials to govern but once the Third Reich started encroaching into the city and country, Nazi's took it over. Then, during the Battle of Berlin in 1945, it became a central target for the Russians to capture because of what it symbolized. There is still Russian graffiti inside the building, which was preserved during the reconstruction after Germany became unified again, in 1990. Today, the glass dome at the top represents a "transparency" into the German government, for "all the world and people to see". One can visit the dome, but we did not since getting in is timely and complicated.
The next stop was the Brandenburg Gate. A former city gate often a site for major historical events and today, considered a symbol for peace and unity; it was also, badly damaged in WWII. The gate was a division between Eastern and Western Germany until 1989. I think we saw the most amount of tourists here. Lots of horse drawn carriages and the stunning Hotel Adlon, which weirdly enough, was the hotel from which Michael Jackson "hung" his baby out of a window from, years ago.
We were all ready for lunch. We told Emily we wanted something authentic. She took us to "Weihenstephaner", a real German place in the midst of Hackescher Markt, an area for people watching and markets and tourists but yumm-o! We got our Bavarian out with fresh pretzels and some delicious ginger soda and sandwiches. It was picture perfect with the sun shining and music being played from an artist in the background. The tablecloths were checkered and little birds flit about everywhere. It happened to also be Carolle's birthday. We asked Emily on the sneak if she could have the servers sing "Happy Birthday" and she kind of laughed aloud, as the servers sang the song yes, but in English… we explained we wanted it in German, but Emily said that German folk actually sing the English version. Ha! But then, they kind of saw our disappointment and sang some "birthday celebratory song" in their language which was perfect, accompanied by the most fantastic apple strudel I had had in a long time.
After lunch we strolled over to Rosenthaler Strasse. It was a unique courtyard filled with street art and doors leading to exhibition spaces, cafes and bookshops. There were people sitting and drinking and sitting and chatting. There were lots of bicycles parked in a neat row and multicolored flags atop our heads. I even learned that Banksy had painted here!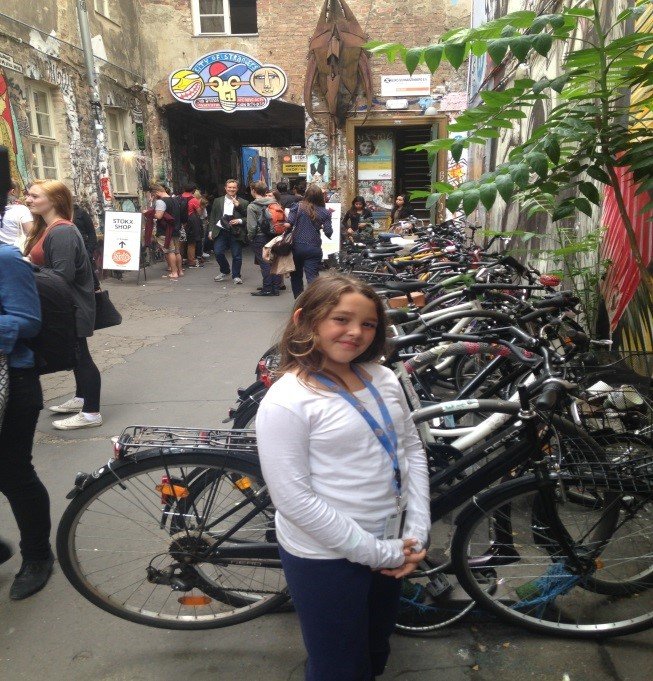 It felt very artsy and cool. I liked it a lot. On a somber note, Emily showed us many stolpersteins; which means, "stumbling block"; which are monuments created to commemorate a victim of Nazi oppression. They are little cobblestone-sized memorials for an individual victim of Nazism-both of those who died and survived. While the vast majority of stolpersteine commemorate Jewish victims of the Holocaust, others have been placed for gypsies, homosexuals, Jehovah's Witnesses, black people, Christians, anyone opposed to the Nazis, members of the Communist Party and the anti-Nazi Resistance, military deserters, and the physically and mentally disabled. Not only does Germany have the stolpersteines but they now extend to several countries and hundreds of cities and towns. As of 2014, 48,000 stolpersteine have been laid in 18 countries in Europe, making the project the world's largest memorial. I have a photo of one here:
Emily and Reich then took us to "Museum Island". A UNESCO World Heritage Site, it houses 5 museums and we could easily see the tallest structure in Germany behind it, the Fernsehturm, or Berlin TV tower.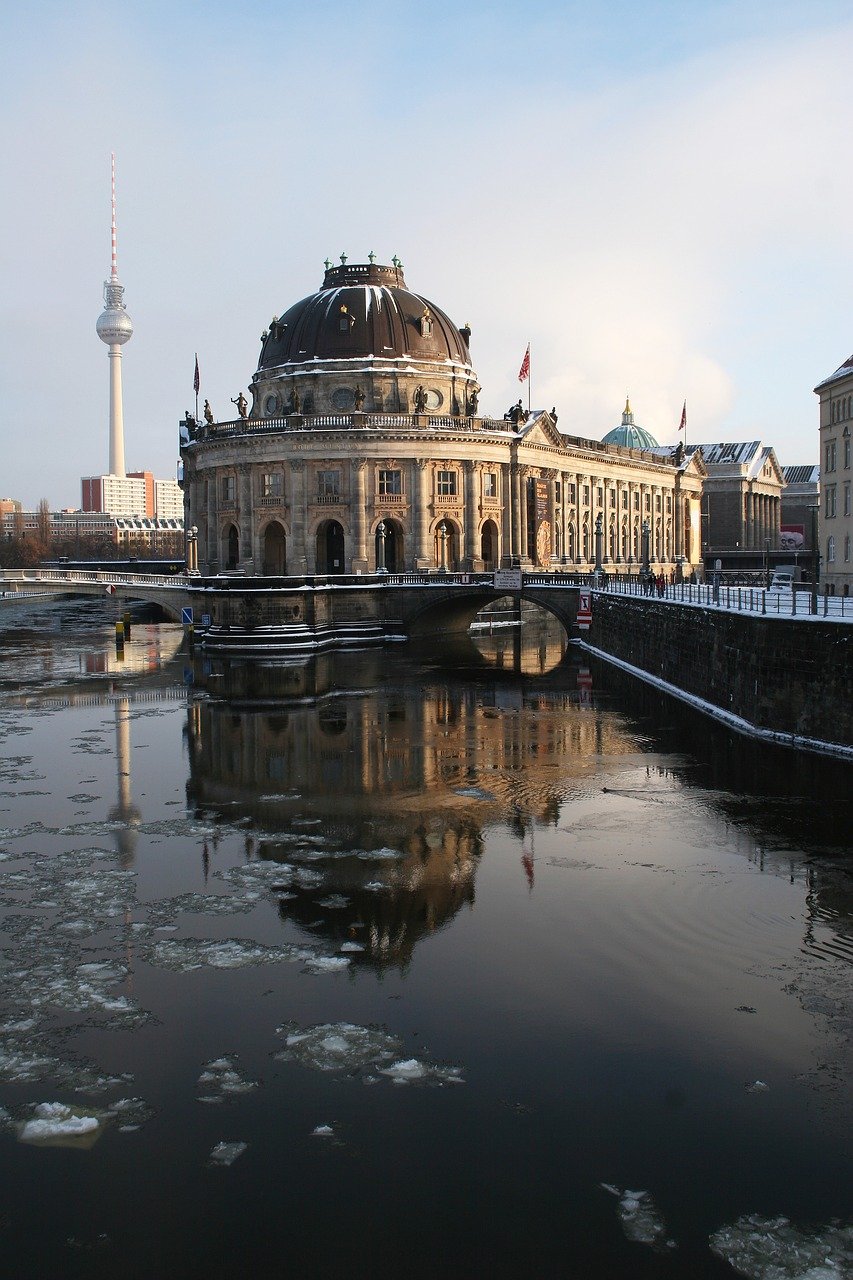 But onto the most famed site in Germany- or at least Berlin, the Wall. For 30 years, the Berlin Wall was the symbol of the Cold War. Built in 1961 to separate the communist East Berlin from western influenced West Berlin, the Wall was actually two concrete barriers with a 160-yard "death strip" in between that included watchtowers, trenches, runs for guard dogs, flood lights and trip-wire machine guns. Between 100-200 people lost their lives trying to go from one side to the other. But many did succeed. When Ronald Reagan challenged Russian leader Mikhail Gorbachev to "Tear down this wall" during a June 1987 speech, it was the catalyst that fueled the desire for the oppressed people in the east demanding greater personal and political freedoms. Hungary and Czechoslovakia had already opened their borders and the Communist party spokesman announced East Germans would "immediately" allowed to travel directly to West Germany but when attempted to backpeddle later that evening, meaning he meant people should line up at the migration office the next day, it was too late and thousands of East Germans were already on their way to the divide. East Germans arrived at the wall to find confused guards, until that point, ordered to shoot those attempting to cross on sight, unaware of the change. As the soldiers made frantic calls, masses of people demanded the gates were opened until their request was finally opened at 10.45pm. To avoid a stampede, officials began to gradually let people in, before finally losing control and opening the barriers. As East and West Germans celebrated that night, singing and dancing on the wall, many soldiers were said to have joined in the celebration.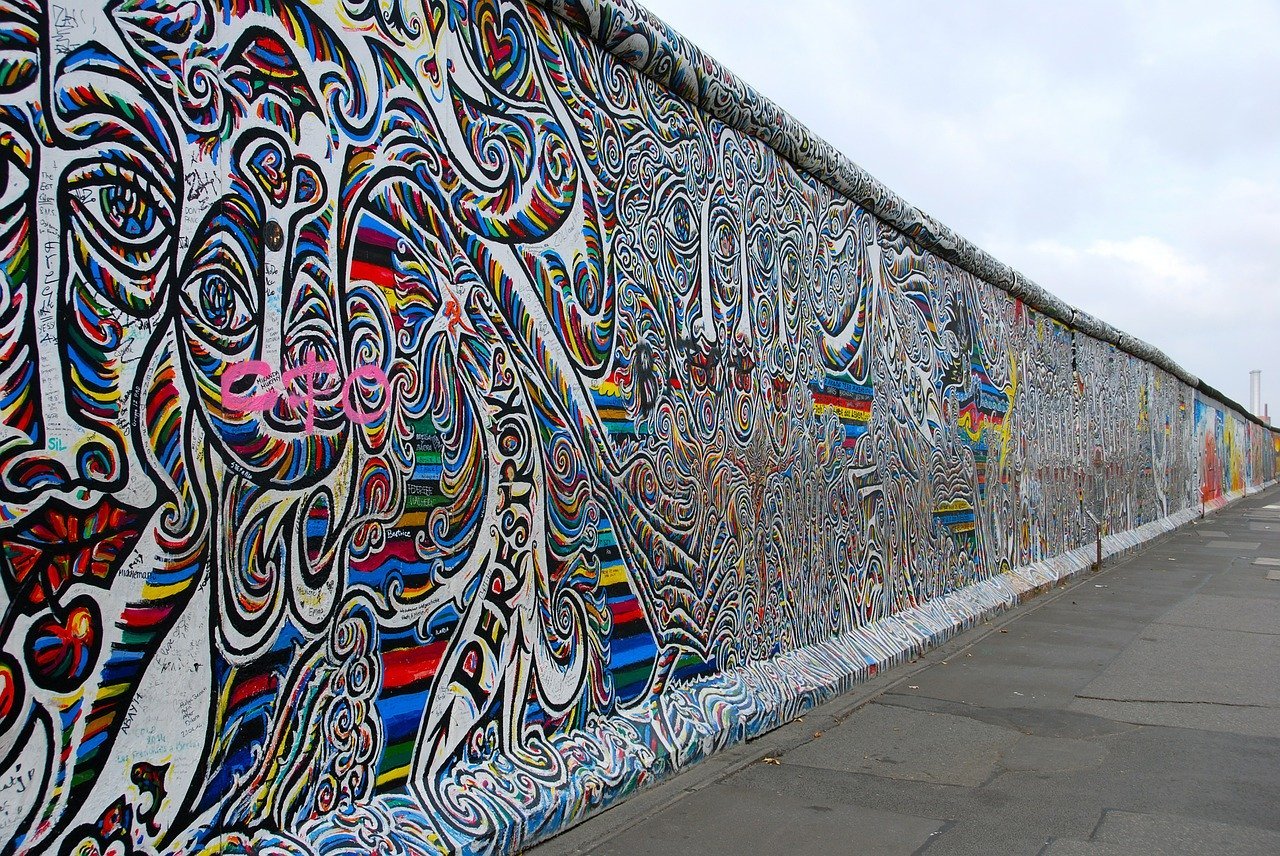 Of course, a wall almost 70 miles in circumference could not come down in one night. It was smashed to pieces over the following weeks, with many people taking it apart themselves with hammers and tools. The government finally destroyed the wall in 1990 although parts of it remain in Berlin and in museums worldwide. In 1990 – less than a year after the Berlin Wall fell – the republics were officially reunited. Emily explained the section we stood at was the last complete section left. It was a few blocks long but no graffiti marred it as others sections of the wall I had seen in photos.
I forgot to mention as we drove to the Wall, she pointed to "Checkpoint Charlie", the crossing point between East and West Berlin during the Cold War. Our last stop in the city was the Holocaust Memorial. But on the way, Emily pointed to a non-descript parking lot. She said that was the exact spot that Adolph Hitler had commit suicide with his wife, Eva Braun 70 years prior. I suppose Berlin thought the most fitting "tribute" to the most hated man on earth in 1945, was a place for cars to roll over day in and day out.
The Memorial were thousands of concrete slabs; all of varied sizes. It's said it is thought it represents a cemetery or "confusion" as what must have been felt by the victims of WWII. The day had turned appropriately grey and somber in the late afternoon. We took some photos and head back towards the bus after saying "Auf Wiedersehen" to Emily. Rosie and I chatted quietly on the 2 hour ride home and everyone else snoozed.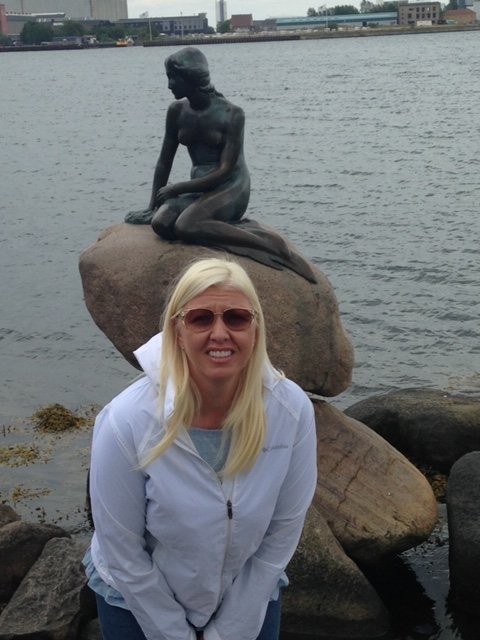 We had one relaxing day at sea and then, the next day after that we arrived in Klaipeda, Lithuania. Named the only "ice-free port" in the Baltic Sea, one could see how crucial shipping was here.
Only a teeny tiny portion of Lithuania, but this port had many docks, shipping containers and ships, as far as my eyes could see. Lithuania was ruled back and forth between Russia and Germany, although now, independent. Looking at the map below, we docked in Klaipeda, drove a short distance to a ferry we drove our tour bus onto (kinda cool!) and took a ten minute ferry ride across the Curonian Lagoon in which we drove on the Spit to Juodkrante, a small village on the Spit. Known for amber and the Hill of Witches, we parked close to a forest on a clear, blue sunny day. We began a hike in the forest and saw many carved wooden pieces. Our guide told us the pieces depicted characters from Lithuanian folklore and pagan traditions. The forest was just so pure and clean and green. There were a few other tour groups there as well. The most fun part was seeing a man and his young son and daughter, in traditional Lithuanian garb, playing music on simple instruments and an accordion. We watched them for a few minutes and gave them some coins. Then, Lilly climbed atop some giant wooden playground equipment. We left the forest and head further to our lunch spot. It had begun to downpour but luckily, did so while we stopped for lunch. I had some pierogi kind of thing with soup and it was warm and toasty in the restaurant as we ate. As soon as we were finished, the sun burst out the sky and we continued our walk towards an old fisherman's house, still set up as it would be 100 years ago. We then head further to "Nida", the last Lithuanian stop before Russian territory, as seen from the map below. Lithuania is "green" and Russian areas are "pink".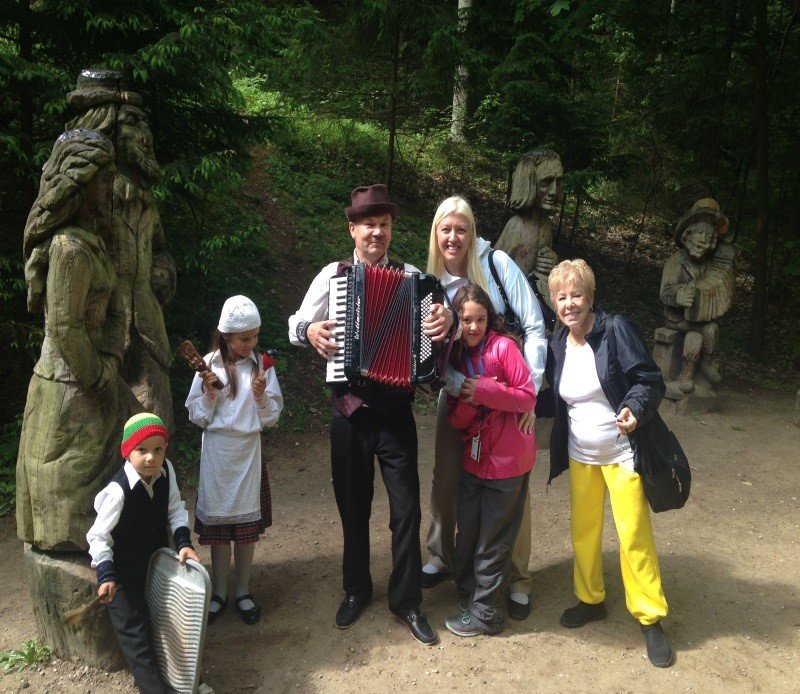 We parked and walked towards hilly, sandy dunes. Mario and Lilly took off their shoes and ran up and down the grassy, soft, mini mountains. If you looked across the dunes, you could see Russia. It was crazy. That was the closest I had ever come to the country. It was only about 50 miles away. You could drive to it in 90 minutes to cross the border.
Our next day was to Visby, Sweden.
Visby is situated on the west coast of Gotland Island in the Baltic Sea. The population is about 23,000. It is known for the medieval city ringwall and many medieval church ruins. In 1995, UNESCO chose it to be a World Heritage Site. We had to take a tender from our ship to the island. The day was spectacular and we basked in the sun on the ride over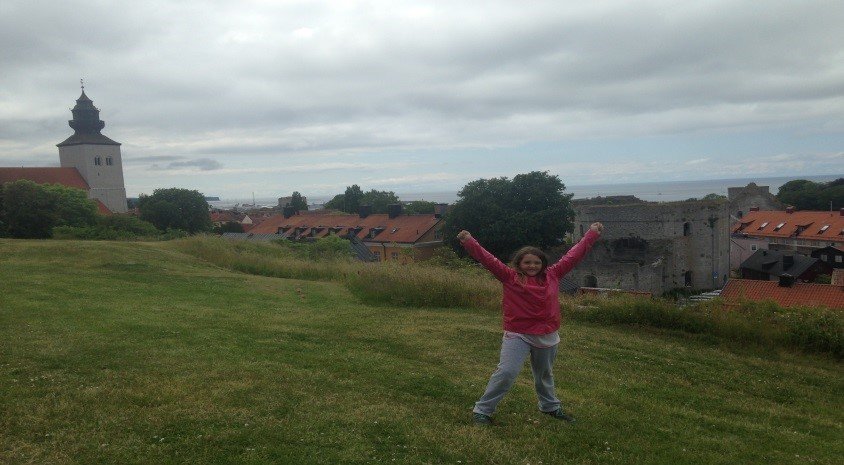 Our first stop was the tourist center. We got free Wifi and capitalized on that for 30 minutes! Then, we went out to meet our guide, Aiden. He gave free tours in Visby and we were to meet up with him. Little did we realize we were not the only ones! He gave an awesome walking tour; telling us the significance of this church and that wall. Everything was in full summer bloom and was green and lush. The streets were cobblestone and we enjoyed our time in this unique part of the world.
I should say our nights on the ship were often going to a dinner (oftentimes of 2 appetizers, entrees and trying all the desserts on the menu!) and sometimes, trying to chide Lilly into having dinner with us. She just enjoyed the kids club on the boat so much she loved going there for dinner and beyond. I hated to take her away from it. She often stayed til 10pm, in which the rest of the adults went to the show or to dance after dinner. I found most cruise shows to be a bit "cheesy" and Royal Caribbean was no different, but when in Rome… the food was great though, no complaints there at all, as well as the service.
Our next day was Helsinki, Finland. We met our guide Daniela right off the ship and took public bus into town. The day was a bit grey and chilly but not too bad for touring. We got off at "Temppeliaukio Church". Built directly into solid rock, it is also known as the Church of the Rock. The inside was excavated and built directly out of solid rock and has natural light entering through a skylight surrounding the center dome. The church is supposed to have excellent acoustics. There was a pianist playing on this day. It was a nice place to sit and chill out for a bit. We then got back on the bus and head to Market Square (Kauppatori in Finnish)
The Market Square is located near the center of Helsinki. It is on the water and you could see ferries coming and going. We were told many take the ferry to and from Stockholm, a 17 hour sail. The place was bustling with activity and vendors selling fresh food and souvenirs. We saw a lot of Russian influence, as Finland saw lots of Russian invasions over time.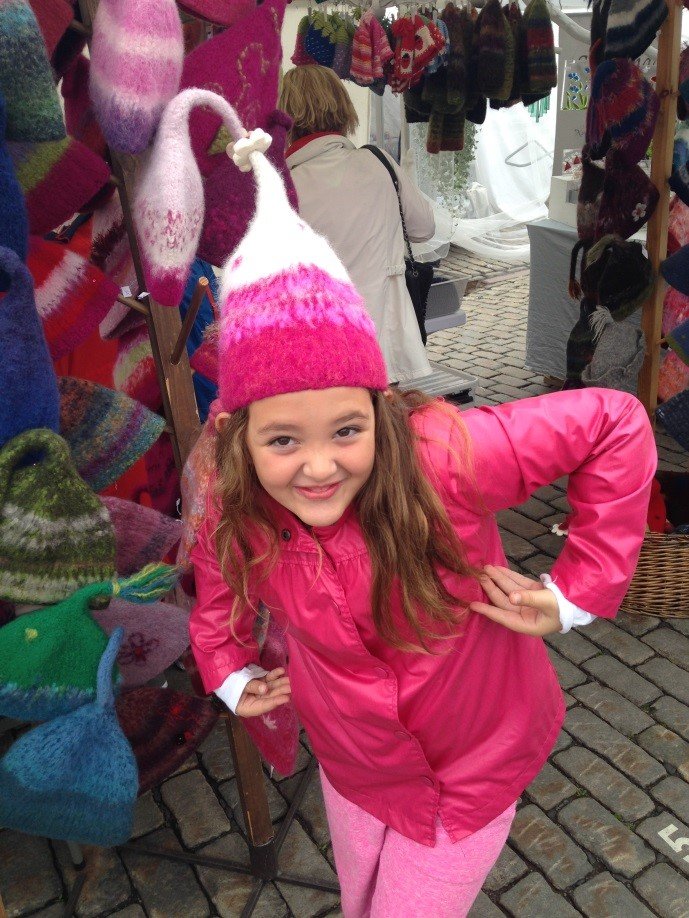 Daniela took us into Helsinki City Hall, which was a welcome stop for a bathroom break and juice boxes and chocolates that she brought. (Wifi, too….hee hee)
As we left, we all realized Lilly was nowhere to be found and it was a terrifying 2 minutes for us, as we all thought the other had her. She was plenty scared too, but thankfully, we got over it quickly to the next stop. It was a great lesson for all of us to stick together and "what to do if…"
We walked up a hill two blocks to Senate Square. The architecture is supposed to represent a unique allegory of political, religious, scientific and commercial powers. Senate Square and its surroundings make up the oldest part of central Helsinki. Landmarks and famous buildings surrounding the square are the Helsinki Cathedral, the Government Palace, main building of the University of Helsinki, and Sederholm House, the oldest building of central Helsinki dating from 1757. The sun came out and there were lots of people and pigeons and we took some nice photos before heading to the bus stop again. Daniela brought us to the Hakaniemi Market Hall. A busy market frequented by locals, the first floor of the market hall is largely food. The second floor is for handicrafts and souvenirs. Our last stop was the Helsinki Central railway station, which is the focal point of public transport in the Greater Helsinki area. The station is used by approximately 200,000 passengers per day, making it Finland's most-visited building. The train was clean and speedy and it was also chosen by the BBC as one of the world's most beautiful railway stations in 2013.
We said good bye to Daniela and headed back to the cruise ship.
The next three days were going to be in St. Petersburg, Russia. This port was one of the biggest reasons I chose this cruise. I suppose there is a mystery that surrounds Russia- the secrets, the danger, I was so curious. As we docked and disembarked, it was easily the most difficult port to get into. There were many immigration lines and checkpoints and as if on cue, our clerk was pretty staid and not warm and fuzzy. But then we were met by our guide for the next 3 days, Nadya. Again, young, college aged and spoke both fluent Russian and English. Our driver, Andrew, spoke no English but was full of smiles.
We got onto the cozy bus and we were super stoked when we heard that we had WiFi. YES! I should have figured a country steeped in intelligence would have it, right? It was awesome even though there was a good chance my email was being searched by the KGB as I cleaned out my inbox, ha! All of us looked forward to driving to and from our stops each day clearing out email and What's App'ing. It was a great morning and we drove away from the port and into the city. The areas near the docks had apartment complexes that looked depressing and oppressive. It was exactly what I was expected, sadly. Our first stop was Smolny Convent or Smolny Cathedral, on the bank of the River Neva in Saint Petersburg. Originally intended for a convent, it was built to house Elizabeth, the daughter of Peter the Great. After she was disallowed succession to the throne, she opted to become a nun. It was a beautiful sky blue, white with Russia's signature gold leaf all over the structure. We then were onto Peter and Paul Fortress. Also established by Peter the Great, it was built at the height of the Northern War in order to protect the capital from a feared attack, but the fort never fulfilled its martial purpose. The coolest part for me, was that it was the burial place of many Russian tsars and we got to see the outside of the tombs. There are no pews and seats in Russian churches, by the way, so it was kind of cool to see the true vastness of all the religious places we went to while there. The sun burst out the sky while at the fortress and we head over to a stop I was looking forward to in Russia- the Church of the Savior of the Spilled Blood. Sounds creepy but it is absolutely beautiful, sitting alongside the Griboyedov Canal. It is often compared to St. Basil's in Moscow. The colors and mosaics inside were stunning. Nadya had told us that pickpockets were rampant in and out of the church. There's irony for ya. No sooner did she give us a warning when a gypsy woman came over and said something unintelligible to Mario while trying to stick her hand in his pocket. Man, she needed some major thievery lessons. It was almost comical.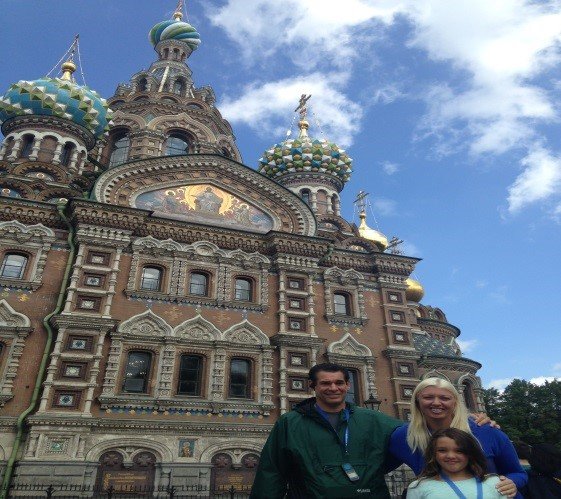 We were all hungry so we ate at Yat- the food was good but my favorite part for sure was seeing LIVE rabbits in hutches in the restaurants. I know what you are thinking but they are all actually pets. I totally don't know how this one flies with the Ruski Board of Health, but whatever.. the place was spotless and Lilly and I had a blast feeding the bunnies our leftover veggies from lunch.
When our meal finished, we walked directly across the street to board a canal boat tour. Ours alone. The day was so perfect. Mid afternoon with sunny skies and easily, 65-70 degrees. We got to see the same sights we did from land that day, but from the water. They had many covered bridges but the canals were much wider than those in Venice. The ride was hypnotic and so relaxing. So much so that Mario and Lilly took a snooze while onboard.
After disembarking our canal boat, we headed to a souvenir shop.
As said earlier, we had 3 days in Russia so on day 2, we went through the usual stoic agents at disembarkation and boarded our tour bus with Nadya and Andrew. We headed about 20 miles out of the city towards Catherine's Palace, the summer residence for past Russian tsars. The Palace was a combo of Easter Egg blue and gold, everywhere. Russians sure had a thing for "ornamentation", wow. Gold, gold and more gold. We also got to see the famed Amber Room, a room and work of art all in one. It has almost 1000 pounds of gold leaf, amber panels, gems and mirrors. Modern estimates of the room's value range from $142 million to over $500 million! We saw it in the daytime but I can only imagine what it would have looked like by candles during the night.
We continued another 10 miles to Peterhof. Peterhof was a series of palaces and gardens laid out on the orders of Peter the Great; sometimes referred to as the Russian Versailles. It is also recognized as a UNESCO World Heritage Site. While lunch was rainy, the sun burst out of the sky and made Peterhof gorgeous. The gardens had colorful flowers everywhere dripping with raindrops. Fountains were gushing with water. One of my favorite features were a bunch of children's fountains with built in "triggers". If one stepped on a stone, it sometimes tripped off a playful splash of water onto the stepper. We toured the area which had tons of families and people around and came to a dock to catch the 30 minute hydrofoil back to the city.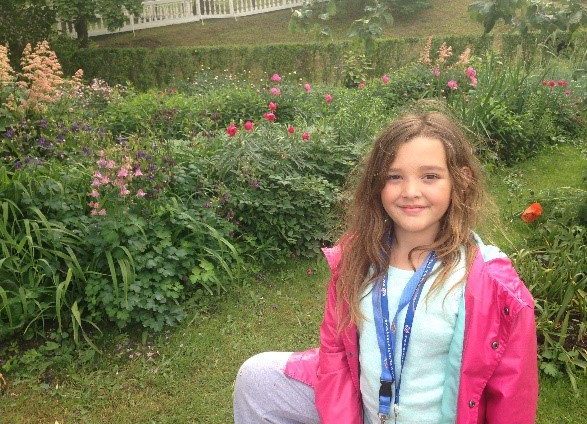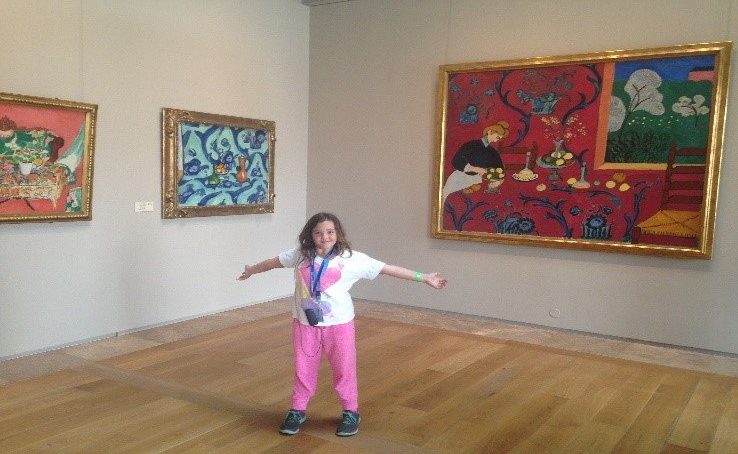 Our 3rd day in the city was the famed Hermitage.
It is the second largest art museum in the world. You seriously could take a month and explore every nook and cranny, but we only had one day. In that case, you do your homework and see the most famed "stuff". To stand beside the works of Matisse, Picasso and Rembrandt is pretty cool. When you see in books and on screens these pieces and then, in "real life', it's pretty humbling. I was surprised at the size of the pieces. SO big, wowsa. I think the most famed thing at the museum though are the grandma ladies who watch you, watching the art. Lilly got a little too close to one of the pieces and we got a big, fat Russian scolding by one.. Nyet!
We had some time in the afternoon to head to St. Isaac's Cathedral. It is the largest orthodox basilica and the fourth largest cathedral in the world. Its name comes from Peter the Great, who was born on the feast day of Saint Isaac of Dalmatia. What amazed me about Russian Orthodox churches the most though, there are NO seats.
Talinn, Estonia was next on the itinerary.
We had the rainiest weather thus far on this day. But we were lucky enough to get off this ship in just grey gloominess. Our guide, again, a young, saavy college kid picked us up in a small SUV and off we went. Our first stop was Toompea Hill, a limestone hill in the central part of the city, with lot of cobblestone lanes and castles and churches. We got some cool panoramic pics at the top and the sun started to peek out, which was nice.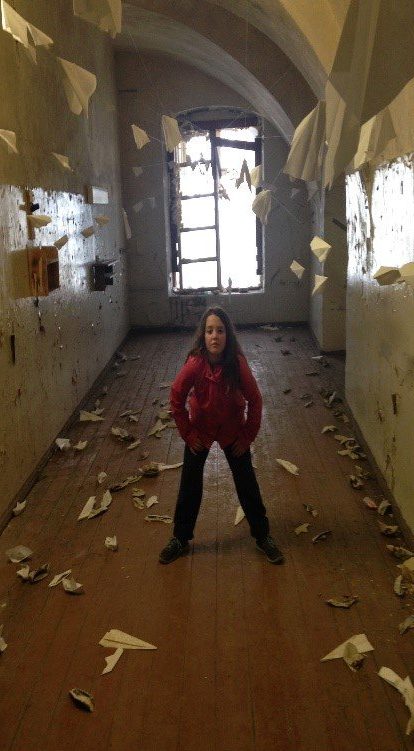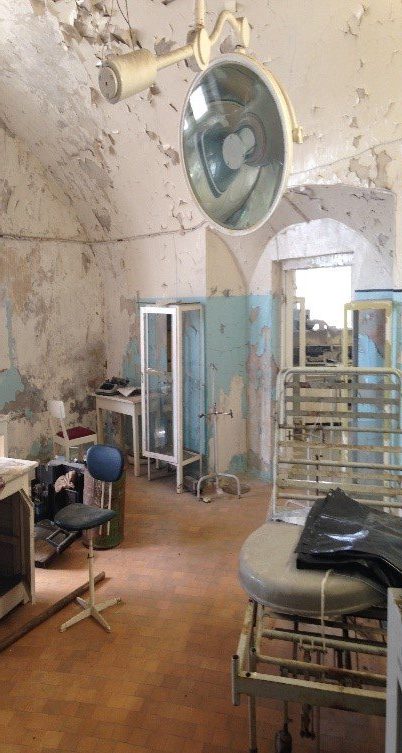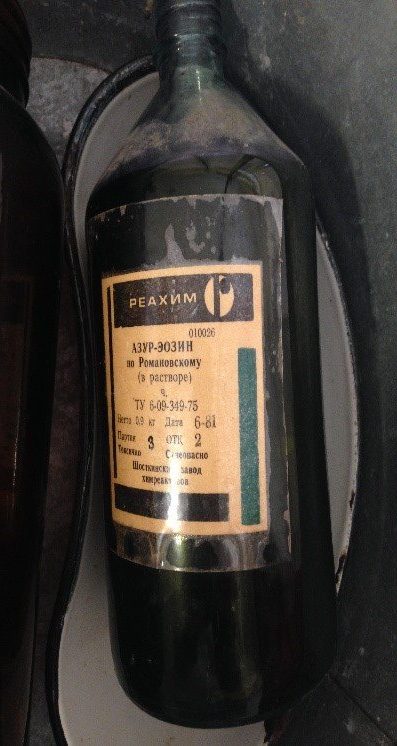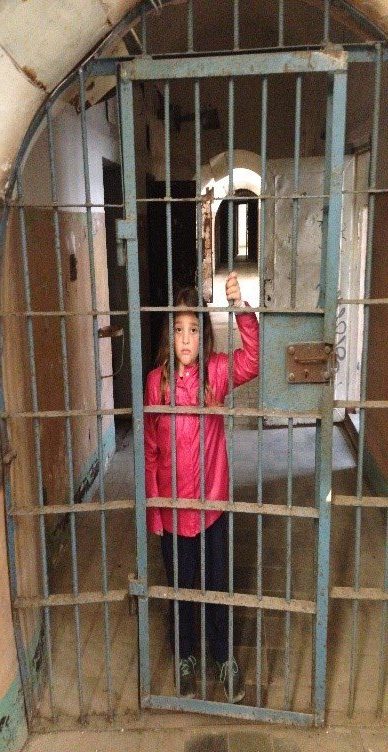 We then headed to Old Town, Tallinn's and one of the best preserved medieval cities in Europe and listed as a UNESCO World Heritage Site.
I found out Tallinn was the birthplace of many international companies, including Skype. Hmm, maybe time for a call home? Nope, we were off to Patarei Prison. It's rare that I write in any blog saying any place we have gone to is scary. But this place? Yep, for sure, absolutely. (I have since found out that it is closed for good due to "security reasons"), but wow, so glad we got to see it while it was still open! The Soviets used it as a high security facility from 1920 until 2004. Hundreds of men were locked up here – many were executed. We walked through the corridors past cells, along rusty gangways, and into the execution room; we saw nobody else. It was seriously creepy, even in the middle of a summer day. It was filled with peeling paint, rusted cell bars, decrepit furniture and graffiti. The weirdest room was some old, medical facility. It still had metallic medical equipment all about and giant brown glass medicine bottles with Russian labeling. I wore the trip there as a badge of honor that we toured it but was kind of glad to get out of there. We ate lunch at a yummy place called F-hoone, filled with Estonian deliciousness and dashed back to the boat at the dock, for it had started to pour.
Our last stop on the cruise was Stockholm, Sweden.
Just as it had been dishwater grey in Tallinn, it was bright and blue in Stockholm. Our guide came in a huge minibus to gather us and whisk us to Gamla Stan, Old Town. Reminding me much of Tallinn, or Copenhagen, Old Town looked much like other European central squares, and although it seemed familiar, I was appreciative as it was pretty. The best part for me was seeing the Nobel Prize museum in the middle of it all. Stockholm actually awards the majority of the Prizes each year, with the exception of the Peace Prize, awarded in Oslo.
We then strolled down to Mårten Trotzigs grand, or the narrowest street in Stockholm, named after a rich merchant in the city hundreds of years before who was beaten to death. We took a photo which we later used a piece of our holiday card that year.
Our last stop was the Vasa Museum, a true highlight. The Vasa was a ship that capsized and sank in Stockholm 1628. After 300 some odd years on the sea bed the mighty warship was salvaged. Today Vasa is the world's only preserved 17th century ship and the most visited museum in Scandinavia. It was a unique experience, to see the giant ship suspended mid air and being able to walk upon its plank floors. It was so colorful, too, the ship. The inside of the low lit museum contrasted with the day outside. It was simply gorgeous. A perfect summer day, not too hot, but we still bought ice cream at a stand and strolled along the water amongst the trees and families. We came upon the ABBA museum, a total hoot, but didn't go in. A regret now!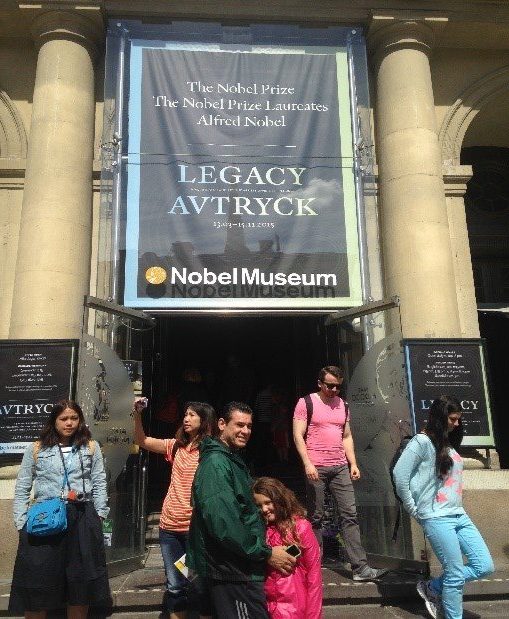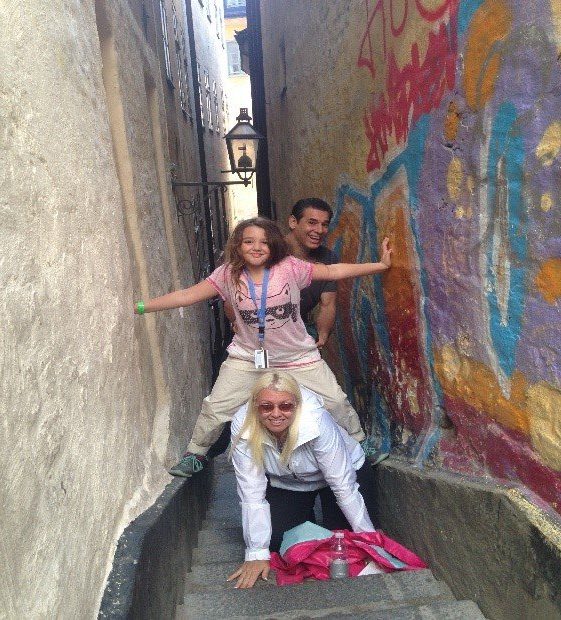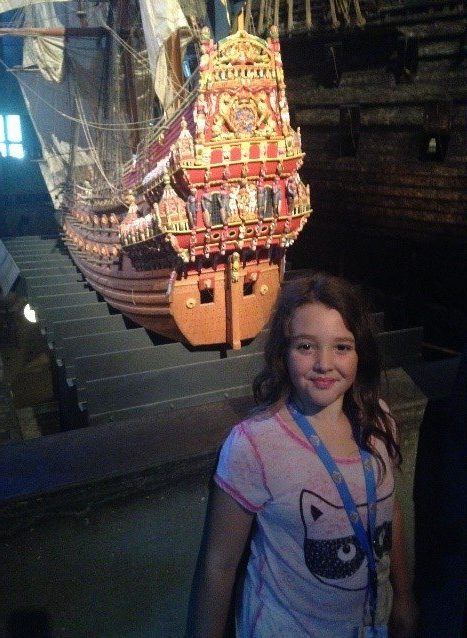 More Explora Blogs…
Read other explorations and adventures…
I never had seen anything like Meow Wolf. It's like walking into a surrealist dream. Bright colors, doors you can open leading to other worlds (literally), video games, VR headsets, blasting dance music. I never did any kid of hallucinogenic drugs but if Meow Wolf is what they were like, I wish I had!
The rewnowed Santa Fe hotel, La Fonda on the Plaza, the sounds were hauntingly beautiful. I was excited to spend a few days in a city that smells like sage and moves like molasses.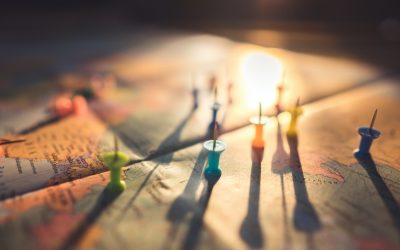 Attain dual citizenship. If one of your parents were born in a foreign country, you may have the right to become a citizen there…