Explora Australia
July, 2006
Duration: 16 days, 15 nights
Locations: Sydney, the Outback, Daintree Rain Forest, Cape Tribulation, the Great Barrier Reef
On Sunday, July 9th, "our crew", (Mario, Ruth, Marco, Griselda, Nadine and I) left Boston and Florida to meet up at Los Angeles airport around 12 noon later that day. Our Sydney connection was not until 11 pm that night, so we had about a half day to do the "Hollywood thang" and enjoy some of what Southern California had to offer.  We rented a minivan and set out to see some sights. Our first stop was Venice Beach. It was the final day of the World Cup soccer finals and bars and restaurants around the area were boisterous with cheers for the Italians and boo's for the Frogs. (Viva Italia!) We walked onto the boardwalk and took some fun photo shots and laughed when we saw the "Girls Gone Wild" bus actually parked aside the beach, looking for "new talent".  We had a yummy Italian lunch in spirit of the goings on and later, tried to find parking to see Muscle Beach and more of the actual beach, but just like South Beach or Manhattan, parking was near impossible, so no oiled manly muscles for us to gaze at, darn it…oh well…so our next stop was Santa Monica Pier, about a 5-10 minute drive further up "PCH" (Pacific Coast Highway) We actually found a decent parking spot and walked up and onto the Pier, busy with people, rides, performers and food vendors. The sun was shining and the day was perfect.  If we had gone another few miles, we would have encountered Malibu, where we really would have seen some high gates and bushes, since that is where many celebs reside. Getting back into our van, we then stopped at Rodeo Drive and Beverly Hills and actually thought we spotted Beyonce! But then again, Hollywood sure is known for celebrity sightings, real and fake so we moved out towards Hollywood Boulevard and Grauman's Chinese Theater and saw many famous footprints and handprints; Marilyn, Sinatra, and even, John Travolta at the exact spot the Oscar's are held each spring. Our last stop was a drive up to the Hollywood sign. The sun was setting and we actually got pretty far up into the Hollywood Hills (thanks, Mario!) and got some great panoramic shots of the symbol of Tinseltown.
Okay, so it is no secret that spending 14 hours on a plane non stop is no party, but sigh, it is the only way to get to the other side of the world in about a day. We embarked on Qantas flight # 12 to Sydney around 11 pm Sunday night. After 12 movies, 10 meals and 4 sleeping aids between us all, we arrived into Sydney on Tuesday, July 11th. (Sydney is 14 hours ahead of New York/Florida time) so it was truly weird, crossing the International Date Line and getting to a place almost 2 days after you left home. Our hotel was lovely, a Sheraton right on Darling Harbour. While we did not have any views of the Opera House, we knew we'd be visiting it at some point so we did not fret.
Have you ever seen it rain in the desert? Downpours in July are not exactly what one would expect when landing in the middle of the Outback, but as luck would have it; the rain was coming down in sheets and making a muddy mess out of the land. The locals said it was the first time in 6 months it had rained and how "lucky we were to see it". Yeah- goodie goodie gum drops. Grrr, we were not happy campers. All of our tours had to be rearranged, which luckily, they could be, so we would be able to see everything in time. After taking a quick nap, the rain let up and we had a late afternoon tour of "Kata Tutja" or "The Olgas". (The Aborigines named it "Kata Tutja" or "Two Heads", since the rock formations took on that appearance and the Aussies named it after some English Queen, so it has two names. Same as "Uluru" and "Ayers Rock". Same structure; they both just have two names- the name the Aussies gave it and the other, the original land owners, the Aborigines. So the rain mostly stopped and we drove around and walked around into The Olgas. They really are kinda cool; just these giant rock formations in the middle of vast desert. It looks like God just dropped them by accident from the sky when He really meant to put them somewhere else on Earth, as they don't look like they belong there but we know that they were made by volcanic formations. We were told that Australia is the oldest land on the planet. The rocks looked reddish brown from all the iron oxidizing and making it rusty-like. They looked really holey and porous but with lots of vegetation growing in and around the rocks. We saw live camels, too! As one would think camels are only from the Middle East; they are pretty widespread throughout mid Australia. We also saw a wild dingo, which would have looked like a yellow dog to me, if the guide had not told us it was a dingo. Not dirty looking at all, just like someone's pet, really. We had some bubbly with the coming sunset near The Olgas and we examined some Aborigine tools before heading back to the hotel for a welcome sleep.
We got up before dawn the next morning, to see the sunrise from Uluru /Ayers Rock. It was literally about 40-45 degrees on this day but we knew the sun was coming at least, as compared to days past. We waited on our tour bus with instant coffee and tea and cookies for the sun to rise on The Rock; so we could see the awesome yellow-orange-red-gold colors on it. Also, we took photos of a kangaroo crossing sign-too funny. The sun rose on The Rock and we moved on to tour the area and Nadine walked to The Rock itself. Many climb it, although it is looked down upon by the Aborigine, who claim it sacred. As for the Aborigine's, their plight is very much that of the Native Americans. Basically, the story goes- they were there first, the "white man claimed what belonged to the Aborigine's, was now "theirs", it pissed off the Aborigine's and to this day, they still feel slighted. The Australian government has given much land back to them, and issued numerous apologies to them over the years, but they still feel cheated. It is a wonder the Aborigine's have not yet built casinos on the lands.
The highlight of our Outback excursion was surely the "Sounds of Silence" dinner. You have dinner in the middle of the Outback, watch the sunset and see the stars, amidst a didgeridoo playing in the background and eating items that are Native Australian.
That day for us was a real; mood booster- with temps in the 80's and some real beach sun and fun. We enjoyed one of our best dinners that night too, at a local place serving tropical fare in Port Douglas and went for dessert at a place called "Wicked" serving ice cream cones.
We only drove a few miles from our hotel and got off in the middle of the desert. It was absolutely frigid and thankfully, we took the fuzzy blankets from our hotel rooms as wraps to stay warm. It looked ridiculous, but other guests soon were grabbing blankets and the ones who didn't have them, all stated how ingenious the idea was. Ha! So we sipped more bubbly to the sounds of the didgeridoo; a very unique, haunting instrument that one immediately associates with Australia. The player told us what the significance of the pipe was and we were led farther into the Outback to a perfectly coiffed table, complete with linen napkins under glowing heating lamps. Ahh, this was good. As the dark moved closer, we ate kangaroo, (tastes a bit like beef, but more gamey) crocodile (tastes like white fish filet) and other unusual Aussie fare. (I stuck to good ole chicken, thank you) All of us a bit tipsy from the drinks and frosty from the night, we tried to star gaze but due to the clouds above, could not see anything much. But I will say there is a smell to the Outback, like burning smoke and eucalyptus that truly allows one to feel that unspoiled air still exists somewhere on earth. We saw birds never seen before. Marco and Griselda saw a huge rabbit and fed it old muffins from breakfast.
We left a sunny, crisp morning in the desert to arrive in humid, clear Cairns, in Northeastern Australia, the gateway to the Great Barrier Reef. Driving an hour to get to Port Douglas, a picturesque resort town where many native Australians head, we curved around winding roads, alongside the Pacific Ocean, whereas the Ocean was so close it was only about 60 feet parallel to us on the drive. Our hotel was entirely tropical, even entitled "Treetops". Lots of vegetation and streams running through it, along with a yellow and white cockatoo mascot named Bozo, who was certainly nobody's friend. We had dinner at the hotel and awoke the next morning to what we were getting accustomed to, overcast skies. Blecchh…. Oh well.. no use pouting. We had an excursion planned to the Great Barrier Reef and rain or shine, we were going. We drove a few minutes to get to a Quicksilver catamaran holding at least 300 people. It was essentially a "ferry to the Reef". We had the opportunity to refresh our memory of SCUBA diving with a beginner course onboard so Mario and I took it. Nadine tried, but she got booted, since she has asthma and they want you 100% SCUBA ready when you encounter that first shark or "nasty". Ha! It was almost a 90 minute boat ride, but amazingly enough, the sun burst through the clouds and the day could not have looked more perfect. We docked at a large pontoon, complete with showers, buffet lunch and dive and swim center. We grabbed a table on the pontoon and everyone went their separate ways. Nadine tried snorkeling; Griselda and Ruth went on the glass windowed submarine and Mario and I were scheduled first for the dive. It all came back to us and we suited up and submerged. Way cool, as we touched a giant clam (at least 3 feet by 2 feet) that was lined with purple velvety innards as our guide allowed us to stroke it, to which the clam responded by closing its "mouth" whenever we did. We also saw clown fish; "Nemo" amidst a bed of anemones, which again, were allowed to touch, and felt like sticky little fingers on your skin. They are actually poisonous to humans, but because our fingertips are pretty calloused, they didn't hurt at all. We saw cod and fish with names I cannot remember, but they were absolutely huge. At least 3-4 feet in size and they swam directly in front of our faces. Mario slid his hands over many of them, to which most skirted away quickly, but one actually responded by darting right at his face- yikes! Sorry to disappoint you, but we saw not one shark on the dive, or ray or turtle or deadly jelly fish, although we did see them (except the jellies, as they are not around in winter) when we went on the glass sub ride later that day. The corals were an array of blues and reds and grayish greens and the water ranged in hue from emerald jades to navy blues in different places. We found out we were in the Agincourt Reef in the Coral Sea, just shy of the Continental Shelf. If we went a few more miles, the Ocean would have dropped off dangerously at the Shelf point.
The next morning, we woke up to cloudy skies again and headed to the Daintree Rainforest and Cape Tribulation, both World Heritage Sites (which gives a protective status to the areas) and where the rainforest meets the beach. Our guide Wayne was a carbon copy of Steve Irwin, the Crocodile Hunter and really gave a great tour. The drive was about an hour up the coast, further north but we made stops along the way. The first was right into Daintree Rainforest. It was somewhat similar to Costa Rica, with lush vegetation and a light sprinkled mist. Not many animals though, since most here were nocturnal. We saw Mossman Gorge, a cool river rushing through the forest. Our group this day were all from the States. Our tour percentages, if I had to call it, looked something like, 40% Aussies on "holiday", another 30% from the UK on "holiday", about 20% from the US and maybe, 10% Asian, being mostly Japanese.
We then went to the most fun part (for me, anyway) of the day. It was on a river cruise of the Daintree River; where we spotted real crocs from 10 feet away. Since the weather was chilly, gray and wet, the crocs were mostly in the water, as they were too cold to hang outside of it, but we still saw a few. Our river director showed us creatures I easily would have overlooked had not for his trained eye, like harmless green tree snakes, a cute teeny little bat sleeping upside down, hornet nests and mangrove trees by the dozen. The coolest thing was when he literally popped out from nowhere, a green frog with the little suction feet and all, about the size of a grapefruit.
Upon leaving that area, we took a small ferry boat, staying inside our bus and all. It was only about a 2 minute ride from one side of the river to the other, but quite an unusual way to move! We then went further up to Cape Tribulation; a postcard spot of where the green meets the sand. No one was on the beach this day, except for our group and a small wild turkey, but you could see the potential of the spot when the weather cooperated. It is called "Cape Tribulation", because Captain Cook, who came from the UK to Down Under in 1770, had a lot of troubles with his ship at this spot and named it accordingly. He also named other spots nearby, like, "Cape Misery" and "Unhappiness" and names we would find quite funny now. Captain Cook's name is all over the continent; as he was literally a founding father of Australia and colonized much of it.
Our last stop was at a fruit orchard and homemade ice cream stand in the mountains of Daintree. I had "wattle" ice cream (a tree in Australia that has seeds that taste something like mocha) and mango. Unusual, I will say that. The highlight of the stop was seeing a young cassowary bird, which Australians now regard, as it is unique to the continent. It is the size of an emu or ostrich, but with a giant hardened horn on its head and lively blue and red face. It is actually known to be quite dangerous and will attack without much provocation. Also flying overhead since it was an orchard, were lots of "flying foxes", or giant fruit bats easily easing a foot long.
We had a free day the next day, which was most welcome, as we were getting up so early for our tours and breakfast and such, so having a day of leisure was a real treat. We decided to head to a place very close to our hotel called the "Rainforest Wildlife Sanctuary" and walked over to it after breakfast. It is a rehab center for animals that get injured and a small zoo, but with enclosures that are very animal friendly. We all started off at a koala encounter, with Ruth, Nadine and I going into the enclosure and stroking the little creature's fur, which was puffy and soft; very cottony, if I had to call it. He had the most unusual eyes and would slowly open and close them, amongst his eucalyptus tree branches.
We only could steal a few moments with the little guy, as there was a line of kids ready to meet him, so it was really special. I could have stayed another hour in there with him. The sanctuary only allows the "petting and photos" for an hour a day, so as not to stress them and they switch koalas so each get a turn. We then moved into a giant aviary, with birds flying all about us; like walking in "their" habitat. We saw parrots of every color of the rainbow, ducks, terns, storks, cassowaries, cockatoos, owls and pelicans. The "buffet cart" of food was out for them, so we grabbed some funky white powder the parrots loved and I grabbed a few small fish for the terns, who became my best pal when I waved them around. But nothing beat what we did next. We walked into an enclosure for kangaroos and wallabies. We purchased the food at the service counter earlier and boy, they sure did want it! We had never seen such animals up close and personal, but not only that, they were coming right up to us, putting their little hands on ours and eating right from our palms, gently and softly, while allowing us to stroke and scratch them. They actually kinda liked it, I think! We must have stayed in this part of the zoo for over an hour, marveling at the creatures, ranging from 5 feet to 1 foot tall. (Wallabies are tinier versions of kangaroos, but similar in feature) We took tons of pictures and video all giggling like little kids when they surrounded us. We also saw some "joeys" popping out of the pouches of many of the roo's.
We went back to the hotel and relaxed until early evening, where we took a shuttle bus into "town" and watched the sun set from Port Douglas and it was really nice. We stopped in the little (overpriced!) stores and then, head to a park at the end of the main thoroughfare, where we saw kids playing, dogs running around and a couple getting married. The spot could not have been more postcard looking, with breezy palms swaying, the sun going down into the water with banyan trees close by and the ferry boats coming in for the evening, as it we savored the balmy 75 degrees or so.
We had a great dinner on a marina nearby and left Cairns the next morning, headed back to Sydney for one last excursion.

Our last full day in Australia was a journey to the "Blue Mountains", which are neither blue nor mountains. An hour's drive North West of Sydney, our guide Johnny talked a mile a minute about the history of the country, its current population and growth explosion and its terrible water problems. (We figured the reason all native Australians are thrilled each time it rains is due to their massive three year long drought. Years ago, the city put the dam in the mountains, where it hardly rains, as compared to the Harbour, where it rains often, to collect rainfall and the city has major restrictions on water use). Anyway, we had a long drive, but it was broken up with little stops to break up the trip. The first stop was a highlight. Similar to the Rainforest Wildlife Sanctuary, in Cairns; Featherdale Wildlife Park was a carbon copy of what we did in Cairns, petting and feeding emus, kangaroos and wallabies. But the coolest part was, our group was the first arrival for the day, so the place was empty and boy, were the animals psyched to see us! We got to have longer "koala time" and Ruth and I actually held and played with dingo pups! I swear, if I had not known they were "wild", they easily could have been trained to roll over and sit! They were kissing us and playing with us just like "regular puppies". We only had an hour there so we quickly scoped out the rest of the park and head back to our bus to drive up into the mountains. They are called "mountains: but millions of years ago, were actually rain forest and remnants of that still remain, with a palm tree here and there and trees dating back millions of years, found nowhere else on earth. Australia holds huge keys in the evolution of the planet, and it is all found in their botanical flora. But the rain forests had been cultivated by man and over time, changed from jungle-like, to more agricultural-like. The mountains were really rolling hills and cuts of blocks of sandstone that looked very much like the Grand Canyon in parts. The blue comes from the reflection of the oil of eucalyptus leaves. We stopped at a gorge where no people were really supposed to go and Johnny gave us a cool lesson on the plants and how fires are Australia's plight. (And cyclones in the tropical zones) With the droughts and conditions, Australia is a parched woodpile waiting to go up into flames. But we also learned the fire brings new growth and is a necessary evil. We stopped at many cliffs and overhangs and took some great pictures. We ate lunch at a 150 year old hotel and fed some birds we had never encountered. The scariest part of our tip was a trip to Katoomba; gateway to the Blue Mountains. This spot is the largest area in the hills and the focal point of the national park (also a World Heritage Site) We stopped at the "Three Sisters"; a rock formation of three consecutive rocks, titled that by Aborigine's in their Dreamtime stories. We took the "Skyway" starting at the top of the Park (1,000 feet) and transporting us to the foot of the park, all in a glass encased cable car swooping down into the trees. At the bottom, we walked to the Scenic Railway, which happens to be the steepest railway in the world, angling at 52 degrees to take the climb back up! It was an old coal transport line that now takes people up and down the Park. All of us sat in the first two cars to get a maximum feel for the angles and man, I won't lie; we screamed (Okay, just me and Griselda did that) and were freaked out but what a rush!
On our way back to the city, we stopped at another part of the Park to drink more champagne and to get glimpses of wild kangaroos. Marco got pretty close, tempting them with grass, but they are pretty jumpy, since they are really not tame.
Instead of being stuck in rush hour traffic, we were dropped off at a dock and took a ferry ride back to Circular Quay, which we were happy about since we would catch the Harbour Bridge and of course, the Opera House at night, which we had not seen yet. We also saw Luna Park, close to the Quay, which is a Coney Island style amusement park just recently opened again, complete with neon lights and rides. The sight of the Opera House and Bridge at dusk gave a real closure to our trip. But it was not complete until we gorged on the best steaks, baked potatoes, damper (homemade bread) and desserts before finally heading back to the US the next day.
 More Explora Blogs…
Read other explorations and adventures…
I never had seen anything like Meow Wolf. It's like walking into a surrealist dream. Bright colors, doors you can open leading to other worlds (literally), video games, VR headsets, blasting dance music. I never did any kid of hallucinogenic drugs but if Meow Wolf is what they were like, I wish I had!
The rewnowed Santa Fe hotel, La Fonda on the Plaza, the sounds were hauntingly beautiful. I was excited to spend a few days in a city that smells like sage and moves like molasses.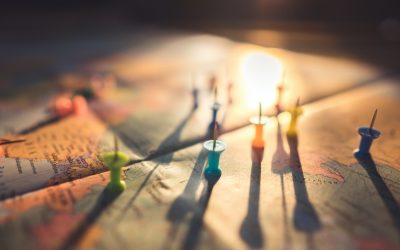 Attain dual citizenship. If one of your parents were born in a foreign country, you may have the right to become a citizen there…