Explora Alaska
June, 2009
Duration: 11 days, 10 nights
Locations: Seattle, Vancouver, Juneau, Ketchikan, Hubbard Glacier
Dear Friends and Family,
Alaska, the Last Frontier. The Land of the Midnight Sun. Sarah Palin territory…. (Well, not anymore…. ha!) This past month, Mario, Lilly, Ruth and I ventured into the 49th state (its 50th anniversary of statehood is this year, by the way).
We actually first started in Seattle, hoping to pull a quickie tour of the city. The first thing we hoped, however, was that on our flight, we wouldn't be "sleepless", since we had never taken Lilly on such a long flight. No Benadryl needed though, she was pretty good. Thanks to the juggling talents of the three of us and some pretty patient servicemen and women on board, Lilly pulled through. Even more surprising was that we rented a car (after we found out that American Airlines lost Mario's luggage, grrr) and we headed out to the Ballard Locks… a kind of Panama Canal set-up in the middle of Seattle. Super-cool. The Locks provide a link for boats between the saltwater of the Puget Sound and the fresh waters of the surrounding lakes and they move up and down after filling and draining with water. There's also a fish ladder, where migrating salmon swim through. You can see them through glass panels; very aquarium-like. We saw salmon the size of a finger and others, the size of Lilly! As we left the Locks, we admired the HUGE Evergreen trees and the weather of the day, which contrary to belief about Seattle's weather, was absolutely sunny and gorgeous! On the way out to the car, we stopped at a garden where a local was giving out Washington cherries. YUM! We wanted to do dinner out but were just too pooped. We stopped at a local Safeway and loaded up on goodies and took them back to our room and had an indoor hotel picnic. Lilly had a bath and crashed in our bed during Wheel of Fortune. Amazingly, it got dark around 10 pm. Super strange. (Oh and American Airlines did get Mario's luggage back to him that night, yay)
We woke up early to a more typical Seattle day. Greyish, but luckily, no rain. Our hotel was a few blocks from the Space Needle so we strolled over. It was 7 am on a Sunday morning so we were the only pedestrians anywhere! We went to the Needle and found out it was designed for the 1962 World's Fair. Took lotsa pics from all angles. We then hopped in our car to head to Pike's Place Market, a local bazaar on the water that is notorious for its fish-throwing seafood vendors. But it also sells fresh flowers (and cheap, wow!) and fruit and other goodies. Great timing on our part since it was pretty quiet at the time we went, with all of the vendors just setting up for the day, so we got an up close and personal tour of what goes on. We saw a peach at a fruit stand the size of a grapefruit that almost looked too perfect. No smushy bruises and no little sticker on it saying "Imported from Chile" or anything. Just sweet, fuzzy yummy-ness. The vendor told us it would be the "best peach we ever tried" so Mario paid him three bucks (yep, you heard correctly) and we chomped in. All of us, including Lilly. I have to say it was the best damned peach I ever had. Lilly seemed to think so, too for she had orange sticky juice all over her face. The best part was I found the very first original Starbucks coffee store and had my "usual" to go with my oversized breakfast produce. We then had to drive to Vancouver since our cruise was embarking from that city that day. Super-easy. I-5 all the way north, two and a half hours and you are in Vancouver. It was that simple. We left the dreary day behind to be greeted by crisp air and cobalt blue skies, high in the mountains, surrounded by tall forests of trees along the highways. As we pulled out from the US/Canadian border, we stopped at the adjacent rest stop and were pummeled by the 2010 Winter Olympic merchandise being sold since the Winter Games will be held in Vancouver next February.
We drove to Ballantyne Pier and headed onto the ship, the Celebrity Mercury. After checking in our own luggage, we headed to our cabins. Ours and Ruths' connected so we kind of had some "extra room". We did first what anyone taking a cruise does, EAT. We ate a buffet lunch and explored the ship. That night, we headed to the dining room and made as many adjustments as we could for the baby. The time difference was not easy, being 3 hours behind and once in Alaska, 4 hours behind us. But she lasted long enough for Ruth and Mario to take her to the show after dinner. Folks, we have discovered Lilly's true calling- MUSIC and DANCE. Imagine our shock when we saw the baby sitting on Mario's lap, enthralled and bopping to every song and dance on the stage. She could have cared less if Lawrence Welk was up there- she just wanted to listen and watch. I mean, this was the girl who wouldn't even sit still long enough for me to put on her pajamas and here she was, sitting for 45 minutes straight after dinner at midnight, technically, watching the entertainment. But baby-tiredness won out and she collapsed in her stroller. We thought maybe it was a fluke.
The next morning was a day at sea so we had our usual engorging breakfast buffet and discovered every nuance of the ship. The top level enclosed in glass was Lilly's favorite spot. Nothing to do with the views. She loved the little arcade with the video games simulating car chases and rides. Could have stayed there for a week straight (after seeing her nightly shows, of course) She just had to say, "Vroom, vroom" to Daddy and he knew exactly what she wanted. They had a children's center, although Lilly was still a wee bit too small to truly enjoy herself. Lotsa limits. Don't they know my baby's different, dammit? Ha ha… they also had a basketball court and a bunch of different restaurants and lounges. That night at dinner was formal night and I dressed Lilly in her purty party clothes J The waiters all loved her and brought her special treats each night. Apricot nectar, bowls of strawberries (her fave) and long crusty breadsticks, which she liked to dip in her water glass. Again, we brought her to the show, but this time, it was a magician and Lilly had no interest whatsoever. At the sake of being cliché, she just wanted to disappear from that one. Sadly, we got word that night that there was a medical emergency on board and the ship had to literally, turn around and go back towards Canada, so a helicopter could pick up the 5 year old who they said, needed surgery. This meant we would skip our stop in Sitka the next day. Of course no one wanted anyone to be ill, but we were all VERY disappointed. This meant no wildlife cruise or trip to the bear sanctuary. Just another day at sea. 🙁
Oh and yes, the sun rose at around 4:30 in the morning and did not set until well after 10 in the evening. In June, during the summer solstice, the hours of sun are even longer than what we experienced. Thank goodness for blackout shades! When we brought Lilly to the cabin each evening, she often cried. Hated the confinement. She knew she was somewhere "new" and just wanted free reign.
The next morning Ruth and I consoled ourselves by going to the spa. Wednesday was Hubbard Glacier. The glacier is over 70 miles long. The Glacier routinely calves off icebergs the size of a ten-story building and we actually saw it happen! Splash! We saw huge sheets feet thick, just crash down into the water.
Some crew got into a tender and putted its way over to the Glacier and chipped a piece off. They brought the frosty souvenir back to the ship where the guests were allowed to touch it. Sure, it's just a big block of ice, but kinda cool when you realize that it's about 400 years old! This was easily the coldest day of our trip; temperatures were around 50 but with the sun beaming down on us, it was actually really invigorating! We were excited about the next day since we all had cabin fever being on the ship for four days straight. We were headed to the capital of Alaska; Juneau.
As we met our 18 year old musher, Matt, he gave us lots of interesting facts about the dogs. Some are bred for speed and go 10 miles an hour, 4 hours a day, rest a bit and continue the same pattern. Others are built for endurance and run 18 hour days, but only going 2 miles an hour.
We boarded a bus at the ship's dock and headed toward the helicopter port where we were to get a 10 minute safety lesson on the aircraft and to prep us for our 20 minute flight into Mendenhall Glacier. 12 miles long located in Mendenhall Valley, we were headed there to experience a genuine dog sled camp and dog sled ride! There is no way in or out of the Glacier, besides helicopter. There also isn't much alive there naturally, since it is so barren. We listened to our guide at the chopper station and geared up to go. Slightly worried since we were taking the baby, I wasn't sure what to expect. They gave us special shoes to cover our own, so we could walk easily on the snow and ice. They also gave us Bose-like headphones, to minimize the loud sounds. We climbed into the aircraft and took off. It was super cool, seeing the controls of the chopper not 3 feet in front of us. Lilly wasn't even phased. She just stared out the window at the snow. We landed in the Glacier and saw at least a hundred doghouses, set up in square patterns. Some of the dogs were inside of the houses, some on top of them, and some lying down outside of them. As we met our 18 year old musher, Matt, he gave us lots of interesting facts about the dogs. Some are bred for speed and go 10 miles an hour, 4 hours a day, rest a bit and continue the same pattern. Others are built for endurance and run 18 hour days, but only going 2 miles an hour. I can't even run 18 minutes, let alone, 18 hours. You have to admire those animals. . The Iditarod Race is absolutely huge in Alaska. Every talk at the dog sled camp seemed to lead back to that one event. Whose dogs have ever run it? Do they look forward to it each year? And so on. Trust me, as much of an animal lover as I am, these dogs are nowhere near mistreated and/or abused. All they wanna do is run. (and get pet afterwards) They yelp and roll around in the snow, super excited about going, going and gone.  I need what they eat for breakfast, sigh… Mario and I took turns holding Lilly on the sled while the other, stood up on the back of the vehicle. I know this was something I would probably never do again in my lifetime. Although it was July there was snow and ice everywhere you turned. But it was that slushy snow, not the fluffy stuff since it was a "balmy 40 or so, degrees". Matt said the dogs hated it to be that "warm"!  We got a treat after our sleigh ride. We went over to an enclosed pen with 5 puppies, all traipsing over the other to be the first to get pet. They were all named after pastas; Spaghetti, Ravioli and Tortellini!  Lilly had never seen snow before but was more interested in the pups than anything else. I put the snow in her hand. But she was too exhausted from her lack of a nap and the time change to truly enjoy it and zonked out on the helicopter ride back to the port. Imagine the look on the faces of the next passengers when they saw a baby coming off the aircraft, totally sleeping, amidst a huge propeller making thunderous noise. Any folks who were nervous about flying, suddenly felt super at ease now.
Lilly slept on the bus ride home and we saw tons of bald eagles. They are like pigeons in Alaska, but much more revered. Just so many of them. We ventured back out that afternoon into the town of Juneau. The sun had burst out of the sky and the afternoon was perfect for walking around and doing some souvenir shopping. I'd figured out that the locals and people of Alaska are either "America's First People" (Native Americans/Eskimo) or descendants of Russian folk. Russia owned the state up until the mid 1800's, when they sold it to America for 7 million bucks. (Seward's Folly) The general US population thought it a big hunk of snow and ice and polar bears, until we discovered gold and oil there years later. We took some fun photos-me next to the Juneau police department, Lilly in a giant Grizzly bear chair, Lilly next to a totem pole. All the flowers in town were blooming and there were bees everywhere, getting the honey of Alaska. We got back on the ship, finally feeling as if we "did something that day" and really seeing the state. Again, after dinner, Ruth and Mario took the baby to a show and it was some Broadway revival. Lilly just came alive and I realized the nights before were NOT a fluke. My baby girl just loves music and moving her little bootie to it! The next morning we docked in Ketchikan in southeastern Alaska (Ketch-a-can). Known as the "Salmon Capital of the World", it's also a pretty wet region of Alaska. True to its reputation, as we got off the ship, it was drizzly. But as the afternoon wore on, the rain stopped and sun came out again. Ketchikan is also the headquarters of the Tongass National Forest. At 17 million acres, the Tongass National Forest in is the largest national forest in the United States. We were going to get on a floatplane and fly right into the middle of the forest. Floatplanes take off and land in water so this was a new experience for all of us. Brave from the helicopter incident from the day before, this trip seemed a bit easier and we were all that much more confident. Even Lilly slapped on her Bose headphones and fell asleep (again) as she grooved out to the music playing through the earpieces while we flew over millions of shades of green, stories high waterfalls and over cliffs and through clouds. We landed in the Misty Fjords National Monument; a part of the Tongass. As soon as we got off the plane, we headed on board a boat. But this wasn't before our ship captain told us there were harbor seals frolicking in the water about 100 yards away from us! We watched them splish splash in the water. As we climbed on board our vessel, we took in the smell of pristine air. This place was so incredibly beautiful and clean and majestic. It truly is indescribable. Not ten minutes into our boat ride, our captain pulled into a cove where we saw a young Grizzly bear eating grass! Yessss, this is what we came to this state for, bear sightings in the wild! As much as I wanted to venture closer, I realized this wasn't the Bronx Zoo and we had to keep our distance and noise level down. Even cooler was the tons of salmon jumping in and out of the water, seeming to want to taunt the poor bear into "Ha ha, you can't catch me!". I could have stayed all day but we were onto bigger adventures. We sped and slowed many times, looking at bald eagles, seals, waterfalls and even, Native American hieroglyphics on cliff walls! After a snack of chili and clam chowder with oyster crackers, we pulled into the port of Ketchikan to get back "home". Mario put Lilly on top his shoulders and she just loved just taking in the new sights of this place on top of her favorite man in the world. I will never forget how happy she was, smiling and "singing" up there.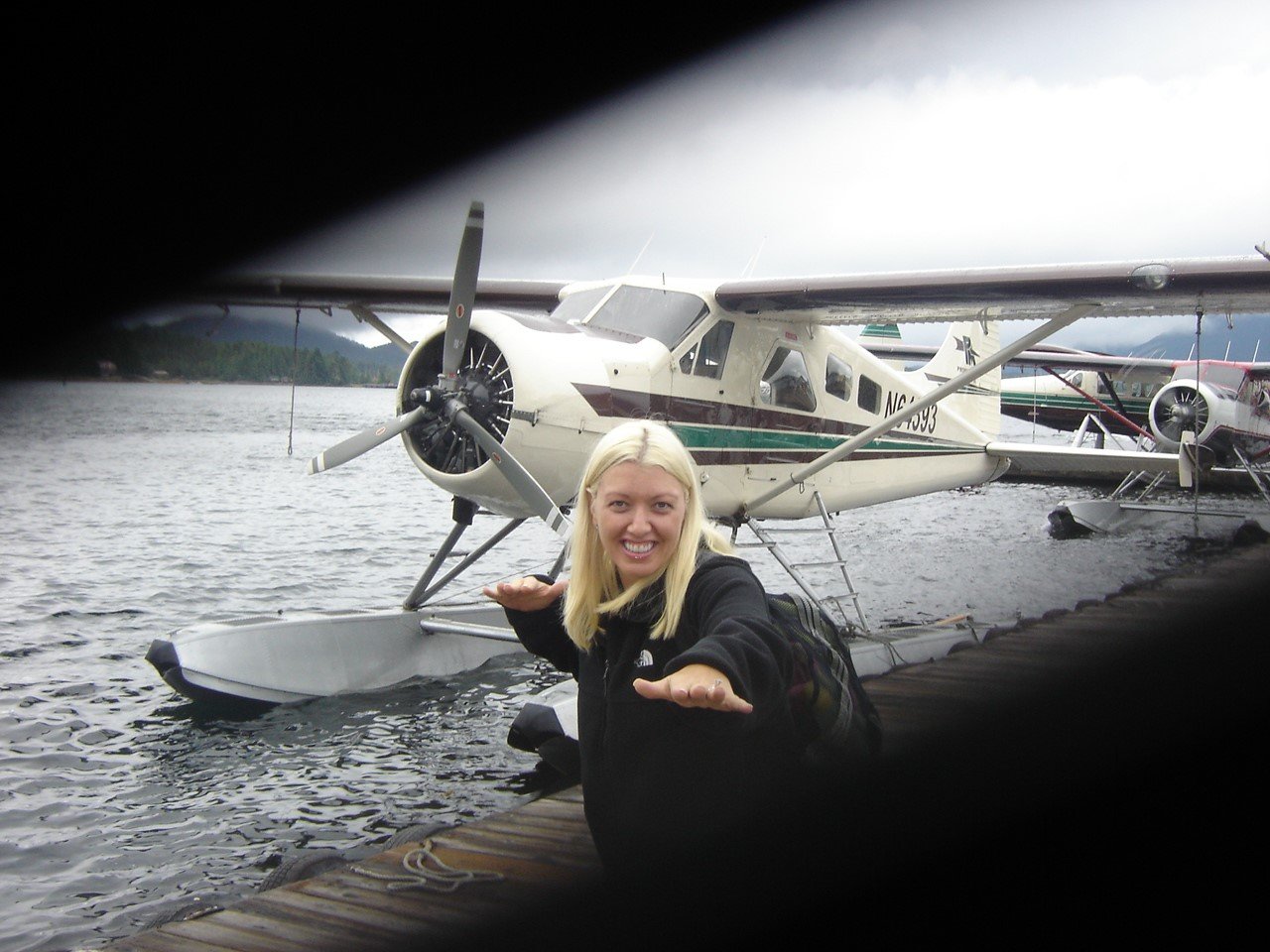 We were too late for a seated dinner, so we ate a quiet meal upstairs at the buffet and retired for the night. The next day was another at sea, so we played a few games of "Name that Tune" (I won a few times) and watched some movies and slept lots. But the highlight was spotting feeding whales near our ship. The captain would make announcements when he saw them in the ocean for all the passengers to see. We never saw one "breaching" but we saw plenty of fins and blowholes. Tomorrow would be the last day of our trip. Our last full day was to be spent in Vancouver, British Columbia. Once again waking up to a beautiful summer day, we disembarked the ship and cabbed it to our hotel. We all took a family nap and woke at about 11 am, ready to see the city, We only had that one day so we had to do as much as we could. We popped Lilly in the stroller and walked about 15 minutes to Chinatown. We went to the Sun Yat Sen Gardens; filled with koi fish,turtles and little ponds with bridges to cross. We ate lunch at an "authentic" Chinese place (notice I didn't say "yummy") and then, walked to a trendy neighborhood in Vancouver, called "Gastown". It's named Gastown after "Gassy" Jack; a seaman and barkeep who opened the area's first bar. We saw the famed steam clock, listened to its whistle and then cabbed it to Stanley Park; Canada's version of Central Park, except its on the water and back dropped by mountains and 10% larger than Central Park! We went to the Children's Farm and were the only folks there. We took advantage and pet the bunnies and made every animal sound, right to the animals "faces". Lilly loved it and so did we! We then took a children's train ride through a wooded section of the Park, and afterwards, hopped off and walked to a nearby Rose Garden. Absolutely beautiful. Lilly stopped and literally, smelled the roses. We then walked to English Bay Beach; a popular sunbathing, swimming, and sunset-watching beach in the downtown Vancouver area. It was too funny for us Floridians to see folks tanning on a strip of sand no further than 12 feet from the water; with big rocks marring the shore. But to these beach-goers, it was like Hawaii! We were all famished so we walked to a Greek Tavern and gorged on hummus and souvlaki for dinner. (Lilly ate a whole pita herself and just dipped it into the hummus the whole time!) We topped it off by going to a popular ice cream place for dessert. We took a cab home, packed our bags (but not before Ruth and Mario hit the hotel Jacuzzi) and went to sleep. We woke up the next morning, a bit concerned for the flight home, but once again, Lilly was a trooper, assuring us that she will be with us for many more trips to come.
We ate lunch at an "authentic" Chinese place (notice I didn't say "yummy") and then, walked to a trendy neighborhood in Vancouver, called "Gastown". It's named Gastown after "Gassy" Jack; a seaman and barkeep who opened the area's first bar.
 More Explora Blogs…
Read other explorations and adventures…
I never had seen anything like Meow Wolf. It's like walking into a surrealist dream. Bright colors, doors you can open leading to other worlds (literally), video games, VR headsets, blasting dance music. I never did any kid of hallucinogenic drugs but if Meow Wolf is what they were like, I wish I had!
The rewnowed Santa Fe hotel, La Fonda on the Plaza, the sounds were hauntingly beautiful. I was excited to spend a few days in a city that smells like sage and moves like molasses.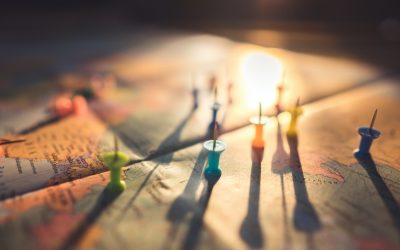 Attain dual citizenship. If one of your parents were born in a foreign country, you may have the right to become a citizen there…