Explora Ecuador and the Galapagos Islands
June 2014
Look at the Boobies!
(Blue Footed Booby Birds)
Duration: 12 Days, 11 Nights
Locations: Guayaquil, Quito, Otavalo, Santa Cruz, Isabela
Goaalllll! Flying from Miami to Guayaquil on a weeknight, you wouldn't think the plane would be filled with half the players from the FIFA World Cup Ecuadorian Soccer team! But ha, every passenger was instantly filled with pride as they saw the team in their bright yellow shirts walking up and down the aisles posing kindly for photos with all that asked. Ruth and I got some good shots of the sporty celebs and our flight was smooth and easy.. We arrived in Guayaquil late evening and were happy to see our driver and guide, Tomas and Felix there upon our arrival. Even better, the airport is directly in the middle of the city so we were at the hotel in a jiffy. 
We crashed into bed and awoke to a big, buffet breakfast. We had a tour of the city at 9am. Tomas and Felix picked us up and we drove a few minutes to Parque Seminario, a big cathedral and park, in which we got out of the minivan and walked into the quaint park. But whoa….we saw no less than 20 giant iguanas all amongst the grass, trees and grounds of the park.
They looked like little grey dinosaurs. We were told that awhile back someone started feeding them as they are commonplace in Ecuador, and they realized how good they had it in the park and never left and multiplied. Lilly, Ruth and I even pet one at Felix' insistence. We walked into the cathedral and saw ladies in prayer and Felix gave us a little history. We then went on foot toward government buildings and statues of those who were important to Ecuadorian independence. Simon Bolivar is well worshipped in South America; as everything is "Bolivar" this and that. Then, Felix led us to the waterfront area, "Malecon". Years ago, he said the area was crime ridden and dilapidated but now it was a beautiful park on the water's edge. It had lots of almond and banyan trees. The river there led out to the Pacific. Guayaquil, being on the water, has weather similar to South Florida. Muggy and wet and humid. Malecon had the four elements situated in statues at an eighth or so, of a mile between them, designed as sculptures 3 stories high. First was water, then, fire, followed by earth and air. They were made of wood and glass and one could climb atop for great views.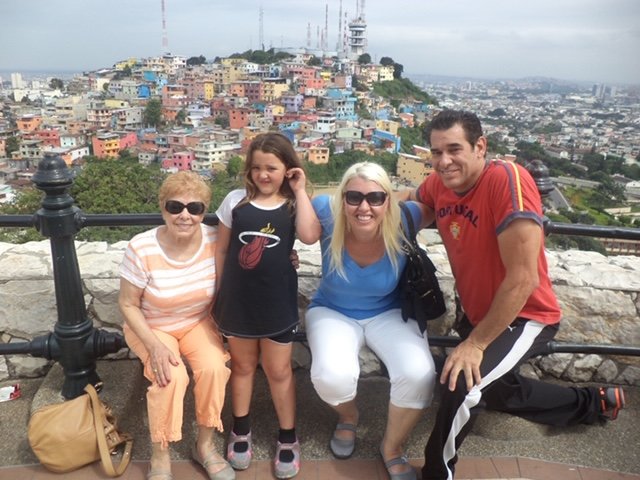 In the middle of the park was a monument with all flags of a South America spaced a foot between the other. But it was super cool in front of the monument that there were letters spelling "Guayaquil" in front, spaced a foot apart, painted in the colors of the Ecuadorian flag. Felix said the letters were painted to reflect holidays and goings on but were painted with the country colors now, in honor of the World Cup. We took some fun pics there and Tomas picked us up a few minutes later. While we waited for Tomas, buses and taxis whizzed by and Felix explained buses were very cheap and a main staple of transportation in the city. Tomas drove us only 5 minutes for us to get dropped off again. He brought us to "Cerro Santa Ana" and "Las Penas"; a residential area that was once run down and now transformed into a place filled with tucked away homes, eateries and stores and art galleries. But it was all logistically arranged on top and on the sides of 444 stairs. Each step was numbered and had little rest stops as you went up. In the mid-morning heat and humidity, it was not easy. But we saw deliverymen carrying packs of water and beverages on their backs doing what we were and I realized we had a cakewalk. Most stores were not open just yet but it was nice to see residents waking up and sweeping their front porches and little dogs sleeping in the heat, draped over steps. At the top of the steps were a lighthouse and little chapel. Felix said they had mass there on Sundays. The view was awesome and panoramic. We stayed a few minutes for photos and began the descent. The steps down we're a different way and seemed shorter. There were Bougainvillea bushes surrounding us with dragonflies dancing all though them. It was really pretty. I tried to let a few sleeping kitties let me pet them but they ran away. We walked further onto an area along the river that Felix said was new and being turned into residential condos. It was gorgeous and I could easily see why anyone would love living there. Brand new buildings with floor to ceiling windows and river views. We met 4 young US med students there on medical mission and Felix found a baby bluebird that must have fallen from a nest in a bush we stood next to. He was small enough for us to know he was still young but old enough that he had full feathers. He had his beak open waiting for food so we gave him some bottled water from its cap and then, some crushed cookie but it seemed he wanted something more on his usual menu. Felix took pity on him and brought him to the car and swaddled him in a towel in the drink holder in the vehicle.
Tomas then drove us to Parque Historico Guayaquil. It was a combination of what old Guayaquil looked like from a hundred years ago combined with a menagerie of what animals are found in Ecuador. The zoo was set up aside wooden bridges through natural mangrove trees, so it was swampy and humid. We saw iguanas, macaws, monkeys, an ocelot, sloths, crocodiles and too many others to list.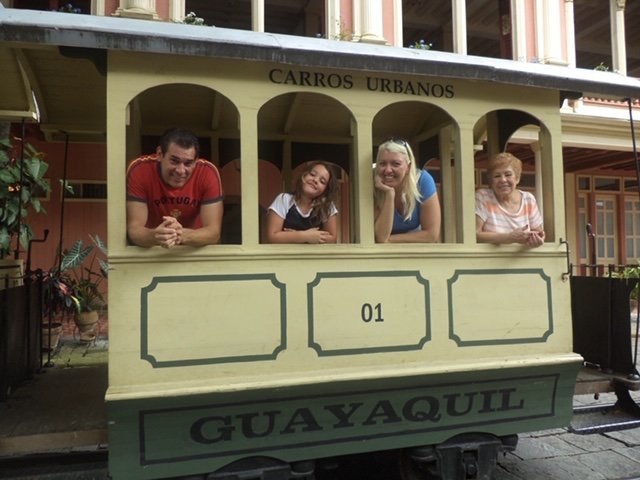 There was a giant building lifted off its foundation from where it once stood in the city and was transported here, to the Parque. In front of it was an old transportation carriage, once pulled by horses. We then came across an old chapel and a child's playground adjacent to it and Lilly and Mario played. Felix brought us to a snack stand and we ordered fresh tamarind juice and empanadas; some filled with cheese, others meat and chicken. Lastly, we walked to a farm in the Parque, replicated to look like one from the past. There were all kinds of farm animals and banana and cacao trees; even plants growing that we're used for medicinal purposes, like aloe and oregano. Lilly liked the "tree house" best. It was what was supposed to be the farm house and it was three rooms made of woven plants or palms and it stood atop stilts. Felix and Tomas brought us back to the hotel and we all napped til 5 pm. I'd read about a good restaurant on TripAdvisor for dinner and we walked a few blocks to "La Canoa". It was yummy. We had steak and rice and veggies. For dessert, we stopped at a chain, "Sweet and Coffee" and wowsa, we had tres leche cake, queso y coco and a chocolate, messy mountain of a cake. One was better than the next!
Sleep came quickly for Lilly and I, but not Ruth and Mario, since they had napped earlier.
We awoke early the next morning for breakfast since we had to be at the airport for an 830 am flight to Baltra, one of the gateways to the Galápagos Islands. Our flight was smooth and about 90 minutes from Guayaquil to Baltra.
We landed on what looked like a bit of another planet….sparse land with lots of cacti and brush-like vegetation. It was warm and muggy, much like Guayaquil. We paid a few fees and had our luggage inspected well and were picked up by Marcos, our guide. He explained that we had a 20 minute bus ride to a little port and then, a 15 minute boat ride across to Santa Cruz, where we were to be taken on our first tour. On our boat was a combo of Australians and some Americans and Canadians. I noticed there were few families doing what we were and that the folks were usually backpacking, or young couples or college aged kids on medical missions.
We hopped into our minibus and Marcos gave us the lowdown on the Islands. Population, biggest problems, improvements. We stopped first at Los Gemelos: "The Twins".
These were giant calderas of volcanos that had once imploded and now we're filled with lush green trees that looked much like broccoli. The craters were across the road from the other and we looked at the edge of them, inside. Tons of little birds flitted everywhere. We then drove a bit more to an agricultural area, where Marcos said people now raise farm animals and grow crops. We saw cows laying down on the sides of the road in wet grass. We pulled into a muddy driveway and got out and Marcos said we were going to have some snacks before we walked to find some giant land tortoises out in the greenery.
Cool! The snacks were empanadas filled with cheese and fruit salad in parfait glasses with some excellent coffee. After our mini meal we walked into the landscape and it was not long before spotting a huge land tortoise. Marcos said he was at least 150 years old! He was munching on leaves and took little notice of us and Marcos said we could get fairly close for photos. We were only 6 feet away. I was surprised at how meaty and huge his front legs were. Marcos told us females were uncommon at this time of year for they walk; yes, walk, to the coast to drop their eggs and then, walk back and it takes them 6 months to do so! Also, he told us when man came to the Islands, males were too big and heavy to carry for food and use so they took the females that were much smaller; resulting in less females. We walked a bit more to find two other males, smaller, but eating also. Hmmm, life was good for these guys. No predators and an abundance of grass and vegetation. Marcos said they loved wild raspberry and guava fruits, which are not native to the Galapagos and they look cute, with the fruits smushed all around their mouths after eating them. It was super muddy and it was drizzling at this point. We drove further on to some lava formed caves. The cave had been formed when lava flow had rushed through and then, left a giant cavern for people to explore. We walked a little path and down rocks about 20 feet. It was craggy and dusty and muddy but very cool to descend down into the cave. I felt a bit like Indiana Jones and we stayed and took some photos and came back up.
Santa Cruz port to the little town of Puerto Ayora was a good 45 minute drive. We pulled up into what looked like a fishing village and up around a corner or two to our stop for the next 3 nights, the Hotel Mainao. It was a sweeping curve of stark white painted Gaudi-like architecture and ascended 4 flights of stairs to rooms snuggled in like rabbit holes. One of our rooms was at the foot of the stairs, the other was at the tower at the tippy top. No elevator but hey, I knew this trip would be active. We settled in and ate at another TripAdvisor suggestion, "The Galapagos Deli". We ordered pizza and fish and chips and homemade chicken sandwiches and ended with gelato. We walked back to the hotel but not before catching what everyone here told us to do. There was a dock where fishermen would tie their boats up each evening with their catches of the day. We saw tuna and a lot of fish called "Brujo"; which was peach with purpley spots on it. The men would bring the catches up the dock to a fish cleaning station where women were ready to clean and then, sell it, immediately. No big deal but for the tons of humongous pelicans hanging out as well as two fat sea lions climbing up with their two flippers onto the station, begging like German Shepherds for slimy scraps and innards that the ladies would toss intermittently! They all were so cute and tame that we got right next to them for pics. It was a popular tourist spot in the town.
The next morning we awoke to grayish drizzle. We truly saw all four seasons in a day in the Galapagos in June. A bus picked us up at 8 am to be driven to the port of Santa Cruz again, to take a boat of tourists out to South Plaza, about a 90 minute boat ride to explore an uninhabited island but for species of iguana, birds and sea lions. We made small talk with a nice couple from Atlanta and found out the others on our trip were a family from Wyoming, an older couple from Spain, a lone photographer from England and a young backpacking couple from LA. We docked the boat and took a dinghy to the island. We saw sharks swimming in the turquoise blue waters now, but only white tip reef sharks, no more than 3 or 4 feet in length. As we docked we had to walk past baby sea lions waiting for Mom to return with some grub. These guys were seriously adorable. Barking up a storm, we had to step over and around them. They were so close! We walked onto the island and saw grey, black and brown iguanas of every size. Sunbathing in the heat on rocks, munching on fallen cactus fruits and just chilling out on top of one another. We saw some the size of my pinky and others, the length of a broom handle. As we walked close to a cliff leading out to the other side of the island overlooking the ocean, we saw birds darting all about. Many frigates, which had a big red bubble under their black throats and a few blue footed boobies, which were hard to glimpse at in the cliff crags, but I was promised I'd see them again in the future.
We walked past some more sunning sea lions, but big boys this time and headed back to the dinghy and boat for lunch. Fresh grilled tuna, salad and pineapple for dessert. All made by a 19 year old kid! It was perfect for a day on the boat. We socialized with our boat crew and other passengers and headed to our first snorkel in the water.
We came to a small cove about 45 minutes later. I found out (if you want to map it) we sailed to South Plaza Island and the waters surrounding it. We all got into wet suits and rash shirts and snorkel gear and hopped into the icy blue water. It was only cold for a minute… People were shocked to see how agile Lilly was in the water; even with all that cumbersome gear on. I was so proud. She tagged along with Mario and I mostly, but was on her own a few moments in the water. Note that it was not very deep; about 15 feet with pretty good visibility. We didn't see anything earth shattering; just your usual sea cucumbers, many fish, and every shade of blue and green water and rocks. Our guide did see a shark but he was elusive and we could not find him. The "s" word scared the two teen sisters from Wyoming right back onto the boat…ha!
The ride back was faster than the ride going out and we hopped back on our bus for the 45 minute ride back to Puerto Ayora and our hotel. Lots of folks fell asleep; especially since it was grey and raining outside. We made a dinner date with a couple from Atlanta and had a really nice meal and ice cream with them before heading back to our nests readied for tomorrow.
The next day was our venture to the Charles Darwin Research Center. It was only about a 30 minute walk from our hotel to the Center. We took some pics of the beach and of some artsy colorful murals along our way. The weather was the exact opposite of the night before- with blazing blue skies and bright sun and steamy heat.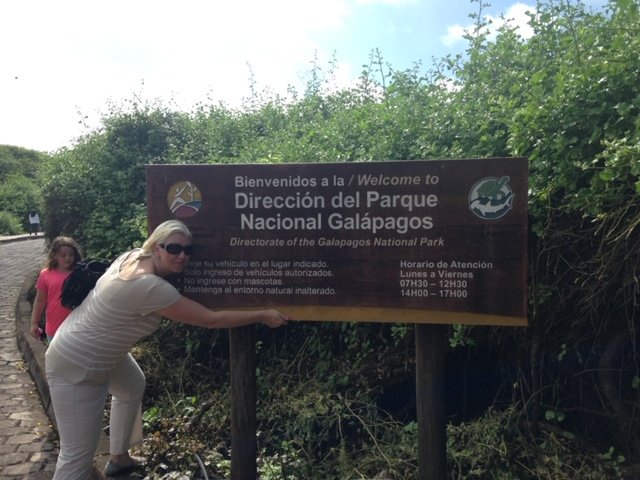 When setting off from England in 1831 for a five-year voyage, Darwin had little ambitions for groundbreaking scientific research. After surveying the coasts of South America, the ship stopped over in the Galapagos Islands. Here Darwin wrote his Origin of Species and came up with his natural selection theory, so you can imagine, the islands are "Darwin-this" or "Darwin-that". He had lots of little finches named after him.
The day was scorchingly hot in relentless sun. I got a nasty shoulder and neck sunburn later, I discovered. We were met by tons of iguanas all over the hot asphalt walkways; just soaking up the solar energy. The ocean water was ridiculously turquoise and aqua and every shade of blue with white, foamy tipped waves. We walked to where the tortoises were kept and they were munching on tons of green branches that were the size of snow skis. They were kept in very large open pens and seemed to be pretty content. More iguanas here, too. We bought some drinks and ice cream at a stand inside and walked back into town for a lunch of icy Coke's and empanadas. We had a ferry to catch at 2pm to Isabela, a 3 hour ferry ride away.
We packed our things and the liaison from Galapagos Alternative, Rita, picked us up at 1:30. We took a short bus ride into town and walked to the dock. There were a lot of people waiting for the ferries, same as us. But the boats did not exactly look like "ferries". They were small vessels, maybe set to take 20 people each.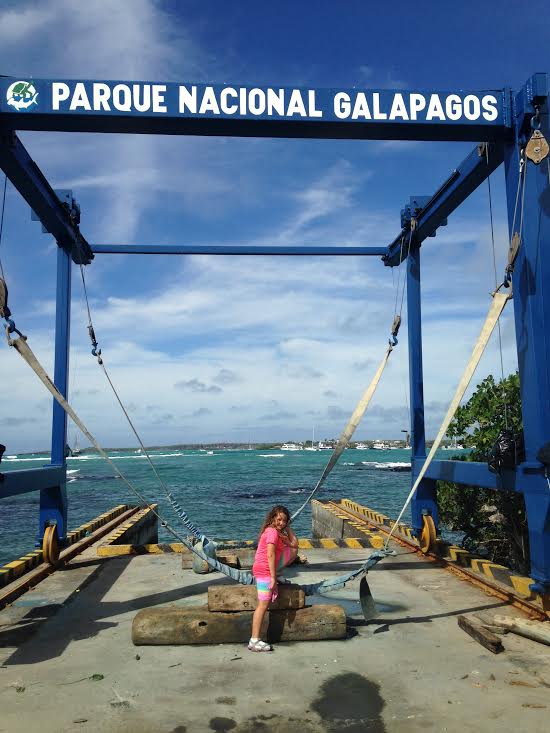 We got on our dinghy to our boat, docked about ¼ mile out on the open water. The crew threw (literally) our luggage into a locked space in the front of the boat and gave us life jackets. The boat filled quickly with tourists and some locals. The locals go into Santa Cruz often; for there are NO banks or post offices, or anything commerce related, on Isabela so they need to go into Santa Cruz to take care of business, literally. I sat next to a local named Beto. He owned a bar on the beach in Isabela. The ride started out smoothly enough.
But it was hot, stuffy and the fumes of exhaust were awful. The clouds rolled in and the skies got greyer. The waves started churning as we got further out into the open ocean and I could see the smiles on people's faces, turn into worried smirks. The boat was just jolting all over the place. I was getting sicker by the second and was not alone. The crew handed us pukey bags. The spray from the sides of the boat were hitting all of us, especially those seated at the back of the boat, where it was totally open. We were on the sides and covered but the topsy turvy was nauseating. Ruth and I were getting nervous. I could see others feeling the same. The boat was jumping around like a toy in a tub. I told Lilly to lie down and saw she was scared, too. I was angry. I felt that our agency should have known better than to put a 6 year old and 80 year old on a ride like this. Mario was green and not even talking. The only solace were from some locals who said they did this trip often and yes, while today was particularly choppy, not to worry. One crew member said to Ruth in Spanish, "Don't worry, there is always a boat that follows behind (we did see one) and a helicopter overhead and the sharks here do not eat people". He was dead serious. The three hours droned on and I thought George Clooney was going to pop out of the engine room, when thankfully, Beto, who I had been conversing with in Spanglish for half the trip, told me to take a look at Isabela, which was now visible.
We docked and took a dinghy into Puerto Villamil. Our next guide, Joseph, met us right at the dock and we drove less than a mile up the (one) road to our hotel, La Casa De Marita. We were welcomed with fresh juice and were happy to see the hotel was right on the beach, but our rooms were in the annex across the street. BUT they were roomy with a little kitchen, too. (Not that I was cooking..lol)
We settled in and walked around. The hotel was cute. It faced the beach and had a hammock and bunches of bananas hanging from trees. It was already late afternoon when we arrived so we had a yummy dinner in the hotel restaurant of chicken soup and bread, as all our tummies did not want much else after our journey.
Lilly and I woke up at dawn. We walked right to the beach and it was ridiculously stunning. The sands were clean and cocoa beige and Lilly sunk her toes into the cool dampness of it. There was no one on the beach but for some pelicans, red crabs and marine iguanas on a dilapidated dock, being washed away minute by minute. The old wood was smooth and wet and Lilly and I watched the sun come up and took pictures. We walked to a playground nearby and then, on the way back to the hotel, saw a bunch of kittens and stopped to pet them. Puerto Villamil was a one stop shop town. One road with some restaurants and hotels lining it. A few dive snorkel shops, a laundromat and I even found a hair salon..lol But the roads were not paved and boy, this was truly a "little town". But we felt very safe.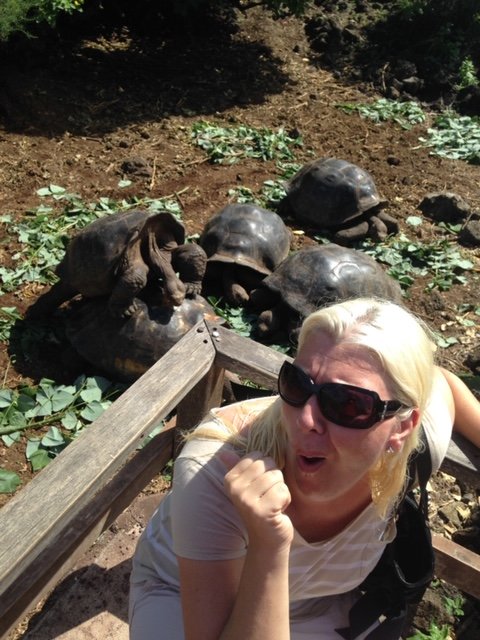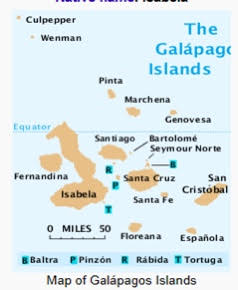 You can see that Isabela is geographically, the largest of the islands, at about 1,800 square miles but most of that is uninhabitable and the island only has 2,200 residents, with the majority of them living in Puerto Villamil to the Southeastern coast area. There are six active volcanoes on the island; making it one of the most volcanically active places on earth. Two of the volcanoes, Volcan Ecuador and Volcan Wolf lie directly on the equator.
We had a free morning until 3pm so we walked back and all ate a tremendous breakfast upstairs in the hotel restaurant. After eating, a pick-up truck with some young fishermen stopped directly in front of the hotel to drop off freshly caught fish that morning, 4 foot long, yellowfin tunas. Holy fresh sushi!
At 3pm that afternoon, we were all prepared to talk a short boat ride to Las Tintoreras. We took a short boat ride from the docks to a few islands about 10 minutes off shore. We saw marine iguanas, pelicans, Sally light foot crabs, Galapagos penguins and I found out that this is only place in the northern hemisphere you can see penguins in the wild. We docked onto one of the uninhabited islands and I felt again, like we were walking on the moon, with all the greyish black volcanic rock formations all around and not much green except for mangroves close to the water. This was truly iguana town! The scaly land ones of orange and grey to the slippery, Sleastak marine ones that were black and smooth. We walked the circumference of the little island with our guides and group and got back onto our boat about 45 minutes later. Before we hit the boat, we saw a lava channel with a small, white tip reef shark swimming in it. Cool.
We then boated another 15 minutes to a snorkel spot. The sun was starting to set and the weather was perfect. We docked and walked across super slippery rocks to get our snorkel gear on. When we got onto the water, we saw sea cucumbers, fish- but the coolest thing we saw was a sea turtle the size of a small human adult. I KNOW you are not supposed to touch anything but Mario just brushed the tip of the tortugas tail very gently and whoa, he startled the big guy..but he was fine and swam on. I was so proud of Lilly. She was in open ocean (okay, so it was a cove, but still!) 30 feet deep and loving life. Not one complaint and she didn't want to go back to the boat when it was time.
We cleaned up back at the hotel and had a huge dinner of steak, chicken, rice, vegetables and a pudding-like dessert that none of us liked.
The next morning, we debated about bringing Lilly and Ruth to the Lava Tunnels. This marine sanctuary of was a 60-minute boat ride from Puerto Villamil so we did not want Lilly and Ruth to go through any kind of difficulty again on a boat. So they decided to stay back and bond as an abuela and granddaughter should.
Mario and I hopped on a boat with 6 Israeli college students, backpacking through South America over the course of 6 months. Luckily the ride was not at all rough; mostly because I think we were going so fast and in a different direction than our Isabela ride. An hour after departing, we stopped on a teeny island made of lava that looked again, space like. But in the waters below us, you could clearly see sea lions, sea turtles and there were a bench of blue footed booby's hanging out on the rocks, posing for pics!  We then boated a bit to a snorkel spot. But this area had lots of rocks and crags up above the water, whereas the day previous, was just water. Lots of sea lions and seals rested on the rocks and our guides were so well versed in the water, that they showed us things we easily would have missed, like sea horses and sharks in caves!  They told us not be scared as they actually pushed our shoulders down and held us under for 5 or so seconds, while we adjusted our eyes to see sharks lying on the bottom of the cave. There was a moment where I was swimming in the water solo with 3 sharks around me only 6-8 feet away. I mean, they were only 5- 6 feet long but my heart definitely double flipped!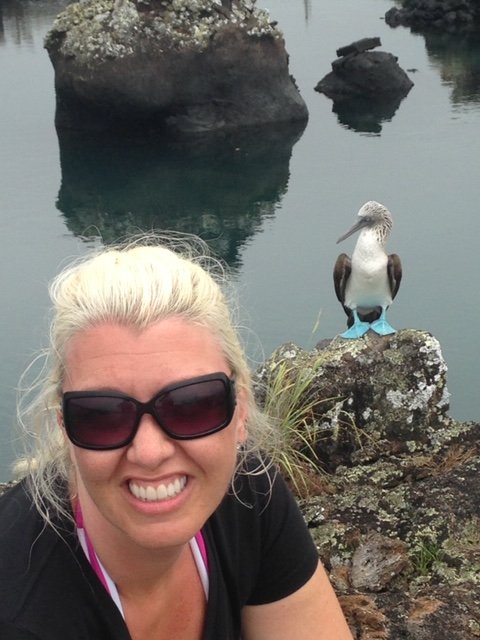 We took a short boat ride from the docks to a few islands about 10 minutes off shore. We saw marine iguanas, pelicans, Sally light foot crabs, Galapagos penguins and I found out that this is only place in the northern hemisphere you can see penguins in the wild.
The seas are rough in the Galapagos starting in June and I was drifting further from our boat. I decided to swim back to the boat as the chop intensified. Mario and the guide were still out there, ogling the good stuff underneath the blue. Back on the boat we all had little sandwiches and nectarines. The air smelled of citrus and salt.
On the ride back to Puerto Vilamil, I chatted up with one of the Israeli girls but as we talked, about 1 quarter mile out to sea, off our boat, we saw a manta ray breach! It was insane! It came up out of the water and flapped its huge wingspan. I learned later these animals can have a 23 foot wingspan and have the largest brain of any fish! All of us wished the moment lasted longer. It took mine and Mario's breath away as I doubt I will ever see that again in my lifetime. Where was a Go Pro when you needed one, darn it???
We were to leave the next morning. I got up early, still dark, before Lilly awoke to repack. The room was dim but I was able to see something scurry across the wall. It was not small. I didn't want to wake anyone up so I got closer and realized that a spider, a good 3-4 inches in diameter was in our room, moving quickly toward I don't know where-but probably my dark, hidey hole of a sneaker. I thought about catching it but I was guessing there was no Jackson Memorial Emergency room on Isabela and I had no idea if that thing could put a toxic hole through my skin or was just a harmless big, crawly thing. I had to wake up Lilly. It was going up the celling. "Um, baby….um, Mommy wants to tell you something but you have to promise not to freak out, k?"
Lilly ran to Ruth's room. I went to the front desk hoping for anyone to be up. Luckily, one of the maintenance men was walking around and I told him in broken Spanish, "Arana" and he came and caught the arachnid in 3 seconds. I didn't want him to kill it. He told me after it rained, they were common and I saw that as I looked out on our room porch and saw the spider's friend out there, too. He threw my intruder outside. Phew.
No boat ride back for us. Mario arranged for a puddle jumper for us from Isabela back to Baltra. We said goodbye to Isabela and the flight, ironically, was one of the smoothest, simplest, shortest flights we had ever taken. It was cool to see the archipelago from the top, too. There were just tons of all sizes of islands and Lilly and I would tell each other what shapes we thought what they were. Cookies and clouds.
We landed in Quito. Quito is the second highest city in the world, after La Paz, Bolivia. But none of us really felt any altitude issue, thankfully. Our guide Hugo found us immediately in the airport (I guess a six foot blonde stands out in Ecuador) and we got into his comfy Kia. The old airport was within the city; it was similar to La Guardia in New York City.. not enough space and too many accidents moved the airport an hour outside the city. So we drove to the city and absorbed the sights. It went from light to dark and my fave part of the city was seeing some food stalls alongside the road, where people were chowing down on local cuisine. I squinted and hoped to see Anthony Bourdain in the lineup of people, somewhere. I waved to one of the vendors as we were stopped at a light and he smiled and waved back. Our hotel was beautiful. I think the nicest one we had stayed at thus far, with fresh cut roses everywhere. Since Mario travels so much, the Hilton upgraded us to a suite and our room was ginormous, yay. Hugo dropped us off and we settled in for the night while we watched on ESPN Espanol, the Miami Heat get slaughtered by the San Antonio Spurs in the NBA playoffs.
After a big buffet breakfast, Hugo picked us up to head up to TelefériQo Cruz Loma; a gondola lift, running from the edge of the city center up the east side of Pichincha Volcano to lookout Cruz Loma. It is one of the highest aerial lifts in the world, rising to 13,000 feet. That's half the size of Mount Everest. It takes eight (long) minutes to get to the summit. I should note that volcanoes are crazy abundant near Quito and Ecuador. Hugo told us they have sirens to warn of volcano eruptions and you only have minutes to get to safety (whatever that is). Lilly was fascinated with the idea of all of that activity. The day was so perfect; crisp and clear. It was so green and lush and Hugo told us one can take a bike or donkey ride up or down. We happened to be in the same line as a group of school kids a little older than Lilly who were super cute and on a class trip. (Although it was summer break for us, it was winter for them) Winter at the top of Telefiriqo was about 45-50 degrees and windy. Brrrr… They had some snack stands and a restroom and of course, alpacas, which are like South American pigeons..lol Just everywhere.
Lilly and Ruth stayed in the restaurant while Hugo, Mario and I walked another 1/4 mile to the true summit. No fences and scary as hell. I was out of breath by the time I reached the top and knew it was the altitude but what a workout! We took some pics and passed a ring of horses and donkeys for hire.
We descended back down and started our drive to Otavalo; a two hour drive north into the mountains along the Panamerican Highway, supposedly the worlds' longest road at 30,000 miles! We stopped for lunch at a typical Ecuadorian restaurant which was huge on the inside and had communal tables with a large movie screen playing the World Cup. Coincidentally, we came to South America during the World Cup so you can imagine, it was soccer/futbol on every television we came across. The restaurant was lovely. It had live plants everywhere and looked like the outside was inside. I realized that the staple in Ecuador was churrasco..a flat, grilled, seasoned steak served with fries or rice. I never tired of it. I also never tired of the big, fat avocado slices that came with it which were insanely delicious. I think the produce in America is all on a diet. Scrawny and small and wrinkly. Produce everywhere else is fat and juicy and ripe. They also served Coke in skinny glass bottles. We left satisfied and continued our drive. The drive was a little scary since we kept going higher into the mountains. The narrow roads did not have barriers on the sides.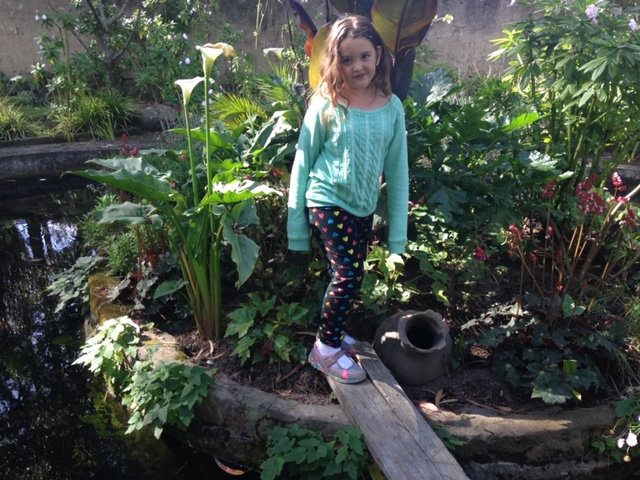 The Andean highlands are scenic and beautiful. Otavalo is famed for their markets, which we would go to the next day. The roads got smaller and bumpier and we finally pulled into a high walled driveway. This was Hacienda Cusin. Wow.
The Hacienda was an exquisitely restored 17th century Andean estate high in the mountains at the foot of the Cotacachi volcano .Owner Nick Millhouse is British and fell in love with Ecuador during a visit more than 30 years ago. The guestrooms and landscape were like stepping back in time. I truly felt as if I were in the midst of a Southern plantation 150 years ago. The rooms had fireplaces, antiques and old books. I loved the mystery of it all. Lilly loved it too so we decided to explore the grounds in the late afternoon.
It was just lush trees, with a 300 year old Cedar tree as the anchor of the gardens and flowers, ponds, animals and rooftop patios, everywhere. The Imbabura mountains were the backdrop and we were told there was a farm nearby. It was like the place was all to us. There were not many others in sight and Lilly and I loved exploring every corner. We found the farm with two horses, geese and little hen laying in the soft hay. We even found a basketball court and a little playground. To top it off, we saw hummingbirds diving in and out of all the greenery. On my own, I found a vegetable garden and a library. The only thing cooler would have been to have seen a ghost, which I would not have found unusual.
Hugo picked us up for an early dinner and we drove about 30 minutes into town. Otavaleno people are very proud and wear black and white clothing. The men have a long black braid down their back with weathered, tan faces.
The restaurant we ate at was peopled by tourists but it was yummy. I had my usual churrasco. They had three Otavaleno men, all playing local music. It had that "Zamfir" pan flute sound but it was relaxing and cool.
We walked into a local bakery for dessert and drove home to wake up early for the market the next day.
Breakfast at the Hacienda was wonderful. We ate in a dining room that looked like a scene from Downton Abbey and the fireplace was on. I drank tree tomato juice or "tamarillo" but did not like it much. It was a little thick and tomato saucey.
We drove the half hour into town again. The whole reason for going to Otavalo was to see their famed markets. It is supposedly the third most popular site after the Galapagos and the Equator, in Ecuador. We got there before any tour buses, by 9ish or so. We parked alongside the road and Hugo told us which way to go. He pointed towards a large open lot. Off we went. Wow, this was crazy. The sights and sounds and smells were so unique and overwhelming. You could see animals of every domestic sort; cows, pigs, chickens, sheep, goats and even rabbits and kittens, for sale in the market. It was like the "animal mall". People came here on Saturday mornings to buy and sell animals for consumption, protection and for commerce. You could hear men on loudspeakers in Spanish bartering what they had. The scents were like nothing I had smelled before. Sure, I could smell the animals but also, of foods cooking. There were a ton of soup stands and lechon stands and men and women were cooking in stalls, selling their food to be eaten on the spot at makeshift benches and tables. We walked through police barricades to get into the market. We totally stood out. It was fascinating. We even saw stalls of men selling "ancient medicine" which seriously looked like amber glass bottles with big tree roots growing inside and Mario said the shaman was telling the bystanders to "forgo modern medicine and go the way of traditional medicine". It was an Ecuadorian QVC flea market and something I will never forget. There were women carrying live chickens upside down by their feet and carts of watermelons and bananas for sale and clothes in all sizes for sale, also. We met Hugo an hour later and Purell'ed our hands profusely. Hugo drove us a few minutes to the other market; in the streets of Otalvalo where nothing alive was being sold. Just textiles, fruits and vegetables and local wares. A light drizzle had begun.
Mario and I bought a handpainted chess set. It had the Incas on one side and the Spanish soldiers on the other. We walked back to the car and Hugo took us to the next stop, a condor sanctuary. We drove through lots of quinoa fields to get there. They looked wheat-like and Hugo told us it is a big staple in the Ecuadorian diet and of course, for commerce. We climbed up a little cobble stone road and came to a Condor Park- a bird sanctuary with birds from the Americas in captivity, held there for various reasons. They have a twice daily show run by a Dutchman who speaks Spanish and English but he did the show in Espanol. It did not matter; he answered any questions I had and the experience was mostly, visual. The "theater" was atop a hill and his leathered glove would allow the birds he chose to fly into the valley to soar back onto his arm for raw meat treats. The highlight was seeing the male bald eagle; named "Gringo" do what eagles do best; fly majestically. But wow, to see the Condor, although I did not see them in flight, was amazing- as they are so enormous.
The sanctuary had a playground and Lilly could not resist playing in it for a while until we were ready to drive to our next stop, La Peguche waterfall. We paid a small entrance fee and walked past vendors selling crocheted finger puppets and food and all else, and walked about a half mile on a cobblestone path lined with vegetation, towards the waterfall. Niagara it was not, but it was pretty to stand on a wooden bridge at the bottom, feel the spray and take some photos.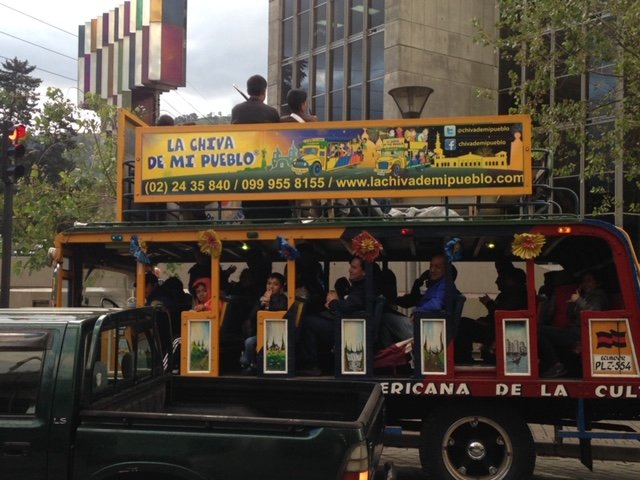 We stopped for lunch at one of the places that began to all look similar, the communal large cafeteria style restaurant and then, we headed back to Quito.
On the way back, we stopped in a town- Calderon, to watch how ladies made little bread figurines.
We arrived at our hotel in early evening and luckily got the same suite as we had a few days earlier.
The next day was our last in Ecuador. It was also Father's Day. Hugo picked us up in the morning and we all walked across the street from the hotel to the Parque El Ejido to take photos with the red "Quito" sign. (You'll see in our holiday card this Christmas..lol)
He then began the drive to the Inti Nan Musuem- also known as the spot where the equator is. The ancient Quechua people named that equatorial line "Inti" (sun) "Nan" (path) centuries ago. It was ridiculously cool because it featured interactive exhibits such as trying to balance an egg on a nail (Lilly was the ONLY one who did it and got a certificate from the museum!) and the effects of the Coriolis force on earth. The guide brought out a makeshift drain and poured a gallon of water down the drain into a bucket underneath. He showed us when you stand to the left of the equator line, the water swished clockwise down the drain but when you went only a few feet, to the right of the equator line, it went in the complete opposite direction! It was truly like being inside of a science experiment. The museum also had genuine thatched roof homes from Amazonian tribes and photos of what life was like for all the different peoples of the country- for Ecuador has jungles, mountain, beach and city. Another cool but kind of gross thing was a genuine shrunken head! The Shuar people from high in the Andes of Ecuador performed this ritual- they removed the skull, sewed the eyes and mouth shut, then cooked the skin for an hour and filled it with hot rocks. The Shuar felt that the soul of the victim is contained in the shrunken head.
We left the museum, heading for lunch, if you could believe it- after the shrunken head and museum trip. The day was a big one in Ecuador. Not only was it Father's Day, but it was also one of the Ecuadorian World Cup soccer team's games.
We passed a roadside stand selling cuy (guinea pig) on a barbecue. It was ridiculously yucky and amazing to see skinned; um, rodents on a stick, turning, turning, turning, as if they were chicken at Boston Market. On that note, we ate a tiny restaurant in the old Town of Quito, much like the United States rotisserie chicken place. But instead of mashed potatoes, they had humongous, golden, crispy fries to go with the chicken. YUM.
Our last stop was the old town of Quito. The first declared UNESCO World Heritage Site and the capital of Ecuador is 9,200 feet high; twice the height of Denver. It has cobblestoned, narrow streets, colonial architecture and busy plazas; it is a bustling area, full of yelling street vendors, pedestrians, honking taxis, burpy buses and whistle-blowing policemen trying to direct traffic in the narrow, congested one-way streets.
We stopped to take photos at the carondelet palace, where the house of the President of Ecuador lives, the Church of Santo Domingo and the Church of San Francisco, where we walked in to see a mass going on as it was early Sunday afternoon. The "bottom" of the church had an amazing chocolate shop where I bought all my souvenirs in one fell swoop and a bar-restaurant adjacent to the shop, where the men and women were watching the soccer game on a huge screen TV. How ironic- churchgoer's quiet whispers were upstairs and patrons screaming at the TV not 200 feet below. Sadly, the team lost that day and the morale of the country surely sagged.
We got back to the hotel early and took a nap, for we knew we had a 4am leave time at the hotel to make our early morning flight back to Miami. The next morning, we said our goodbyes to Hugo and Ecuador and flew safely back home.
Next stop, New York City and Iceland for Christmas and New Year's Eve!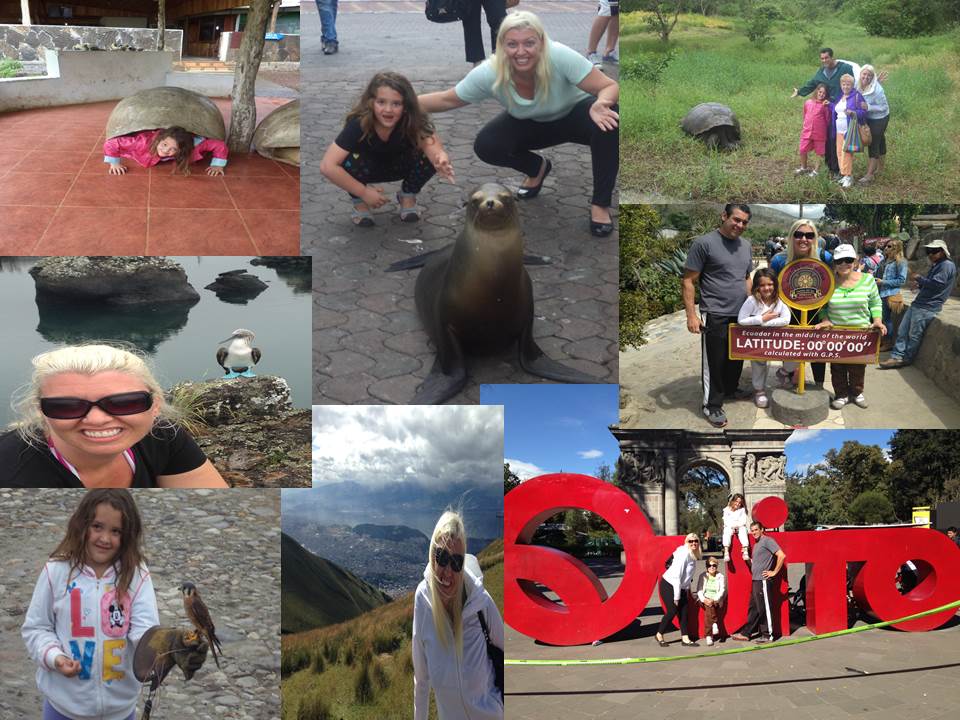 More Explora Blogs…
Read other explorations and adventures…
I never had seen anything like Meow Wolf. It's like walking into a surrealist dream. Bright colors, doors you can open leading to other worlds (literally), video games, VR headsets, blasting dance music. I never did any kid of hallucinogenic drugs but if Meow Wolf is what they were like, I wish I had!
The rewnowed Santa Fe hotel, La Fonda on the Plaza, the sounds were hauntingly beautiful. I was excited to spend a few days in a city that smells like sage and moves like molasses.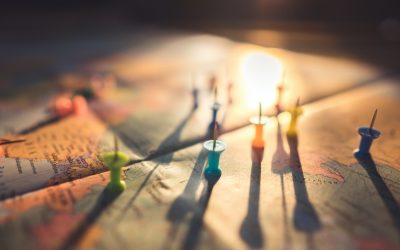 Attain dual citizenship. If one of your parents were born in a foreign country, you may have the right to become a citizen there…